Queen II: The Album That Elevated The Band To Rock Royalty
When the Queen II album came out in 1974, Queen had arrived in style. Freddie could now give up his weekend job.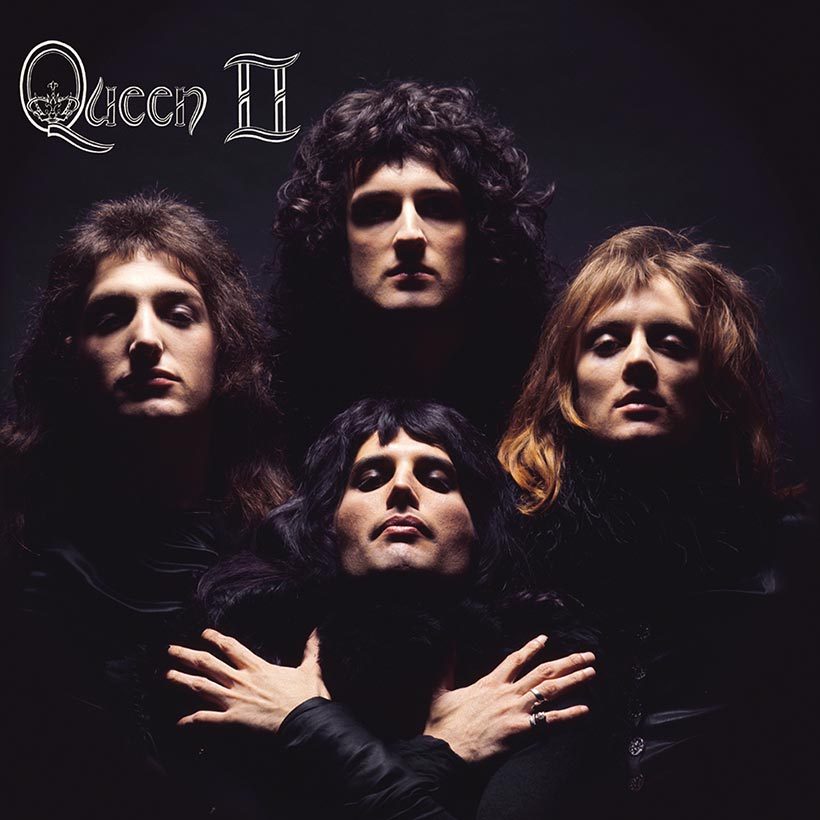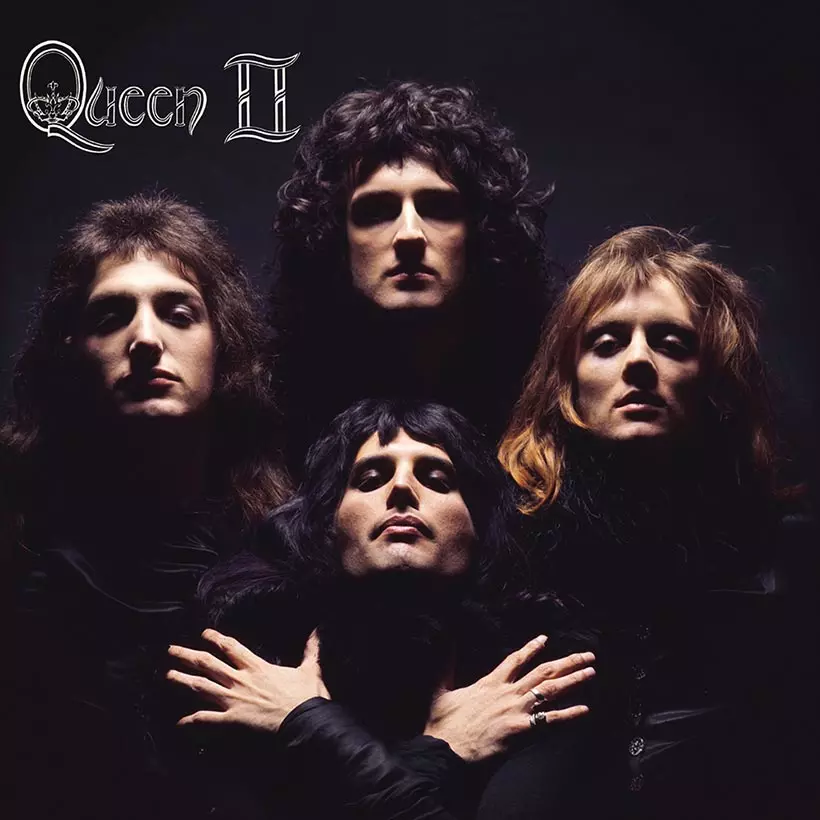 A month after releasing their debut album Queen returned to Trident Studios to commence work on the follow-up, tentatively titled "Over The Top" – an idea that didn't amuse EMI any more than "Dearie Me" had for its predecessor. Despite positive reviews for "Keep Yourself Alive" the individual members still weren't convinced Queen was a going concern and maintained outside interest in physics (Brian May), electronics (John Deacon), Freddie Mercury and his art studies and potential dentist, Roger Taylor (or Roger Meddows-Taylor as he liked to be known) keeping on their side-line of a Kensington Market stall because who knew how long this thing would last?
Listen to the deluxe edition of Queen II now.
Still they were anxious to resume work before going back on the road and preparing for a tour with Mott the Hoople so they grabbed a vacant August slot in Trident and began making the record that is many a fan's favorite. It is certainly the first time one hears their trademark multi-layered overdubs, those rich harmonies, and the sheer joie de vivre of a group of young men refusing to be hindered by boundaries and conformity. So while other rock stars went on their holidays Queen worked like Trojans…
All four took to the recording process like a duck to water with the notable assistance of Roy Thomas Baker and in-house man Robin Geoffrey Cable, an ally of the band since he'd produced Larry Lurex aka Freddie Mercury on a spectacularly operatic attempt at the Phil Spector-Ellie Greenwich-Jeff Barry masterpiece "I Can Hear Music." Also on that session was engineer Mike Stone, yet another highly talented sound man who'd learned his trade at Abbey Road, sitting in on The Beatles' Beatles For Sale album and more recently thrown some magic dust over Nursery Cryme for Genesis and Joe Walsh's heavy guitar gem The Smoker You Drink, the Player You Get. Quite a team in other words, and May and company had plenty of their own ideas to bring to the party.
What became Queen II was done and dusted in that hot month. Realizing that as songwriters Mercury and May had radically different lyrical agendas – Brian the guitarist preferring a personal or emotional slant, while Freddie the singer liked to operate in realms of the phantasmagorical – it was decided to give the record a loose concept, splitting the material into "White" and "Black" sides to match the light and shade of the songs. The gatefold sleeve and the album's label reflected the B&W mood and when they hit the road to support it they invested in monochrome stage gear designed by Zandra Rhodes. Photographer Mick Rock was hired to shoot the cover on the strength of his striking images of David Bowie, Iggy Pop (Stooge), and Lou Reed, and he had the band posed to look suitably moody and vampish a la Marlene Dietrich in Shanghai Express. Freddie, of course, couldn't resist the faintest of smirks as he looked up at Rock with arms crossed.
For the debut Queen's friend Douglas Puddifoot had depicted Mercury holding his soon to be familiar short microphone stand, performing in a spotlight on what looked like an arena stage. A fine conceit, considering Queen were far from that status yet, it didn't really give the viewer a sense of what lay inside. Mick Rock's photograph, which the boys thought was slightly pretentious at first, showed them to be a band or a gang and this time the potential purchaser was left intrigued by the potential content.
Inside there were many wonders. It starts with "Procession," played by May in funeral march time on multi-tracked guitar, the Red Special hand-built by Brian and his father, Harold, when the aspiring musician was a teenager. The instrument, also known as the Old Lady or the Fireplace, became iconic for Queen fanatics.
Brian's "Father to Son" was written with Harold in mind and combines metal guitar bridges and introspective piano played by the writer as well as John Deacon's acoustic guitar and a neat vocal harmony.
Queen - White Queen (A Night At The Odeon - Hammersmith 1975)
The fortuitously titled "White Queen (As It Began)" was a song Brian had written in 1968 when he was just about to go to Imperial College to study physics. Inspired by the Robert Graves treatise on poetry and myth, The Golden Fleece, May also had a female muse in mind, a girl from his A-Level biology class at Hampton Grammar, and the combination of courtly love lyrics and an ideal of feminism struck a chord with Queen's audiences who would soon realize this wasn't just another standard glam rock group.
May makes his debut as sole lead vocalist on "Some Day One Day" and also contributes startling guitar overdubbing, with the outro section featuring three instruments playing different parts rather than meshing together in synch. Trident's 24-track came into its own and Brain was exultant to achieve the sound he'd always craved.
Drummer Roger's "The Loser In The End" closes out the "White" side with a variation on the Mother to Son theme, albeit with a slightly tongue-in-cheek or ambiguous humor in the verses and some lovely marimba work.
If Freddie's contributions thus far were sporadic, he took over for the "Black" side. "Ogre Battle" was carried over from the first album and given a proper arrangement, a damn heavy one with chilling vocal screaming and a taut thrash of guitars and drums, a classic gong, and plenty of sound effects to herald a suite that is Queen at their most progressive. Mercury wrote it on guitar, and his heavy metal riff was leapt on with relish by May for its martial power and would become a staple in their live sets over the next four years.
Queen - Ogre Battle (Official Lyric Video)
"The Fairy Feller's Master-Stroke" was inspired by frequent visits to the Tate Gallery, taken by Freddie and the others to admire Richard Dadd's nightmarish painting of the same name. To replicate the strangeness of Dadd's canvas, the band employed heavy stereo panning, Fred's piano and harpsichord parts, Roy Thomas Baker's castanets, and multiple vocal overdubs and harmonies. Claustrophobic and deranged, the medieval fantasy world of the artist was brought to life with startling success. The reference to the "quaere fellow" in the lyric is nothing as obvious as some people imagine, rather another literary reference to Brendan Behan's play, The Quare Fellow, given an arcane spelling.
"Feller" flows in segue form with Mercury at the piano, picking up the closing three-part harmony to introduce "Nevermore." Freddie and Robin Cable would also play pluck or string piano (again no synthesizers) on a song that deals with relationship breakdown, with a nod at Edgar Allen Poe's poem The Raven.
The octave bending, polyrhythmic "The March Of The Black Queen" was written by Mercury at the piano and developed as an electric and acoustic guitar extravaganza with May adding symphonic tubular bells. As such, it was virtually impossible to replicate live but remains an album highlight.
Another segue leads the listener into "Funny How Love Is" a Mercury song blessed with one of his most poignant and lovely lyrics ("Funny how love is coming home in time for tea"). The singer felt more comfortable working with Cable on this track and the pair revisited the Wall of Sound technique they'd employed on "I Can Hear Music." It was Freddie in a nutshell.
And so to the finale – "The Seven Seas Of Rhye" – a song first heard by many when Queen snapped up David Bowie's cancellation of a Top of the Pops engagement to debut "Rebel Rebel." The show's producers asked Mike Stone if he could recommend a replacement, and so Queen made their first major TV appearance on February 21st, playing the newer, fully fleshed track before the cameras and landing in living rooms with such panache and insouciance that switchboards jammed. The song was released as a single two days later.
Noted for its panning and arpeggios and a cross-fade that leads into a brief rendition of "I Do Like To Be Beside The Seaside" (with Baker on stylophone, still not really a synth!) this is a magnificent piece of work on every level. A classic glam rock item of the era, one that recalls the brutal intensity of The Move, it peaked at #10 in the UK and drove the album to #5 while also boosting sales of the debut. Good work all round.
The Making of Queen II & Seven Seas Of Rhye - Queen - Days Of Our Lives documentary
Queen II is now acknowledged as a landmark in the band's development. While it is hardly obscure, in America, it is considered to be a cult artifact revered by the likes of Billy Corgan, Steve Vai, and Axl Rose, and remains an obvious influence on everyone from U2 to Muse. Even Bowie sat up and took notice, no doubt allowing himself a wry smile at Queen's arrival due to his no-show and probably basking in some of their limelight. Finally, some competition.
But while the album was ready to go by September, fully mixed etc., it was held back by EMI since the first album was still in its infancy. The oil crisis of 1973 also led to a shortage of vinyl as Britain slumbered in the three-day week, galloping inflation and increasing political and social unrest. Even so, those who heard the album when it did come out on March 8, 1974, were impressed and spiritually uplifted. Queen had arrived in style, and Freddie could give up his weekend job and concentrate on the great times that lay ahead. Goodbye Kensington Market, hello the world.
Postscript
In 2011, as part of the Universal reissue programme on Queen, a further disc was added. This includes Brian May's B-side to "Seven Seas Of Rhye," the bluesy "See What A Fool I've Been," dating back to the Smile period when the guitarist was listening to a lot of Sonny Terry and Brownie McGhee music. This is sung by Freddie in burlesque fashion and is the closest thing to a straight blues treatment in the band's repertoire. Available also as a BBC Session, it is followed by a live performance at Hammersmith Odeon " Queen (As It Began)" from Christmas 1975, the fascinating instrumental mix of "Seven Seas Of Rhye" and an April 1974 take of "Nevermore," for the BBC, that nails the heart-breaking ballad to perfection.