The Best Albums Of 1987: 61 Full-Lengths You Need To Hear
The best albums of 1987 range from Guns N' Roses to Eric B. & Rakim. In short, it has something for everyone.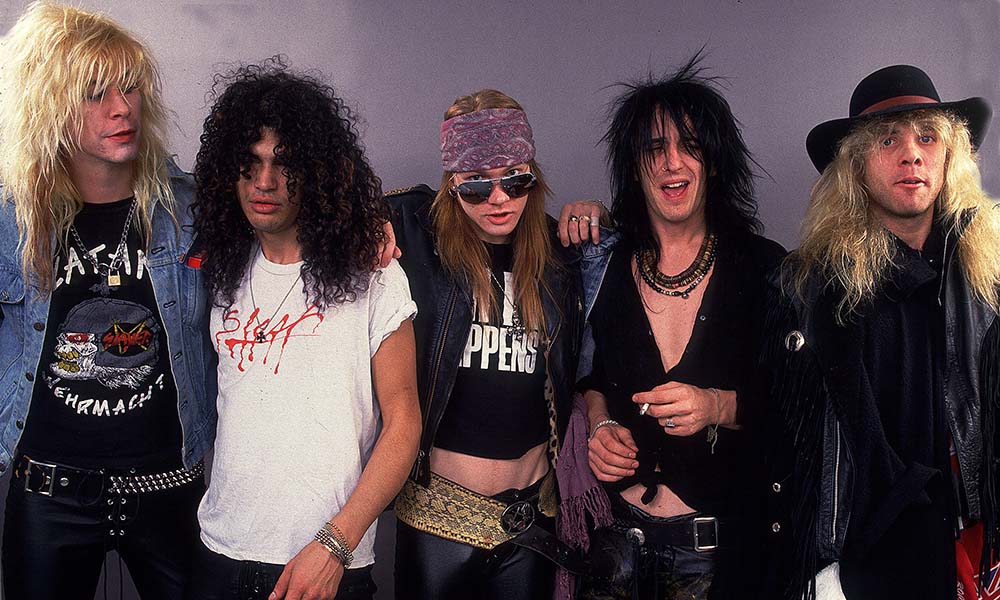 Was 1987 one of the best years for music, in terms of albums? The full-lengths at the top of this list are among the most iconic albums of the era. Guns N' Roses, Prince, Def Leppard, Whitney Houston, and U2 were all at the top of their respective games. What makes 1987 such a great year is the depth. R&B was in fine form with great records by Alexander O'Neal and Stephanie Mills. George Strait and Tanya Tucker turned in excellent albums. And hip-hop was beginning to take on a different tone, with Eric B. and Rakim leading the way. Indeed, there was no shortage of great albums from 1987. We hope you enjoy digging into some of them below.
Check out the full list of 1987's best albums below, and listen to our 80s pop playlist on Spotify.
61: David Sylvian – Secrets Of The Beehive
Dark, moody, and dramatic, Secrets Of The Beehive is the sophomore solo album from Japan singer David Sylvain. This 1987 album is full of lush, darkly-hued musical arrangements, with Sylvain's deep and rich baritone bringing the entire thing to life.
60: John Hiatt – Bring the Family
Guitarist, singer, and songwriter John Hiatt's Bring the Family is a great album of soulful electrified blues. Hiatt's pained voice works equally well on the haunting "Alone In The Dark" as it does on ballads like "Have A Little Faith In Me."
59: David Torn – Cloud About Mercury
Musically intriguing and full of delightful moments, Cloud About Mercury is a fine work of 80s jazz fusion.
58: Fleetwood Mac – Tango In The Night
Groovy and augmented with synthesizers and a modern production aesthetic, Tango In The Night has moments that rank among Fleetwood Mac's best work in the 80s, with tunes like "Little Lies."
57: The dB's – The Sound of Music
The power pop group is in fine form on this 1987 album, with country tinges sprinkled throughout.
56: George Harrison – Cloud Nine
Cloud Nine is the 1987 solo album from former Beatles guitarist George Harrison. Upbeat and optimistic, the album is a joyful pop-rock excursion.
Cloud Nine (Remastered 2004)
55: 10,000 Maniacs – In My Tribe
With its jangling, effervescent songs and Natalie Merchant's voice, 10,000 Maniacs' In My Tribe was a smash and a fixture of the late 80s college/alternative rock revolution.
54: Pink Floyd – Momentary Lapse Of Reason
Pink Floyd's Momentary Lapse Of Reason finds the veteran band showing off its versatility. From moody rockers like "Yet Another Movie" to a haunting, experimental piece like "The Dogs Of War," Pink Floyd reminds us that they can do it all.
53: Pat Metheny Group – Still Life (Talking)
Guitarist Pat Metheny's understated playing works beautifully with the lush synthesizers found all over this album. Still Life is evocative, entrancing, and smooth as silk.
52: Sly and Robbie – Rhythm Killers
Playing on an estimated 200,000+ songs, reggae rhythm section Sly & Robbie is the most prolific music-making duo in the world. Their 1987 album, Rhythm Killers, finds the duo using their decades of musical experience to experiment with hip hop, rock, and electronic music.
51: Heart – Bad Animals
One of the great, popular rock bands of the 70s, Heart continued on into the 80s with bold, riff-heavy guitar anthems.
50: The Red Hot Chili Peppers – The Uplift Mofo Party Plan
The earliest Red Hot Chili Peppers barely resemble the pop band they would become, but Uplift showcases their funk origins perfectly.
49: The Fat Boys – Crushin'
The heaviest rap group of the 80s turned in one of their weightiest efforts with Crushin'. For a decent helping of old school rap, you could do far worse.
48: Lisa Lisa & Cult Jam – Spanish Fly
With club-ready beats and undeniably catchy songs, Lisa Lisa & Cult Jam were destined to become stars. Spanish Fly's shining moment is "Head To Toe" a sweetly romantic pop song that would've been a smash in any era.
47: Tanya Tucker – Love Me Like You Used To
Packed with excellent songs, backed by a tight band, and full of glorious vocal harmonies, Tanya Tucker's Love Me Like You Used To is a thoroughly enjoyable contemporary country album.
46: Michael Brecker – Michael Brecker
For this 1987 self-titled album, saxophonist and composer Michael Brecker brings in the technical dexterity required to play the bebop sound of the past and injects it into the slick soundscapes of the 80s. On "Syzyngy," "Nothing Personal," and "Original Rays," Brecker and his band solo with power and intention.
45: Bathory – Under The Sign of the Black Mark
A hugely influential black metal album, Under the Sign of the Black Mark laid the template for countless bands that would follow in their wake.
44: Hüsker Dü – Warehouse – Songs And Stories
The poet laureate of the American underground revolution, Hüsker Dü injected hardcore punk's double-time heartbeat with the spirit of pure pop. Throughout Warehouse – Songs And Stories Bob Mould and Grant Hart's songs are loud and visceral but they also contain an ear-catching sweetness.
43: Butthole Surfers – Locust Abortion Technician
Gruesome, bizarre, and acid-fried, Locust Abortion Technician is a highlight in the Butthole Surfers' catalog. Full of grimy distorted guitars, noisy interludes, and Gibby Haynes's unhinged vocal delivery, this 1987 album is pure nightmare fuel.
42: John Cougar Mellencamp – The Lonesome Jubilee
John Cougar Mellencamp's 1987 album The Lonesome Jubilee uses rock n' roll, the blues, and country as launching points for his vivid narratives.
John Mellencamp - Cherry Bomb
41: Sting – . . . Nothing Like the Sun
With its smooth, jazzy arrangements and Sting's crystal clear vocals, Nothing Like the Sun is pure ear candy.
40: Sinead O'Connor – The Lion and the Cobra
The Lion and the Cobra is one of Sinead O' Connor's finest releases. The music here can get loud and rocking like on "I Want Your (Hands on Me)" but the 1987 album's quiet moments are where you can truly feel the restrained, righteous fury that boils just beneath the surface.
39: The Cult – Electric
The Cult delivers big guitar riffs and good time hard rock on 1987's Electric. "Lil' Devil," "Aphrodisiac Jacket," and a cover of Steppenwolf's "Born To Be Wild" make Electric irresistible, head-banging fun.
38: Swing Out Sister – It's Better To Travel
With its catchy songs and danceable beats, Swing Out Sister's debut was made for the club. "Surrender," "After Hours," and "Fooled By A Smile" are all great but it's the album's single "Breakout" that remains a classic with its memorable brass parts and bright and optimistic feel.
37: Death – Scream Bloody Gore
Ramping up the big riffs and outrageous horror elements, the debut from death metal pioneers Death is punishing and brutal.
36: Public Enemy – Yo! Bum Rush The Show
One of the most promising debuts in rap history, Public Enemy's Yo! Bum Rush The Show is booming and chaotic. Cuts like "My Uzi Weighs A Ton" and "Public Enemy No. 1" were cutting-edge productions in 1987, but they also prefigured the music that would come.
35: Sepultura – Schizophrenia
Sepultura's 1987 full-length Schizophrenia is loud and furiously aggressive. The pounding drums and menacing riffs on songs like "Escape To The Void" and "From The Past Comes The Storms" make for a tumultuous and fun listen.
34: Bruce Springsteen – Tunnel Of Love
Despite its more modern sound, Bruce Springsteen retains his blues, folk, and rock n' roll influences on Tunnel Of Love. Songs like "When You're Alone" and "Two Faces" are further proof of Springsteen's mastery at crafting heartwrenching tunes.
33: Boogie Down Productions – Criminal Minded
Between its stripped-down, minimal beats and KRS-One's electrifying presence on the mic, Criminal Minded stood out in a year that was packed with great rap debuts.
32: Pet Shop Boys – Actually
On 1987's Actually, progressive electronic pop duo Pet Shop Boys tell tales of urban life with snarky, cheeky undertones.
31: LL Cool J – Bigger and Deffer
With the heavy, battle-ready cut "I'm Bad" and the sweet love ballad "I Need Love," Bigger and Deffer finds LL Cool J refining the hard/soft balance that he would perfect throughout his career.
30: The Jesus And Mary Chain – Darklands
The Jesus And Mary Chain's follow-up to their celebrated debut saw them working without a drummer and a new focus on letting their instinctive melodic sense shine on gems like "April Skies."
29: Anthrax – Among the Living
Hailed as one of the best thrash metal albums ever recorded, Anthrax's Among the Living still stands tall musically.
28: Depeche Mode – Music For The Masses
Depeche Mode's Music For The Masses is an innovative melding of dramatic, dark pop songs and cutting-edge electronics. "The Things You Said" and "Sacred" stand out in particular with their rich emotional tones atmospheric synths.
27: Aerosmith – Permanent Vacation
By the time Permanent Vacation came around, Aerosmith were a veteran big rock act. With its updated production and impossibly catchy songs, the band adapted their bold, over-the-top style for contemporary audiences.
26: Tom Waits – Franks Wild Years
Today, "Cold Cold Ground" and "Way Down in the Hole" are perhaps best remembered for their inclusion on celebrated TV shows, but this 1987 album has plenty of other songs worth digging into.
Tom Waits - "Way Down In The Hole"
25: Napalm Death – Scum
Fierce, political, and unrelenting, Napalm Death's music feels like a gathering storm. Their 1987 album Scum brings speed, volume, and ferocity to their brief, brutalizing songs.
24: Sonic Youth – Sister
As fierce as anything in Sonic Youth's early catalog, Sister sharpens the band's avant-garde proclivities and the result is a nasty and exhilarating experimental punk record.
23: Keith Sweat – Make It Last Forever
One of the great R&B crooners of the 1980s, Keith Sweat's debut soars on the strength of his plaintive voice and songs that are full of longing and desire.
22: Jody Watley – Jody Watley
With its foundation of catchy tunes and funky, electronic beats, Jody Watley's self-titled album experiments with assorted musical flavors including guitar rock and pop-inflected R&B.
21: George Strait – Ocean Front Property
A spirited and beautifully executed release from country superstar George Strait, Ocean Front Property shines with uptempo tunes like "All My Ex's Live In Texas" and softer ballads like "Without You Here."
All My Ex's Live In Texas
20: Terence Trent D'Arby – Introducing the Hardline According to Terence Trent D'Arby
A monster debut from the young R&B singer/songwriter, Introducing the Hardline According to Terence Trent D'Arby soared with great songs animated by D'Arby's powerful voice.
19: Alexander O'Neal – Hearsay
Hearsay is the impressive sophomore album from Minneapolis soul singer Alexander O' Neal. Although the entire album is strong, songs like "Fake" and "Criticize" are enduring classics.
18: Wynton Marsalis – Marsalis Standard Time, Vol. 1
Wynton Marsalis' effortless transformation of the standards on this release proves that he was one of the greatest trumpeters of his generation.
17: Stephanie Mills – If I Were Your Woman
With her striking power and range, Stephanie Mills was one of the great singers of her generation. If I Were Your Woman is a classic and includes the massive radio hit "I Feel Good All Over."
16: Gloria Estefan & Miami Sound Machine – Let It Loose
A bright, highly-enjoyable fusion of Latin pop and electro, Gloria Estefan & Miami Sound Machine's album Let It Loose gave us hits like the ubiquitous party cut "Rhythm Is Gonna Get You."
15: The Smiths – Strangeways, Here We Come
The final studio album from The Smiths features some of their finest songs, like "Girlfriend in a Coma" and "Stop Me If You Think You've Heard This One Before."
14: Replacements – Pleased to Meet Me
On Pleased to Meet Me, Minneapolis punk heroes, the Replacements lay out their 70s AM radio influences for all to see. These songs are guitar-driven anthems that would've ruled radio a decade earlier. The band even pays homage to Big Star frontman Alex Chilton.
13: Echo & The Bunnymen – Echo & The Bunnymen
A dreamy and cinematic epic, Echo & The Bunnymen is one of the quintessential 80s rock albums.
12: INXS – Kick
Anthemic pop-rock meets danceable beats on INXS' 1987 full-length Kick. The album features mega-hits like "Need You Tonight" and "New Sensation."
INXS - Need You Tonight (Official Music Video)
11: R.E.M. – Document
Without question, "It's The End Of The World As We Know It" was a smash hit and the biggest song from Document but the album is full of gems. "Finest Worksong" kicks things off wonderfully and "Fireplace" stands out as one of the great album cuts of the classic R.E.M. period.
10: Eric B. & Rakim – Paid in Full
Combining street-wise narratives with intricate wordplay and spiritual knowledge of self, Eric B. & Rakim's debut was a watershed moment in the evolution of rap music. Rakim's flow and lyrics on the title track, as well as songs like "My Melody," "I Know You Got Soul," and "I Ain't Know Joke" influenced an entire generation of rappers.
09: The Cure – Kiss Me, Kiss Me, Kiss Me
The undoubted highlight of this 1987 album from Robert Smith and friends is the bouncy single "Just Like Heaven," but there are countless more goth pop moments to treasure on Kiss Me, Kiss Me, Kiss Me.
08: George Michael – Faith
Riding on the backs of two smash hit singles "Faith" and "Father Figure," George Michael's Faith succeeds with its powerful combination of pop and gospel-inspired soul.
07: Dinosaur Jr. – You're Living All Over Me
When You're Living All Over Me was released in 1987, its mixture of sweet vocal melody and harmony with blistering, noisy guitars was novel. Listen to rock music today, and you can hardly escape it.
06: Michael Jackson – Bad
The follow-up to Michael Jackson's 1982 smash Thriller, Bad finds the King Of Pop leaning into a harder, more rock-oriented sound.
05: Whitney Houston – Whitney
Whitney Houston followed up her massive debut album with another LP of hits, led by the iconic "I Wanna Dance with Somebody (Who Loves Me)."
04: U2 – The Joshua Tree
There are few album-opening trilogies better than "Where the Streets Have No Name," "I Still Haven't Found What I'm Looking For," and "With or Without You."
U2 - Where The Streets Have No Name (Official Music Video)
03: Def Leppard – Hysteria
With its fun and hard-rocking jams and emotive ballads, Def Leppard's Hysteria is pretty much perfect. The album includes the massive hit "Pour Some Sugar On Me."
DEF LEPPARD - "Pour Some Sugar On Me" (Official Music Video)
02: Prince – Sign "O" the Times
A sprawling and ambitious double album, Sign "O" the Times saw Prince wrestling with spirituality, as well as broad social and political issues.
01: Guns N' Roses – Appetite For Destruction
Loud, swaggering, and absurdly catchy, Guns N' Roses' Appetite For Destruction was one of the great mainstream rock albums of the 80s. "Welcome to the Jungle," "Paradise City," and "Sweet Child o' Mine" live on as rock radio staples.
Guns N' Roses - Welcome To The Jungle
Think we missed one of the best albums from 1987? Let us know in the comments below and check out our 80s pop playlist on Spotify.