Best Eric B. & Rakim Songs: 20 Trailblazing Tracks
Measuring up to anything laid down a quarter century ago, the best Eric B. & Rakim songs remain timeless and hugely influential.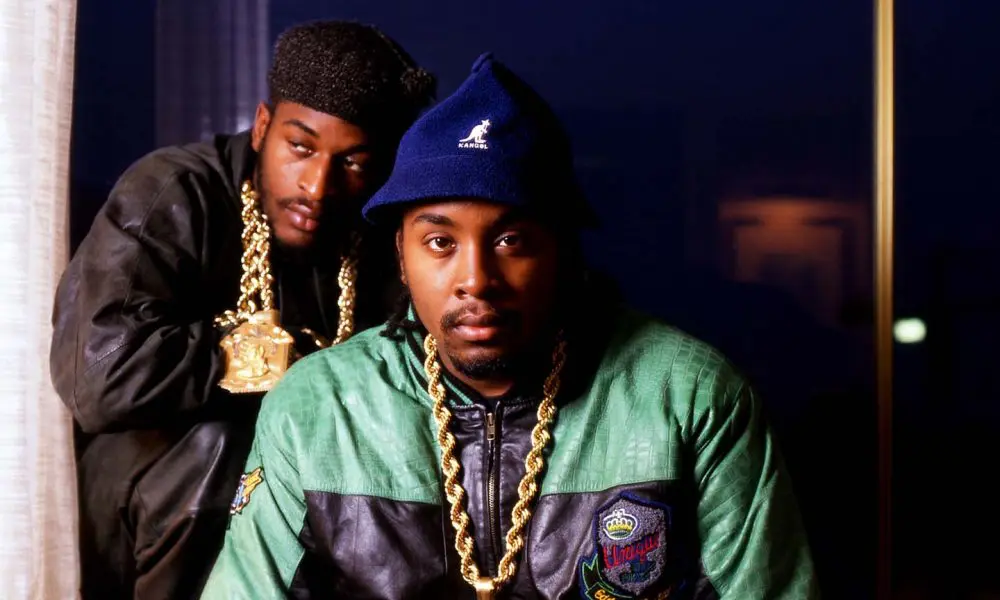 Emerging during hip-hop's "golden age", Eric B And Rakim fused an easy-going flow with hard-edged beats, describing their distinctive style in the lyrics to "My Melody": "The melody that I'm styling, smooth as a violin/Rough enough to break New York from Long Island." Tucked away as the B-side to their first 12" single, "Eric B Is President", "My Melody" remains one of the best Eric B And Rakim songs – and, ironically, was the result of these two regions coming together, in the form of a DJ from East Elmhurst, Queens (Eric B, né Eric Barrier) and an MC from Wyandanch, Long Island (Rakim Allah, né William Griffin).
Listen to the best Eric B and Rakim songs on Apple Music and Spotify.
Their first recording sessions together spawned a 12" single engineered by hip-hop's first super producer, Marley Marl, and came out in 1986 on the tiny local label Zakia Records. "Eric B Is President" and "My Melody" completely changed the face of the genre, just as Run-DMC's "Sucker MC's (Krush-Groove 1)" had done three years earlier. Rakim's laidback delivery coupled with his internal rhyme patterns and vivid, metaphorical language put him in contention for the title of greatest MC of all time, rivaled only by fellow class-of-1986 alumni Big Daddy Kane and Kool G Rap.
Eric B And Rakim's debut full-length album, Paid In Full, was released in 1987 on Island subsidiary 4th & B'way Records, and remains a golden-age classic stuffed with some of the best Eric B And Rakim songs. The album's lead single, "I Ain't No Joke", was used for their first music video, which incidentally features enduring jokester Flavor Flav of Long Island group Public Enemy.
Eric B. & Rakim - I Ain't No Joke
Just as their first few singles proved to be an evolutionary leap on the lyrical front, "I Know You Got Soul" set the gold standard for hip-hop production. A combination of drum samples taken directly from Bobby Byrd and Funkadelic records replaced what had exclusively been programmed drum machine beats. It was a historic correction of sorts; now looped drum breaks could approximate the experience of seeing live DJs at park jams in the 70s, when hip-hop was being born. The duo proved themselves to be the total package: lyrical content complicated enough to hold one's interest, but with choruses simple enough to sing along to, over music that was both sonically superior to everything else – and danceable.
Eric B & Rakim's music was mostly created using samplers, drum machines, and turntables for cutting and scratching (eg, the Beastie Boys-meets-Barry White sample-laden "As The Rhyme Goes On"), but keyboards were also occasionally employed. "Move The Crowd" features a synth line written and played by Rakim's older brother Steve Griffin. Rakim had himself been a sax player and cited John Coltrane as an inspiration for his unique rhythmic vocal patterns – an influence that can be felt throughout the best Eric B And Rakim songs. Their other brother, Ronnie, was a touring keyboardist in early rap star Kurtis Blow's live group. The Griffin brothers come from musical stock: their aunt was "The Queen Of R&B" Ruth Brown, who had so many hit records in the 50s that her label, Atlantic, was referred to as "The House that Ruth Built."
Eric B. & Rakim - Move The Crowd
At the behest of Island Records, Paid In Full's title track was remixed by the UK dance music production team Coldcut. This "Seven Minutes Of Madness" mix, released in October 1987, expanded on what was already one of the best Eric B And Rakim songs, and proved to be the entry point for both the duo and hip-hop as a whole into the European mainstream. A music video for this remix was created, making it the version most remembered by anyone who watched MTV, stepped into a dance club, or lived on the other side of the pond in the 80s.
The group then signed with MCA's resurrected Uni imprint, eventually moving to MCA proper. Their second album, 1988's Follow The Leader, had to not only live up to its predecessor, but also hold its own weight among a slew of classic LPs by EPMD, Public Enemy, NWA, Eazy-E, Ice-T, King Tee, Big Daddy Kane, Boogie Down Productions, Biz Markie, Stetsasonic, Slick Rick and Run-DMC, all released during what Rolling Stone calls "hip-hop's greatest year." The result was tremendous. Listeners were smashed over the head repeatedly and unrelentingly, with fast, clever, and conscious lyricism, and beefed-up beats. Housing many more of the best Eric B And Rakim songs, Follow The Leader is Paid In Full after doing a thousand push-ups and getting a college degree.
Eric B. & Rakim - Follow The Leader (Official Music Video)
The album's title track mixes a radical, pro-black message with intergalactic time-travel imagery and terminology used by The Nation Of Gods And Earths (aka The Five-Percent Nation), an off-shoot of the Nation Of Islam that Rakim had joined before meeting Eric B. Many phrases and figures of speech, such as "letting knowledge be born," "showing and proving," "Asiatic" and "dropping science" were either brought to hip-hop or popularized by Rakim, whose own nickname, The God MC, are a direct result of his spiritual convictions.
While Eric B And Rakim are credited as sole producers on every one of their albums, they are indebted to the musical prowess of veteran recording engineer Patrick Adams, whose own career dates back to the late 60s. For their first two albums, Rakim (and sometimes Eric) would give Patrick records to sample, and Eric B would add scratches on top. Having had experience as a DJ before fully committing to the mic, Rakim himself would also scratch on some tracks. "Microphone Fiend" takes the listener back to Rakim's days as a youngster, when he became addicted to the art of rhyming, but was denied the opportunity to MC by his elders. Consisting of one enormous verse and one of the hardest beats set to tape, the listener is pulled back in time to 1983, as the track is gradually reduced to bass and snare hits.
Eric B. & Rakim - Microphone Fiend
"Lyrics Of Fury" is probably, lyrically, the best rapping anyone's ever done," said comedian and hip-hop aficionado Chris Rock. Employing James Brown's "Funky Drummer" break (played by Clyde Stubblefield, in 1970), the track is a benchmark moment for fast, aggressive, braggadocious rap music that would fall out of favour within hip-hop by the mid-90s.
"Eric B Never Scared," meanwhile, is an example of one of the handful of DJ-centric instrumentals that made it to the group's first three albums. The beat and vocal sample comes from "Those Shoes" by Eagles, illustrating the fact that records embraced by hip-hop sometimes come from the unlikeliest of places. "You're so smooth and the world's so rough," sings Don Henley, whose sped-up, Chipmunk-like voice somehow enhances what's not only one of the best Eric B And Rakim songs, but also one of the genre's greatest non-rap tracks.
Chaka Khan's 1984 rendition of Prince's "I Feel For You" features old-school legend Melle Mel rapping throughout, which set off a wave of songs with R&B and pop divas performing alongside MCs. This formula was still relatively novel in 1989, when Eric B And Rakim paired with former Shalamar vocalist Jody Watley for "Friends". Eric's involvement is unclear, but Rakim's rhyming, interspersed with Jody's voice, helped the single break the US Top 10. It was remixed soon after by Paul Shabazz, Hank Shocklee and Eric Sadler, the latter two part of Public Enemy's production team, The Bomb Squad. On their own, Eric B And Rakim had little luck on the Billboard Hot 100 in those days when US radio (including black radio) would still discriminate against hip-hop.
Jody Watley - Friends ft. Eric B. & Rakim
In mid-1989, engineer Paul C (full name Paul C McKasty), was helping lay down tracks for Eric B And Rakim's third album, Let the Rhythm Hit 'Em, when he was murdered in his Queens home. Paul's disciple, William Paul Mitchell, aka Large Professor, of the group Main Source, took the reins and finished the album, employing an oft-used aggressive drum break by Commodores for the title track. "In The Ghetto" is slower and addresses racial inequality from a Five-Percenter perspective, while "Mahogany" witnessed the duo's first foray into romantic rhyming.
After LL Cool J's 1987 smash hit "I Need Love," many hip-hop full-lengths featured at least one "love rap," and the results were almost uniformly cheesy. "Mahogany" and "What's On Your Mind" (which would appear on both the following album, Don't Sweat The Technique, and in the movie House Party II, as an "Extended Vocal Version"), however, rank among the best Eric B And Rakim songs. That they manage to avoid any cheesiness is possibly in part to the tone of Rakim's voice staying in the same register, his lyrics describing experiences rather than being formatted like first-person love letters.
Eric B. & Rakim - In The Ghetto
Also assembled by Large Professor, Don't Sweat The Technique marked the group's final album. Released in 1992, it's their only full-length without an RIAA certification (the debut went platinum, while albums two and three went gold). By this point, jazz had fully integrated itself into hip-hop, and the title track, with its stand-up bass sample from Young-Holt Unlimited, reflects the changing times.
The public's first exposure to the new album came with the December 1991 release of the Juice soundtrack. The film co-starred a then-largely unknown Tupac Shakur, who was also balancing a career as an MC, but doesn't appear on the soundtrack himself. "Juice (Know The Ledge)" (later shortened to "Know The Ledge") vaguely reflects the criminal theme of the film. On one of the best Eric And B Rakim tracks of this era, the MC raps from the perspective of a murderous New York drug dealer working to build his reputation while staying on the correct side of a gun.
Eric B. & Rakim - Juice (Know The Ledge)
Where the duo had previously used violence metaphorically (and would continue to do so on cuts such as "The Punisher"), Eric B And Rakim had started to explicitly discuss murder in their songs. West Coast-centric gangsta rap began to dominate both coasts by the early 90s, and hip-hop's previous generation upped the action in their lyrics. Recorded in the aftermath of the first Gulf War, "Casualties Of War" is a chilling, fictitious account of a soldier who frags his superior officer to get out of killing fellow Muslims. Suffering from PTSD upon returning back home, the soldier commits mass murder. One of the best Eric B And Rakim songs to deal with violence, it was released one year before the 1993 World Trade Center bombing, and also eerily predicts terror attacks in New York as revenge for US involvement in the Middle East.
Eric B And Rakim parted ways after Don't Sweat The Technique – the album's title track almost a career summary of sorts – and never made another album together. They remain one of the few hip-hop units to have ridden away clean, leaving behind a concise, flawless catalogue that has proven to be massively influential over the ensuing decades. From the earliest material, created using rudimentary Marley Marl beats and scratches, through Large Professor's slick-yet-exciting jazz-inflected sample-based productions, the best Eric B And Rakim songs remain top-notch, continuing to measure up to anything being laid down a quarter-century later. Rakim even predicted their own timelessness and immortality in "Follow The Leader:"
I came to overcome before I'm gone
By showing and proving and letting knowledge be born
Then after that I live forever. You disagree?
You say never? Then follow me
From century to century, you'll remember me
In history, not a mystery or a memory
Standalone vinyl editions of Eric B & Rakim's four studio albums, Paid In Full, Follow The Leader, Let The Rhythm Hit 'Em, and Don't Sweat The Technique are available along with the seminal group's first career-spanning box set, Eric B & Rakim: The Complete Collection, a 10-disc box set that includes all four LPs, two CDs of rare remixes and a 36-page booklet featuring vintage photos. Buy the box set here.