Celia Cruz: Celebrating The Queen Of Salsa
Incomparable, charismatic, and glamorous, the Cuban-born artist was a larger-than-life figure who was so much more than a mere singer.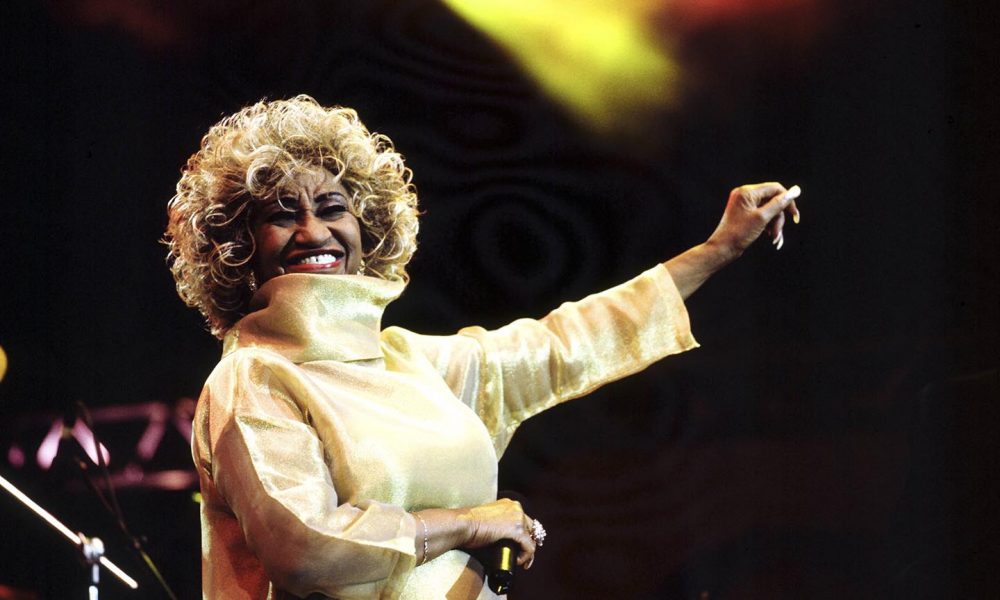 If you've ever been to a salsa class, odds are you've heard Celia Cruz. Even if her name is unfamiliar, once heard, Cruz's voice – by turns strident and tender but always brimming with passion and a playful sassiness – is never forgotten. And she cut an arresting sight, too, dressed resplendently in extravagant stage costumes that consisted of eye-grabbing wigs and dazzling sequined frocks that were ablaze with riotous color.
Her singing career began in Cuba after the Second World War but took off spectacularly in America during the 60s and 70s, when Latin salsa music became one of the hottest musical currencies in New York.
From Cuba To The World
Cruz was born Úrsula Hilaria Celia De La Caridad Cruz Alfonso in Havana, Cuba on October 21, 1925. From a poor family, she began singing at an early age, initially urged by her mother to croon lullabies to put her younger siblings to sleep at night. Cruz then got more serious about performing music and began entering – and winning – radio talent shows in Havana and performing in cabarets.
Though in her teens she studied to be a teacher, Cruz's love of singing prompted her to enter Cuba's National Conservatory Of Music. She also began singing with local orchestras and, in 1948, her first step on the ladder to stardom was joining a troupe of dancers and singers called Las Mulatas De Fuego, with whom she made her first recordings. Two years later, she became lead singer of a more significant group, La Sonora Matancera, with whom she recorded a raft of albums, many of which were issued by the Seeco label in the US and helped to carry Celia Cruz's name beyond her homeland.
All Hail The Queen Of Salsa
The Fidel Castro-led communist revolution in Cuba on July 15, 1960, happened while Cruz was out of the country, touring Mexico with La Sonora Matancera. The new regime didn't look kindly on the group's foreign sojourns and forbade them to return to their motherland. Now living in exile, Cruz and the group traveled to the US in 1961. After a successful first tour of America, they then performed in Europe and Japan but, in 1965 and after 15 fruitful years with La Sonora Matancera, Cruz decided the time was right to go solo and left. During the 60s, she also married Pedro Knight, who would go on to be her manager.
By this time, the singer had taken American citizenship. She then teamed up with Cuban bandleader Tito Puente and his orchestra, recording several albums with him in the second half of the 60s for the rising Tico imprint, an independent New York label which would later become part of the Fania label group. In 1966, as a 41-year-old solo artist, she recorded one of her signature tunes, a brassy percussion-driven dance groove called "Bemba Colorá," which helped cement her fame in America.
In 1973, Cruz — by this time already a big star in the world of Latin music — surprised her fans by changing direction and moving from traditional Cuban music forms to a new hybrid called salsa. It was a move prompted by Fania recording artist and pianist Larry Harlow, who was directing an Afro-Cuban version of The Who's rock opera, Tommy (re-titled Hommy) at New York's prestigious Carnegie Hall.
After this period, Cruz was persuaded by Fania co-founder Jerry Masucci to join his label's new subsidiary imprint, Vaya Records. Over the course of the next decade, she would earn the title The Queen Of Salsa. Perhaps most memorably, in 1974 she worked with Johnny Pacheco to produce an album that featured "Quimbara," an immensely popular song. It was during her tenure at Vaya that she also became part of Fania All-Stars, an elite Latin supergroup which was hugely successful and took salsa to audiences across the globe, particularly in Puerto Rico, Panama, and, of course, New York.
Exporting Cuban Music To The World
While salsa's popularity seemed to peak in the late 70s, there was no downturn in Celia Cruz's fortunes when the 80s arrived. That decade not only witnessed Cruz reuniting with La Sonora Matancera for an album, it also found her making an entry in The Guinness Book Of World Records for a free outdoor concert in Tenerife – at that time the biggest event of its kind, attracting 250,000 people. Recalling the concert in her autobiography, she wrote: "An event like that goes to show the importance of exporting the music of my tiny homeland throughout the world."
In 1987, Cruz received a star on the Hollywood Walk Of Fame and, a year later, New York's then-mayor Ed Koch bestowed upon her the Mayor's Award For Art And Culture. Then, in 1989, after having received 19 Grammy nominations, she finally won her first, for the song "Ritmo En El Corazón" (she would go on to pick up six additional Grammys in her career).
A gift from the soul
The next decade was no less remarkable. In 1990, after 30 years of exile, Cruz was finally allowed to visit Cuba. A year later, a street in Florida was named after her. Then, in 1993, at the age of 67, she made her Hollywood debut: the film Mambo Kings was the first of two big mainstream movies she appeared in. (She recorded a version of "Guantanamera" for the film.) The following year, President Bill Clinton bestowed on her a prestigious National Medal Of Arts award. By now dubbed the "Gran Señora" of Latin music, Cruz continued to be honored in her twilight years, including, in 1997, the city of San Francisco declaring October 25 Celia Cruz Day.
And she still hadn't stopped producing music. In 1998, she recorded "La Vida es un Carnaval," and in 2001, the Cuban American singer came out with "La Negra Tiene Tumbao," featuring Mikey Perfecto. On July 16, 2003, Celia Cruz succumbed to cancer at the age of 77. Half a million people lined up to pay their last respects to her — first in Miami, and then in New York, where she was buried. But this wasn't the last the world heard of Celia Cruz; she'd been working on a new album, her 70th, just before her death. Released as Regalo Del Alma (A Gift From The Soul) three weeks after her passing, it took Cruz into the Top 40 of the US albums chart and was received with both Grammy and Latin Grammy awards. After Cruz's death, Gloria Estefan hosted Azúcar, a tribute to Cruz and the mark she left on music.
Celia Cruz's legacy
Since Cruz's death, her reputation has grown. A few months after her passing, the Celia Cruz Bronx High School Of Music opened in New York and, a year later, a park was named after her in New Jersey. Her posthumous autobiography, Celia – Mi Vida, with a foreword by Maya Angelou, was a bestseller in 2005, while her life also became the subject of two acclaimed children's books.
That same year, her career was celebrated by an exhibition at the National Museum Of American History and, in 2007, an award-winning musical about her life had a successful off-Broadway run. She has also been commemorated on a US postal stamp in 2011 and had her life made into a Colombian TV series. More recently, in 2019, her music inspired a critically-lauded tribute album, Celia, by noted Benin-born musician Angelique Kidjo, who gave ten of Cruz's signature songs an Afrobeat makeover.
Incomparable, charismatic, and glamorous, Celia Cruz was a larger-than-life figure who was so much more than a mere singer. A bona fide Latin cultural icon, The Queen Of Salsa left an indelible mark on the world, and her appeal and influence transcended both musical and demographic barriers.