'El Rey Bravo': Tito Puente's Latin Jazz Masterpiece
Though now renowned for its fluke hit, El Rey Bravo beautifully captures the excitement of Tito and his orchestra during their extended heyday.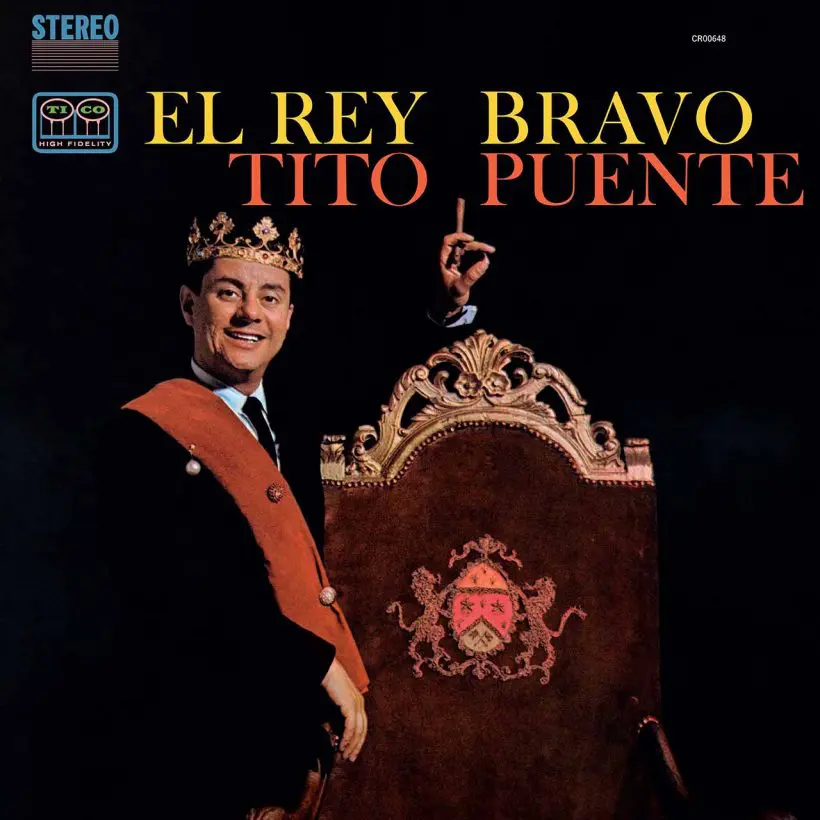 A giant of Latin music, Tito Puente's storied multi-decade career as a bandleader and percussionist yielded a plethora of essential compositions and recordings. Yet ironically by far his best-known individual song, "Oye Como Va," was originally something of a throwaway. Tucked away on Puente's 1962 LP, El Rey Bravo, the tune owed a considerable artistic debt to its obvious inspiration, "Chanchullo," an Israel "Cachao" Lopez-penned cha-cha that Tito recorded for RCA in 1959. Closely modeling the block piano chords and flute-led arrangement for "Chanchullo," "Oye Como Va" did its forerunner even better by adding an irresistible refrain (sung in choral tandem with vocalists Santos Colon and Rudy Calzado) ideal for seducing dancers and exalting Puente's percussive charms: "Oye como va, mi ritmo/ Bueno pa gozar…" ("Listen how it goes, my rhythm/ It's good to enjoy…").
Order Tito Puente's El Rey Bravo now.
That's about as far as this playful album track might have gone had Carlos Santana not sought out another Latin jazz tune for his eponymous rock outfit to cover as a follow-up to their 1969 remake of Willie Bobo's "Evil Ways." A global smash, Santana's amplified take on "Oye Como Va" (prompted by Carlos's manager, legendary concert promoter Bill Graham) put some much-deserved retroactive respect on Puente's original, revealing to the masses what was evident to Tito's longtime listeners all along: in his best years even El Rey's filler could be phenomenal. Though now renowned for its fluke hit, El Rey Bravo beautifully captures the excitement of Tito and his orchestra during their extended heyday.
Tito Puente - Oye Como Va (Official Audio)
Recorded at the Hotel Riverside Plaza Ballroom – a Manhattan venue with strong acoustics apparently favored by Tico's notorious parent label, Roulette Records – the album conveys a "live" dynamism exemplified by "Oye Como Va's" surprise false ending and raucous in-studio chatter, a veritable party on record. Festive spirits are prevalent on the hi-speed mambos that dominate throughout. "Malanga Con Yuca" sets the tone and template with frenetic ensemble interplay between Tito's timbales, Gilberto Lopez's storming piano, Johnny Pacheco's chirping flute, Felix "Pupi" Legaretta's nimble violin, and a robust brass section featuring trombonist Barry Rogers. A scorching "Traigo El Coco Seco," and the self-descriptive "Tito Suene El Timbal" are both borderline manic. "Tombola" is more literal in its good vibes, showcasing Tito's talents on vibraphone. Transporting things further afield, "Tokyo De Noche" adds a tasteful touch of "oriental" exotica reminiscent of past Puente excursions like "Hong Kong Mambo" (reflections of Tito's reputed Far East fixation), while "Africa Habla" joyously explores the roots of Tito's beloved Afro-Cuban musical heritage.
Tito Puente - Traigo El Coco Seco (Audio Oficial)
Given the prolific recording schedule necessitated by music industry practices at the time, these recordings were anything but precious. "It was a little bit hectic when we were recording tunes at first sight," pianist Lopez recalled to journalist Andrew Mason, "because we had to record it in as least takes as possible. There was always hollering about studio time. If it wasn't the producer, it'd be Tito saying, 'I'm not paying overtime!'" All of which makes El Rey Bravo's musical riches more worthy.