'All Star': The Story Behind Smash Mouth's Hit Song
Smash Mouth's song 'All Star' changed the course of the band's career and become one of pop radio's most enduring hits.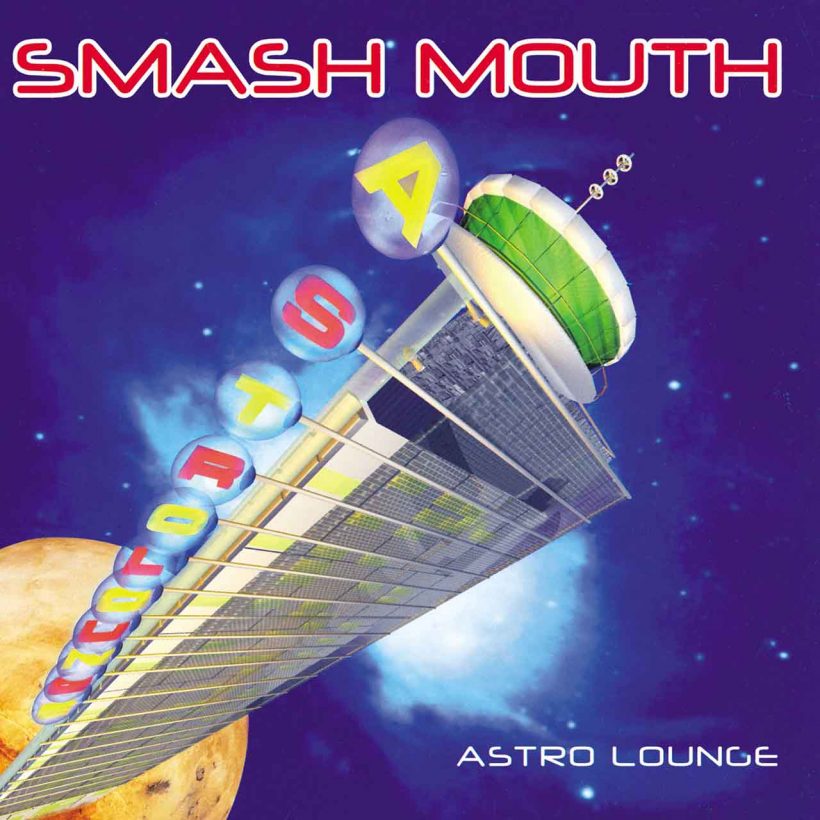 After the initial success of their debut single, "Walkin' On The Sun," Smash Mouth returned to the studio to record the follow-up to 1997's Fush You Mang at their new home on the major label Interscope. Within the band, tensions were high as the fear of being a one-hit wonder loomed above them. "Walkin' On The Sun" had been a divisive hit, luring in droves of new fans intrigued by its quirky, Farfisa-driven beach-blanket sound. At the same time, however, it alienated many of the band's longstanding fans, who identified with the harder, ska-punk songs that comprised most of the album. But by the time Fush You Mang's follow-up, Astro Lounge, hit the shelves, Smash Mouth would have fully embraced a poppier sound, epitomized by their juggernaut single "All Star."
Smash Mouth - All Star (Official Music Video)
"Smash Mouth was sort of in between pop and punk"
Smash Mouth enlisted producer Eric Valentine (Good Charlotte, Queens Of The Stone Age, Third Eye Blind) to produce the tracks for what would eventually become their second album, Astro Lounge. For the sessions, the band converted an old house into a recording studio in Los Gatos, south of the band's hometown of San Jose.
At the onset, a decision was made to eschew their earlier punk leanings to focus on a more commercially viable pop sound, leading drummer Kevin Coleman to part ways with the band after the recording sessions. Having written "Walkin' On The Sun" before even joining the band, Smash Mouth guitarist Greg Camp was promoted to head songwriter.
Valentine and Camp worked together to create a vision for Astro Lounge with some input from Interscope. Camp brought a wistful, 60s surf-lounge aesthetic to the music while Valentine brought the pragmatism of industry experience. By the end of the sessions, the band had 13 songs' worth of potential pop-rock gold.
Keep drilling
Believing the album was in the can, Robert Hayes, the band's manager, delivered it to Interscope. Despite Smash Mouth's focus on writing poppier songs, Jimmy Iovine and Tom Whalley, then working in the label's A&R team, felt the collection lacked a strong single. They ordered Hayes and the band to keep drilling until they hit commercial oil.
After months of back-and-forth, each side expressing frustration, Hayes sat Camp down with a copy of Billboard magazine. Together they went through the Top 50 and dissected the songs down to their successful parts. Camp was then charged with writing some songs including all those elements. A few days later, the guitarist returned with the soon-to-be hits "Then the Morning Comes" and "All Star."
"I set out to write an anthem for them"
"Smash Mouth was sort of in between pop and punk at that time," Camp told Rolling Stone in a recent interview.
"These were kids that weren't really wearing a uniform in any certain way. They weren't mods, they weren't punks, they weren't jocks, they weren't sport-os. They were just these kids that liked music, saying that they got picked on a lot. I sort of verbally set out to write an anthem for them. That's how it started."
Valentine had brought in session drummer Michael Urbano, who played the song twice before nailing it; he quickly forgot about the session until hearing "All Star" on the radio one day. "I had only heard it three times, and then I heard it three million times within two weeks," said Urbano in the same interview.
"All Star" was first released as a single on May 4, 1999, followed by Astro Lounge on June 8. By August, the single peaked at No.4 on the Billboard Hot 100. Following the album's release, the band set out on a relentless two-year tour.
Smash Mouth, Breathe Carolina - All Star (Breathe Carolina Remix / Visualizer)
"You couldn't turn on the TV without hearing 'All Star'"
During this time, "All Star" saturated the airwaves. "One of the things with 'All Star,' it was very licensable, I licensed the crap outta that song," remembers Hayes. "You could not walk into a grocery store or turn on the TV without hearing 'All Star.'"
Even to this day, licensing requests for the song still come up a few times a week, Camp explained to The Ringer in a recent interview. "I mean, even this morning I was getting asked by our publishing company if it was OK to use it in two different things. Most requests are approved, unless they want to change the lyrics something like, 'Hey now, you're a hamburger guy.'"
The song also featured prominently in the films Mystery Men (1999), Inspector Gadget (1999) Digimon: The Movie (2000), and Rat Race (2001). It received a Grammy nomination for Best Pop Performance at the 1999 awards, but eventually lost out to Santana.
Hollywood comes calling
Then, in 2001, director Vicki Jenson was at the helm of an animated family film for DreamWorks about a curmudgeonly green ogre called Shrek. Jenson was looking for something different for the movie, especially when it came to the soundtrack. When they initially approached Smash Mouth to ask if they could use "All Star," the band turned the request down. Following a private screening of the film, however, the group recognized how successful it was going to be.
Shrek (2001) - An All-Star Ogre Opening Scene (1/10) | Movieclips
Shrek went on to gross over half a billion dollars at the US box office, and, for a whole generation of children, "All Star" became a comforting anthem of courage and self-acceptance. For Smash Mouth, it was the pinnacle of commercial success – with all the spoils they could imagine.
If that wasn't enough of a fairy-tale ending, by the late 00s the song found an ironic afterlife being memefied, parodied, and mashed-up in hundreds, if not thousands of videos on YouTube. Over two decades since its release, "All Star" still glitters like gold.
Listen to the best of Smash Mouth on Apple Music and Spotify.