The Big Music: How U2 Led a League of Righteous 80s Arena Rockers
U2, Simple Minds, Big Country, The Alarm, and more all had an unabashed belief in the redemptive power of larger-than-life rock.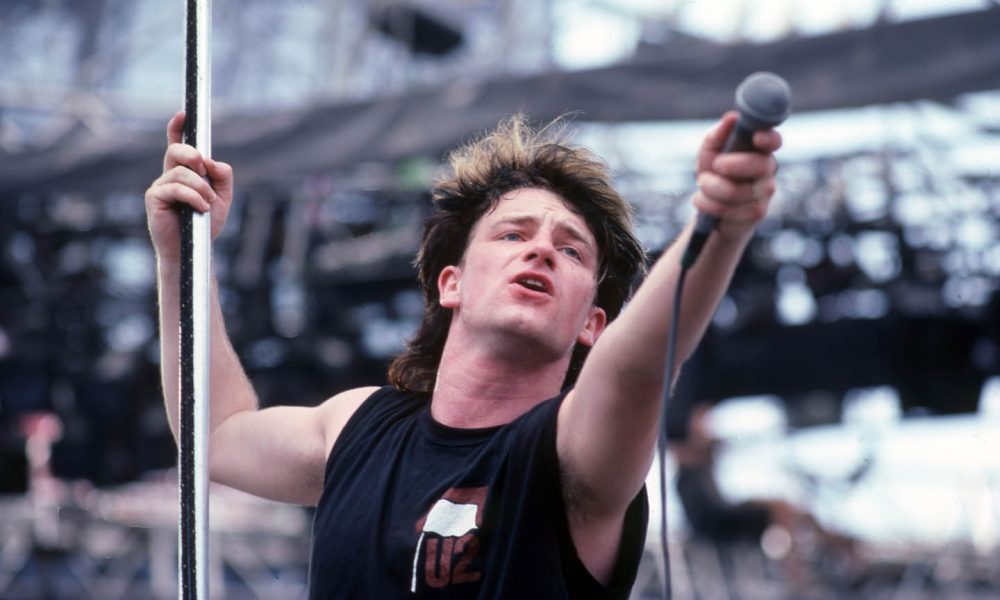 "I have heard the big music and I'll never be the same," sang Mike Scott on The Waterboys' 1984 song "The Big Music" amid keening sax, cannon-blast beats, almost ecclesiastical piano, and wailing female backing vocals. Given his proclivities, there's a solid chance the lyrics were a metaphor for something spiritual. But admirers eventually latched onto The Big Music as an umbrella term for the loose agglomeration of mid-'80s bands with an epic vibe and an unabashed belief in the redemptive power of larger-than-life rock, including U2, Simple Minds, Big Country, The Alarm, and more.
Anthems were anathema to the cool kids at the onset of the New Wave/post-punk era. So was earnestness. These signifiers were seen as embarrassing relics of boomer rock. But a small group of the young, punk-informed ranks were proud to fuse classic rock tenets with the surging intensity of the rising tide.
U2 were early adopters. As teens, they were inspired by Stiff Little Fingers and Joy Division but equally fascinated by Bob Dylan and Irish blues-rocker Rory Gallagher. They were covering The Beatles and channeling Jimi Hendrix before the 80s were over. All but Bono were still teenagers in October of 1980 when their debut album, Boy, was released. The underage Dubliners represented an alternative to the crotch-grabbing arena rockers of yore. But crucially, they also wore a willingness to cast all ideas of detached post-punk coolness to the wind in favor of a fresh brand of spiritually motivated, politically potent, banner-waving rock. And that's what really helped them turn heads from the start.
Listen to the best of U2 on Apple Music or Spotify.
Their sound would turn more sweeping by mid-decade, but from the opening track on Boy, "I Will Follow," they were already unfolding widescreen vistas for the mind's eye, with Bono's clarion-call vocals, The Edge's unrelenting, reverb-heavy riffs, and Larry Mullen's huge, galloping beat. Key to the grand-scale sonic architecture was the vision of producer Steve Lillywhite. He'd just recently helped Phil Collins create the immense, gated-reverb sound on Peter Gabriel's third album that would revolutionize 80s rock, and Boy wouldn't be the last Big Sound milestone to bear his name.
The summer of 1983 was a banner period in the evolution of the still-unnamed subgenre. Between June and July, Big Country, The Waterboys, and The Alarm all unfurled their first musical statements. On their self-titled EP, the Alarm seemed to suggest an alternate universe where Billy Bragg fronted The Clash. Meanwhile, The Waterboys and Big Country's The Crossing both underlined Scotland's knack for birthing an inspirational clamor.
The arty, martial post-punk of Big Country frontman Stuart Adamson's previous band, The Skids, had helped set the stage for The Crossing's fist-pumping feel, but Adamson and Bruce Watson's unprecedented, bagpipe-like guitar sounds gave the band its own turf. The album's hits, "In a Big Country" and "Fields of Fire," hit the charts with a passionate rush of Celtic-flavored rock that felt simultaneously New Wave-friendly and arena-ready. Unsurprisingly, Steve Lillywhite was the eminence grise bringing the whole thing hurtling to life.
The most mercurial band of the lot, The Waterboys had a Van Morrison mystical side, a dash of post-punk urgency, the occasional neo-psychedelic swirl, and Anthony Thistlethwaite's saxophone smears adding atmosphere to Mike Scott's wild-eyed poetic musings. From the beginning, their music was full of emotions writ large, and on their second album, 1984's A Pagan Place, they limned an even larger world, partially thanks to the addition of keyboardist Karl Wallinger.
Simple Minds spent 1984 emerging from their synth-pop/New Romantic chrysalis, born anew on Sparkle in the Rain. Not that their earlier tunes didn't have their stately side, but cuts like "Up on the Catwalk" and "Waterfront" are where the Minds started positioning themselves for world domination, with the kind of monolithic drums and celestial keyboard lines that made you want to follow them anywhere. And guess which producer was shepherding them along to their rock-star destiny? None other than Steve Lillywhite.
Later in the year, U2 would gain even more from a new production team. Brian Eno and Daniel Lanois' electronic expertise aided the band on The Unforgettable Fire, building glistening castles in the sky big and bright enough to be admired from anywhere on the planet, like "Pride (In the Name of Love)" and "Bad."
The Alarm, meanwhile, had opened for U2 on the band's tour the previous year. On 1984's Declaration they came off as just about the most rabble-rousing gang of street-level spokesmen for the underdog you could imagine. If songs like "The Stand," "Blaze of Glory," and "Sixty Eight Guns" didn't make you feel like pumping a righteous fist in the air, you were probably in urgent need of medical attention.
Covering The Alarm for Creem at the time, Sylvie Simmons wondered, "Is this much-touted New Hope Movement or New Young Guitar Revival or New Folk or New Energy or whatever-you-want-to-call-it-thing just a load of old hippies with a highly advanced fashion consciousness?" But ultimately, she decided, "It's a beat you want to stomp to and words you want to believe in…. There's something about people with that much conviction in what they're doing – you can't help but go along at least part of the way."
The next year, The Alarm managed to maintain that intensity while adding a new level of sophistication on Strength, with a burnished brass arrangement on "Walk Forever By My Side," a Springsteen touch on "Spirit of '76," and their most compelling call for compassion yet in the title track. Around the same time, The Waterboys busted out their own magnum opus, This is the Sea, where Mike Scott embraced his role as the Cecil B. DeMille of rock on the band's largest-sounding album ever. "The Whole of the Moon" became their biggest hit, an epic paean to "every precious dream and vision underneath the stars."
With Once Upon a Time Simple Minds reached a new peak too. The album was a seamless transition from their post-punk/synth-pop past to the shining shores of a glistening, stadium-sized sound. With hits like "All the Things She Said," "Alive and Kicking," and "Sanctify Yourself," they channeled their art-rock influences into something accessible enough to make them bona fide international superstars, in a manner not dissimilar to that of So-era Peter Gabriel.
The Call never achieved anything close to the commercial heights of their Big Sound brethren, even with Peter Gabriel himself dubbing the group "the future of American music." The pulverizing one-two punch of Reconciled and 1987's Into the Woods tried to make good on that assessment. Like Bono and Mike Scott, Michael Been was a man motivated by the literal salvation of souls. With a drama-filled baritone, he delivered every note like his life depended on it, while drummer Scott Musick's mammoth whomp and keyboardist Jim Goodwin's cathedrals of sound amplified his passion on soulful, slamming college radio staples like "Everywhere I Go," "I Still Believe," and "I Don't Wanna."
U2's next move wasn't just an album – it was a full-fledged phenomenon. The Joshua Tree could be seen as the movement's capstone. "U2 are massive but minimal," wrote Simon Reynolds in Melody Maker upon the record's March 1987 release, "majestic but free of pomp or flourish." Gargantuan singles like the spiritually yearning "I Still Haven't Found What I'm Looking For" and "Where the Streets Have No Name" helped make U2's fifth album one of the most impactful records of the decade, both culturally and commercially. Like the band itself, it suddenly seemed as though The Big Sound couldn't get much bigger.
By this point, some second wavers had appeared on the scene. Dublin band Cactus World News was buoyed by friends in the highest places: Their debut single, "The Bridge," was produced by Bono for U2's imprint Mother Records. The capacious environs of their debut album, Urban Beaches, reflected that pedigree accordingly. Londoners Then Jerico had more in common with Simple Minds and reached the upper rungs of the UK charts with 1989's The Big Area. (Minds keyboardist Mick MacNeil brought things full circle by appearing on one of their 90s albums.) New Model Army was darker and more explicitly political, but it's easy to imagine them sharing a segment of the Big Country and Alarm audiences.
Through the decades that followed, there's never been a dearth of bands indebted to the artists who brought technicolor to 80s rock. It isn't tough to draw a line from The Big Sound to the likes of James, Elbow, Travis, Keane, Snow Patrol, and even world-beaters like Arcade Fire and Coldplay.
Of course, most of the first-gen bands are still out there storming stages and making new music, as well, and their cross-pollination has continued. A latter-day lineup of Big Country included Alarm singer Mike Peters and Simple Minds bassist Derek Forbes. Simple Minds covered The Call's "Let the Day Begin" and "The Walls Came Down" years after Michael Been's untimely 2010 passing, with Jim Kerr explaining that "he had a similar soul that one perceives in true American greats such as Robbie Robertson and even Dylan himself."
Maybe the spirit of these bands has survived through the years because their real agenda was all about amplifying the feelings lurking within each one of us. When A Pagan Place came out back in 1985, David Quantick interviewed Mike Scott for New Musical Express and asked, "Why is every song a Spectoresque whirlwind of sound, almost every lyric expressing an epic sentiment, every vocal almost a shout?" The singer earnestly replied, "I don't know why that is; must be the way I think."
Listen to the best of U2 on Apple Music or Spotify.