Phil Collins
The singer-songwriter from Chiswick who's responsible for some of the biggest pop and rock songs of the last 40 years.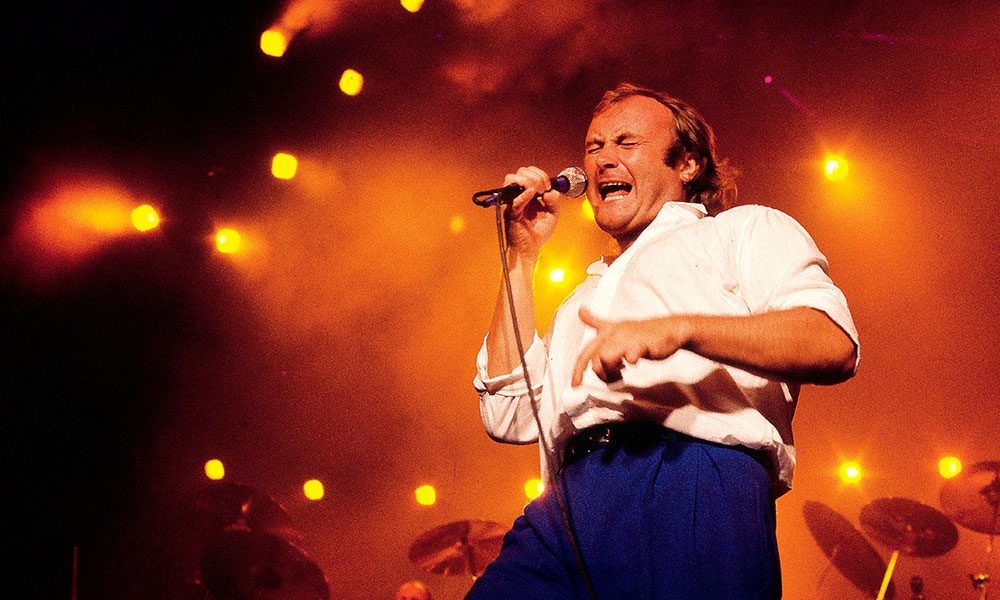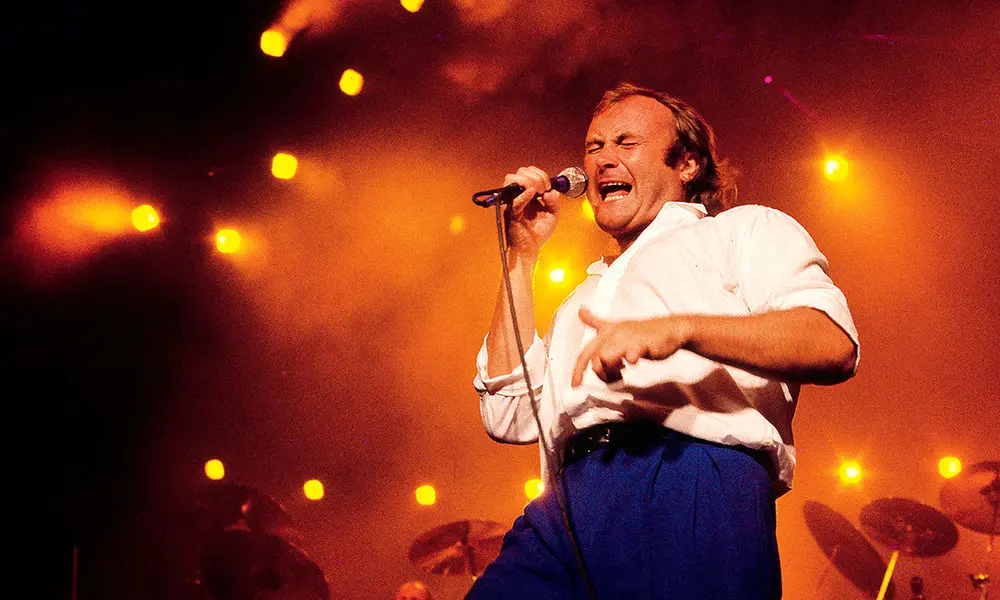 When Phil Collins answered an advert in the Melody Maker for "A drummer sensitive to acoustic music," little could he imagine what would transpire? Seen by many, including himself, as an unusual, and at a first reluctant, replacement for Peter Gabriel as the lead singer with Genesis; unusual until they heard him, he was made for the job. Even so, Collins may have been surprised by the success of his first solo album – it topped the UK chart, staying on the charts for over four years, and went top 10 in America. It was the beginning of a solo career that has, to date, seen eight studio albums released.
Collins started work on Face Value as winter gave way to spring in 1980, sessions finished the following January and the album came out a month later to stellar reviews. The album's opening track, and debut single, was the atmospheric, 'In The Air Tonight', which went to No.2 on the UK charts. 'Missed Again', which made No.14, followed it. In America, the releases were reversed and both tracks made No.19. Face Value eventually climbed to No.7 on the Billboard album chart where it stayed for three years. The beautiful, 'If Leaving Me Is Easy' became the third UK hit single from the album and it very much reflects the over-riding theme of the album, which addresses Collins's breakup from his first wife.
With its, at the time, controversial use of programmed drums rather than the live drumming most people would have anticipated, it is an album full of depth and interest. Aside from Collins it also features Eric Clapton on a couple of tracks and the Earth Wind & Fire horns that reflects Collins love of soul and R&B.
Despite being a tough act to follow, in November 1982 Collins put out, Hello, I Must Be Going, which only just failed to better his debut when it made No.8 in the Billboard chart. In the UK it made No.2 and stayed on the charts for well over two years. It includes Collins's homage to Motown and the Supremes with his cover of 'You Can't Hurry Love', which topped the UK chart and went to No.10 in the US. The principal musicians on the album were Collins, who played a whole variety of instruments along with guitar, and bass player, Daryl Stuermer, who played on his debut and many of his other solo albums; he had been playing live with Genesis since 1977, and continued to do so until 1992.
In the music business, there's a saying about, 'the difficult third album'. The theory is that the first two are usually made from material that has been stockpiled, while by the time of the third record it's wearing thin. Nothing could have been further from the truth as far as No Jacket Required is concerned. It topped the charts for seven weeks in America and repeated the feat in the UK, but only for five weeks. Sales were driven along by the success of singles that included, 'Sussudio' and 'One More Night'; both singles topped the Billboard chart. Among the gems on this album is 'We Said Hello Goodbye'. At the end of the No Jacket Required world tour Collins performed at both the Wembley and JKF Stadium Live Aid shows, flying between London and New York by Concorde.
To prove it was no fluke Collins's fourth studio album …But Seriously repeated the success of its predecessor, topping the charts in both Britain and America, as 1989 became 1990. The main single was the extraordinarily catchy, 'Another Day in Paradise', a song that was about the plight of the homeless, a subject that has rarely been covered in a No.1 selling single.
In 1990 many of the gigs on the …But Seriously world tour were recorded and released as Serious Hits Live. It's very different from many live albums in that there is a marked difference between many of the original versions of the songs and Collins's live versions. The drum sound, in particular, is less 'electronic' and the clarity of the vocals give full reign to Collins's voice, which sounds both assured and fragile on the ballads. It includes three of Collins's US No.1s that did not feature on studio albums, the Grammy-winning, 'Against all Odds', along with 'Separate Lives' and 'Two Hearts'.
1993's Both Sides was a solo album in every sense of the word as Collins made it entirely on his own. Over a period of just 6 weeks, Collins played and recorded everything at his home studio. According to Collins, "In the end, I had 17 songs and kicked out all those that did not fit that mood. As far as performance is concerned this has more heart and soul than anything I have done before." It was also a return to old themes in that this reflected upon the break-up of his second marriage. 'Both Sides of the Story' was a top 10 single in the UK. The album topped the charts in Britain, France, Holland and Germany and went to No.15 in America.
His sixth studio album, Dance Into Light, released in 1996, was a very much more up-tempo album than Both Sides. It was also the first album without any programmed drums. There's Beatlesque tracks like 'That's What You Said' and 'It's in Your Eyes', Mexicali sounds like, 'Wear My Hat', and even a Dylan cover, 'The Times They Are A Changin.' It topped the charts in Germany and several other European countries as well as making No.4 in the UK. 2002's Testify is a more reflective album than its predecessor and reflects the fact that Collins created many of the tracks in his home studio, working by himself; the albums' title track is a standout. His latest album is one made up mostly of Motown covers along with some other soul standards. Called Going Back, it featured Collins recording many of the songs that he grew up listening to in West London, around the time of him being an extra on The Beatles film, A Hard Day's Night.
Originally released in 1998 Hits does exactly what it says on the cover and focuses on Phil Collins's singles, many of which topped the charts around the world. It's also a great reminder of what a superb body of work Phil Collins has produced as a solo artist. It includes his chart-topping duet with Philip Bailey, the exultant, 'Easy Lover' and the first appearance on an album of the single, 'True Colors'. The range of Collins's work is also apparent on the soundtrack album for the Walt Disney animated movie, Tarzan from 1999. Collins composed the songs on the soundtrack and he performed them, some as duets. His song, 'You'll Be in My Heart' won both an Oscar and a Golden Globe for Best Original Song and received a Grammy Award nomination for Best Song Written for a Motion Picture, Television or Other Visual Media, while the soundtrack album received a Grammy Award for Best Soundtrack Album. Collins was helped by composer Eric Serra to record and produce French versions of the songs for the French language version of the movie.
What many people do not know is that Collins had another musical interest outside of Genesis even before his solo recordings. In 1976 he joined the jazz fusion band, Brand X as a drummer and they recorded Unorthodox Behaviour. The following year along came the Eastern-influenced Moroccan Roll, on which Collins sings one song, with the remainder of the album being instrumentals. The same year they released Livestock, a live album, on which Collins plays on half the tracks and he also missed their 1978 album Masque as he was fully committed to Genesis at this point.
Brand X's 1979 album, Product also had Collins missing from some tracks, as he was for 1980s Do They Hurt?. In 1982, despite all his solo commitments Collins was fully back involved for, Is there Anything About, but it proved to be his last album with this fascinating side project that failed to sell records in appreciable numbers, with only Moroccan Roll making the lower reaches of the UK album charts.
Format:
UK English