Spiritual Jazz: Music On A Higher Plane
Lying somewhere on the spectrum between avant-garde jazz and free jazz, spiritual jazz represented one of the most experimental periods in jazz's history.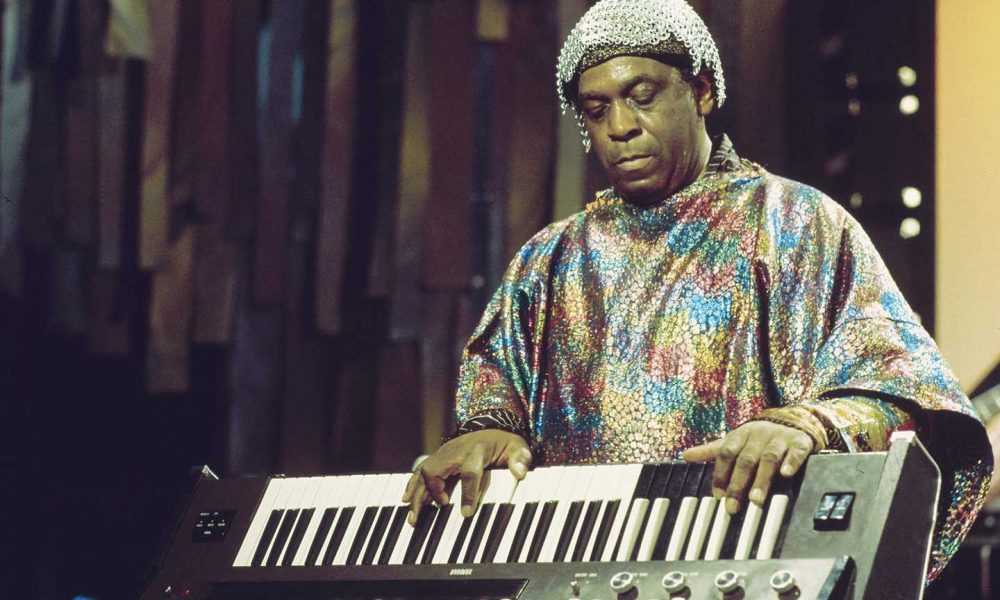 To the uninitiated, spiritual jazz, AKA astral jazz, can raise eyebrows even to self-professed jazz fans. With album covers bearing ancient Egyptian iconography and planetary scenes, it seemed destined for its own roped-off section at the record store.
Lying somewhere on the spectrum between avant-garde jazz and free jazz, astral jazz represented one of the most experimental periods in jazz's history. Emerging from the chaotic upheaval of the 60s, spiritual jazz continued to push the boundaries of the form, incorporating new instrumentation, Eastern influences, and delving into more abstract expressionism.
John Coltrane and Impulse Records!
From John Coltrane's Love Supreme to the advent of Impulse! records and his musical disciples who carried the creative torch after his passing, we examine the place spiritual jazz occupies in the world of jazz and avant-garde music at large and the music markers who broadened hearts and minds while making it.
As the mid-60s sparked seismic change in the culture, jazz was also experiencing great upheaval and being pulled in different directions. You had the free jazz movement led by artists like Ornette Coleman, while others looked to the rhythms of rock and roll for inspiration that led to jazz fusion and (among many other milestones) Miles Davis' trailblazing album Bitches Brew.
Amid the chaotic new musical framework, there was an underlying spiritual awakening drawing upon a diverse set of faiths and influences, from the Nation of Islam, Eastern mysticism, Zen philosophy to Egytoplogy and Buddhism.
Coltrane's Love Supreme was a representation of his own spiritual quest, as he explored Mysticism, Hinduism, Sufism, the Kabbalah, African history, and the philosophies of Plato and Aristotle. But as alto saxophonist Marion Brown explains in the book, The House That Trane Built: The Story of Impulse Records: "I think you'll find the spirituality of the music during the sixties wasn't something exotic. It was coming directly out of the church. I know there was a whole tradition of saxophones in the church and I don't know if Albert [Ayler] had been a part of that, but what he was doing was sure related to it."
Released on Impulse! records in February 1965, Coltrane's four-part musical exploration laid bare all of the demons that he had previously struggled with and purged them though song. He continued to test the limits of traditional jazz and further incorporated more spiritual elements on albums like OM (1967), Meditations (1966), and Ascension (1966). Coltrane was the prophet and Impulse! was his pulpit. "Impulse was there at the right place, at the right time," said veteran jazz producer Ed Michel in The House That Trane Built. "We were the beneficiary of a cultural deep breath."
A Love Supreme, Pt. I – Acknowledgement
By 1968, the Beatles had made their trek to India and soon the rest of the culture was getting hip to Eastern philosophies like transcendental meditation and Afrocentric awareness. Before his untimely death on July 17, 1967, Trane gave his blessing to the next generation of players including Marion Brown, Archie Shepp, John Tchicai, Dewey Johnson, Pharoah Sanders, and Albert Ayler. Their spiritual devotion was sometimes taken in the literal sense, as Ayler once famously said, 'Trane was the Father, Pharoah was the Son, I am the Holy Ghost."
Pharoah Sanders
Coltrane's death left a spiritual and creative void that was later occupied by his wife Alice Coltrane and saxophonist Pharoah Sanders – both members of his later groups. They picked up where Coltrane left off, marrying melodies with ambient-rich improvisations and introducing a new musical vocabulary through African and Indian percussion instruments, harps, chimes, and vocal incantations, which became known as cosmic or spiritual jazz.
Sanders had gigged with everyone from Sun Ra, Don Cherry, and performed on much of Coltrane's later exploratory albums. While he never turned his back on the more abrasive free-jazz of his days with Coltrane, he channeled the raw energy of music into something even more divine and combined elements of Arabic and Indian folk music, Afro-Cuban, Southern gospel, and R&B into a string of solo albums on impulse! from 1967's Tauhid to 1969's Karma, 1971's Thembi and through 1974's Love in Us All – with 11 total on the label.
Five years after A Love Supreme's release, Pharoah took Coltrane's universalist sound and brought it to its logical climax with Karma and its famous track, "The Creator Has A Master Plan." Clocking in at 32-plus minutes, it took up the entire first side of the original release and even managed to get mainstream FM radio airplay at the time. With its cycling bassline, repeated invocations of peace and happiness, and free jazz explorations, Sanders not only created the template for astral jazz but also what would later become "world music."
Tony Scott
Like Sanders, clarinetist Tony Scott was another early proponent of world music and his record, Music for Zen Meditation in 1964, is considered to be the first New Age record. Scott had a serious jazz pedigree, playing with everyone from Sarah Vaughan, Miles Davis, and Benny Green and cycling through different styles before doing away with them all.
In 1960, he decamped to Japan, hooking up with renowned koto player Shinichi Yuize and shakuhachi flute player Hozan Yamamoto. He continued to mine various global influences throughout the 70s and 80s, combining his improvisational clarinet with synthesizers. According to Scott, "Without experimenters, jazz would die a lingering death. I believe in being receptive to all music. If you stop learning, you might as well throw your horn away."
Alice Coltrane
As the "other" Coltrane, Alice was a controversial figure in jazz, though not by choice. While her talent was respected, she was blamed for breaking up the greatest jazz group of the mid-60s when she replaced McCoy Tyner as pianist in her husband's rhythm section.
Abandoning the constraints of bebop, Alice's albums serve as the precursor to modern, experimental electronic music. Her approach to spiritual synth music delivered sumptuous albums tinged with classical Indian instrumentation, harp-rich meditations, and stirring strings. Her first solo outing, A Monastic Trio on Impulse! had Alice on harp for the first time and featured Pharoah Sanders, Jimmy Garrison, and Rashied Ali and playing the same free and open-ended style jazz that her late husband extolled.
Aside from the closing track, "Jaya Jaya Rama," Huntington Ashram Monastery doesn't fully delve into astral jazz. It wouldn't be until Ptah, The El-Daoud (1970) featuring Pharoah Sanders on bass clarinet, that Coltrane really came into her own, with a spiritual jazz album that stirs like an old blues record. If anything, the melancholy piano solo on "Turiya & Ramakrishna" is worth a listen alone.
Coltrane would continue to develop her own style, collaborating with other like-minded artists like Ornette Coleman on Universal Consciousness (1971). As the high priestess of spiritual jazz, Coltrane would continue her modal explorations throughout the 70s, blending in Middle Eastern and North African music and culture and experimenting with different instruments, from a tamboura to a Wurlitzer.
Lonnie Liston Smith and beyond
Another pianist and key player in the spiritual jazz movement was Lonnie Liston Smith. Before he gained the reputation as the harbinger of smooth jazz, he cut his teeth playing on Sanders landmark album, Tauhid, and was featured as a pianist (and sometimes co-arranger) on five Sanders albums. While Coltrane was working her magic on the Wurlitzer, Smith was a pioneer of the Fender Rhodes electric keyboard.
According to lore, he happened upon the instrument during a studio session for Thembi, started playing around with it and that's how the song "Astral Traveling" was born. Smith would later join Miles Davis on his own electric piano adventures before forming his own group Liston Smith and the Cosmic Echoes in 1973 and releasing a debut instrumental album inspired by his work with Sanders, titled Astral Traveling.
Music Is The Healing Force Of The Universe
Albert Ayler was another saxophonist who graduated from the school of John Coltrane. Skipping right past bebop and other modern jazz styles, he personified the explosive sound of "fire jazz," turning his instrument into an amplifier for unfettered sounds that represented the other side of the astral jazz spectrum. His source material was not imported but the homegrown sound of Southern blues and spirituals, as he declared on Music is the Healing Force of the Universe in 1969.
Though typically not grouped into the canon, synth innovators Beaver & Krause have secured their spot in the pantheons of ambient, experimental, or what would later be called electronica for introducing the Moog synthesizer into popular music. Together, their records were equally experimental and unclassifiable. Their albums, In a Wild Sanctuary (1970) and Gandharva (1971) also fused elements of funk, devotional hymns, and New Age space odyssey explorations.
Sun Ra
One cannot speak of spiritual jazz without mentioning the pianist-bandleader Sun Ra. His massive discography even dwarfs Sanders, hovering somewhere around 500 albums, and his live performances are the stuff of legend. He was the physical embodiment of all these disparate threads of spiritual jazz — Afro-futurism, cosmic philosophy, tribal percussion, and free jazz all built on the bedrock of early 20th-century jazz.
Ra always occupied his own orbit, along with creating his own aesthetic of futuristic costumes and theatrical stage shows, he also co-founded his own record label with his friend Alton Abraham – El Saturn Records – one of the music industry's first black-owned record labels. Along with his musical collective the Arkestra and his modified electronic instruments, Sun Ra explored the outer reaches of the avant-garde while maintaining a sense of rhythmic play. His music is a source of endless discovery for samplers and crate diggers today.
Don Cherry and beyond
Unlike the more blustering and abrasive sounds on the free jazz spectrum, Don Cherry's Brown Rice (1975) is considered a welcome entry point to the sub-genre and at only four tracks, it manages to win over most cynics at first listen. The title track features Cherry's scat-inspired vocals layered over the wah-wah guitar of Blaxploitation music. The result is some pretty freaky free jazz.
The jazz trumpeter had also played with Coltrane on The Avant-Garde album and contributed to the soundtrack of the psychedelic cult film masterpiece, Alejandro Jodorowsky's The Holy Mountain. But Cherry is best known for his free jazz/funk/world/ psych hybridization, Eternal Rhythm, a live album recorded at the Berlin Jazz Festival in 1968. While it doesn't fall into the spiritual jazz category, it represents all of the experimental styles mentioned above and how they can converge together onto one magnificent album.
As the decade came to a close, the various sub-genres all started to sound the same. Turns out that having no musical boundaries can be very limiting. Spiritual jazz has always been coveted by critics and considered too experimental for the mainstream public, but then again that's why so many people like it. Thankfully there's a new generation of artists – who with endless technology at their fingertips – are creating spiritual and ambient jazz through a modern lens.
Follow the Jazz Giants playlist, featuring some of the finest jazz ever recorded.