17 Modern Jazz Musicians Shaping The Future Of Jazz
The future of jazz has always been shaped by young jazz musicians seeing new modes of expression. Here are just a few keeping an eye on.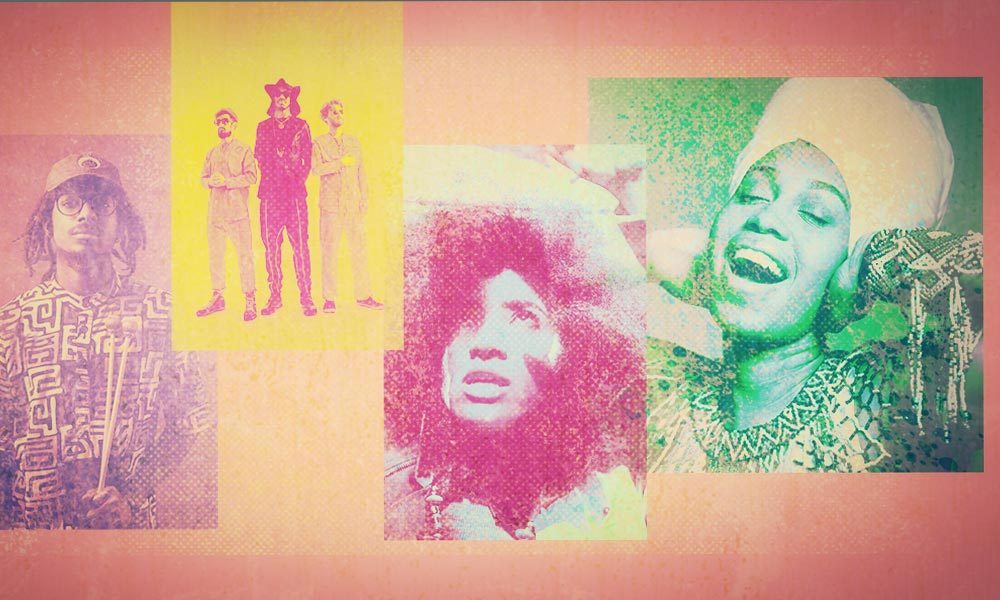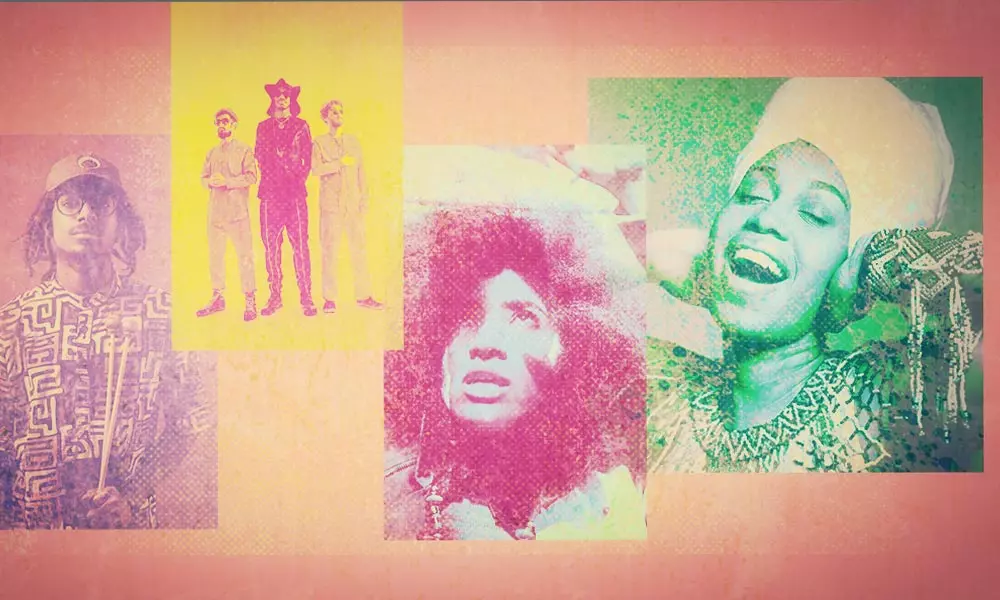 From its inception in New Orleans bordellos at the dawn of the 20th century, jazz has never stood still. Jazz has always been fueled by modern, contemporary artists, young jazz musicians seeking new modes of expression. Indeed, the future of jazz has always reflected the changing times that have shaped its creators' sensibilities.
In the second decade of the 21st Century, the music whose essence is improvisation is prospering again: a younger generation of listeners have turned to pathfinding figures like Robert Glasper and Kamasi Washington, who have helped jazz reclaim its relevance. With broader exposure, young jazz musicians are passing on the music's DNA and keeping it alive – and ever-changing – by marrying it with other types of music.
The young jazz musicians listed below show us that the music is in very good hands. Shaping the future of jazz for the generations to come, they'll ensure that it never becomes stagnant.
While you're reading, listen to our New Jazz playlist here.
Shabaka Hutchings
Born in London and raised in Barbados, Hutchings is an award-winning multi-reed player who can alternate between saxophone and clarinet. Though he started out gigging with calypso bands he's now regarded as the doyen of the UK's contemporary jazz scene and currently leads three different bands, each of which can lay claim to shaping the future of jazz: an octet called Shabaka & The Ancestors; a quartet, Sons Of Kemet; and The Comet Is Coming, the latter a futuristic trio that blends electronics with modern jazz and a punk-like attitude.
Key cut: Summon The Fire (The Comet Is Coming)
The Comet Is Coming - Summon The Fire
Kamasi Washington
One of the reasons that contemporary jazz is reconnecting with young people is down to the appeal of this LA-born saxophonist's transformative 2015 debut album, a sprawling triple-set called The Epic, on which he morphed from a journeyman-like saxophonist-for-hire into an inspirational apostle of spiritual jazz. Like many of today's young jazz musicians, Washington's music is influenced as much by hip-hop as jazz; he even appeared on Kendrick Lamar's visionary album To Pimp A Butterfly.
Key cut: Truth
Kamasi Washington - "Truth" (Live at WFUV)
Christian Scott aTunde Adjuah
From jazz's birthplace, New Orleans, this contemporary jazz artist is a trumpeter with a clear, burnished tone who acknowledges the tradition of the music but sees the future of jazz in a fusion of alt.rock, African music, movie soundtracks, and hip-hop. He describes his allusive, polyglot style as "stretch music," a term that refers to its elastic characteristics. Adjuah's music is also socio-politically conscious.
Key cut: West Of The West
Christian Scott aTunde Adjuah 'West of the West' | Live Studio Session
Esperanza Spalding
Sounding like a young Joni Mitchell fronting Return To Forever on steroids, this Portland-born singer, composer, and bass virtuoso is extending the frontiers of jazz with boundary-breaking music that embraces rock, funk, Latin, jazz fusion, and the avant-garde. Spalding has also been an advocate of using social media as a tool for creativity, exemplified by her 2017 album, Exposure, which was recorded from scratch, live in 77 hours while being streamed on the internet. She's undoubtedly one of the most original thinkers and cutting-edge conceptualists in modern jazz.
Key cut: 12 Little Spells
Esperanza Spalding - 12 Little Spells
Nubya Garcia
One of the UK's fastest-rising young jazz musicians, Garcia is a tenor saxophonist/composer from London who also plays with the spiritual jazz group Maisha. She's a product of the Tomorrow's Warriors talent agency – famed for bringing young British jazz musicians to the wider public – and released her critically-lauded debut album, Nubya's 5ive, in 2017. She's also recorded with Sons Of Kemet, Ezra Collective, and Makaya McCraven.
Key cut: Lost Kingdoms
Makaya McCraven
Born in Paris and raised in the US, drummer/composer McCraven is a self-proclaimed "beat scientist" who keeps his eye firmly on the future of jazz, playing groove-oriented avant-garde jazz with a hip-hop attitude. Priding himself on spontaneity, albums like In The Moment, Highly Rare and 2019's acclaimed Universal Beings, all feature live recordings. McCraven's goal, he once told an interviewer, was to make music that is "socially challenging, not technically challenging."
Key cut: Young Genius
Binker And Moses
Debuting in 2016 with the award-winning album Dem Ones, saxophonist Binker Golding and drummer Moses Boyd established themselves as the John Coltrane and Rasheed Ali of contemporary British jazz with their impassioned duos. Their second album, an epic double-set called Journey To The Mountain Of Forever, saw them expanding their palette by featuring veteran British avant-garde saxophonist Evan Parker on some tracks. Since then, the duo has released a live album (Alive In The East?) which captures the raw visceral power of their in-concert improvisations.
Key cut: Fete By The River
Kendrick Scott Oracle
From Houston, Texas, Scott is a drummer/composer whose distinctive and supremely elegant brand of post-bop jazz is infused with R&B and hip-hop flavors. The latest incarnation of his band – whose second album, a 12-track song cycle called A Wall Becomes A Bridge, was released on Blue Note – has expanded to a sextet via the addition of a turntablist who sits alongside more traditional jazz instruments in the shape of a piano, saxophone, and guitar.
Key cut: Mocean
Kendrick Scott Oracle - Mocean (Audio)
Jazzmeia Horn
Given her ear-catching first name, this Texas chanteuse was born to sing jazz. From the school of athletic jazz singers like Carmen McRae and Ella Fitzgerald, Horn triumphed at the 2015 Thelonious Monk Institute International Jazz Competition, which earned her a contract with Concord Records. Her 2017 debut album, A Social Call, released by Concord via the revived Prestige imprint, won rave reviews and established Horn as the new voice of contemporary jazz.
Key cut: Tight
Miles Mosley
A stalwart of Kamasi Washington's touring band, Hollywood-born Mosley is a double bass player who was taught by the legendary Ray Brown, but whose use of effects pedals make him a fiercely contemporary artist in his outlook. A former sideman for musicians as varied as Chris Cornell, Kenny Loggins and Lauryn Hill, Mosley released his solo debut, Uprising, on Verve in 2017. An unclassifiable amalgam of genres like modern jazz, funk, soul, and rock, it allowed Mosley to expose his talents as a vocalist and songwriter besides his phenomenal bass playing.
Key cut: Abraham
Joel Ross
Once home to the great Milt Jackson, Bobby Hutcherson, and, more recently, Stephon Harris, Blue Note has a long history of great vibraphone players on its books. Now there's a new vibes man in town: Joel Ross. An exciting new addition to the Blue Note roster, Chicago-born Ross – whose debut album, KingMaker, was released in 2019 – is a post-bop vibraphonist who has played with legends like Herbie Hancock but is better known for his contributions to modern jazz albums by Makaya McCraven, James Francies, and Marquis Hill.
Key cut: Ill Relations
Joel Ross - Ill Relations (Audio)
Elena Pinderhughes
A future star in the making, this Californian flautist and vocalist recorded her first album when she was nine and has since performed with jazz greats Herbie Hancock and Hubert Laws as well as featuring on albums by contemporary leaders such as Joshua Redman, Ambrose Akinmusire, and Christian Scott. Those who've been lucky enough to hear her live know that Pinderhughes promises much for the future of jazz.
Key cut: Completely (with Christian Scott aTunde Adjuah)
Christian Scott aTunde Adjuah - Completely (feat. Elena Pinderhughes)
Ashley Henry
A South London-born pianist who studied at the Royal Academy Of Music as well as the BRIT school, Henry – who has toured as the keyboardist for French pop act Christine And The Queens – released his debut album, Beautiful Vinyl Hunter, in 2018. He's one of just two modern UK jazz artists signed with a major label (the other is Shabaka Hutchings) and has developed a unique, ear-catching signature style that fuses jazz with hip-hop, grime, R&B and even punk flavors.
Key cut: Dark Honey
Jamael Dean
The leader of the US jazz collective the Afronauts, this keyboard-playing grandson of legendary soul jazz drummer Donald Dean, who played with Jimmy Smith and Les McCann, has also worked as a sideman, notably with Kamasi Washington and Thundercat. In terms of his solo records, Los Angeles-born Dean has conjured up avant-garde cosmic meditations (2019's Black Space Tapes), introspective lone piano recitals (2020's Ished Tree) and in 2021 delivered a sprawling large canvas epic called Primordial Waters, which explored the mythology of the African Yoruba tribe. Seamlessly knitting together Herbie Hancock-esque jazz-funk and explorative astral jazz a la Alice Coltrane with hip-hop elements, Primordial Waters is Dean's most ambitious work; a multi-hued sonic tapestry that's in a category of its own.
Key cut: Galaxy In Leimert
Chelsea Carmichael
One of the first signings to Shabaka Hutchings' indie label Native Rebel Recordings, Manchester-born Chelsea Carmichael is a soulful British tenor saxophonist (and occasional flautist) who has distilled the muscular timbre of Dexter Gordon with the deep spiritual yearning of John Coltrane to create her own distinctive sound and style. After serving her apprenticeship with the Mercury Prize-nominated London jazz aggregation SEED Ensemble, Carmichael released her Hutchings-produced debut album The River Doesn't Like Strangers in late 2021, which impressed via its juxtaposition of lean, Caribbean-inflected grooves with lush atmospheric soundscapes.
Key cut: Blood And Soil
Theon Cross
A Londoner with Caribbean ancestry, Theon Cross is a virtuosic and in-demand tuba player who has not only reawakened interest in the big, unwieldy brass instrument that went out of fashion in jazz in the 1930s but also broadened its musical horizons. In addition to his role in the groundbreaking band Sons Of Kemets – where his tuba bass lines erupt like deep seismic detonations – Cross has also issued several recordings as a leader. His debut album, 2019's Fiyah, was a startlingly original instrumental offering defined by incendiary grooves while his contrasting follow-up LP, 2021's Intra-I, found the tubist expanding his palette with a kaleidoscopic mesh of modern jazz, hip-hop, reggae and grime that featured cameos from rappers and vocalists.
Key cut: Activate
Immanuel Wilkins
Hailing from Upper Darby, Pennsylvania, Immanuel Wilkins is a Juilliard-educated alto saxophonist and composer whose sideman credits range from Solange Knowles to the Sun Ra Arkestra and Wynton Marsalis. He was mentored by the US trumpeter Ambrose Akinmusire and then achieved wider fame by collaborating with the celebrated modern jazz pianist Jason Moran on a series of Thelonious Monk tribute concerts. After contributing to vibraphonist Joel Ross' Kingmaker album in 2019, Wilkins signed to Blue Note who issued his debut, Omega, the following year. Described by his label's president Don Was as "an eloquent dissertation on the Black experience in America," the album, with its blend of agitated avant-garde-tinged pieces and bittersweet lyrical ballads, reflects Wilkins' unique artistic vision.
Key cut: The Dreamer
Immanuel Wilkins - The Dreamer
Looking for more? Discover the best jazz albums of all time.