How Jazz Inspired The Beat Generation
Although Jack Kerouac and Allen Ginsberg are the best-known Beat Generation writers who were exhilarated by jazz, plenty of others were creatively fired by the music.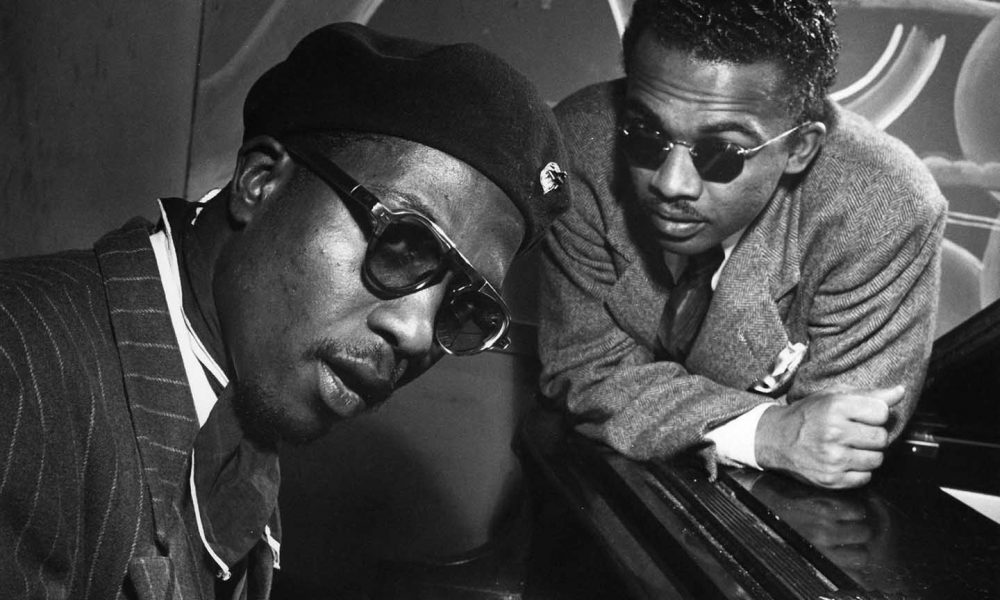 "I'm the bop writer!" boasts a character in The Subterraneans, Jack Kerouac's 1958 semi-autobiographical novella set in the jazz districts of New York. The book, along with On the Road (1957) and The Dharma Bums (1958), captured what the writer called "the new bop generation way of speaking," and all three owed much of their inspiration to the author's love of the improvisational jazz pioneers of that era.
On the Road was a genuine publishing sensation. It helped forge an image of jazz-loving, goatee-bearded, beret-wearing beatniks that remains iconic even in 21st century popular culture. Although Kerouac and his friend and poet Allen Ginsberg are the best-known Beat Generation writers who were exhilarated by jazz, there were plenty of others, such as Kenneth Rexroth, Lawrence Ferlinghetti, Kenneth Ford, Neal Cassady, Ken Nordine, Gregory Corso and William S. Burroughs, who were creatively fired by the music.
Kerouac and Verve
Norman Granz, the celebrated music promoter and entrepreneur who founded the famed "Jazz at Philharmonic" concert series and launched Verve Records, watched Kerouac perform at the Village Vanguard in December 1957 and offered the writer a three-record deal with Verve. Although it took time to get the project off the ground, the result was the 1959 LP Readings by Jack Kerouac on the Beat Generation, described by Verve as a "History of Bop." The album was produced by Bill Randle, a DJ who championed Elvis Presley at the start of his career and had played a large number of Black jazz artists on his Detroit WJLB radio show, The Interracial Goodwill Hour, in an era of racial segregation.
Kerouac's interest in music extended to a few (admittedly very poor) attempts at singing, including a version of the Harold Arlen/Johnny Mercer standard "Come Rain or Come Shine," recorded by Verve and released on Universal Music's Polygram label in 1979. He was, for a brief spell, a member of a little-known New York jazz vocal trio called The Three Tools with his friend John Cleland Holmes. Some discs were recorded of the trio singing "bop vocalese," but they reportedly have remained in a private collection.
In his spoken Verve recordings, Kerouac paid lavish tributes to some of the jazz artists who had influenced him, including vibes star Lionel Hampton. Kerouac celebrated Hampton's single "Hey Ba Ba Re Bop," hailing the way the outlandish performer would "jump into the audience" while "the whole theatre rocked." Kerouac, who was born on March 12, 1922 in Lowell, Massachusetts, also extolled the "Buddha-like" saxophonist Charlie Parker, praising him for bringing to his music "the feeling of early in the morning, like a hermit's joy, the perfect cry of a wild gang at a jam session." Kerouac said he believed that Parker was "musically as important as Beethoven but not regarded as so."
Jazz in Beat poetry and prose
Kerouac's heroes were the musicians he heard in his twenties and thirties, including saxophone great Lester Young. In a lecture given by academic Sam Charters at The Jack Kerouac conference in Boulder, Colorado, in 1982, it was even claimed that Young was the man who gave Kerouac his first marijuana cigarette. There is a wonderful description of Young in On The Road, as "that gloomy, saintly goof in whom the history of jazz was wrapped." In the same novel he also praises trumpeter Roy Eldridge ("vigorous and virile, blasting the horn for everything it had in waves of power and logic and subtlety"), while in The Subterraneans he calls pianist Thelonious Monk, "the monk and saint of bop."
In the latter novel, the character Roger Beloit is based on tenor saxophonist Allen Eager, a musician who was hugely influenced by Young's musicianship. Eager played frequently in the clubs on West 52nd Street in Manhattan, including with other Kerouac heroes such as saxophonist Coleman Hawkins, drummer Max Roach, and trumpeter Dizzy Gillespie, a musician the writer saw perform at Minton's Playhouse in Harlem. Ginsberg, famed for his 1955 poem Howl, was close friends with Kerouac and song composer Jerry Newman. When Newman wrote a tune for Gillespie, he asked Ginsberg for a title suggestion and the poet said, "Let's call it Kerouac."
Kerouac believed his writing style owed much to The Beat Generation's ability to "get with the beat" in jazz, saying that the bop musicians of the time were the ones "who hear the beat, who feel beat." In 1959's Mexico City Blues, a 242-stanza poem written while under the influence of dope and morphine, Kerouac perfected his "spontaneous prose style," a form of writing where writers let the words flow freely and automatically, without stopping to think or censor themselves.
Kerouac said that his ambition in Mexico City Blues was to capture how jazz sounded. "I want to be considered a jazz poet blowing a long blues in a jam session on Sunday," he said. One of his most poetic descriptions was about the saxophonist Lee Konitz, who he said played "April in Paris" "as if the tune was the room he lived in and he was going out at midnight with his coat on." Konitz inspired Kerouac's early writings, especially 1951's Visions of Cody. That particular piece of hero worship had a strange twist, incidentally, because it was not reciprocated. In the anthology Kerouac on Record: A Literary Soundtrack, Dr. Marian Jago, Senior Lecturer in Popular Music and Jazz Studies at Edinburgh University, who is also a saxophonist who studied with Konitz, revealed that the late jazz star professed "little interest" in the Beat writers. Konitz even reportedly described Kerouac and his ilk as somewhat "inauthentic."
Ginsberg claimed that other jazz musicians reacted more sympathetically to the Beat Generation writers, however. In an interview with Harvey Kubernik for Hits Magazine in 1996, Ginsberg recalled going to New York's Five Spot Café to hear Thelonious Monk. The poet revealed that he supplied Monk and Gillespie with psilocybin from Timothy Leary and said he handed the pianist and composer a copy of Howl to get his critique on it. A fortnight later, the poet claimed he met the jazz man and asked, "What did you think of it?" "Makes sense," Monk supposedly replied.
Kenneth Rexroth, a writer described by Time magazine as the "Father of the Beats," was hugely influenced by Gillespie and wrote poems for many jazz musicians. He also promoted the work of friend Charles Mingus and saxophone player Ornette Coleman (who was also championed by William S. Burroughs). Rexroth also performed on stage with saxophonist Cannonball Adderley. When Rexroth and Ferlinghetti recorded the 1959 LP Poetry and Jazz at the Blackhawk, Rexroth wrote in the liner notes about what jazz meant to the Beat writers, using the language of the time. "Poetry and jazz together return the poet to his audience. It takes the poet out of the bookish, academic world and forces him to compete with 'acrobats, trained dogs, and singer's midgets,' as they used to say in the days of vaudeville," he said. Rexroth was a regular at the famed Blackhawk in San Francisco, once sharing the bill with the Dave Brubeck Quartet.
Paying tribute to jazz stars in their printed fiction and verse was important for Beat poets. Kenneth Ford's 1959 collection Poetry for Jazz included odes dedicated to Lester Young and Billie Holiday, while Gregory Corso, the youngest member of Kerouac's circle, used "hipster jargon" to celebrate Charlie Parker in his ode Requiem for Bird. The distinguished poet Ken Nordine, who was 98 when he died in 2019, called his improvised stream-of-consciousness storytelling poetry "word jazz". "I like jazz for the principle of what jazz is: a flight of musical fantasy within structure," he said in an interview for the 1994 book Incredibly Strange Music, Vol II. Nordine's work influenced Tom Waits, another musician who has talked extensively about his admiration for Kerouac's blend of jazz and poetry.
Legacy
Jazz inspired the Beat writers and they, in turn, inspired the musicians who were to follow in the late 20th century. Among the musical titans who have paid tribute to Kerouac are David Bowie, Van Morrison, Bruce Springsteen and Bob Dylan, who said of On the Road: "It changed my life like it changed everyone else's."
The Beat writers remain trail blazers as do musicians such as Parker, Hampton, Hawkins and Gillespie. And those musicians have their place in sparking one of literature's most vibrant movements. As Kerouac says in his historic Readings album for Verve Records, jazz was "the wild music of America," a force that was "here to stay."
Listen to Readings By Jack Kerouac On The Beat Generation.
Discover how words on the page become words in song, and vice versa, through uDiscover's Music and Literature series. Much like literature, music is a medium for storytelling and world-building, and songwriters often look to poetry, drama, and prose to inspire their work. Similarly, music has gone on to shape new literary styles and even entire movements. Spanning genres and time periods, the series celebrates the relationship between these two artistic forms and digs into little-known facts about some of the most literary artists and songs.