The Man They Called Dizzy: Honoring The Jazz Pioneer Dizzy Gillespie
Dizzy Gillespie was crazy, unpredictable, brash, extrovert, stylish – he was also a trumpet virtuoso, a jazz icon, and an inspiration.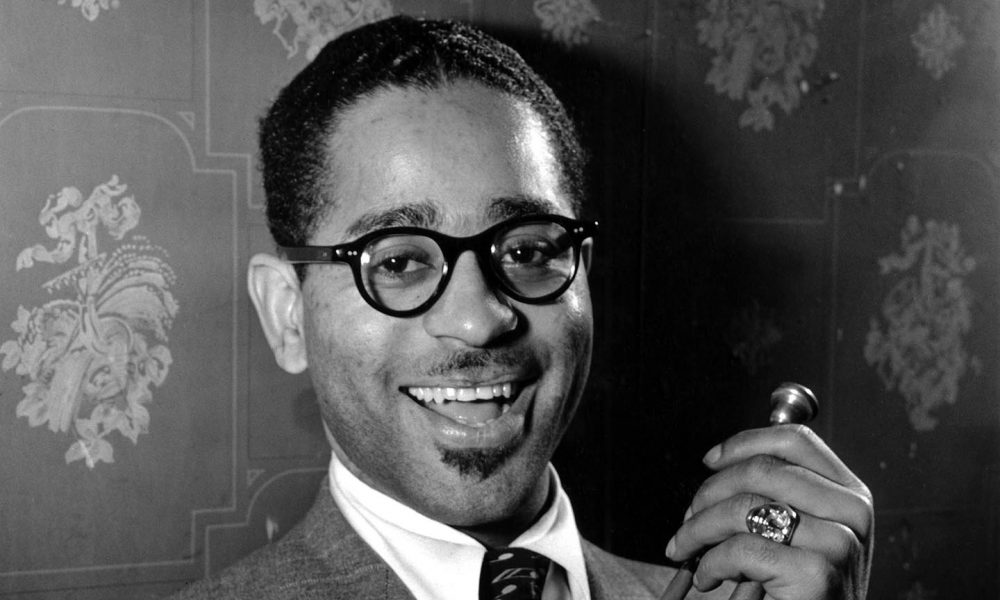 Dizzy Gillespie was crazy, unpredictable, brash, extrovert, stylish – and he was also a trumpet virtuoso, a jazz icon, and an inspiration to many younger trumpeters. When Dizzy's bop first came along, someone coined the phrase, "Be hip, be sharp, be bop!" It says a lot about the heights to which he aspired and, more importantly, attained. He may have been the "Clown Prince of Jazz," but without him, jazz would have been way less interesting.
"His playing showcases the importance of intelligence. His rhythmic sophistication was unequaled. He was a master of harmony – and fascinated with studying it. He took in all the music of his youth and developed a unique style." – Wynton Marsalis
Listen to the best of Dizzy Gillespie on Apple Music and Spotify.
Dizzy Gillespie's early years
Born in Cheraw, South Carolina on October 21, 1917, as the youngest of nine children, Dizzy Gillespie's father was a bricklayer who struggled financially, like many poor black families in the South. His father's harsh treatment stayed with Dizzy for the rest of his life, but so did the fact that he was a keen musician who played in a band and stored many of their instruments at his home. When he was ten years old his father died, by which time young Dizzy had tried playing all the instruments; a teacher at school encouraged his interest and John took up the cornet.
At 15, Gillespie went to Laurinburg Institute in North Carolina because they needed a trumpet player for their band, and while he was at the school he learned the piano and got to grips with harmony and the structure of music. In 1935 the Gillespie family moved to Philadelphia curtailing his formal education, but soon enough he was playing with bands in the city's Southside clubs.
Gillespie joined Frankie Fairfax, the leader of Philly's finest band that included pianist Bill Doggett and trumpeter Charlie Shavers. Doggett helped John to master arranging, while Shavers taught him many of the solos made famous by Roy Eldridge, the newest exponent of hot trumpet playing. Already keen on playing the fool and having a good time, while he was with the Fairfax band that he acquired the nickname Dizzy.
New York City
In 1937 he left Philadelphia to head east to New York, the jazz capital of America, to join Lucky Millender's band — but at the eleventh hour, it fell through. Dizzy Gillespie instead joined Teddy Hill's band, and in May he was in the studio recording half a dozen sides.
Soon after recording, they crossed the Atlantic to tour England and France for several months. For Dizzy, the trip was an eye-opener and a treat for fans of hot music to see a real American band. Back home, Dizzy worked with several bands (including Al Cooper's Savoy Sultans) before another spell with Hill's band, after which he landed a job with Cab Calloway's band in August 1939. The following month Dizzy did a session with Lionel Hampton that also included Benny Carter, Coleman Hawkins, Ben Webster, and the brilliant guitarist Charlie Christian as well as Calloway's bassist Milt Hinton. "Hot Mallets" from this session is the first time Dizzy can be heard prominently on a record. Callaway, like every bandleader, kept his boys on the road, and it was while they were in Kansas City in 1940 that Gillespie met and jammed with Charlie Parker for the first time.
Back in New York in 1941, Dizzy spent much of his free time jamming with Thelonious Monk, Kenny Clarke, and Charlie Parker. Dizzy would regularly play Minton's Playhouse in Harlem, developing his style and honing his craft. Dizzy was also on the wrong side of Callaway, who didn't take kindly to his trumpeter's antics. The bandleader hired Jonah Jones and then gave him most of the featured solos.
In the autumn of 1941, Jones flicked a paper "spitball" across the bandstand and hit Cab Calloway. Without a thought, Calloway turned on the usual suspect. Dizzy, for once innocent, drew a knife on his boss and cut him. Gillespie was fired, and from that point he became a musical mercenary working for artists that included Ella Fitzgerald, Coleman Hawkins, Benny Carter, Charlie Barnet, Earl Hines, Woody Herman, and Duke Ellington to name just a few.
Dizzy finally played with Lucky Millinder's outfit, and it was with them in July 1942 that he recorded "Little John Special," his first real bop solo — although this was within the context of a big band in full swing. Gillespie also worked with his own group, but after meeting Billy Eckstine and while working with Earl Hines, Dizzy joined the singer's new band as musical director. His first session with his new boss was in December 1944 along with tenor saxophonists, Gene Ammons and Dexter Gordon, drummer Art Blakey, with Tadd Dameron as their arranger, but Dizzy and many others soon left.
In 1945 Dizzy worked with his own group, as well as some sessions with Sarah Vaughan including an outstanding version of "Lover Man" featuring Charlie Parker. In November, he recorded for the first time with Miles Davis in Charlie Parker's ReBoppers at a studio on New York's Broadway. In January 1946 Dizzy worked with Norman Granz for the first time when he appeared at Jazz at the Philharmonic.
Having tried unsuccessfully in 1945 to get a big band off the ground, Dizzy succeeded the following year and took it on the road to venues that included Washington's Spotlight Lounge. It featured Sonny Stitt on alto sax, Thelonious Monk on piano, and Kenny Clarke on drums, as Dizzy himself handled the vocals. By 1947, Gillespie was dabbling with Afro-Cuban jazz and introduced conga player Chano Pozo and bongo player Lorenzo Salan into the orchestra. During 1947, the band also included Ray Brown on bass, Milt Jackson on vibes and John Lewis on piano, and Kenny Clarke (who went on to form the Modern Jazz Quartet).
The 1950s
By 1950, the difficulties of keeping a big band together began to take its toll, and Dizzy Gillespie gave up his own orchestra. He joined Stan Kenton for a short while as featured soloist and recorded in small group settings that included the Charlie Parker Quintet, which also featured Thelonious Monk and Buddy Rich. This was Dizzy's first studio recording for Verve that became the album, Bird & Diz.
For the most part, during the early 1950s, the small group setting was Dizzy's recording platform. The musicians he worked with during this time reads like the who's who of jazz. Besides Parker, Miles Davis, and Monk there was John Coltrane, Art Blakey, J.J. Jackson, Kenny Burrell, Bud Powell, Don Byas, Charles Mingus, Oscar Peterson, Illinois Jacquet, and Stan Getz. Dizzy also visited France during the early 1950s on a number of occasions where he was very popular. While in Paris he recorded the album Jazz From Paris with Django Reinhardt.
In 1954 he briefly resurrected his orchestra, and among the trumpet players was a 21-year-old Quincy Jones; it was this band that recorded the album Afro. By this time Dizzy was playing his now-famous bent trumpet. The year before, someone had accidentally fallen on his trumpet while it was sitting on a stand. It bent the bell so it was pointing upwards in a 45-degree angle. Gillespie liked the sound, so that's the way his trumpets remained. At least, that's the official story; it's been said that Dizzy may have seen an English trumpeter with a bent horn in 1937 when he toured with Hill.
After a hiatus, Dizzy put the orchestra back together in 1956, with Quincy Jones as its musical arranger. They toured in the Middle East, Eastern Europe, and South America while sponsored by the US State Department. In autumn of that year, he recorded with his old trumpet hero Roy Eldridge for the Verve-released album Roy & Diz. The big band stayed together for two years, but after government funding ran out he closed it down to return to the small group format.
The 1960s and beyond
From the 1960s onwards, Dizzy continued to perform with his Sextet and Quintet, as well as guesting on many other projects. In 1961, a sextet that included Lalo Schifrin recorded the fabulous An Electrifying Evening With The Dizzy Gillespie Quintet at New York's Museum of Modern Art. In 1971-72, he appeared with the Giants of Jazz, featuring Kai Winding, the trombonist Sonny Stitt, Thelonious Monk, and Art Blakey. He also appeared with Charles Mingus' Orchestra, Billy Eckstine, Oscar Peterson, Benny Carter, and numerous others. However, his days as a cutting-edge player had passed, and he had settled into a mellower role, although he still loved to joke and play pranks. He even featured on the cruise ships, where his humor went over well, and his position as an elder statesman of jazz was secure.
Dizzy Gillespie passed away on January 6, 1993, from cancer, having helped to change the face of both trumpet playing and jazz.