Björk
Björk was destined to achieve a proper legacy, one where her peers fête her even as the artist herself seeks out new musical terrain with the burning desire of the iconoclast who won't stay still.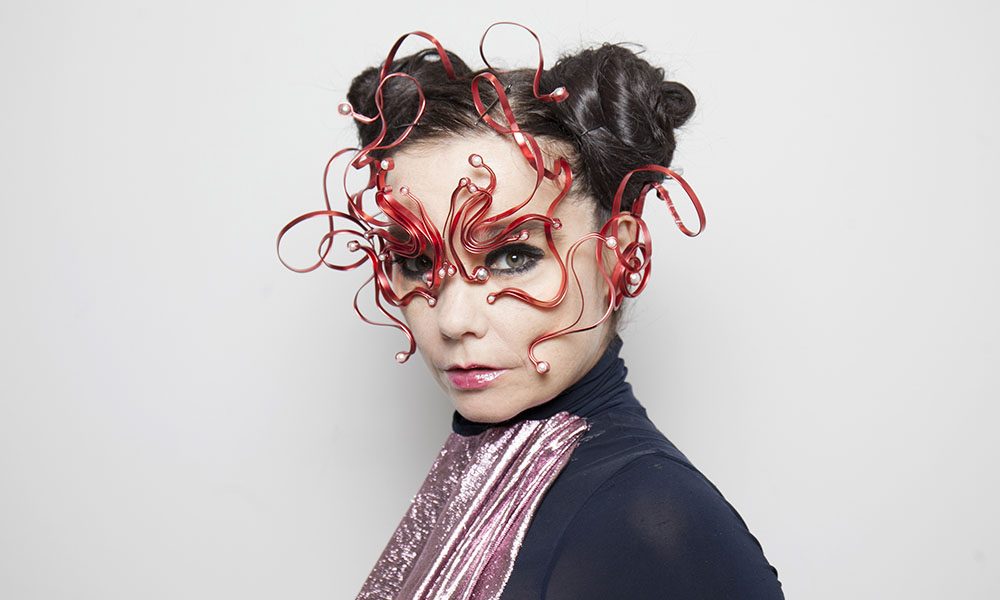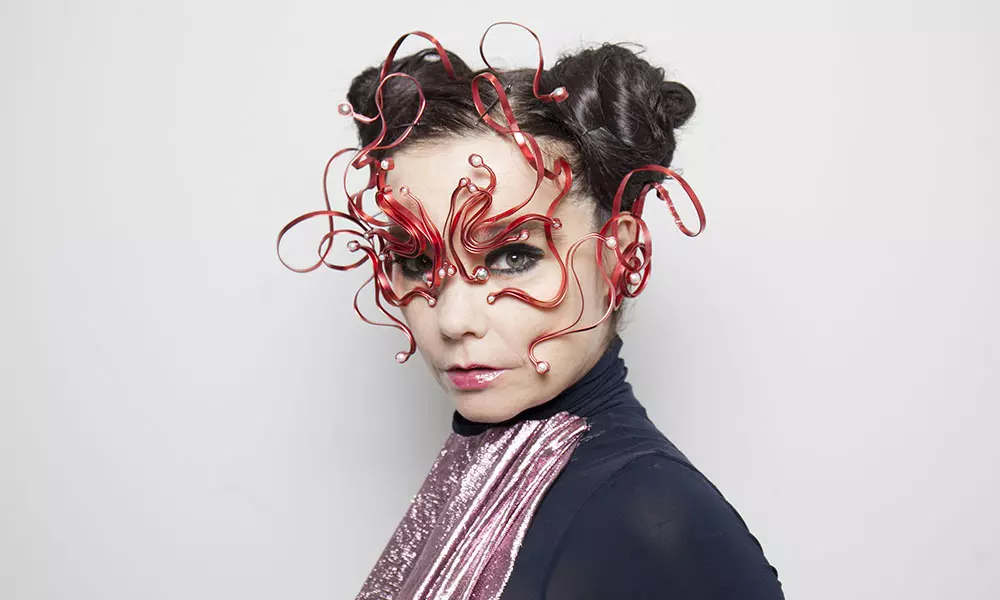 The utterly enchanting Björk Guomondsdotttir seems to be having making music since the womb, or so she might have us believe. She has certainly been a prolific and vibrant artist since adolescence but became best known as the 21-year old frontwoman for Icelandic stars The Sugarcubes whose alternative rock nurtured her but couldn't contain her restless spirit. An early pioneer and supporter of the so-called trip-hop style, Björk can't be constrained by stylistic pigeon-holing. After all, she is as operatic as any pop star and her theatricality as a performance artist is matched by an ability to inhabit the worlds of the avant-garde and the electronic, or jazz and classical, or simply pop and balladry.
Her success rate for such a maverick artist is astonishing. She's charted 22 Top 40 hits in the UK alone (many more globally) and is instantly recognisable for the songs "It's Oh So Quiet", "Army of Me" and "Hyperballad". Her album successes are similarly impressive. Since the self-explanatory Debut disc, she has released a carefully created body of work rather than swamp the marketplace and yet still managed to pick up all number of awards. These range from her four BRIT gongs to an actual Academy Award nomination for her role in the Lars von Trier movie Dancer in the Dark – for which she did receive the Best Actress citation from judges at the 2000 Cannes Film Festival. An important groundbreaking talent, she was the first to release an album, Biophilia as a series of interactive apps in 2011, and her cultural activities have seen her honoured at home and abroad. We're proud to say her music is available here. As for what she will do next … only Björk knows that.
Born in 1965 in Reykjavik, Iceland, Bjork was raised in a hippy commune by like-minded social activists and was enrolled aged six into a local music academy where she studied classical flute and piano before exhibiting a vocal talent – her mimicry of Tina Turner taken to a new level – and made her first recordings as a 12-year old. Punk rock and jazz-fusion efforts followed before she enjoyed a period of highly improvisational work in mostly male-led ensembles. Her switch to a gothic vocal howl and shriek encouraged her mentors to build a sound that suited her idiosyncrasies and that gave her the springboard to join The Sugarcubes, a weird amalgam of arts collective and oddly commercial pop. Their album, Life's Too Good (1988), went on to sell over a million copies and a Ritz in New York concert was attended by a properly gobsmacked crowd that included David Bowie and Iggy Pop. Chances are that they'd most like come to see Björk. Her reputation preceded her and she span off into side projects including Icelandic best sellers where she fused jazz and avant-garde.
Nellee Hooper and the Massive Attack people encouraged a move to London. Hooper produced Debut and they had an instant hit on their hand's thanks to the gorgeous songs "Venus as a Boy" and "Like Someone in Love". Just as she could switch between Bollywood and Hollywood chestnuts so could she enter alternative worlds like the soundtrack gem "Play Dead" that latter track appearing as a highlight in the movie The Young Americans, and also teamed her with the soon to be legendary British composer David Arnold. She worked with Tricky, 808 State and Howie B, developing a penchant for electro and house and dance music in myriad forms. Her videos were stunning affairs.
Post (1995) builds on her influences and takes them forward with Hooper, Tricky, Graham Massey and Howie B providing mix-down production and Marcus de Vries adding to the musical promiscuity. Chill-out fusion and industrial noise infiltrate the sound and this remains one of the most challenging albums of the era. Any idea that this is 'difficult' music is debunked by the sales and the chart positions. "Army of Me', "Hyperballad", "It's Oh So Quiet", "Possibly Maybe" and "I Miss You" are amongst the stand out pieces that helped this disc go Platinum. Safe to say, this is an essential album; not just recommended, it's mandatory listening.
Telegram (1996) is an overall remix of Post with the additional non-album cut "My Spine". Björk herself views this as more of a deconstruction than a remix disc in the usual sense and the spine reference could well be addressed to the minimalist, skeletal versions on display.
Homegenic (1997) is the album where Björk appears on the cover as a geisha and marks a period working with long-term accomplice Mark Bell and a move into trip-hop and electronica that had certain critics stating it was the best example of either genre in that decade. Certainly, we'd point you towards "Alarm Call" and "All is Full of Love". Recorded in Malaga with strings from the Icelandic String Octet dubbed on later the hybrid nature of this peculiar disc is best heard on "Hunter". To appreciate her wild abandon also check out the video for "Alarm Call" that was directed by Alexander McQueen, a close friend who also oversaw the infamous cover art. Other favourites of ours are "Bacholerette" (what a great title) and the Baroque flavoured Joga.
Selmasongs (200) is a fine way to enter the millennium. This soundtrack to von Trier's Dancer in the Dark contains collaborations with Thom Yorke, Siobhan Fallon and fellow actress Catherine Deneuve. Eclectic to the max, as ever, this disc went Platinum in France and Japan.
Björk's fifth album, Vespertine (a reference to phenomena witnessed the twilight hours – so very Björk) features almost whispered vocals that add to the spooky nature of the electronic sonic approach leading to a discreet listening experience quite unlike anything else on offer.
Lyrically 'out there' the themes are centred on sexuality and spirituality, dual concerns that are generally a given when Björk sets to write. With the artiste handling everything from choir and string arrangements to programming and field recordings, this is a coming of age album that incorporates the St. Paul's Cathedral Choir and Guy Sigsworth's medieval range of instrumentation. Another extraordinary event, its experimental brilliance didn't stop it hitting the Top Twenty on worldwide charts.
Those playing catch up can jump straight onto Greatest Hits (2002) whose selection was governed by fans voting on Björk's website (the exception being "It's In Our Hands), specially composed to end the disc). There then follows two boxed sets. Family Tree traces her origins, branches into live recordings with The Brodsky Quartet and also includes hits chosen by Björk herself while Live Box is a lavish 4-CD, live DVD and booklet that corrals versions of her album pieces.
Medulla (2004) is one reason why Björk astonishes with each passing disc. Almost entirely a cappella the subject matter is political in that it contains a reaction to the September 11 attacks but in many other ways is entirely approachable. Determined to entertain herself first and foremost but with a weather eye on a now committed fan base, Björk enlisted guests Robert Wyatt, Rahzel and a new protégé, the Canadian throat singer Tagaq, as well as Faith No More's lead singer Mike Patton. The arrangements are sparse but the mood is captivating.
Moving up to date the seven-disc box set Surrounded (2006) is a fine anthology her previous studio work with extra videos and clears the decks for the 2007 album Volta, part produced by Timberlake and initially released in Mexico. This was accompanied by a comeback tour that helped the project sell in territories from Russia to Taiwan, a mark of this singular woman's appeal. The ensuing companion release Voltaic features live and remixed tracks from the parent disc.
Björk's eighth studio album is Biophilia (partly recorded on an iPad, hence production credits including 16bit!) and contains true epics like "Crystalline" and some of her most playful and inspired writing to date, atmospheric and delicate. Despite a bamboozling array of choristers and sonic sculptures, this is by no means inaccessible: quite the opposite since tracks like "Mutual Core" and "Cosmogony" entice the listener. The usual remix album, Bastards, is also recommended.
So from the beginning, it's now clear that Björk was destined to achieve a proper legacy, one where her peers fête her even as the artist herself seeks out new musical terrain with the burning desire of the iconoclast who won't stay still. Nothing else like her.
Words: Max Bell
Format:
UK English