Queen Latifah's Jazz Age
Queen Latifah can still spit hot fire as effortlessly as she belts a note. The beauty is, she's proven she doesn't have to choose between the two.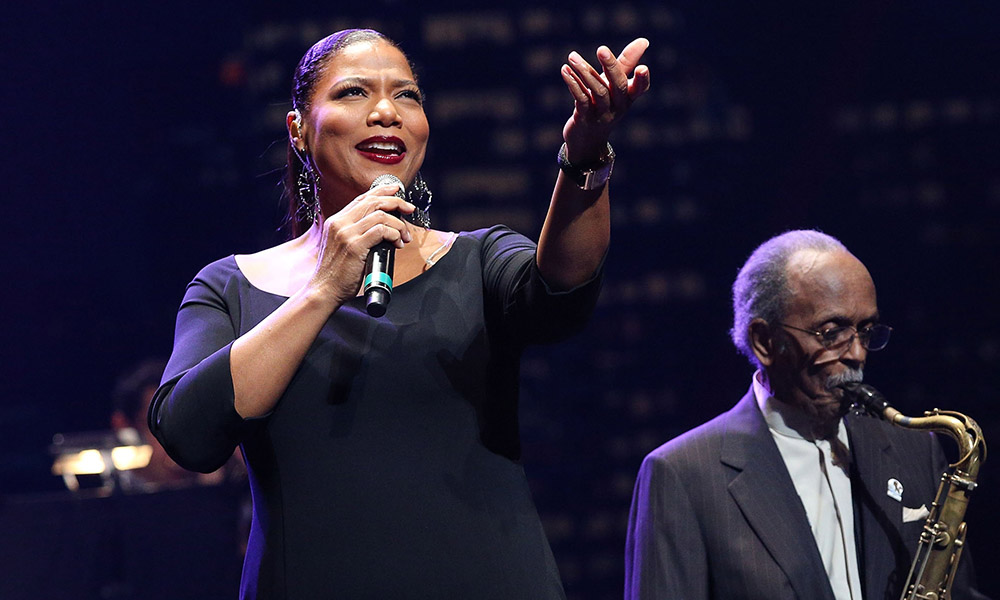 In the roughly 30 years since her recording debut, Queen Latifah, nee Dana Owens, has surpassed description as a multi-hyphenate, to exponential-hyphenate. The New Jersey born-and-bred rapper/singer/actor/label-owner/producer/beauty ambassador/TV host/entrepreneur was part of the first class of hip-hop artists to successfully transition to acting, landing her own hit TV series within the first five years of her career. By the mid-'90s, Latifah was known more as an actress than as a rapper. By the 2000s, she was known as an actress and entrepreneur, and the music side of her identity increasingly became a footnote as she regularly added new accomplishments to her ever-expanding list. But this is unfair to Latifah's musical talent and legacy. She's executed star-level mastery across a range few of her peers in music can rival, and none have truly matched.
Listen to Queen Latifah on Apple Music and Spotify.
One of hip-hip's golden era MCs and an early voice for women who held their ground in the male-dominated space, Queen Latifah was also one of the early conscious voices in rap, celebrating Black feminism even before she realized that's what it was. Musically, Queen Latifah's albums pushed beyond narrow definitions of hip-hop, with dancehall/reggae, house music and jazz-influenced tracks she'd flow over with both singing and rhyming. "I wanted to sing to (rap music), I wanted more music in it, and I wanted more harmony," Latifah once explained. "Not too many people were doing anything like that."
Elements of her music, in retrospect, were advanced for someone who hit the scene at 19 years old. 1994's "U.N.I.T.Y," from her third studio album, Motown's Black Reign, was a clarion call against the pervasive misogyny in hip-hop culture. Latifah's seminal anthem earned her the first rap Grammy awarded to a woman, and has been the subject of articles and scholarship on Black feminism in music, hip-hop, and media in general for the last 25-plus years. Impressively, it could also easily have dropped today, in the landscape of the #MeToo movement and rallying cries to #ProtectBlackWomen.
As hard as Latifah always delivered as a rapper, she proved herself to be equally malleable as a singer, first on hooks and select tracks on her albums, then as the voice behind Living Single's theme song. In fact, she was in her school chorus and focused on being a vocalist before she started rapping, and as her acting career grew, she took opportunities to stretch her vocal display. The expectation might have been for Latifah to fit a contemporary urban feel, or at least adult contemporary, but she explored the smoother side of her musical persona with pop standards, blues, and jazz. She surprised audiences as lounge singer Liz Bailey in 1998's Living Out Loud with her rendition of Billy Strayhorn's "Lush Life," a beloved but notoriously difficult standard. Several years later, the Queen garnered an Oscar nomination for her portrayal of Big Momma Morton in 2002's Chicago.
Bolstered by the reception of her performance as the big-voiced Morton, Latifah decided it was time to enter her own jazz age; 15 years after her debut and ten years after planting a flag for women in hip-hop with "U.N.I.T.Y.," she released The Dana Owens Album on her Flava Unit/A&M label. The LP featured covers of jazz and soul standards originated by artists like Dinah Washington and Al Green, including a new rendition of "Lush Life." It was successful for such a stark departure, debuting at No. 11 on the Billboard R&B/Hip-Hop Albums chart, No. 16 on the Top 200, and earning a Grammy nod in 2005 for Best Jazz Vocal album.
Three years later, she returned with Trav'lin Light. If The Dana Owens Album was a toe in the water, Trav'lin Light was the plunge. Now with storied jazz label Verve Records, Latifah was noticeably more comfortable in the role of chanteuse, recording with live session players, expanding her repertoire to include big band selection. This time she released the album as Queen Latifah instead of Dana Owens, embracing jazz as part of her full artistry, instead of something she had to seperate. The LP debuted at No. 1 on Billboard Jazz charts, where it stayed for three weeks, and was nominated for the 2008 Best Original Pop Vocal Grammy (jazz standards in Grammy-speak).
Drawing a line between hip-hop and jazz wasn't novel at the time of Latifah's leap. Quincy Jones has repeatedly pointed to bebop as a sonic and spiritual precursor to rap, and jazz/rap fusion was en vogue for several years in the early 90s amongst groups like A Tribe Called Quest, Digable Planets, and Gang Starr. Later, jazz's influence continued through acts like hip-hop band The Roots and members of their Soulquarians collective. But that connection is about the music: instrumentation, rhythm, tempo. Sonic DNA shared between the two genres.
An MC crossing the divide to jazz vocalist is something, at least for now, in which Queen Latifah is singular. Perhaps the most surprising thing is that her jazz albums aren't novelty projects, pursued by a celebrity who's made enough money and has enough clout to entertain a long-time dream of singing. Jazz purists hold the genre up as a highly exclusive musical society which grants access only to the few who understand the canon of the "golden age," but even by those rigid standards, Latifah, whose father was a faithful listener to NY's WGBO Jazz 88 (now the only jazz-dedicated station left in NYC), passes muster. Dana Owens is a singer – a skilled one – and seasoned pros recognize her high musical IQ and vocal dexterity.
"Technically she can pretty much do anything she needs to with her voice," vocal arranger John Clayton told Jazz Times after working with the Queen on Trav'lin Light. "That has not only to do with range and intonation, but also shading and color. And since she's an actress, she knows how to sell the lyric. There's a lot of good singers out there who haven't grasped that."
Although Queen Latifah recently turned 50, her formal foray into jazz repertoire didn't represent a definitive pivot for the artist; a new direction dictated by age. Hip-hop itself is almost 50, and the concept of aging out of the genre is antiquated. In 2009 she released Persona, a return to Latifah as MC and experiment in genre bending and blending, combining hip-hop, soul, pop and rock with mixed success. More recently, she showed up to the 2019 MTV Video Music Awards in trademark Latifah style; riding in on a motorcycle to rock the mic. La can still spit hot fire as effortlessly as she belts a note. The beauty is, she's proven she doesn't have to choose between the two.
This article was first published in 2020. We are republishing it today in celebration of Queen Latifah's birthday. Black Music Reframed is an ongoing editorial series on uDiscover Music that seeks to encourage a different lens, a wider lens, a new lens, when considering Black music; one not defined by genre parameters or labels, but by the creators. Sales and charts and firsts and rarities are important. But artists, music, and moments that shape culture aren't always best-sellers, chart-toppers, or immediate successes. This series, which centers Black writers writing about Black music, takes a new look at music and moments that have previously either been overlooked or not had their stories told with the proper context.