The 15 Most Famous Alter Egos In Music History
From country to rock, jazz to hip-hop, these personas embody a specific moment in an artist's development.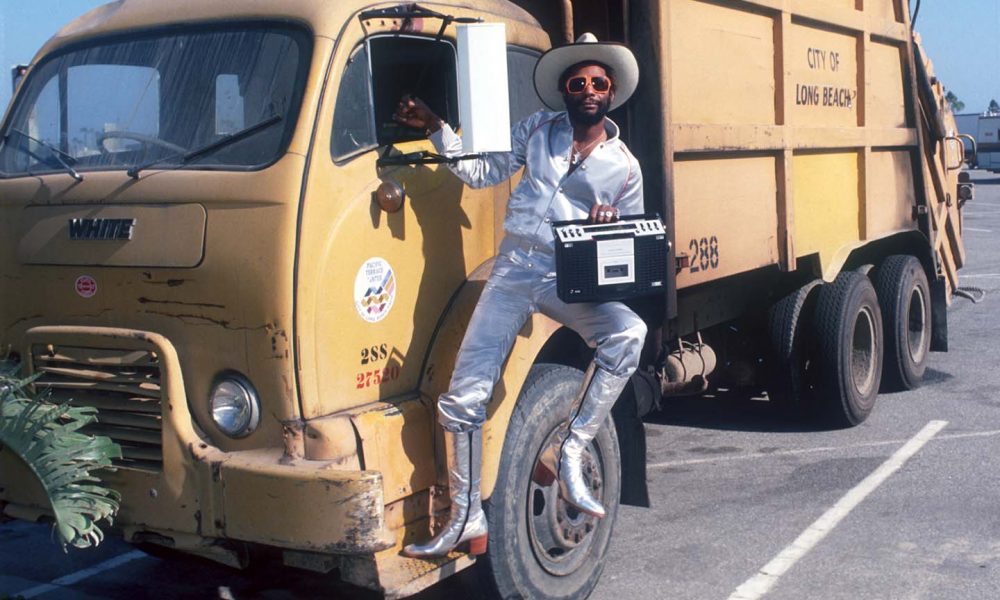 More than a stage name, musicians have been creating multiple identities as part of their performance for centuries. For some, it was only for an album. When The Beatles wanted to retire their mop-top boy band image and be considered serious artists, they created Sgt. Pepper's Lonely Hearts Club Band. For others, it was self-mythologizing, with Robert Zimmerman dropping his supposedly unfashionable moniker for the much hipper Bob Dylan, complete with an itinerant troubadour backstory.
For others, it was due to industry pressure. When Simon & Garfunkel were told their names were too "ethnic-sounding," they recorded under "Tom And Jerry," borrowed from the cartoon adversaries. And some are just ill-fated from the start, like Garth Brooks' fictional rock star persona Chris Gaines. From country to rock, jazz to hip-hop, these personas embody a specific moment in an artist's development. Here we pick just a handful of the most famous alter egos from the 50s to today.
1. George Clinton: Starchild/Dr Funkenstein/Mr Wiggles
George Clinton created more than just alter egos; he created an entire universe with his P-Funk mythology that would pave the way for Afrofuturism. Both of his pioneering bands, Funkadelic and Parliament, were part of Clinton's cosmology that included galactic-themed dancers, costumes, and a replica spaceship on stage during performances. His lifelong fascination with sci-fi manifested itself in his characters Starchild (inspired by 2001: A Space Odyssey) and Doctor Funkenstein, who sprung from Clinton's fascination with cloning. Other incarnations included Mr. Wiggles, a rapping underwater DJ, Sir Nose D'Voidoffunk, Lollipop Man, and countless others.
2. David Bowie: Ziggy Stardust/Aladdin Sane/Thin White Duke
Another artist who turned to the stars for inspiration was David Bowie for his bisexual alien glam rock star persona, Ziggy Stardust, immortalized on his 1972 concept album, The Rise And Fall of Ziggy Stardust And The Spiders From Mars. Not wanting to be stuck as Ziggy forever, Bowie killed off the character to become Aladdin Sane, a harder, nastier persona inspired by the dark decadence of America. Soon after, Bowie debuted his third persona, The Thin White Duke, a mad aristocrat whose look closely resembled Bowie's humanoid alien character Thomas Jerome Newton in The Man Who Fell To Earth. The Duke eventually landed Bowie in hot water for his more controversial statements, which he attributed to the character.
David Bowie – Space Oddity (Official Video)
3. XTC: The Dukes Of Stratosphear
The long-underrated UK band's psychedelic alter ego was borne out of a joke rather than artistic vision. After being sacked from a producing gig on Mary Margaret O'Hara's Miss America record, XTC frontman Andy Partridge and producer John Leckie decided to use their compensation money from Virgin and record some psychedelic tracks that Partridge and Colin Moulding had written, but which were too experimental for XTC.
The result was a mysterious new band called The Dukes Of Stratosphear, and two albums (25 O'Clock and Psonic Psunspot) that outsold their XTC records. Each member adopted a pseudonym and wore trippy outfits to complete the charade, which fooled many into believing they were a real band. Their debut album was even released on April Fools' Day in 1985, but to XTC, the Dukes were "the band we all wanted to be in when we were at school."
The Dukes of Stratosphear-The Mole from the Ministry - Full Video
4. Hank Williams: Luke The Drifter
While many artists use alter egos as a vehicle for outlandish behavior, country legend Hank Williams created the moralistic alter ego Luke The Drifter to espouse good deeds and dole out sage wisdom. Having become a bona fide star, the public expected all of Williams' releases to have a uniform "Hank Williams sound." As a result, Williams created the persona Luke The Drifter, with which he could sing about more serious subjects the likes of societal wrongs, without fearing backlash. Many of these "talking blues" songs included thoughtful narrations or "recitations." Out of Williams' more than 150 songs, only 14 were released under the pseudonym of Luke The Drifter and none of them charted during his lifetime.
5. David Johansen: Buster Poindexter
As a kind of reverse transformation, the man who's partially responsible for creating the look of heavy metal and the sound of punk rock went from being the cross-dressing frontman of the New York Dolls to a latter-day Catskills lounge singer. After the Dolls broke up, David Johansen abandoned the makeup and fishnets to don a tuxedo, pomped up his hair, and became campy lounge singer named Buster Poindexter. This career reinvention was remarkably successful thanks in part to his cover of "Hot Hot Hot," and the four other records that followed. Johansen eventually tired of the character and went back to making music under his own name and with the reunited New York Dolls in 2004.
Buster Poindexter - Hot Hot Hot
6. Julian "Cannonball" Adderley: Buckshot La Funke
Before Prince changed his name to the unpronounceable "Love Symbol" in a battle with Warner Bros, many jazz artists were recording under pseudonyms to get around contractual obligations. Many players would take on a different name to record with other artists, though, unlike most alter egos, they didn't change their sound. While alto saxophonist Julian "Cannonball" Adderley was signed to Mercury Records he appeared on a Blue Note recording under the name Buckshot La Funke.
The hilarious alias would inspire another alter ego project, Branford Marsalis' hip-hop jazz group Buckshot LeFonque. Adderley was not alone. Other noms de guerre include Charlie Parker performing as Charlie Chan, Trumpeter Fats Navarro as Slim Romero, Eric Dolphy as George Lane, Antonio Carlos Jobim as Tony Brazil, and scads of others.
Ande (Remastered 2007 / Rudy Van Gelder Edition)
7. Paul McCartney: Percy Thrillington
After making Ram in 1971, Paul McCartney produced a big-band instrumental version of the entire album, which was later released in 1977 under the mysterious moniker of Percy Thrillington. Paul McCartney, along with his wife Linda, invented the fictitious character and even went so far as to take out ads in various UK music papers announcing Thrillington's activities as well as spinning a detailed backstory for the Percy Thrillington liner notes. McCartney stayed mum about Thrillington's identity until he revealed the truth at a press conference in 1989. McCartney would continue to use pseudonyms for his more experimental side projects including electronica outings with producer Youth, credited to The Firemen.
8. Prince: Camille
Prince's unreleased albums are nearly as famous as the ones he did release, with the only comfort being that some of this shelved material ended up on official albums. Such is the case with Camille, the 1986 unreleased self-titled debut by Prince's gender-fluid alter ego. While Prince was no stranger to employing his falsetto (or alter egos, for that matter: Jamie Starr, Tora Tora and Alexander Nevermind are just a few others), for Camille, he purposely recorded his vocals at a slower speed and then adjusted them to the higher pitch to achieve a more feminine sounding voice.
Most of the Camille tracks later appeared on 1987's Sign O' The Times, including "Strange Relationship," "If I Was Your Girlfriend" and its B-side "Shockadelica." His Camille character was also the guiding force responsible for another shelved release, The Black Album, which featured two other Prince alter egos, Bob George and Spooky Electric.
9. Eminem: Slim Shady
Hip-hop has its fair share of alter egos. After all, Kool Keith has some 58 personas that have appeared over the decades. Eminem wouldn't fully come to prominence until he unleashed his sinister alter ego, Slim Shady, for 1997's The Slim Shady EP and 1999's The Slim Shady LP. As he said in an interview, "Everybody's got two sides to them. Slim Shady's just an angry side for me to vent." While Marshall Mathers writes about being a father, and Eminem pontificates on the pitfalls of fame, Slim is the fast-rapping, sadistic, and darkly funny side of him that made him a star and terrorized the media.
Eminem - The Real Slim Shady (Official Video - Clean Version)
10. Leon Russell: Hank Wilson
Throughout his decades-long career in music, Leon Russell had collaborated with every big name in the biz and effortlessly shifted from rock'n'roll to blues and gospel on his hit releases. While he was always drawn to county music, it wasn't until 1973 that he would take on the pseudonym Hank Wilson, under which he released, Hank Wilson's Back!, a collection of bluegrass and country standards. While it's considered obscure today, one of the tracks, "Roll In My Sweet Baby's Arms," hit the Billboard 100. Russell would go on to do a country duet album with Willie Nelson under his own name before returning to his Wilson moniker to release Hank Wilson, Vol. II, in 1984, and then a third volume of country covers, Hank Wilson, Vol. 3: Legend In My Time in 1999.
11. Nicki Minaj: Roman Zolanski
In the self-serious landscape of hip-hop, Nicki Minaj is a true chameleon, employing various wigs and guises to embody alter egos, each with their own backstory – so much so that there's an entire wiki page to track them all. The most famous (and Minaj's personal favorite) is Roman Zolandski, a fast-talking, flamboyant British gay man who courts controversy. After first making an appearance on Trey Songz's hit "Bottoms Up," he pops up on other Minaj hits, including "Roman's Revenge," "Roman Holiday" and "Roman Reloaded." His mother, Martha Zolandski, is another one of Minaj's alter egos, alongside Harajuku Barbie, Female Weezy (Lil Wayne's female counterpart), Point Dexter, and more than 10 others.
Eminem - Roman's Revenge ft. Nicki Minaj (Music Video)
12. 2Pac: Makaveli
What began as just a perhaps temporary persona warped into one of music's most notorious conspiracy theories. 2Pac reportedly became enamored with the 16th-century Florentine philosopher Niccolo Machiavelli while reading his work in prison and took on the persona Makaveli. It was first introduced on his album All Eyez On Me and later immortalized in 1996's The Don Killuminati: The 7 Day Theory, released posthumously just a few months after Tupac was fatally shot. The provocative album would fuel rumors in the decades that followed, implying that Pac had somehow survived the Las Vegas shooting and faked his own death, just as Machiavelli had claimed to do so in his political treatise, The Prince.
13. Herman Blount: Sun Ra
Some musicians embody alter egos for just one performance, an album cycle, or a few years, but none come close to the artistic commitment of legendary jazz composer, keyboardist, and bandleader Sun Ra, who really believed he was an angel from Saturn – both onstage and off. As he stated in a documentary, "Since I don't consider myself as one of the humans, I'm a spiritual being myself." Born Herman Blount in 1914, in Birmingham, Alabama, he gained a reputation in Chicago working as an arranger for Fletcher Henderson, before completely reinventing himself and abandoning his "slave name" for Sun Ra. Soon his "space trios" morphed into the sprawling Arkestra band that traveled the country and even became a musical commune complete with "Ra houses."
Sun Ra: Space is the Place (1974) opening titles
14. Damon Albarn: 2-D of Gorillaz
Sick of the disposable pop groups they saw on MTV and itching to experiment with hip-hop, Blur frontman Damon Albarn and his flatmate and illustrator Jamie Hewlett concocted the idea of the fictional, animated band Gorillaz in 1998. Just like the above artists, Albarn used anonymity to create music he could never release with Blur. Complete with a rotating cast of kooky characters, this cartoon side project exploded into a chart-topping band with their breakout single, "Clint Eastwood," in 2001.
Gorillaz - Clint Eastwood
15. Will Oldham: Bonnie "Prince" Billy
Throughout his prolific career (with well over 50 releases and counting), Will Oldham is no stranger to using pseudonyms. With each album, he's tweaked his name with the idea that the music should overshadow the identity of the person behind it. Recording under the names of Palace Brothers, Palace Songs, Palace Music, and Palace, he finally settled on Bonnie "Prince" Billy in 1999, drawing inspiration from Bonnie Prince Charlie, the 18th-century "pretender" to the English throne. As something of an indie rock icon, his alter ego expressed his more commercial side, or, as he stated in an interview, "a Brill Building or Nashville songwriter who sings songs with verses, choruses, and bridges."
Bonnie "Prince" Billy - I See A Darkness (Official Video)
From Don Van Vliet's Captain Beefheart to Green Day's The Network and Stevie Wonder's Eivets Rednow, there are innumerable examples of alter egos in music, tell us your favorite in the comments.