Best Peggy Lee Songs: 20 Essential Tracks To Give You Fever
The best Peggy Lee songs range from chaste declarations of love to vampy, seductive come-ons, reflecting the singer's wide ranging skills.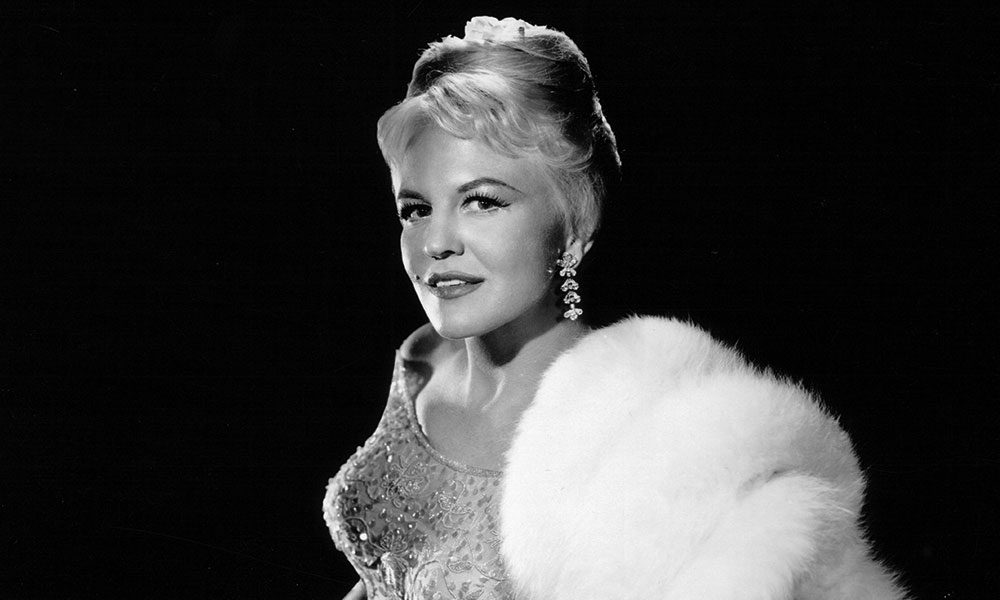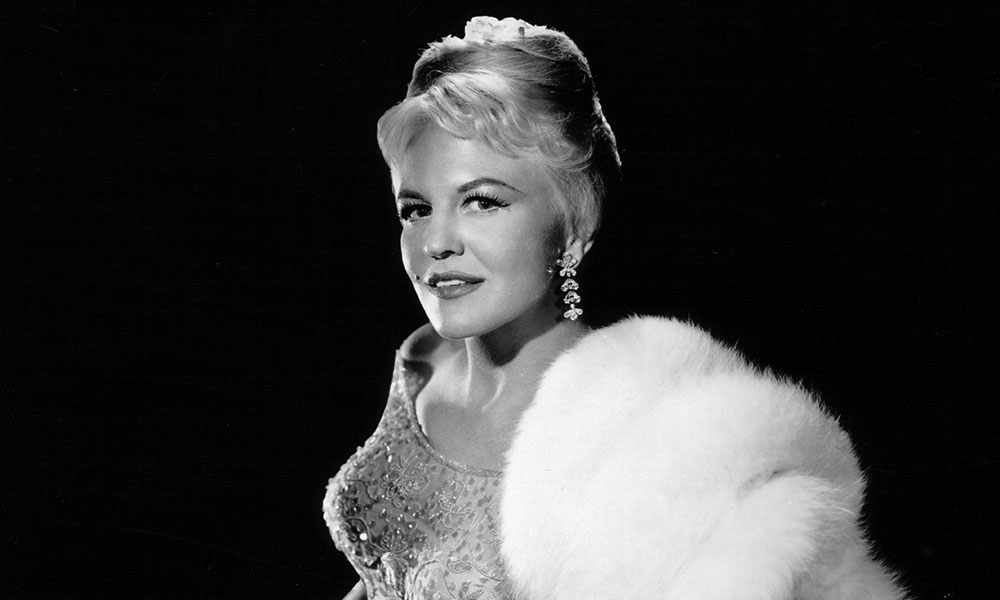 Peggy Lee was a sophisticated stage persona created by a humble railroad station agent's daughter from Jamestown, North Dakota, whose real name was Norma Deloris Egstrom. She rose to fame at the height of the big band era, serving her apprenticeship with the "King Of Swing," Benny Goodman, before establishing herself as one of the pre-eminent female singers of the post-war age. Realizing that versatility could help maintain the public's interest in her, she navigated many different musical paths, from jazz, blues, and swing to Latin, pop, soul, and even, in her later years, soft rock. The best Peggy Lee songs reveal what a versatile singer she was.
A blonde bombshell who cultivated an aura of mystique, Lee was blessed with a laconic vocal style, never wasting a note and eschewing unnecessary embellishment. Or, as her former arranger, Artie Butler, once told this writer: "She could change the molecules of the oxygen around her because she mastered the art of simplicity. It wasn't that she had the greatest voice, but she was a unique song stylist. You just heard two notes and knew it was her." To celebrate her singular talent, here's a countdown of the 20 best Peggy Lee songs.
Listen to the best Peggy Lee songs on Apple Music and Spotify.
20: Light Of Love (1958)
In the wake of "Fever", Capitol released this contrasting non-album curio: a short, happy-clappy gospel-style number with a chirpy, singalong chorus. Stylistically, it seemed the very antithesis of her earlier smash. Even so, "Light Of Love" was a hit single and reached No.63 in the US pop charts.
Light Of Love (Remastered 2000)
19: Pass Me By (1965)
This, the Cy Coleman/Carolyn Leigh-penned title song from Lee's second Capitol album of 1965, originally came from the soundtrack to the Cary Grant comedy-drama movie Father Goose, released a year earlier. Military-style drum rolls propel this jaunty tune, which breaks into syncopated jazzy swing rhythms in the last verse. It marched straight into the US Adult Contemporary charts, plateauing at No.20.
18: Sweetheart (1958)
With its stripped-back bass-and-drums arrangement, the sinuous "Sweetheart" was very similar in its style, mood, and tempo to Lee's chart smash "Fever," released earlier the same year. R&B singer-songwriter Winfield Scott, who penned Elvis Presley's "Return To Sender," wrote the song.
17: Sugar (That Sugar Baby Of Mine) (1955)
Lee showed that she could act as well as sing via her role in the movie Pete Kelly's Blues, which brought her an Academy Award nomination for Best Supporting Actress. Taken from the soundtrack, this smoothly swinging Billie Holiday-esque song was a re-recording of a tune that Lee cut in the decade prior.
Sugar (That Sugar Baby Of Mine)
16: I'm Gonna Go Fishin' (1960)
Peggy Lee showed great ingenuity by writing lyrics for Duke Ellington's title theme from the soundtrack to Otto Preminger's 1959 movie Anatomy Of A Murder. A driving big band number rendered in 6/8 time, the tune goes through several ascending key changes – which Lee navigates with aplomb – and then gradually subsides, coming to a sudden halt.
I'm Gonna Go Fishin' (Remastered)
15: My Man (1959)
"My Man" was Lee's blues-infused version of a 20s French cabaret song ("Mon Homme"), which featured on her Capitol album I Like Men! Her voice, sassy and seductive, is underpinned by a minimalist arrangement characterized by prominent drums, tinkling piano licks, and slivers of muted trumpet. The tune reached No.81 in the US pop charts.
14: Caramba! It's The Samba (1948)
After the phenomenal success of "Mañana (Is Soon Enough For Me)," Lee, then 28, took her musical inspiration from Brazil for this colorful hip-shaking romp which features a warbling flute and chirpy woodwind darting behind her assured, smooth vocals. Lee's then-husband, guitarist Dave Barbour, also shows his prowess with a nimble-fingered solo. Though not as popular as "Mañana," it made No.13 on the US charts.
13: Hallelujah, I Love Him So (1959)
As "Fever" and "I'm A Woman" illustrated, Lee had a penchant for taking R&B songs and remaking them in her own image. She did it again with this Ray Charles hit, which was initially deemed controversial for its marriage of gospel and blues music. Lee, however, gave it mainstream acceptability with a swinging and, at times, elegant big band arrangement. It charted at No.77 in the US and later appeared on Lee's 1960 compilation, All Aglow Again!
Hallelujah, I Love Him So
12: Alright, Okay, You Win (1959)
A song associated with Count Basie, in the era when stentorian-voiced singer Joe Williams fronted his group, Lee transformed this brash, brassy Mayme Watts and Sid Wyche tune into a subtly-swinging jazz-blues groove and hit the US charts, where the record peaked at No.68. The song appeared on Lee's Jack Marshall-arranged Capitol album Things Are Swingin'.
11: Don't Smoke In Bed (1948)
Though Lee scored several uptempo chart hits during her first stint at Capitol Records in the late 40s, she wasn't averse to giving her fans something different from time to time. Recorded in tandem with Dave Barbour and his orchestra, the Willard Robison-penned "Don't Smoke In Bed" is a classic break-up ballad that finds Lee convincingly portraying a jaded wife leaving her husband. Its message must have struck a chord with the US public as the record climbed to No.22 in the national charts.
10: The Folks Who Live On The Hill (1957)
There's something incredibly wistful and poignant about this string-drenched ballad that Lee recorded for the album The Man I Love, conducted by Frank Sinatra. A paean to domestic bliss, written 20 years earlier by Oscar Hammerstein and Jerome Kern, the song highlights the singer's demure sensitivity and is framed by a gorgeous arrangement by Nelson Riddle.
The Folks Who Live On The Hill
9: Johnny Guitar (1954)
Lee wrote the lyrics to this haunting Spanish-tinged ballad composed by Victor Young, which was the title song of the Nicholas Ray-directed iconic western movie starring Joan Crawford. Though the song failed to chart when it was released as a single on the Brunswick label, it's now regarded one of Lee's signature performances.
8: Big Spender (1966)
Lee reverted to a familiar role – the teasing seductress – for this provocative, slightly camp song plucked from the hit Broadway musical Sweet Charity. Originally a chorus number, Lee transforms it into a compelling solo vehicle spotlighting her smoldering sexuality. Released as a single, "Big Spender" reached No.9 in the US Adult Contemporary chart.
7: He's A Tramp (1955)
One of the key songs on Walt Disney's successful animated canine romance flick, Lady And The Tramp, "He's A Tramp" is another shining example of Lee's talent as a tunesmith. Her co-writer in this instance was producer and big-band leader Sonny Burke, and together they also wrote "La La Lu" and "The Siamese Cat Song" for the same movie.
6: I'm A Woman (1963)
As with "Fever," Lee wasn't the first singer to record the Leiber & Stoller-penned "I'm A Woman" (it was originally cut a year earlier by R&B belter Christine Kittrell) but she quickly appropriated it and put her indelible stamp on it. The song is a punchy pre-feminist empowerment anthem for women, delivered in an earthy blues style.
5: Mañana (Is Soon Enough For Me) (1948)
Peggy Lee scored her first No.1 with this contagious percussion-driven Latin extravaganza, co-written with Dave Barbour. Reflecting late 40s America's flirtation with the music of other cultures, the track spent nine weeks at the top of the US pop charts, and its success prompted Lee to record other exotic numbers. The track spent nine weeks at the top of the US pop charts, and its success prompted Lee to record other exotic numbers.
4: It's A Good Day (1946)
Lee eventually went solo after leaving the Benny Goodman band in 1943. This song was her sixth single for Capitol and her fourth written with her first husband, guitarist Dave Barbour (who contributes a deft solo). Unlike most jazz and pop singers during this era, Lee deserted the popular but declining big band sound, opting for a trendier small combo comprising a rhythm section and a couple of reeds. The record still swung, though, and reached No.16 in the US charts. It remains one of the singer's most enduring songs.
3: Black Coffee (1953)
The classic title track from one of Lee's greatest albums is arguably one of the best torch songs ever recorded. The much-covered song was a hit first for jazz singer Sarah Vaughan, but Lee's slow, sultry version – oozing sex, along with toxic levels of caffeine and nicotine – is memorable for its almost decadent nocturnal ambience. Pete Candoli's bluesy obligato trumpet lines beautifully complement Lee's languorous vocals.
2: Is That All There Is (1969)
Lee grabbed a Grammy for this, one of the most unusual singles to ever hit the US Top 20. Written and produced by noted rock'n'roll-era hitmakers Jerry Leiber and Mike Stoller, stylistically it channels Kurt Weil and the spirit of the 20s Berlin cabaret scene. Apart from the carefree, celebratory, chorus ("Let's break out the booze and have a ball"), Lee talks through the song rather than sings, recalling the absurdities and disappointments of life with a mordantly ironic sense of humor.
1: Fever (1958)
Topping our pick of the best Peggy Lee songs is this infectious number, which became the singer's signature song and captured her in full-on seductress mode. It was a hit first for its co-writer, R&B singer Little Willie John, in 1956, but, two years later, Lee put her distinctive spin on it. What makes her version sensational is its striking minimalist arrangement: nothing more than voice, finger snaps, bass, and drums. Another touch of originality was Lee writing new lyrics that referenced doomed lovers: namely, Shakespeare's Romeo and Juliet, and, from the annals of early US history, Captain Smith and Pocahontas. Lee's efforts earned a Grammy nomination, became a Top 10 pop hit in the US, and did even better in the UK, where it peaked at No.5. If one song epitomizes Peggy Lee, it's "Fever."
The Ultimate Peggy Lee collection can be bought here. Think we've missed one of Peggy Lee's best songs? Let us know in the comments section below.