'Super Bass': The Story Behind Nicki Minaj's Hit
A grand entrance into pop stardom from one of the best rappers of her generation.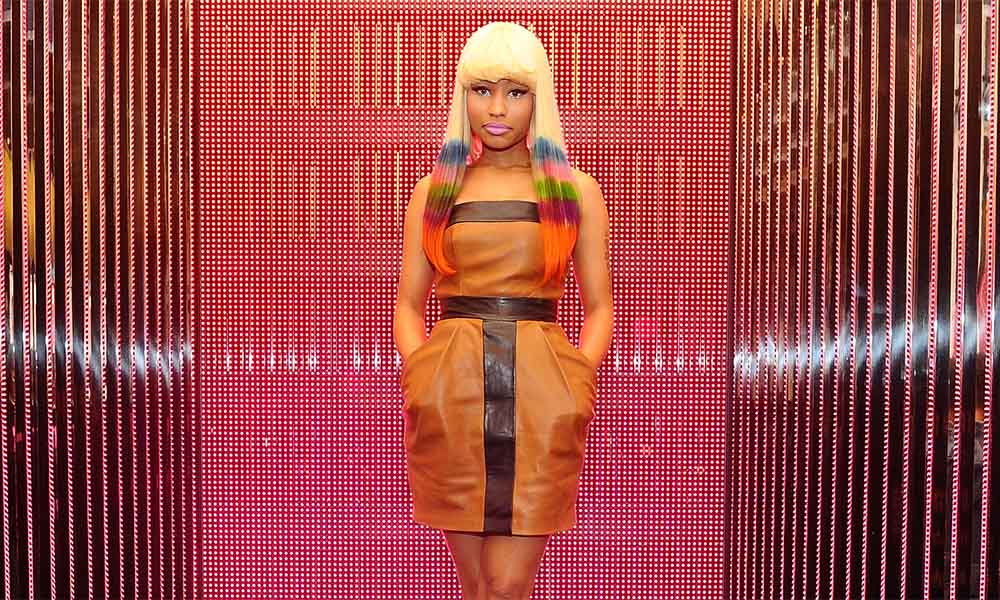 Nicki Minaj is one of the most prolific female rappers of our time. Since her mixtape debut in the late 00s, the Queens native set the stage for artists like Cardi B and Doja Cat with attention-grabbing wordplay and a fiery personality, which she derived from 90s influences like Foxy Brown and Lil Kim.
Minaj's journey officially began with her 2010 debut album Pink Friday, which combined the lyrical rawness of previous mixtapes like 2007's Playtime Is Over and 2009's Beam Me Up Scotty with forward-thinking, catchy production. Singles like the inspiring "Moment 4 Life" featuring fellow Young Money artist Drake, the victorious "Fly" with Rihanna, and the braggadocio flair of "Did It On 'Em," Pink Friday showcased Minaj's ability to create effortless pop-rap hits. But "Super Bass," the album's fifth single, quickly blossomed as the rapper's defining moment.
Listen to Nicki Minaj's "Super Bass" now.
In comparison to the majority of Pink Friday, "Super Bass" is strictly sticky-sweet, bubblegum pop. That's no surprise when the co-writer here is Grammy-nominated songwriter Ester Dean (Rihanna's "What's My Name?" and Katy Perry's "Firework") and production is handled by Kane Beatz (Young Money's "BedRock," Trey Songz's "Bottoms Up"). Switching between an innocent sing-song chorus and catchy rap verses, she confesses being head over heels in love: "Boy, you got my heartbeat running away/Beating like a drum and it's coming your way/Can't you hear that boom-ba-doom-boom, boom-ba-doom-boom bass?"
"'Super Bass' is about the boy that you are crushing over," Minaj told MTV News while on the set of the video. "And you kind of want to get your mack on, but you're taking the playful approach." The video encompassed that playful nature, with Minaj and her crew of dancers sporting matching outfits (complete with the rapper's signature Barbie-pink hair) as they flirt with muscled-up men.
"Super Bass" was a smash: it peaked at No. 3 on the Billboard Hot 100, becoming the rapper's then-biggest single. The accomplishment doubled as the highest-charting rap hit by a solo female artist since Missy Elliott's "Work It" in 2002. The triple-platinum Pink Friday topped the Billboard 200, making her just the fourth female rapper to accomplish that feat. Minaj's success was partly due to the buzz surrounding "Super Bass," which was set off by Taylor Swift three months prior to its release.
During a radio interview with Nashville's 107.5 in February 2011, the pop star played the relatively unknown Pink Friday deep cut. "I remember being at a hotel and watching Taylor Swift on my laptop, and being like, 'Wow, she rapped every single word,'" Kane Beatz recalled to Billboard in 2019. "It became a viral thing that girls wanted to show that they could rap the whole verse."
From there, the snowball effect began. Selena Gomez later shared her cover on YouTube and Minaj joined Swift onstage during her Speak Now tour's Los Angeles stop. Most notably, cousin duo Sophia Grace and Rosie's viral cover caught Ellen DeGeneres' attention, who invited the British mini-stars on her daytime talk show. Minaj later surprised the girls on the show, where they performed the song with her. Since its release, "Super Bass" has been covered by everyone from Tracee Ellis Ross to Glee's Jane Lynch and Kendall Jenner. For Halloween 2020, Lil Nas X recreated Minaj's motorcycle outfit from the music video.
Following "Super Bass," Minaj has continued to dominate both the rap and pop worlds. She's since dropped three albums (her latest being 2018's Queen) and secured a handful of Top 10 features, from David Guetta's "Turn Me On" in 2011 to Ariana Grande's "Side To Side" in 2016 and Doja Cat's "Say So" remix in 2020. The rapper has also expanded into other business ventures (including endorsement deals with MAC Cosmetics and her Queen Radio Beats 1 radio show) and became a first-time mother in late 2020.