Ghost Shares Epic Cover Of Iron Maiden's 'Phantom Of The Opera'
The track features on the Swedish stars' new 'Phantomime' EP, out via Loma Vista on May 18.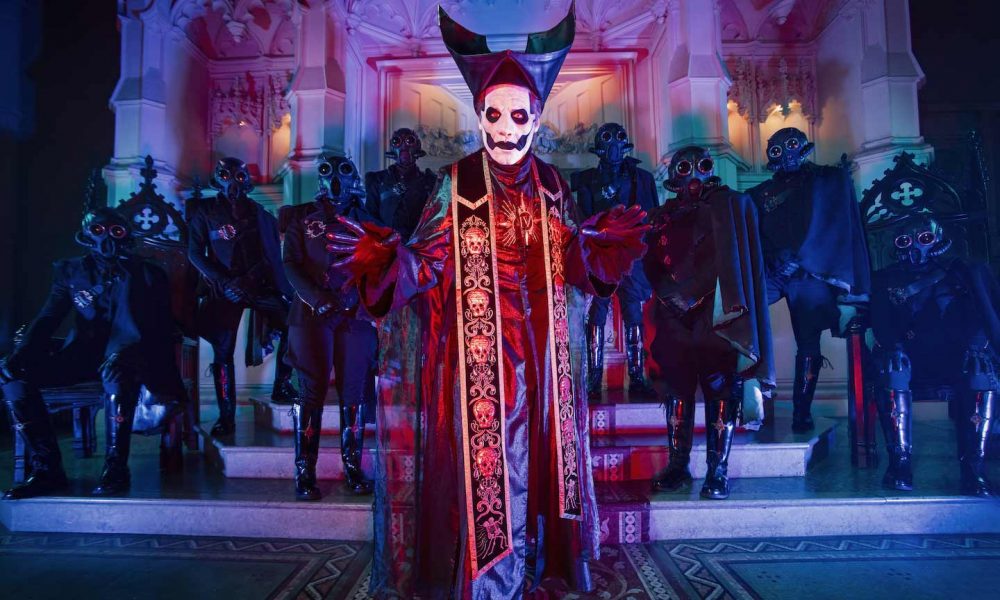 Ghost has shared its epic – and extremely faithful – cover of Iron Maiden's "Phantom Of The Opera" from 'Phantomime', the band's five-song covers EP, due out May 18 on Loma Vista Recordings. You can check the song out below.
A diverse and spellbinding sampling of the Grammy Award-winning band's musical DNA, 'Phantomime' is comprised of covers of classics and deep cuts by Television, Genesis, The Stranglers and Tina Turner, in addition to "Phantom Of The Opera." 'Phantomime' pays tribute in equal measure to every one of these unlikely bedfellow, influences while stamping them all with Ghost's undeniable sonic signature.
Ghost - Phantom Of The Opera (Official Audio)
Ghost previously signaled the arrival of 'Phantomime' by sharing its interpretation of Genesis' 1992 satirical stab at televangelists "Jesus He Knows Me." This second coming of "Jesus He Knows Me" was accompanied by an Alex Ross Perry-directed video that will surely make the case that one person's beauty is another's blasphemy.
'Phantomime's release will coincide with Ghost's first live dates of 2023, beginning with a May/June European run of festival and headline dates including appearances at Primavera Sound 2023 where the band will share a bill with Blur, Depeche Mode, Halsey and Kendrick Lamar, among others, and Sweden Rock Festival 2023, where Ghost will be one of four headliners alongside Def Leppard, Iron Maiden and Motley Crue.
Ghost will then make its triumphant return to North America, for its 'Re-Imperatour' U.S.A. 2023 summer tour with special guest Amon Amarth. Re-Imperatour U.S.A. 2023 kicks off August 2 in Concord, CA, with stops in more than two dozen cities before its two-night finale the Kia Forum in Los Angeles on September 11 and — recently added by popular demand — September 12.
The complete track listing for 'Phantomime' is as follows:
"See No Evil" (Television)
"Jesus He Knows Me" (Genesis)
"Hanging Around" (The Stranglers)
"Phantom of the Opera" (Iron Maiden)
"We Don't Need Another Hero (Thunderdome)" (Tina Turner)