Listen To Ghost's Epic New Covers Project 'Phantomime'
The band also debuted a virtual escape room for its fans.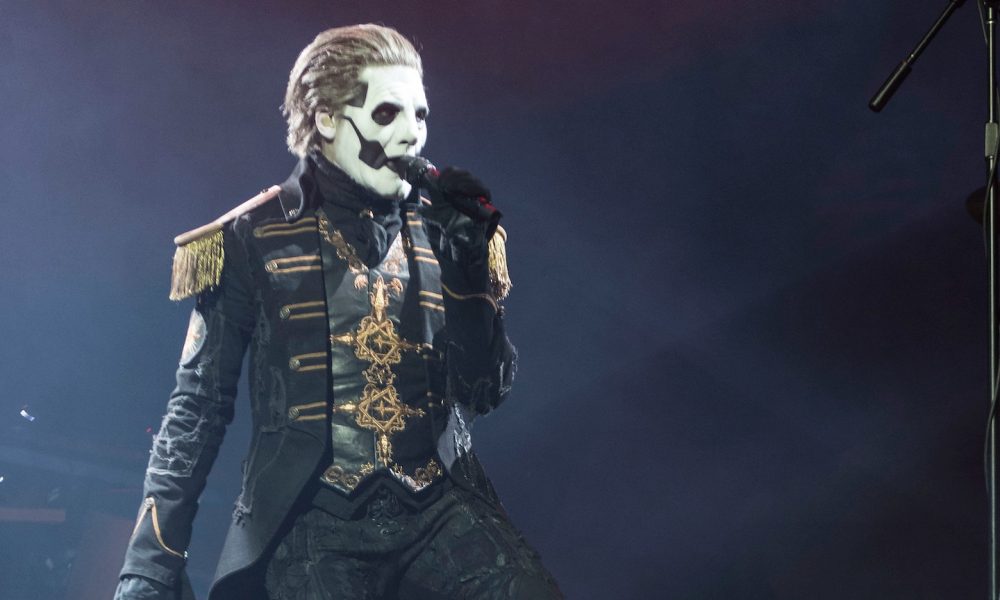 Ghost has returned with a thrilling five-song covers EP, Phantomime (Loma Vista Recordings). The band has also debuted the "Escape From The Ministry" virtual escape room.
The "Escape From The Ministry" virtual escape room experience allows fans a first ever chance to explore the hallowed halls of the newly renovated ministry—seen in several installments of Ghost's ongoing webisode series—soundtracked of course by the brand new Phantomime.
Ghost - Phantom Of The Opera (Official Audio)
The release of Phantomime has been preceded by this week's release of Ghost's faithful cover of Iron Maiden's "Phantom of the Opera" and last month's reveal of its interpretation of Genesis' "Jesus He Knows Me." Described by Revolver as "something special for your Easter basket" and by Stereogum as "a fitting release for this particular Easter Sunday," the Instagram-trending "Jesus He Knows Me" has generated some 10 million streams worldwide and cracked the Rock Radio Top 20 within weeks of its release.
Phantomine was conceived to follow last year's international chart-topping opus Impera. A revelatory sampling of the Grammy winners' musical DNA, Phantomime is comprised of covers of classics and deep cuts by Television, Genesis, The Stranglers, Iron Maiden, and Tina Turner. Phantomine pays tribute in equal measure to every one of these diverse influences, while stamping them all with Ghost's undeniable sonic signature.
Phantomime's release will coincide with the May 21 kick-off of Ghost's massive 2023 world tour in Rouen, France. Spanning four continents—Europe, North America, South America, and Australia—Ghost's 2023 live ritual will manifest at the likes of Primavera Sound 2023 where the band will share a bill with Blur, Depeche Mode, Halsey, and Kendrick Lamar, among others, and Sweden Rock Festival 2023, where Ghost will be one of four headliners alongside Def Leppard, Iron Maiden, and Motley Crue.
Ghost will then make its triumphant return to North America, for its Re-Imperatour U.S.A. 2023 summer tour with special guest Amon Amarth. Re-Imperatou U.S.A. 2023 kicks off August 2 in Concord, CA, with stops in more than two dozen cities before its two-night finale the Kia Forum in Los Angeles on September 11 and 12.