The Instant Success Of John Lennon's 'Instant Karma!'
Written and recorded in a day, John Lennon's 'Instant Karma!' became the first solo single by a former Beatle to sell a million copies in America.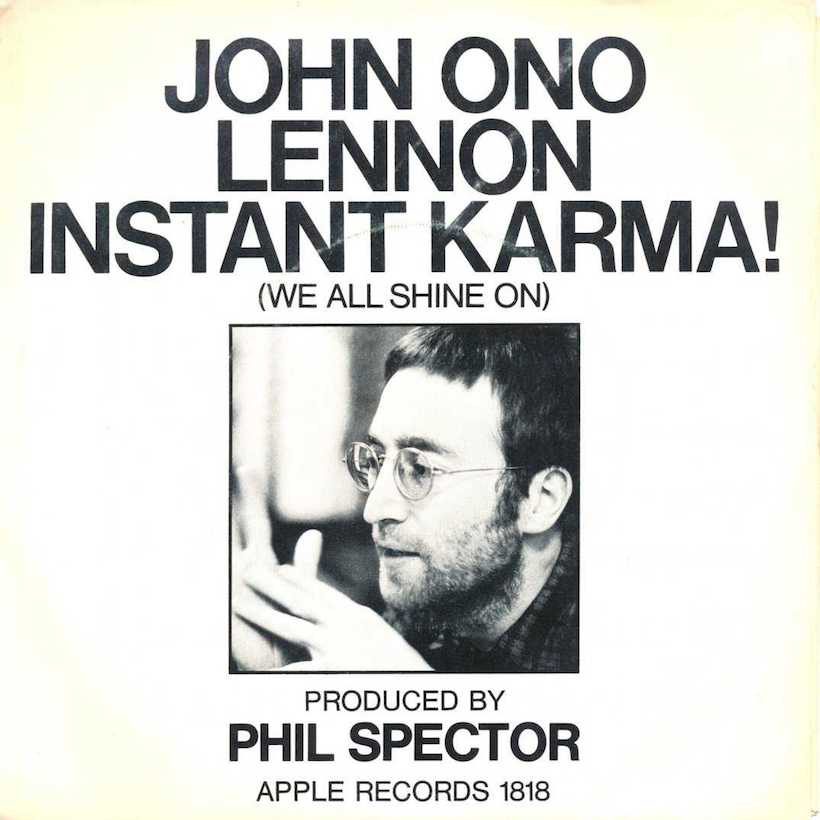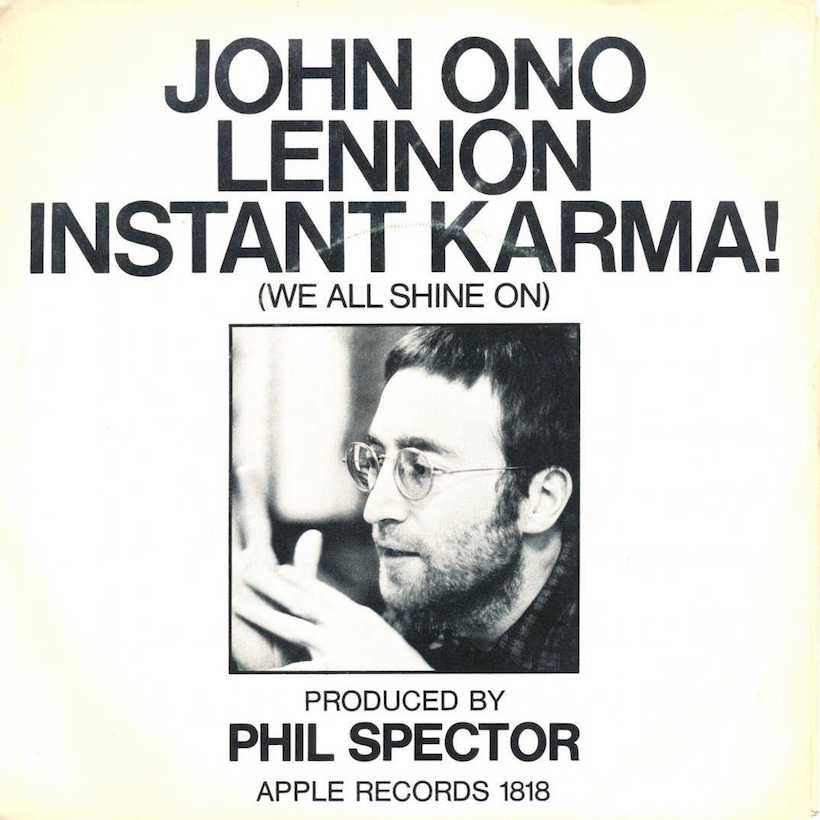 "Instant Karma!"
Never has a record been more appropriately titled.
It's instant because John Lennon wrote it on the morning of January 27, 1970, and went to Abbey Road studios later that day to record it. George Harrison suggested that Phil Spector, with whom he was working on his solo album, All Things Must Pass, should produce it. It took 10 takes to get the basic song down on tape, which they finished around midnight; thereafter overdubs were added. The session included John and George, Klaus Voormann on bass, Billy Preston on organ, Alan White on drums and piano with Mal Evans, Allen Klein and Yoko on backing vocals. Spector gave it his full, "Wall of Sound" treatment.
According to John, "Everybody was going on about karma, especially in the 60s. But it occurred to me that karma is instant as well as it influences your past life or your future life. There really is a reaction to what you do now. That's what people ought to be concerned about. Also, I'm fascinated by commercials and promotion as an art form. I enjoy them. So the idea of instant karma was like the idea of instant coffee: presenting something in a new form. I just liked it."
Not only did John like it, but so did the record-buying public. It was released in the UK a week later on February 6 and made No.5 on the charts; as John said on its release, "I wrote it for breakfast, recorded it for lunch, and we're putting it out for dinner." Credited to Lennon/Ono with The Plastic Ono Band, it was John's third solo single in just over six months. In America, it was released on February 20 and there it made No.3 and became John's biggest solo hit to that point; the US release was a different mix that Spector did in Los Angeles a few days after it was recorded, which John was unaware of until it came out. "Instant Karma!" became the first solo single by a former Beatle to sell a million copies in America.
On the B-side of "Instant Karma!" was the acoustic ballad, "Who Has Seen The Wind?" written by Yoko Ono, produced by John and recorded at Trident Studios with John Barham on harpsichord. The 45 rpm's label had "PLAY QUIET" or "PLAY SOFT" printed in large type on the b-side and "PLAY LOUD" on the a-side.
In an interesting piece of trivia, when the writer Stephen King was asked, "What is the origin of the phrase 'the shining' as a description of psychic power?" He replied, "The origin of that was a song by John Lennon and the Plastic Ono Band called 'Instant Karma!' The refrain went 'We all shine on.' I really liked that, and used it."
Follow the John Lennon: Top 100 playlist for more essential Lennon.