Mike Love And The Creation Of The Californian Dream
The Beach Boys music is the soundtrack to Southern California, but Mike Love's lyrics did a good deal to create the Californian Dream.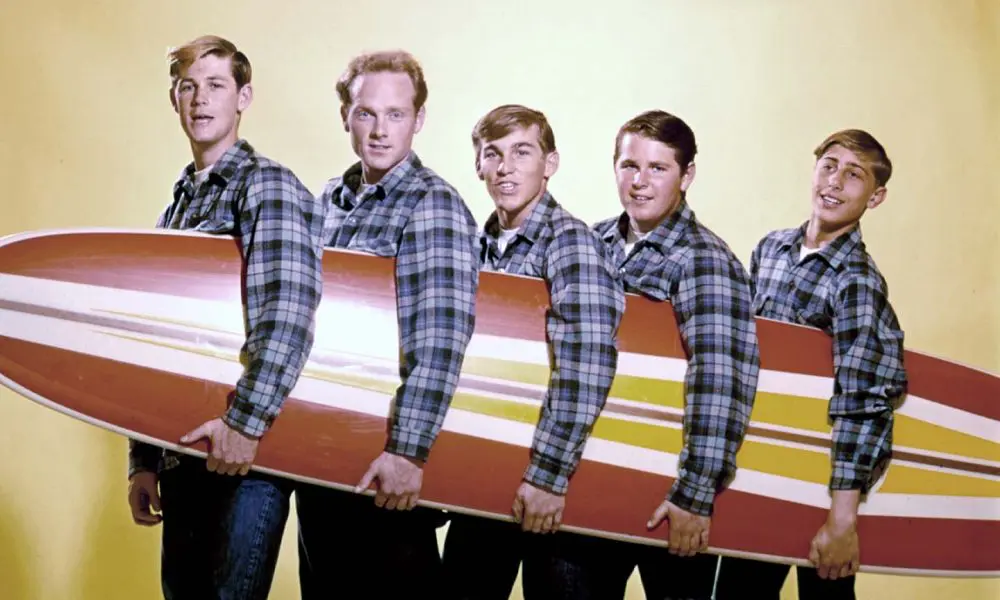 Everyone agrees that Brian Wilson's genius is essential to the music of The Beach Boys, and yet the creation of the Californian dream, the idyll of endless summer days – and summer nights – owes much to the brilliance of Mike Love and the lyrics that he wrote. Cousin to the Wilson brothers, Mike Love was born on March 15, 1941, and quickly became a key part of the musical family.
As Mike Love says, "I really like Chuck Berry, the way he wrote his words, he described little vignettes that were going on in his life in his environment and that's what we did when I went to start writing lyrics – 'Surfing Safari'; 'Surfing USA'; 'Fun, Fun, Fun'; 'I Get Around' – that kind of thing. Those were little stories of what was going on in Southern California at the time we were growing up."
Listen to the best of The Beach Boys on Apple Music and Spotify.
On Surfin Safari, The Beach Boys' first album that was released in 1962, Mike contributed the lyrics to the title track, "Surfin," and "409"; it set the template for many of the classic 1960s Beach Boys hits, a heady mix of surfing and cars…and a few girls as well.
The band's third album, Surfer Girl in 1963, includes "Catch A Wave" that has a brilliant lyric from Mike Love, "You paddle out turn around and raise, and baby that's all there is to the coastline craze. You gotta catch a wave and you're sittin' on top of the world." It made surfing sound within everyone's reach, whether you were living in Pittsburgh or Peterborough.
For the Beach Boys' Little Deuce Coupe album, Brian and Roger Christian write many of the songs, but it's one of Mike's lyrics that resonated with so many. "Be True to Your School" personifies the perfection of teenage years and the high school of everyone's dreams.
Be True To Your School (Remastered)
For the Beach Boys' fifth studio album Shut Down Vol.2, Mike wrote two of his greatest lyrics, representing the polar extremes of Brian and Mike Love's creativity. "Fun Fun Fun" is a lyric that is just perfect in every way. The teenage dream of getting her dad's Ford Thunderbird not to go to "the library, like she told her old man" but to cruise "through the hamburger stand" conjures up a brilliant visual image, something that the best songs do, with what seems like consummate ease. It also includes one of the greatest of all Mike's lines, "She makes the Indy 500 look like a Roman chariot race."
At the other end of the musical spectrum is "The Warmth of The Sun." Brian and Mike Love began writing the song in the early hours of the morning before John F. Kennedy's assassination. They completed it later that day, having heard about Kennedy's death. According to Mike, "The melody was so haunting, sad, melancholy, that the only thing that I could think of lyrically was the loss of love, when interest slips and feelings aren't reciprocated… though I wanted to have a silver lining on that cumulus nimbus cloud so I wrote the lyrics from the perspective of, 'Yes, things have changed and love is no longer there, but the memory of it lingers like the warmth of the sun.' I think it's really impactful and memorable… one of my favorite songs from an emotional and personal point of view." The poignancy is made even more perfect by one of Brian Wilson's most perfect lead vocals.
Then came the All Summer Long album that includes another one of Mike's outstanding homages to paradise, the brilliant, "I Get Around"; it became the Beach Boys first UK top 10 single. The album also includes "All Summer Long," "Little Honda," "Don't Back Down" and "Wendy," which covered all four of the band's lyrical touchstones; Mike wrote lyrics for all of them.
By the time of the Beach Boys Today! an album from 1965 at a time when Mike and Brian were heading towards their mid-twenties there was a shift to slightly more mature themes as can be heard on the sublime "Please Let Me Wonder" and the even lusher "Kiss Me Baby." The theme of change and maturation is perfectly captured by "When I Grow Up (To Be A Man)": "Will I look for the same things in a woman that I dig in a girl? Will I settle down fast or will I first wanna travel the world? Now I'm young and free but how will it be, when I grow up to be a man?"
Later in 1965, The Beach Boys released one of their most accomplished albums to date, Summer Days (And Summer Nights). Side 2 opens with one of their towering "pocket symphonies" – the full flowering of the West Coast sunshine sound – "California Girls." The genius of Brian's orchestral intro is perfectly balanced by the lyrics.
California Girls (Stereo)
1966's Pet Sounds is regularly cited as the moment that Brian and Mike began to grow apart as a songwriting team. But Mike Love contributed to the lyrics of "Wouldn't It Be Nice," "I'm Waiting For the Day," and "I Know There's An Answer," showing that his lyrics were still important. Smiley Smile had less of Mike's lyrics but it includes one incredibly important song to both the album and the 60s as a whole: "Good Vibrations."
With the coming of the Summer Of Love in 1967 and rock taking over from pop, the Beach Boys began to find they were somewhat at odds with the cultural taste of the nation(s). There were still collaborations between Mike and Brian but increasingly other members of the Beach Boys provided lyrical input. Mike still had standout gems from this period, though, including "Do It Again," "Add Some Music To Your Day," "Cool, Cool Water," and "All This Is That."
Do It Again (Remastered 2001)
As long as people think of California, they will have a soundtrack in their head that's provided by the Beach Boys. They will also have imagery that is conjured up by Mike Love's lyrics; lyrics about a time when there was hope and dreams when the sun really did seem to shine every day. "T-shirts, cut-offs, and a pair of thongs," we really were having fun all summer long.