The Greatest Prog Rock Singers: A Top 30 Countdown
The prog rock world has no lack of virtuosity, with its guitar heroes, keyboard wizards, and bass and drum monsters but this list salutes the proggers whose instrument was their vocal cords.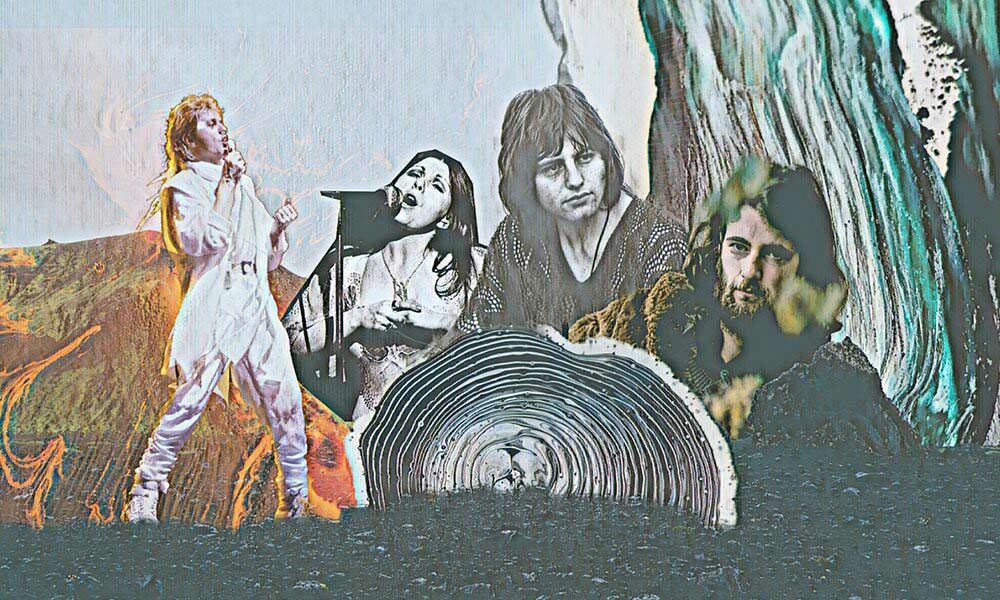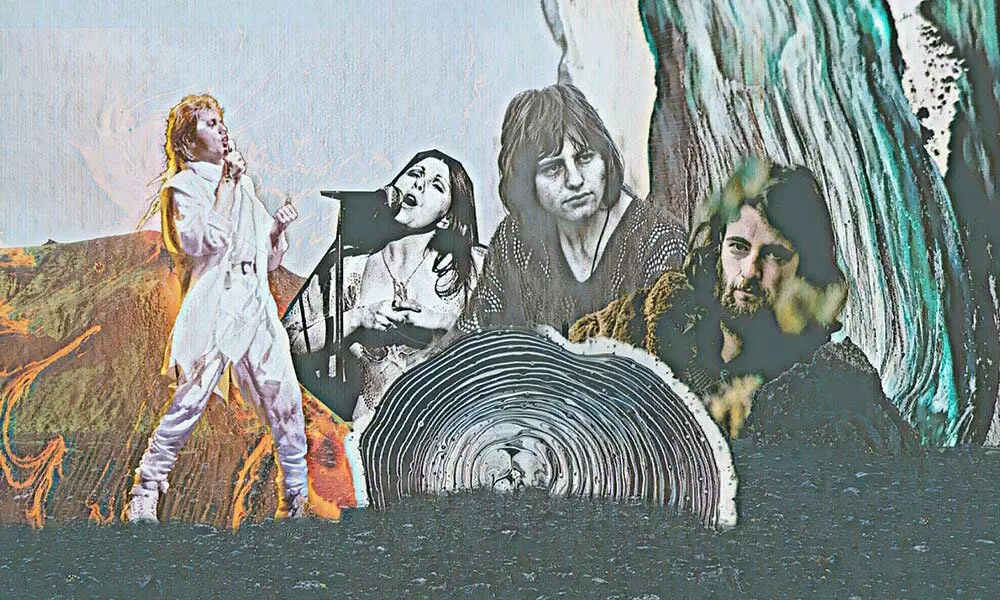 The prog rock world has no lack of virtuosity, with its guitar heroes, keyboard wizards, and bass and drum monsters but this list salutes the proggers whose instrument was their vocal cords. Many of these singers were masterful storytellers, great balladeers, and a few were highly theatrical. Here we salute the greatest prog rock singers who brought their visions and fired our imaginations just by opening their mouths.
30: Sonja Kristina (Curved Air)
Curved Air's singer was a former musical actress, and the band incorporated her sex appeal into their breakthrough single "Back Street Luv." But Sonja Kristina proved just as accomplished as her conservatory-trained bandmates. She was a cool jazz-influenced singer on record, but the live clips show she could be a Joplinesque wailer onstage.
29: Fish (Marillion, solo)
You could call Marillion's first frontman one of the last of the old-school, highly theatrical prog rock singers. Clearly inspired by Hammill and Peter Gabriel, Fish found his own voice on the two concept albums, Misplaced Childhood and Clutching at Straws, that closed out his Marillion tenure. A creative string of solo work, from topical to highly personal, was still to come.
Market Square Heroes (Re-Recorded Version) (1997 Remaster)
28: Derek Shulman (Gentle Giant)
If he'd sung for a more conventional band, Derek Shulman might have been known as one of the great arena-rock voices. He certainly had a mighty set of pipes and classic tracks like "Free Hand" and "Playing the Game" show how well he could shout to the rafters. So maybe it's no coincidence that Shulman discovered Jon Bon Jovi after moving onto his A&R gig.
27: Steve Walsh (Kansas)
Speaking of arena-ready voices, Kansas' frontman had one of the best; and nothing jumped out of AOR radio like the a cappella intro to "Carry On Wayward Son." But Steve Walsh was equally at home with deeper, proggier pieces like "Icarus Borne on Wings of Steel" and "Hopelessly Human," which explored the band's favorite theme of spiritual questing.
Icarus - Borne on Wings of Steel
26: Steve Hogarth (Marillion)
After parting with Fish, Marillion beat the odds by finding an equally grabbing prog rock singer with an entirely different personality. At his best, Steve Hogarth comes off as a sensitive guy with a sinister streak. Check out the menacing tone he gives on "The Uninvited Guest," or the way he portrays multiple good and evil characters on their peak concept albums, Brave and F.E.A.R.
The Uninvited Guest (1997 Remaster)
25: Dave Cousins (Strawbs)
One of the more dramatic prog rock singers, Dave Cousins began as a folk balladeer and retains an affinity for a well-told story. His romantic streak is a longstanding trademark, seen in the tender Strawbs ballads "Grace Darling" and "Out in the Cold." But what may be his best moment, the title track of "Hero & Heroine," is intense from start to finish.
24: Robert Wyatt (Soft Machine, solo)
The poignant quality in Robert Wyatt's voice provided Soft Machine with its only pop moments; then he did the best ever prog version of a Monkees song ("I'm A Believer"). But Wyatt later found his true calling as a jazz-inspired singer who took on challenging political material. Elvis Costello was even duly impressed by his version of "Shipbuilding."
23: Sally Oldfield
It's a shame that Sally Oldfield never matched the fame of her younger brother Mike, who first recorded as part of a duo with her. Sally's solo debut, Water Bearer, is a beautiful record that charts its own territory between prog, pop, and New Age. She also deserves a spot for her soaring vocal on Steve Hackett's Voyage of the Acolyte.
Shadow Of The Hierophant (2005 Digital Remaster)
22: Richard Sinclair (Caravan, Camel)
During his time with Caravan, Richard Sinclair alternated lead vocals with Pye Hastings, giving them an appealing Lennon/McCartney type mix. But Sinclair's gentlemanly British touch was missed after his departure. His best moment – the ballad toward the end of the side-long "Nine Feet Underground" – is well worth hunting for.
Nine Feet Underground (Medley)
21: Roger Chapman: (Family)
Speaking of unique voices, many peoples' first reaction to hearing Family was to be impressed by the uniqueness of that frontman. Roger Chapman wore his unconventional tones proudly, and he also had real soul. Family's gentler moments, like the classic ballad "My Friend the Sun," are some of prog rock's most emotive.
20: Steven Wilson (Porcupine Tree, solo)
Currently one of the great technical wizards in prog, Steven Wilson also has an expressive singer-songwriter voice that really shines when he strips things down to basics (see Porcupine Tree's wonderful acoustic EP, We Lost the Skyline). But he's also pushed himself to tell dark and complicated stories; scaling especially dramatic peaks on the band's epic "Anesthetize."
Steven Wilson - Refuge (Lyric Video)
19: Geddy Lee (Rush)
During his higher-pitched days, Geddy Lee's voice was an obstacle for prog fans getting into Rush, but like everything in Rush, Lee's vocals just kept getting better over the years. Look no further than his nuanced performance on "The Pass" (from the underrated Presto), on which Lee not only makes a resonant point (it's an anti-suicide song) but sings harmonies with himself.
18: Gary Brooker (Procol Harum)
Much as anyone on this list, Procol Harum's singer is steeped in classic R&B; you could see "Whiter Shade of Pale" as a successful attempt to make a wordier Otis Redding record. But Gary Brooker's natural stateliness allows him to take on more quintessential English characters, like the sailor who tells his memories in "A Salty Dog."
Procol Harum - 08 - A Salty Dog (1971)
17: Ike Willis (Frank Zappa)
It would be difficult to pick a favorite singer from the Frank Zappa crew but Ike Willis – who was there from the late 70s through the last band tour – would rank high on the list. In another life, Willis could have been a soul/R&B frontman; Zappa recognized that quality in his voice and often used it to great comic effect. Few other singers could have drawn actual pathos from "Why Does It Hurt When I Pee?"
Why Does It Hurt When I Pee?
16: Thijs van Leer (Focus)
Though Focus was (and is) mostly an instrumental band, leader Thijs van Leer's operatic range – as well as his pure eccentricity – gave them their most iconic moment, with the yodeling on "Hocus Pocus". Keyboardist/flautist van Leer had other standout vocal moments including the Latin chant in "Round Goes the Gossip" and his multitracked church choir that brings "Hamburger Concerto" to its peak.
15: Roy Harper
Like many of the greatest prog rock singers, Roy Harper came out of the folk singer-songwriter world, but by his classic Stormcock album, he was writing longer, more involved songs that called for advanced vocal acrobatics. This drew admiration from Led Zeppelin and Pink Floyd, with the latter recruiting Harper to lend his voice to the sleazy record exec in "Have a Cigar."
McGoohan's Blues (Remastered)
14: Adrian Belew (King Crimson, solo)
For all their avant-garde tendencies, King Crimson always had frontmen who knew and loved pop music. Adrian Belew was especially good at bringing warmth to the mix. But he could also get avant with the best. On "Indiscipline," he adapted a letter (from his artist partner about her new painting) into prog's greatest spoken-word vocal.
13: Ian Anderson (Jethro Tull, solo)
The songs Ian Anderson wrote for Jethro Tull called for a variety of vocal approaches: from punkish snarl to arena bluster, personal balladeer to English troubadour, and all of that can be found on Side One of Aqualung alone. Anderson's ability to deliver a thoughtful lyric was at least as important to Tull as his trademark flute.
12: Maddy Prior (Steeleye Span, solo)
If this was a folk-rock list, Maddy Prior would be near the top. But Steeleye Span certainly has its proggier moments (check "King Henry" or "Long Lankin"), and Prior also has prog credentials, having guested with Jethro Tull a few times (and used all of Tull's then-current line-up on her solo debut, Woman in the Wings). Most of all, she provides what has to be the best vocal on any Mike Oldfield album, namely the gorgeous "Hiawatha" that fills Side Two of Incantations, and its reprise at Side Four's climax.
Hiawatha (2011 Stereo Mix)
11: Todd Rundgren
Todd Rundgren does many things well, prog being only one of them. But he's on this list of the greatest prog rock singers as the first artist to do prog a cappella and recognizing the possibility of layered vocals. The Initiation track "Born to Synthesize" broke that ground, and 1984's A Cappella album proved remarkable from both technical and musical standpoints.
Born to Synthesize (2015 Remaster)
10: Justin Hayward (The Moody Blues)
Four of the five classic-era Moodies were capable lead singers with at least one classic track to their credit. But Justin Hayward quickly established himself as perhaps the greatest love-song specialist in all of prog rock; with the romantic outpouring of "Nights in White Satin." His romantic side was largely responsible for The Moody Blues' MTV-era comeback as well.
9: Kate Bush
On her earliest records, Kate Bush sounded like the imaginative teenager that she was. But the golden era of The Dreaming and Hounds of Love was about finding new possibilities for her voice. It was also where her theatrical streak came into play, as she inhabited vivid characters from sirens to banshees.
Kate Bush - Hounds of Love - Official Music Video
8: Peter Gabriel (Genesis, solo)
Peter Gabriel grew up on American soul records and learned to put some grit into his delivery. Not many public-school English guys could convincingly become a New York graffiti artist on a concept album. His voice became more flexible in his solo years, to the point where he could have hits with a sexy dance number ("Sledgehammer") and a love ballad ("In Your Eyes").
Supper's Ready (2007 Stereo Mix)
7: Phil Collins: (Genesis, solo)
When Genesis hemmed and hawed about promoting their drummer to lead singer, little did they know they had a voice that would practically define the 80s. Granted, it took a divorce and a solo deal to make Phil Collins a vocal star; but he was delivering memorable Genesis performances – like the ecstatic peaks in "Afterglow" – from the get-go.
6: David Gilmour (Pink Floyd, solo)
At his best, David Gilmour's singing was just as beautifully expressive as his guitar playing. "Wish You Were Here," "Young Lust" and "Welcome to the Machine" rank as some of the most grabbing vocals in all of prog, and his solo highlights – like the Pete Townshend co-written "All Lovers Are Deranged" – aren't to be overlooked either.
David Gilmour - All Lovers Are Deranged (Official Audio)
5: Annie Haslam (Renaissance)
Annie Haslam's crystalline voice and five-octave range have given prog rock some of his most enchanting moments, and some of its hardest to copy, like the vocal acrobatics in "Prologue." She can also be haunting and spectral, as on the proto-goth "Trip to the Fair."
4: John Wetton (King Crimson, UK, Asia)
John Wetton had one of the most distinctive voices in British rock, initially joining Family to sing harmonies with Roger Chapman. He threw himself handily into the fray of King Crimson, but it was always his destiny to combine prog with full-throttle arena rock. His gutsy vocal on UK's "In the Dead of Night" was classic, and the mega-success of Asia wasn't far behind.
3: Jon Anderson (Yes)
As an angelic high tenor, Jon Anderson challenged what a male rock singer was supposed to sound like. But in a band where every player was unique, Anderson provided Yes with moments of extreme beauty, the finale of "The Gates of Delirium," being a prime example. Since he fell out with Yes, they've had the unenviable task of finding singers who sound just like him.
The Gates of Delirium (2003 Remaster)
2: Greg Lake (Emerson, Lake & Palmer, King Crimson)
If the words "English choirboy vocals" are forever linked with prog rock, Greg Lake is largely the reason. His voice gave King Crimson a lot of its drama – not just anybody could record something as powerful as "21st Century Schizoid Man" when barely out of their teens – and later gave Emerson, Lake & Palmer its accessibility. Ballads like "Still…You Turn Me On" also evinced sex appeal, not a common quality in prog rock singers.
1: Peter Hammill (Van der Graaf Generator, solo)
The standard rap about Peter Hammill – that his dexterity with his voice was what Hendrix did with his guitar – is completely deserved. Hammill can do fireworks, he can show you the heart of darkness; then he can soothe your ears with a ballad. Above all, Hammill's 40-year career has always evinced the thrill of adventure that prog rock is all about.
Faint Heart And The Sermon (2006 Digital Remastered)
Looking for more? Discover 25 Greatest Prog Rock Albums Of All Time.