Jerry Lee Lewis Announces 85th Birthday Livestream With Elton John, Willie Nelson, More
Other special guests joining the event include Marty Stuart, The Beach Boy's Mike Love, and Priscilla Presley, among others.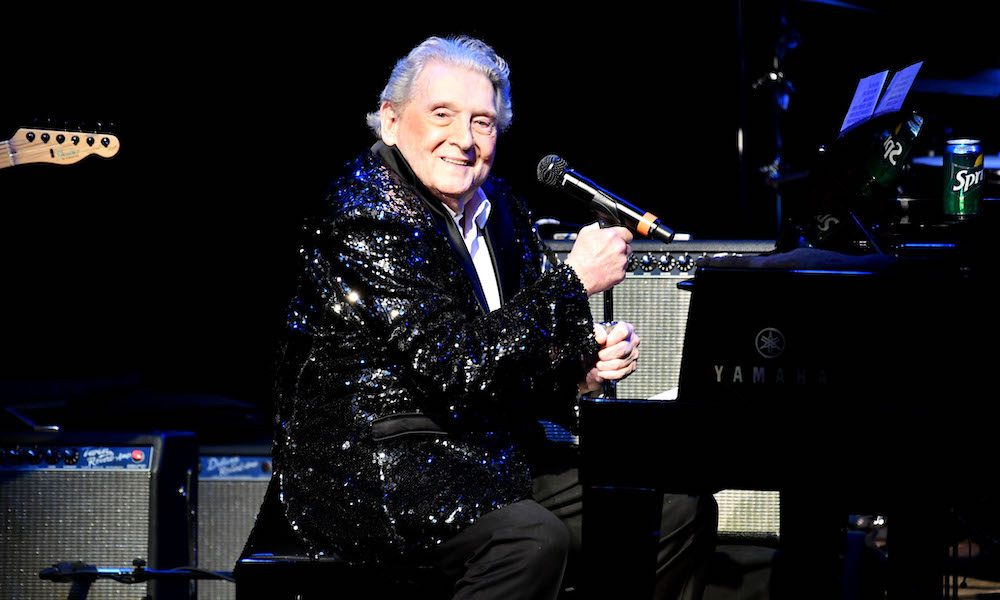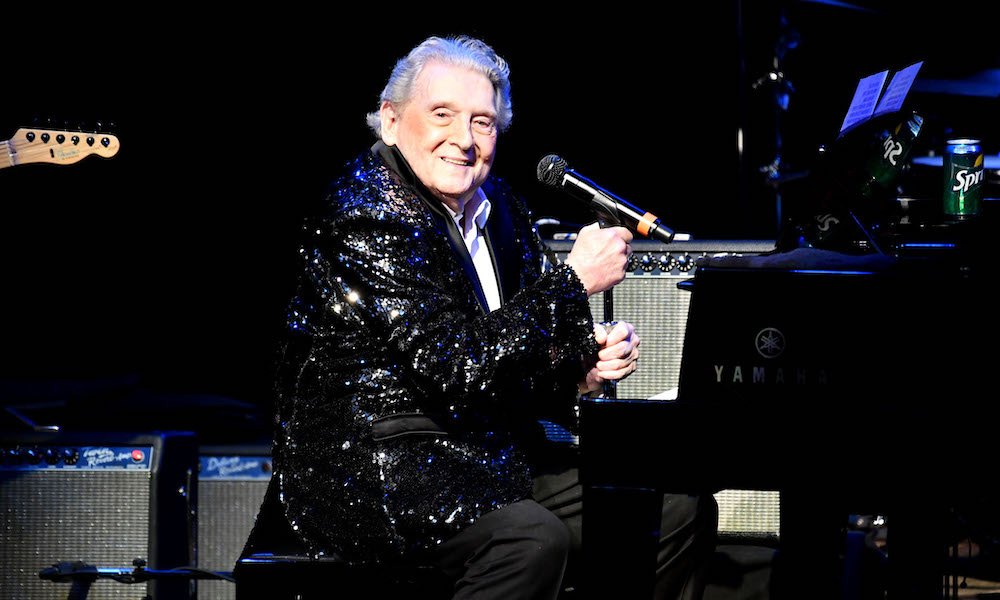 Jerry Lee Lewis is still rocking at 85 years old and to celebrate, he's gathering some of his famous friends for a blowout livestream celebration.
While the 50s rock icon's birthday was officially on September 29, Lewis is throwing a belated party on October 27th for a virtual livestream event, featuring performances and tributes by Elton John, former President Bill Clinton, Willie Nelson, Lee Ann Womack, Tom Jones, Joe Walsh, and more.
Hosted by John Stamos, the livestream will air at 8:00 p.m. EST on Lewis' official Facebook and YouTube channels, and his official artist website.
The event will also feature a special reunion between Lewis and his famous cousins, televangelist Jimmy Swaggart and country legend Mickey Gilley, marking the first time all three cousins have been in the same room in 40 years.
Other special guests joining the event include Marty Stuart, The Beach Boy's Mike Love, Priscilla Presley, and Wink Martindale, among others.
Jerry Lee Lewis "Great Balls Of Fire, What'd I Say & Whole Lotta Shakin' Goin On" | Ed Sullivan Show
With the loss of Little Richard earlier this year and Chuck Berry in 2017, Lewis is one of the last surviving original rockers. The singer and pianist suffered a serious stroke last year, but thankfully regained his ability to play the piano and was able to record a gospel album in Nashville in January. Lewis was joined by guitarists Kenny Lovelace and James Burton, along with Lee Ann Womack and gospel legends the McCrary Sisters on backing vocals.
As for the A-list attendees, Elton John recently listed Little Richard and Jerry Lee Lewis as his musical role models in his recent autobiography, ME.
"They were my real idols. It wasn't just their style of playing, although that was fabulous …. it was the way they stood up while they played, the way they kicked the stool and jumped on the piano. They made playing the piano seem as visually exciting and sexy and outrageous as playing the guitar or being a vocalist. I'd never realized it could be any of those things before."
While Lewis was inducted into the Rock and Roll Hall of Fame in 1986, the rock icon told Rolling Stone in a recent interview he's got his eyes on Country Music Hall of Fame.
"I'd like that to happen," Lewis said. "I don't know any reason why not. You couldn't be any more country than I am. I think I've always been a country artist. 'Whole Lotta Shakin' Goin' On' was No.1 in Country, so was 'Great Balls of Fire.'"
Listen to the best of Jerry Lee Lewis on Apple Music and Spotify.