Frank Sinatra And Elvis Presley: When The Chairman Met The King
Frank Sinatra and Elvis Presley shared a stage in March 1960, when Ol' Blue Eyes invited the singer of 'Blue Suede Shoes' onto his show.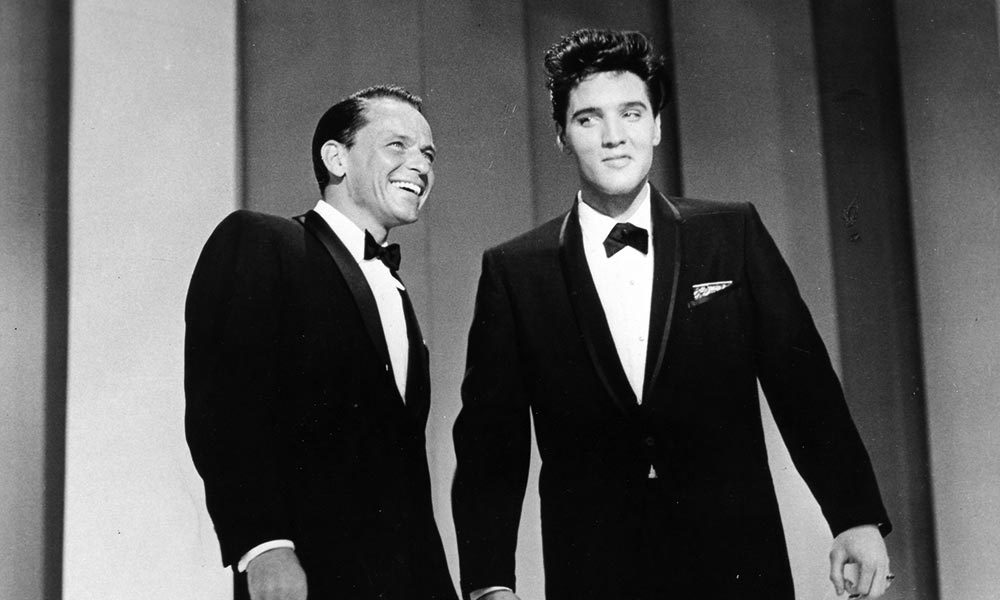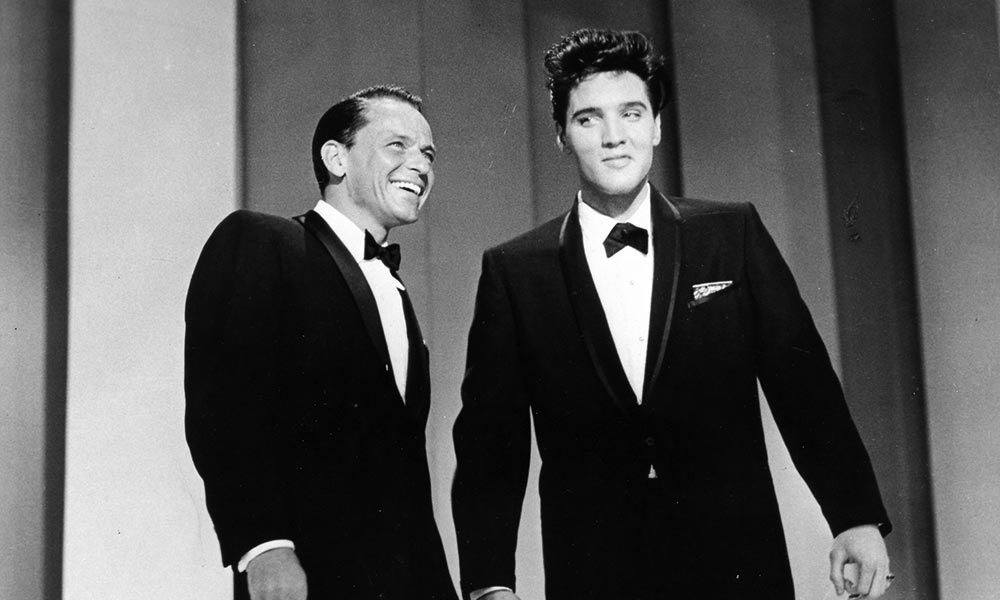 When the rock'n'roll phenomenon, spearheaded by the likes of Elvis Presley, Bill Haley, and Chuck Berry, exploded like the musical equivalent of an atom bomb in the mid-50s, it was greeted with both alarm and suspicion by some of the music business's established artists, Frank Sinatra among them.
The Chairman Of The Board invited The King Of Rock'n'Roll to be a special guest on the last of four hour-long TV shows sponsored by watchmakers Timex and broadcast in the US by ABC. The famous photograph capturing Frank Sinatra and Elvis Presley side by side was taken at Miami's Fontainebleau Hotel, on March 26, 1960, when the two men appeared in The Frank Sinatra Timex Show: Welcome Home Elvis, which brought America's two most famous singing superstars together in public for the first time. The show aired on May 12, 1960, and was devised as a homecoming celebration, marking Presley's return to the US after a two-year stint in Germany serving with the US military.
Bridging the generation gap
Sinatra's change of heart with regards to rock'n'roll, in general, was a savvy move that not only bridged the generation gap but also witnessed the ratings for his TV show shoot through the roof. (Sinatra's invitation also provided an ambitious step up for Elvis, who was looking for an endorsement from Ol' Blue Eyes in order to help widen his audience; he would eventually become a frequent performer at Sinatra's stomping ground, Las Vegas.)
For Elvis, appearing alongside a bonafide legend such as Sinatra meant that he had finally achieved mainstream acceptance; the fact that he, like his host, was dressed formally in a black evening suit indicated that he was stepping into Sinatra's world. Elvis even refrained from doing his signature wild hip-gyrations which, only a few years earlier, had caused offense and led to him being filmed on TV from the waist up. Indeed, the Memphis singer's whole demeanor seemed more mature than before. Despite looking a tad awkward in his tuxedo, Elvis presented a picture of stylish sophistication. Even so, the toned-down nature of his performance – where humorous shoulder-hunches were his only body movement – still elicited wild screams from some female fans in the audience.
"We're working in the same way, only in different areas"
Elvis sang "Stuck On You," his first chart-topper on leaving the army, but also duetted with Sinatra on an ingenious swing-time medley in which the show's host intoned the chorus from "Love Me Tender" and was answered by Presley crooning lines from Sinatra's 1957 hit "Witchcraft" (Sinatra had already performed the latter song himself at the beginning of the show). "We're working the same way, only in different areas," quipped Sinatra during the song, and, certainly, both performers seemed relaxed, enjoying each others' company.
Frank Sinatra - Witchcraft (Welcome Home Elvis)
Despite their 20-year age difference, Frank Sinatra and Elvis Presley became good friends. On hearing of Presley's death, in 1977, Sinatra was genuinely saddened and effusive in his praise of the man they called The King. "There have been many accolades uttered about Elvis' talent and performances through the years, all of which I agree with wholeheartedly," he said. "I shall miss him dearly as a friend. He was a warm, considerate, and generous man."
The Welcome Home Elvis special is on The Timex Shows Vol.2, which can be bought here.