'Standards, Vol. 1': Keith Jarrett, Gary Peacock, and Jack DeJohnette's Classic Trio
An album that both redefined and revived the art of standard playing in the post-bop era.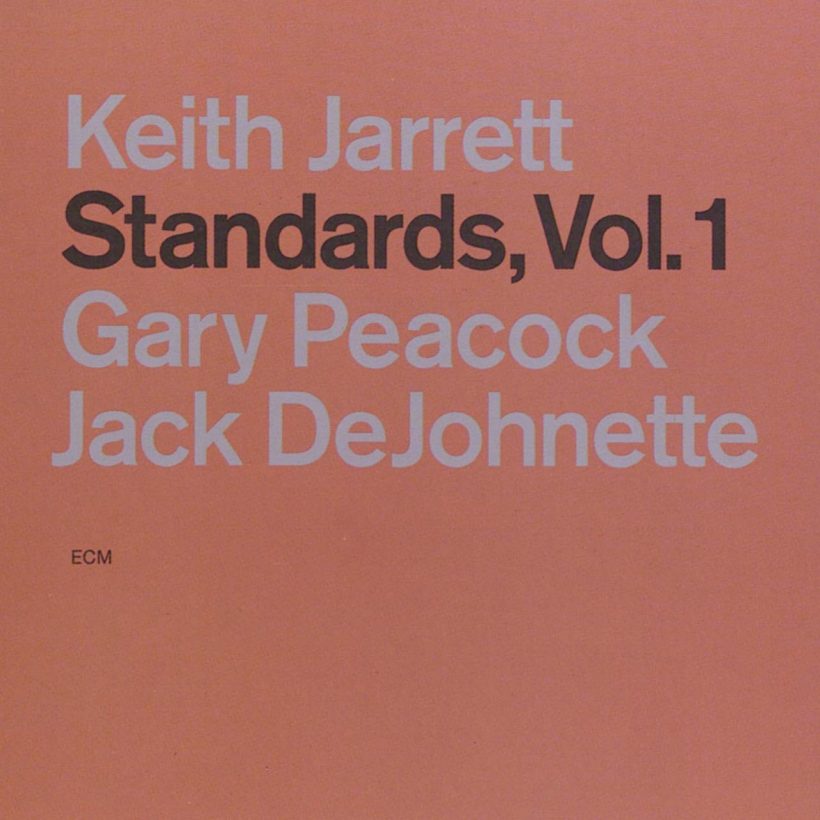 For much of his working life, Keith Jarrett found himself alone on stage at a piano, spontaneously composing lush, lyrical symphonies that mesmerized listeners and yielded landmark albums like 1975's million-selling The Köln Concert; a recording that transformed the virtuosic pianist from Allentown, Pennsylvania, into one of jazz's biggest and brightest new stars in an era otherwise dominated by jazz-rock and fusion.
Although Jarrett was famed for his improvised solo piano recitals, he had demonstrated at several other key points in his career that he thrived playing in groups alongside other musicians who were able to help unlock different facets of his creativity. Indeed, the pianist began his recording career in 1967 leading a trio, and then in the 1970s, while reaping acclaim for his solo piano exploits, led two contrasting groups, his so-called American and European Quartets. Then in 1983, at age 38, he did something altogether different.
Listen to Keith Jarrett, Gary Peacock, and Jack DeJohnette's Standards Vol. 1 now.
Early in the year, Keith Jarrett told Manfred Eicher, his producer at ECM Records, that he desired to record a trio album devoted to jazz standards. He was well-acquainted with the standard repertoire from his years as a jobbing bar pianist in Boston. Once he got a record deal, however, he largely set them aside to concentrate on self-composed material. The reason behind Jarrett's decision to revisit The Great American Songbook at a later stage in his life was a simple one. "This material was so damn good," he enthused to San Francisco Chronicle in 2008, adding: "Why was everyone ignoring it and playing clever stuff that sounds all the same? We know how musical these songs are… Jazz musicians don't have to always break down doors, there's music inside the rooms too."
For his first album dedicated to standards, Jarrett already had in mind the musicians he wanted to work with; bassist Gary Peacock and drummer Jack DeJohnette. Jarrett was good friends with DeJohnette, and both had worked as sidemen for Peacock on the 1977 album Tales of Another.
Preparing for the recording session
Once Peacock and DeJohnette were on board, ECM scheduled a recording session in January 1983 at New York's Power Station studio. Peacock confessed that he was a little non-plussed when the pianist first proposed an album exclusively devoted to well-worn popular songs. "The idea of doing a standards album was a little bizarre to me," he told Jarrett's biographer Ian Carr. "I wanted to think about it for a day or so…I thought, 'What is he doing?' It was confusing." But the more he thought about it, Peacock realized that recording a standards album with Keith Jarrett would be anything but safe and predictable. "If Keith wants to do standards, it ain't going to be a standard date," he mused. "It's going to be something else."
The trio didn't meet up to discuss the album in more detail until the day before the session. "We had a very serious dinner the night before we recorded," recalled Jarrett to Downbeat in 1984. "I prepared in advance of this dinner to talk about how I didn't have any arrangements, how there was not going to be any idea of how to do these things." Jarrett insisted that everything would be spontaneous; there would be no rehearsal or detailed advance preparation for the album. The pianist just brought with him a list of song titles and selected some at random, seeing how Peacock and DeJohnette responded. If they showed a scintilla of enthusiasm, they'd go for a take.
He trusted in their intimate knowledge of the standard repertoire or what he called their shared "tribal language," telling David Breskin: "I knew Gary and Jack had gone through standards as I had." Crucially, he brought along all the lyrics to the tunes on his list, which he showed his cohorts. Like the great saxophone players Sonny Rollins, Dexter Gordon, and Lester Young before him, Jarrett believed that musicians should know the words of the standards in order to fully understand their meaning and the emotions they evoked.
Recording the album
The two-day session in New York was rewardingly productive. "We went in to do just one album but we came out with enough material for three albums," an excited Peacock told Ian Carr. "They just let the tapes roll. It was incredible." Besides the album they had gone in to record, the trio recorded an additional selection of standards (six songs that would be released as Standards, Vol. 2 in 1985) and a collection of freely improvised original pieces which was issued under the title Changes in 1984.
Standards, Vol.1 contained five warhorses from the standard repertoire, mostly first takes; it opened with a dreamy, free-flowing interpretation of Bobby Troup's "Meaning Of The Blues" (a tune that Miles Davis made famous on his 1957 LP Miles Ahead) and closed with a lengthy gospel-tinged adaptation of Billie Holiday's immortal ballad "God Bless The Child," which was reworked with a hymnic flavor. Sandwiched in between were unique treatments of "All The Things You Are," "It Never Entered My Mind" and "The Masquerade Is Over."
For some listeners, the effect of listening to Standards, Vol. 1 was like eavesdropping on several musical conversations by three of the best storytellers in jazz. In their performances of the five tunes, Jarrett, Peacock, and DeJohnette revealed an advanced musical understanding that allowed them to interact with each other as if by telepathy. It was as if the three musicians functioned as a single organism, working instinctively and intuitively as one. Though their interpretations stayed respectfully true to the spirit of the original material, each song also became a framework for collective and individual improvisation. Crucially, Peacock and DeJohnette weren't subordinate to Jarrett but had an equal role in shaping the musical trialogue; this was trio jazz at its most democratic and liberating.
"It was a whole other level of playing," said Peacock, explaining to Ian Carr the trio's unique sonic alchemy. Jarrett concurred. "What we ended up with is incredible," he enthused to Musician magazine in 1983. "I think some of the songs' melodies have never been phrased as well as on this record."
The "Standards Trio" (as they became known) would record and tour together for the next 31 years, performing for the last time in 2014. During that time, they made 21 albums but none, perhaps, were as significant as their first release, Standards, Vol.1, which offered a fresh and deeply explorative approach to The Great American Songbook. Coming at a time when contemporary jazz was turning away from its foundation repertoire of Tin Pan Alley songs, the album both redefined and revived the art of standard playing in the post-bop era.
Listen to Keith Jarrett, Gary Peacock, and Jack DeJohnette's Standards Vol. 1 now.