The Nitty Gritty Dirt Band
The Long Beach country rock band has been going strong for over 50 years.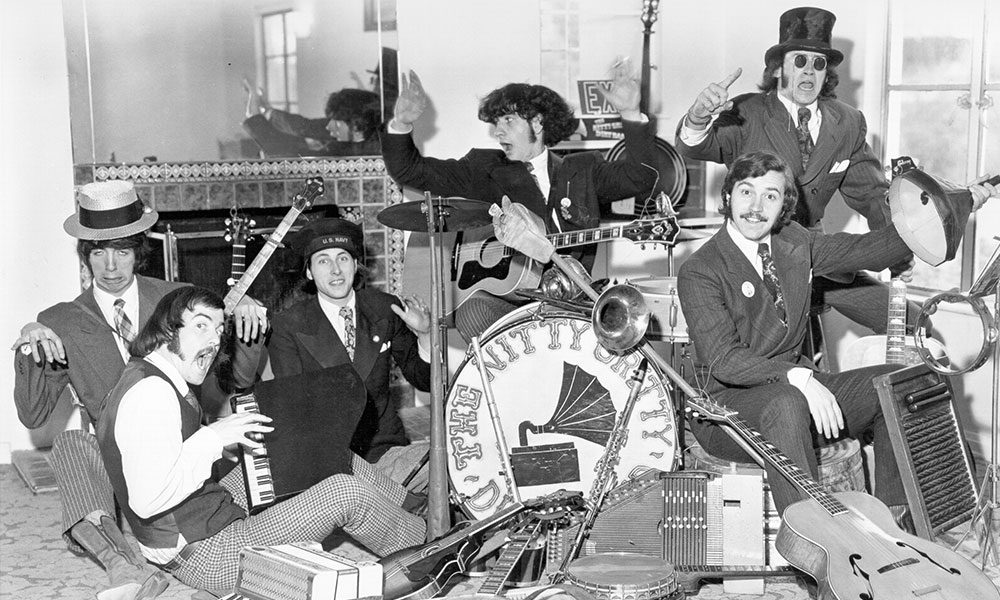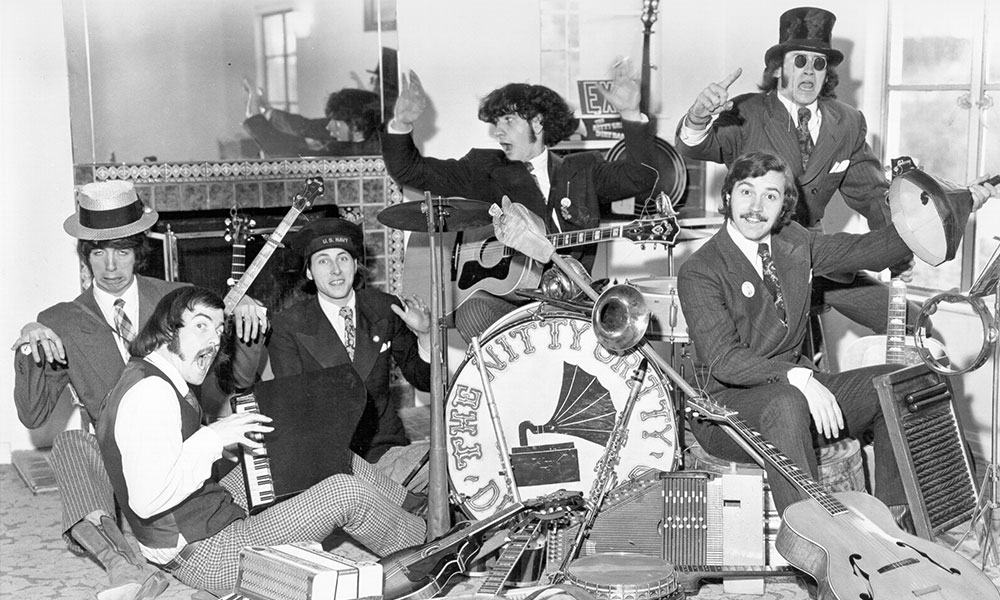 Generally considered to be at the forefront of the burgeoning American roots movement that metamorphosed into Americana with its various strains, the Nitty Gritty Dirt Band have always lived up to their onomatopoeic name. They formed in the Long Beach area of California in the mid-sixties, an anomalous place for such a down-home ensemble. Early members included Jackson Browne but the most constant elements come from singer-songwriter and guitarist Jeff Hanna, drummer Jimmy Fadden and the gifted multi-instrumentalist John McEuen. In a career spanning six decades, the NGDB (aka The Toot Uncommons, or simply The Dirt Band) have enjoyed a level of chart success that belies any notion this is simply good time music, although good time it most certainly is. If that were to damn them with faint praise considering they've enjoyed a long-running string of singles success with four number ones in their saddlebag. They've appeared in movies (notably Paint Your Wagon), jammed with Dizzy Gillespie and made a perennial cult favourite out of Jerry Jeff Walker's 'Mr. Bojangles'. Their award-winning concept discs, the trilogy of albums known as Will The Circle Be Unbroken, have cemented their place amongst the greats.
Long Beach residents Jeff Hanna and Bruce Kunkel formed the band in mid-1966. Recruiting guitarist/washtub bassist Ralph Barr, the harmonica and jug expert Jimmy Fadden, mandolins and many other things man Les Thompson, and finally strings maestro John McEuen, the act's flair and humour made them an instant Hollywood success. They played shows with The Doors and The Byrds and never came off second best. The self-titled debut is notable for showcasing then-unknown writers like Steve Noonan and Jackson Browne (two-thirds of the so-called Orange County Three – Tim Buckley being the other one) as well as vintage vaudevillian songs, classic blues like Rev. Gary Davis's timeless Candy Man and fast bluegrass instrumentals with super slick virtuoso banjo and accordions and anything this peculiar ensemble could lay their hands on. It's a classic of the kind and was followed by another 1967 disc, Ricochet, which expands the folk-rock and country blueprint with another exemplary set of love songs that aren't all they seem, lots of Beatle-like Ringo rhythms and more deft writing from Browne and Noonan, not to mention a hilarious version of 'The Teddy Bear's Picnic'.
This esoteric melange made the NGDB instantly successful as a live act on the West Coast and they upped their game on Rare Junk by concentrating on a far more electric sound. Enter some guests too – future Eagle Bernie Leadon plays lovely lead on Tim Hardin's 'Reason to Believe', Southern rock drummer Johnny Sandlin kicks up a storm alongside pianist Paul Hornsby (an accomplice of the Allman Brothers) and Rodney Dillard adds dobro. Again there's a chance to hear something rare from Browne. Nico had previously cut her 'These Days' but the Nitty boys do it better.
Alive was actually recorded two years before its 1969 release at the Troubadour club in L.A. which makes it a must-hear item. A great concert on a great night this is one of those live albums that cries out to be discovered again thanks to a fine blend of Cajun, country and bluegrass.
Uncle Charles & His Dog Teddy signals a change in fortune for a band that were getting stuck in Santa Monica. It provides their hit 'Mr. Bojangles' and a new collaboration with producer William McEuen who brings in a more knowing choice of material with less frivolity and the accent on authenticity. This album is acknowledged to be a classic. Songwriters like Randy Newman, Michael Nesmith, Stephen Foster and Lennon and McCartney feature, there are bursts of ragtime and classical and the whole just sit together like a very fine thing.
All The Good Times continues this change of pace for the early 1970s. The band are writing and arranging with real flair and still cherry-picking great material from other sources, including Eddie Hinton's R&B stomp 'Down in Texas' and Browne's elegiac 'Jamaica Say You Will'. Best of all is their version of Hank Williams' 'Jambalaya (On The Bayou)' and the feeling is that by now the Dirt band are doing more than most to reintroduce America to its own heritage, a good twenty years before Americana becomes a go-to methodology.
Now enter the immaculate Will The Circle Be Unbroken, which showcases the great fiddle player Vassar Clements to the world and provides the listener with a crash course in all aspects of country music. The tenor of this sprawling item, a triple vinyl release back in the day, which garnered five-star reviews and stunned critics and listeners alike, is a look back in time to the heyday of the Grand Ol Opry. Songs covered come from the pens of Fred Rose, Hylo Brown, Bill Monroe, Merle Travis and Williams. This is an item to dig out, dig deep and treasure.
Stars & Stripes Forever, partly live in the field, maintains the band's idiosyncratic working method – studio songs interspersed with a documentary flavour. Ahead of the fashion curve, the band cover Michael Murphy's 'Cosmic Cowboy (Part 1)' and Jimmy Driftwood's classic War of Independence rocker The Battle of New Orleans'.
Moving a step sideways as 1975's Symphonion Dream combines classic and country to great effect but there's also plenty of high lonesome stuff like 'All I Have to Do Is Dream', and 'Hey Good Lookin'' vying for your attention.
We pick the band up again in 1981 and the Jealousy disc, now credited to The Dirt Band. Toto's Steve Lukather adds vocals to the title track while the in-house writing maintains the highest standard.
But it's Let's Go (1983) which finds them return to their full name and start smashing up the charts on the singles 'Shot Full of Love' and 'Dance Little Jean'. The album enjoyed regular airplay on mainstream stations as country music begins to filter out of generic typecasting and they take full credit for that sea change.
In the 1990s the NGDB returned to their roots on the Acoustic album with a country and folk passion although they balance that with some fine pop choices, namely 'Dennis Linde's Hello', 'I Am Your Heart', and stand tall against the faceless breed of hat acts that had threatened to sweep away their accomplished ilk but did not.
Completing our dish of Dirt are the other conceptual works, Will The Circle Be Unbroken Vols. 2 and Will The Circle Be Unbroken Vols. 3, where you'll discover guests including Tom Petty, Johnny Cash, Doc Watson, Alison Krauss and Taj Mahal entering into the spirit of this groundbreaking act. There is also the 25th-anniversary concert disc Live Two Five, a fine summary of their many hits recorded before an ecstatic crown in Alberta, Canada.
Fact is the circle has never been broken for these guys. Adored by fans, checked by the cognoscenti and respected by their peers, The Nitty Gritty Dirt Band are an institution. Their music is the gift that keeps on giving. The real nitty gritty.