Status Quo
The British boogie rock band founded by Francis Rossi and Alan Lancaster have with a career spanning more than 50 years and countless hits.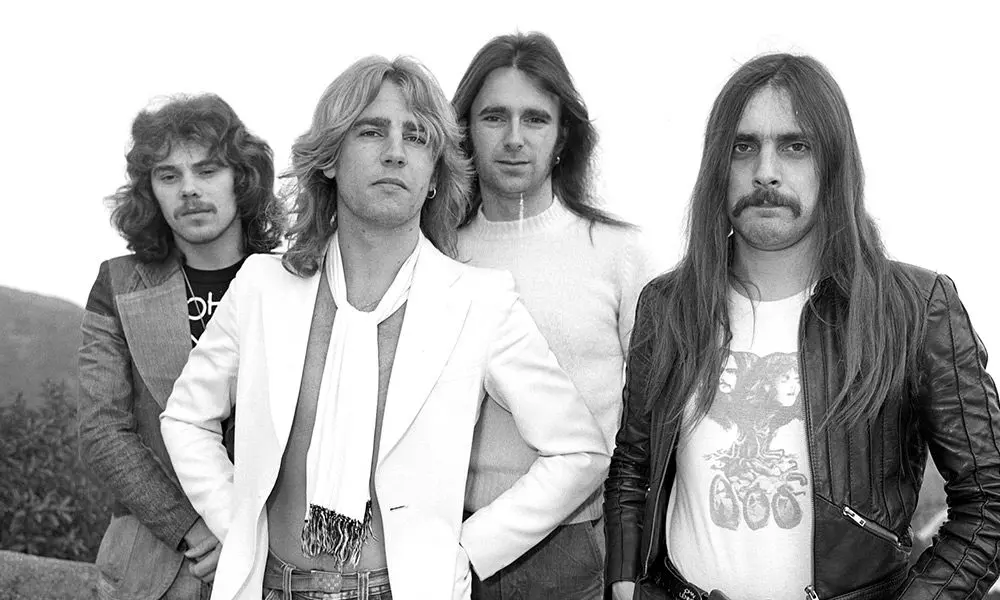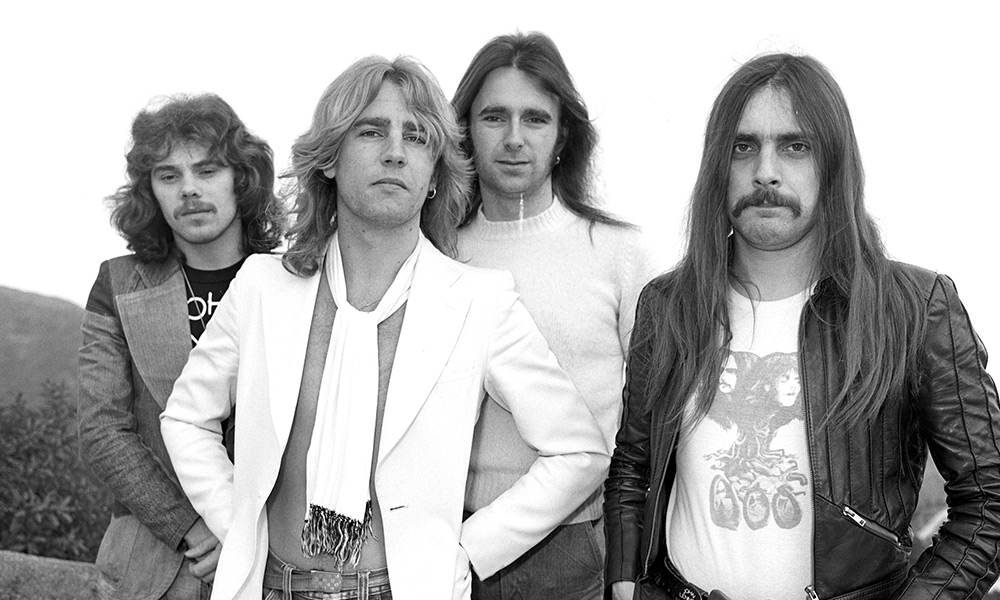 When Status Quo's sixth studio album, Hello!, was first released nearly 40 years ago in September 1973 and jumped straight into the UK albums chart at No. 1 it was the culmination of persistence, constant gigging and a creative transformation the likes of which most groups would never attempt let alone survive. Almost unbelievably Status Quo are still going strong, still touring, still making the commercially successful, no-nonsense boogie-rock records that capture the imagination of air guitarists the world over. Many such axe was raised in tribute to the sad passing of founder member Rick Parfitt in late 2016.
If Status Quo was an American band they would be worshipped as Gods, as it is they are just good blokes, the very epitome of great British musicians who know how to put on a great show and make records that have sold many, many, millions.
Their roots can be traced as far back as 1962 when, still at school, Mike (later to become Francis) Rossi, Alan Lancaster and Alan Key (who later left the group) formed a band called Scorpions that then transformed into a five-piece called Spectres. Almost five years later, during which time they'd secured a contract with Piccadilly Records, released three unsuccessful singles and played a summer residency at Butlins in Minehead, they became Traffic Jam for a couple of months and released another single that flopped. Clearly, a change of direction and fortune was needed if they were to continue – another guitarist Rick Parfitt was recruited, the name Status Quo was adopted, flower-power outfits were donned and at the end of February 1968 they suddenly had a No. 7 hit single with the psychedelically-tinged 'Pictures Of Matchstick Men'. Momentarily in tune with the times, they had a follow-up No.8 hit with 'Ice In The Sun' in October but then faded almost as quickly as they'd bloomed, two albums and five subsequent singles in the next two years making very little impression on the charts or the record-buying public.
At the beginning of 1970 though there were signs of yet another change in direction. 'Down The Dustpipe', with its straightforward riff and wailing harmonica, was their most successful single since 'Ice In The Sun' and gave an indication of where Quo might be heading, and the album released later that year, Ma Kelly's Greasy Spoon, reinforced that suspicion. One more personnel change – long-time keyboard player Roy Lynes had had enough – reduced them to the classic quartet of Rick Parfitt (guitar/vocals), Francis Rossi (guitar/vocals), Alan Lancaster (bass/vocals) and John Coghlan (drums) that during the next 10 years or so enjoyed truly enormous success. They embarked on an astonishing and unprecedented run of 11 consecutive Top 5 UK albums and only one of the 15 singles they released in that period failed to make the Top 20. A more dramatic turnaround in fortune is hard to imagine and they basically did it by adopting the simple expedient of stripping away all pretension, muso-instrumental doodling and unnecessary elaboration from their music, honing it, in its most primitive form, down to three chords, donning t-shirts, jeans and trainers in favour of kaftans, and then working their socks off.
Their new, raw and ecstatically infectious boogie-rock appealed immediately to an audience that wanted loud, solid, uncomplicated rock to dance to – music to have a good non-cerebral time to. The crowds who saw them at the 1972 Reading and Great Western Festivals will attest to that. Another album, Dog Of Two Head, released at the end of 1971, was just too early to benefit from this new impetus and then the band went a whole year (unheard of in those days) without troubling record retailers until they made another career-changing move and signed to Vertigo, ironically a label known more for its top-heavy roster of largely obscure prog-rock bands than as a home for no-nonsense, riff-based boogie. Nevertheless, in January 1973 they released what was Status Quo's fifth album, Piledriver. A Top 5 album containing the No. 8 hit single 'Paper Plane', it nailed the formula that, with some tweaking and augmentation, the band adopted from thereon, and it truly marked the emergence of a powerful and lasting presence in rock music. The beauty of their recorded music was of course that, unlike a lot of their contemporaries, they could play it live and actually add something to it – energy, power, more guitar! – rather than delivering a diminished album listening experience. And audiences worldwide lapped it up.
Quick to ride the crest of this wave, in September of 1973 they released what many Quo aficionados still regard as their tour de force. Entirely self-written, self-produced and packaged in a stark black sleeve that mirrored the new minimalist approach to their music, Hello! entered the UK album chart at No. 1 and has been in the intervening 40 years, a constant steady seller. The press was predictably a bit sniffy and condescending about it, as they have been with a lot of Quo's recorded output – NME said mysteriously that the band were "slaves to a musical cliché rather than masters of it" although Jon Tiven in the US Zoo World opined more generously that the album was "pure chunka-chunka music a la Canned Heat, taken to a much higher level". Hello! also contained the band's first Top 5 single – 'Caroline', the first of a string of 1970s Top 10 hits – 'Break The Rules', 'Down Down', 'Rain', 'Wild Side of Life', John Fogerty's 'Rockin' All Over The World' and 'Whatever You Want' – that meant that Quo were supreme on three fronts – Top 5 albums, Top 10 singles and huge concert draw. Unbeatable.
The other 1970s albums were Quo (No. 2 in the album chart), On The Level (No. 1), Blue For You (No. 1), Live! (No. 3), Rockin' All Over The World (No. 5), If You Can't Stand The Heat (No. 3) and Whatever You Want (No. 3) and by the end of the decade their sound had become perceptively more polished, as outside producers were used, but without losing any of its edge or ability to deliver the primal, unfussy music that their fans adored and demanded.
The 1980s were a time of continued all-round success if on a less stable footing. 1981 saw the departure of founding member and drummer John Coghlan to be replaced by ex-Honeybus member Pete Kircher, and this line-up lasted until the band's appearance at Live Aid in July 1985. Around that time they also recruited two ex-Climax Blues Band members – drummer Jeff Rich and bassist John 'Rhino' Edwards – plus keyboard player Andy Bown who had actually been an on-off member of the group since 1974 but for contractual reasons couldn't until now be counted as such. Original bass player Alan Lancaster had already departed in less than amicable circumstances (the tried and trusted cliché "musical differences" was quoted – they've recently patched up these differences apparently) and actually tried to stop the band continuing as Status Quo. It would have taken more than that to stop the Quo juggernaut though and the band went on to record their In The Army Now album. This line-up was actually the longest lasting (1985 to 2000) and in that period enjoyed seven Top 20 albums and eight Top 20 singles. One personnel change since has seen Matt Letley replace Jeff Rich on drums but essentially the band has retained, through the dominant Parfitt/Rossi axis, the same persona and character.
To this day Status Quo continue to tour and play large, prestigious gala concerts, arenas and festivals on a regular basis and, almost as a mark of their rock-establishment status, Rossi and Parfitt were awarded OBEs in 2010 for services to music and their work for various charities. In 2011 they released their 29th studio album, Quid Pro Quo, and, almost as regular as clockwork, reached No. 10 in the album chart. Last year they announced a new venture that promises to raise a few eyebrows – the band's first feature film, a comedy, starring themselves and set in Fiji! And on a more prosaic note last October a two-and-a-half-hour documentary film was released in cinemas and on DVD. Titled Hello Quo! it charts the band's history in uncompromising fashion and does much to place their commercial, achievements into some kind of perspective within the framework of rock history. The film reveals some surprising devotees such as Paul Weller, Jeff Lynne and Brian May, who appreciate the talent and expertise it takes to distil and refine a sound and to remain true to a clear, uncluttered vision.
Sadly, the death of Richard John Parfitt, on Christmas Eve 2016, in Marbella, Spain – aged just 68 – is bound to disrupt the Status Quo modus operandi. He was such an integral part of the sound, the look and the fun that a Quo sans Rick is hard to fathom. For the time being, we return to Aquostic (Stripped Bare) and Aquostic II: That's A Fact, the last studio albums to feature this remarkable musician who gave so many such pleasure.
Max Bell
Format:
UK English