Status Quo Facts: 8 Essential Things You Need To Know
From the origin of their name to the inspirations behind classic songs, these Status Quo facts are essential to discovering the history of the band.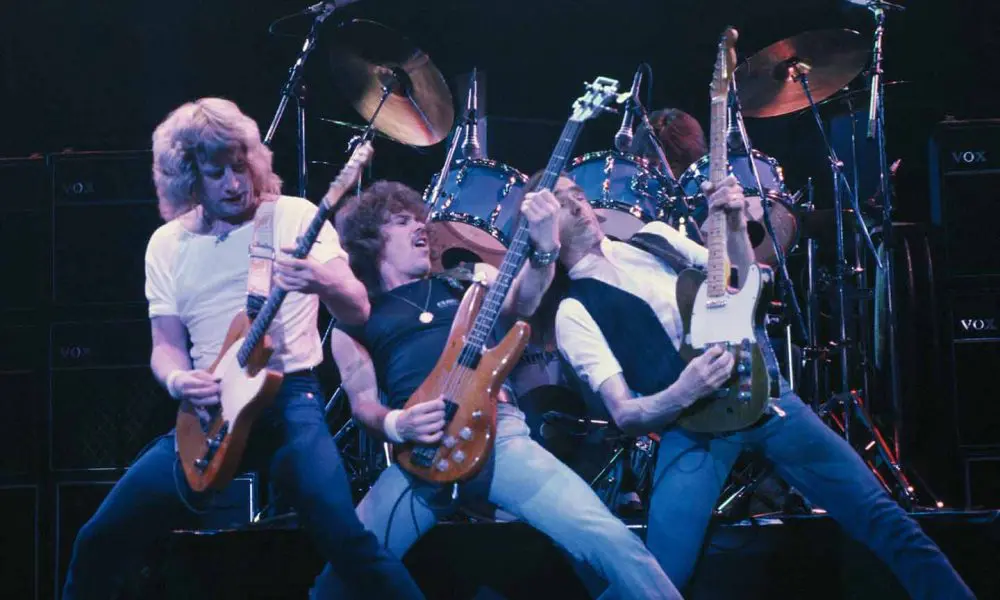 In one form or another, Status Quo have been on the planet since 1962, when Francis Rossi formed the band The Scorpions while at school. Enjoying one of the longest careers of any band in rock history, they have become hard-rock heroes to many – but the uninitiated may wonder where to start. To coincide with the 180g vinyl reissue of their 1980 compilation, 12 Gold Bars, we present eight Status Quo facts that you need to know.
Listen to the Status Quo best of 12 Gold Bars right now.
1: "Rockin' All Over the World" is actually a cover
Status Quo had a Top 5 UK hit with "Rockin' All Over The World" in 1977, and, since then, the song has been synonymous with the band. It was, however, originally written and recorded two years earlier by John Fogerty for his self-titled second solo album. Other versions of the song have been recorded by Bon Jovi and The Georgia Satellites.
During the filming of Status Quo's "Rockin' All Over The World" promo video, bassist Alan Lancaster was living in Australia, so he was replaced by a dummy holding a bass guitar.
2: "Down Down" was inspired by Marc Bolan
Written by Francis Rossi and Bob Young, "Down Down" was inspired by the Tyrannosaurs Rex song "Deborah," leading Rossi to want to write a chorus that started with a punchy "D" sound. The singer and guitarist also noted that the intro to "Down Down" sounds like their own early song "Pictures Of Matchstick Men," though the resemblance is an accident.
3: They weren't always called Status Quo
They say the third time's a charm… but make that the fifth for Status Quo. The band were originally called The Scorpions when they formed in 1962, but a year later they switched to The Spectres. They then assumed the short-lived moniker Traffic Jam in 1967, before renaming themselves The Status Quo. Dropping the definite article in 1969, Status Quo were ready for the 70s – and the decade they would make their names in.
4: They released a bona fide psychedelic classic
Though firmly hailed as hard rock stalwarts, an early incarnation of Status Quo had a Top 10 UK hit with "Pictures Of Matchstick Men" in 1968. Now regarded as a classic of the psychedelic rock era (with original copies commanding crazy prices among collectors), the song was written by Rossi while, he claimed, he sat on a toilet in Camberwell. It has since been sampled by Death In Vegas (for the track "Scorpio Rising," sung by Liam Gallagher), while Ozzy Osbourne and Type O Negative collaborated on a cover version for the 1997 Howard Stern biopic, Private Parts.
Pictures of Matchstick Men (Stereo Version)
5: "Caroline" could have sounded very different
Usually picked to open their live sets, "Caroline"'s place in the band's history is assured. Yet the song could have ended up sounding very different. At first, Rossi wasn't taken by Bob Young's lyric "Together we can rock'n'roll," but when he couldn't come up with an alternative, it remained in place. The original arrangement of the song was also much slower, but after Rick Parfitt sped the guitar riff up, "Caroline" became the classic concert-opener fans know and love.
6: Rick Parfitt and Francis Rossi were appointed OBEs
The two rockers were appointed to The Most Excellent Order Of The British Empire in 2010. They compared the moment to their memorable opening slot at the original Live Aid, in 1985, noting, "nothing can make you forget this." It wasn't, however, their first brush with royalty. Status Quo met Prince Charles in 1982, when they performed for The Prince's Trust. They gave all the money they earned to charity.
7: The mystery behind "Mystery Song"
One of the band's more controversial numbers, "Mystery Song" was written about a prostitute. The line "STs showing, you really got me going" left many wondering what kind of illicit code words the band might be using in their lyrics – though it turned out that "STs" simply stood for "stocking tops."
8: "Wild Side Of Life" has a Carter Family connection
Recorded by everyone from Bill Haley to Willie Nelson, Jerry Lee Lewis and Bonnie Tyler, "Wild Side Of Life" was co-written by William Warren and Arlie Carter. The tune is based on an old Appalachian country song, "I'm Thinking Tonight Of My Blue Eyes," with which The Carter Family had a hit in 1929. In the 30s, Roy Acuff used its melody for "The Great Speckled Bird," which in turn provided inspiration for "Wild Side Of Life," penned by William Warren after – depending on which story you believe – he spotted his ex-wife in a bar; or he met a young woman who ditched him for "the glitter of the gay night life." Arlie Carter was the pianist for Jimmy Heap And His Melody makers, who first recorded the song, but it took country singer Hank Thompson to have a hit with it, in 1951.
The group's classic best of, 12 Gold Bars, has just been reissued on 180g vinyl and can be bought here.