'Djin Djin': The Crossover Power Of Angélique Kidjo
Crafted to perfection, Angélique Kidjo's 'Djin Djin' album won the singer a Grammy and made her a successor to her role model, Miriam Makeba..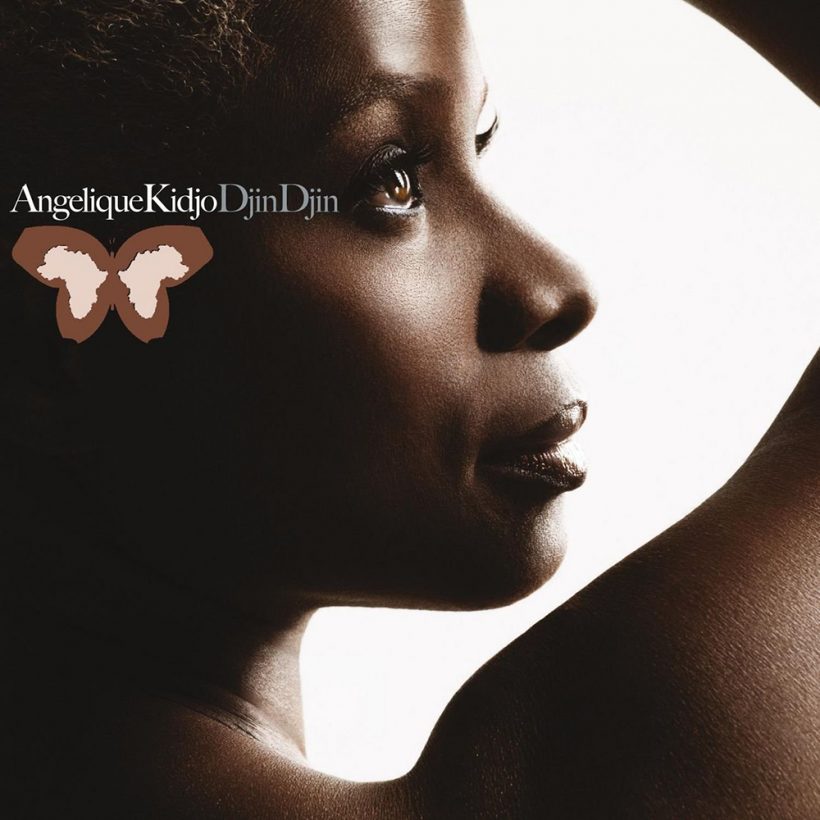 Benin-born Angélique Kidjo's career stretches back to her childhood in the 60s, and has seen the powerful singer take in a dazzling array of influences. These are perhaps unsurprising given her origins, nestled in West Africa's vibrant music scene. Kidjo further broadened her reference points by moving to Paris in 1983, and subsequently charmed the city. She was discovered there by Island Records' legendary founder Chris Blackwell, in the middle of a significant movement towards the promotion of world music – a movement which was partly epitomized by the efforts of Genesis singer, Real World Records founder, and later Kidjo collaborator Peter Gabriel. Blackwell introduced Kidjo to the wider world, and she has since gathered innumerable plaudits: she has in fact become one of Africa's most famous exports, a true African diva. With a number of albums behind her, including her 11th album, Djin Djin, and follow-ups Õÿö and Spirit Rising, Kidjo has emerged as the natural successor to her South African role model, the original Mama Africa, Miriam Makeba.
Listen to Djin Djin right now.
Released in 2007, the multilingual Djin Djin ("seize the day") featured Kidjo's most diverse roster of guests yet in her perpetual quest to trace music's branches back to their African roots. It delivered universal messages (such as "Mama Golo Papa," or "Mummy Loves Daddy"), but also a clutch of complex, socio-political numbers, utilizing the variety of musical settings she had sourced, including some delightfully mellifluous African pop guitar and even some country touches.
The album saw her reunited with her old sparring partner, the American jazz saxophonist Branford Marsalis, on the bluesy, samba-flavored title track (which featured Alicia Keys into the bargain). Crucially, Djin Djin also featured some of West Africa's biggest stars, including a riveting guest spot from Mali's bewitching blind singing duo Amadou & Mariam, who were fresh from recording the World Cup anthem at the time. Carlos Santana rose to the challenge of playing alongside such authentic messengers of the colorful continent by turning in some clearly West African-influenced licks (as well as some more familiar Santana solos) for Josh Groban to grace on their sultry version of Sade's "Pearls." This piece continued Kidjo's specific interest in the African roots of the music of the Americas, as also demonstrated on the gentle, uplifting "Sedjedo," which she recorded with reggae legend Ziggy Marley.
Angelique Kidjo & Ziggy Marley Performance Directed by Jonathan X
Kidjo also injected The Rolling Stones' "Gimme Shelter" with steamy horns and percussion for a single with British soul singer Joss Stone, and even delivered a beautifully sung and arranged version of Ravel's classical masterpiece "Bolero" (here re-titled "Lonlon"). The delicately rippling "Salala" appropriately brought Kidjo together with Peter Gabriel, and also became a single, leading to another reunion: the propulsively grooving, energetically stabbed, and intermittently floaty single mix came from previous Kidjo collaborator Junior Vasquez. This version was included on some editions of the album, as was a re-interpretation of lead track "Ae Ae," which featured legendary Senegalese vocalist Youssou N'Dour.
Djin Djin was produced by long-time David Bowie collaborator Tony Visconti, in Kidjo's adopted home of New York City, and Kidjo recruited top musicians such as keyboardist Amp Fiddler and steel guitar player Larry Campbell for the recordings. Tracks such as "Lonlon," "Pearls," "Senamou" and "Gimme Shelter" have all become fan favorites, littering her Spirit Rising live collection. Djin Djin also unsurprisingly won Kidjo a Grammy in 2008, for Best Contemporary World Music Album. So if you're looking for a doorway through which to enter the remarkably diverse world of African music, this true crossover collection, crafted to perfection in collaboration with a stellar cast, could be the one that leads you in the right direction.