Ziggy Marley: Reimagining 'Exodus 40' "Gave Me A New Perspective"
Ziggy Marley reveals how, with unreleased recordings, he reimagined the classic 'Exodus' album, by his father, Bob Marley, for a new era.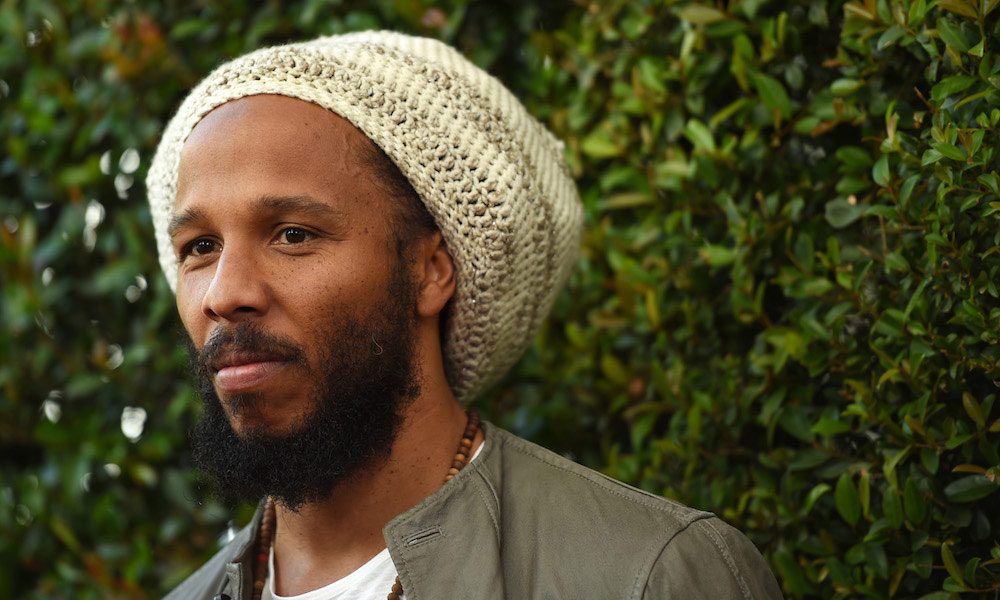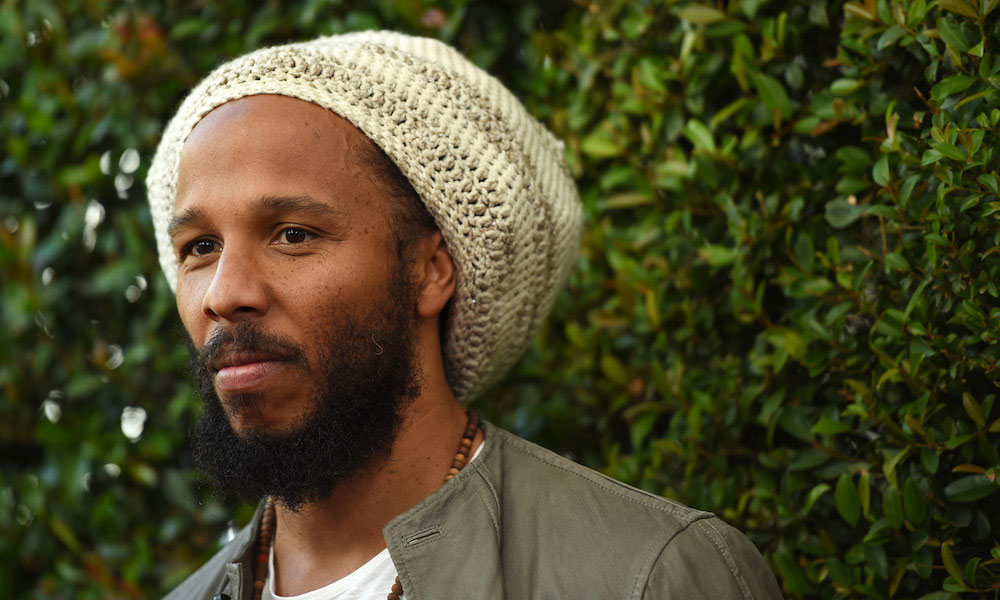 Ziggy Marley celebrated the 40th anniversary of his father's classic album Exodus by reimagining it for 2017 as part of the Exodus 40: The Movement Continues reissue. While Ziggy has revisited some of his father's work before (turning in radical reworkings of 'Stir It Up' and 'Redemption Song' for the Legend Remixed project), he knew that a slightly more reverential approach was required this time around. "My whole idea was to just mix it without changing too much of the instrumentation," Ziggy tells uDiscover. "I was trying to create something new, just listening to the raw materials and being true to how I hear it, and what I would have done if I was mixing it at the time."
Ziggy Marley didn't re-listen to the original mix while compiling the new version but felt "free" in reinterpreting the work. "The basic stuff that was already there wasn't gonna change," he says. "I was just rebalancing, changing some EQ and some tones, and adding some elements to complement what was there already, so I was pretty comfortable in doing what I felt I wanted to do. That was my whole idea: just being true to what I felt about the project and what I wanted to do, and so nuttin' didn't really stop me. The only thing I didn't want to do was recreate the songs, or try and make it become something different than what it was. But otherwise, EQing and adding some elements seemed right because some of the recordings we had quality issues with. We had to replace some stuff, without compromising the original work."
Indeed, while multiple takes of some of the songs were available, elsewhere there was less material to play with. Ballad 'Waiting In Vain' is reborn in a much funkier iteration than before, giving it a totally different feel to the original: "We didn't get the original album version, so there was another outtake version which has a totally different rhythmic approach to that song, and we went with that because that was what was there." What a find that turned out to be.
Exodus 40: The Movement Continues (Unboxing)
Elsewhere, 'Turn Your Lights Down Low' is also substantially remade, with new parts giving the song an almost country-soul aura. "I wanted to re-record some of the songs with musicians from today," Ziggy reveals. "'Turn Your Lights Down Low' was the only one that I thought worked, so we used that one with the same parts, but played over again by other musicians, who put their own little twist on the original instrumentation."
If one thing particularly stands out about the Ziggy Marley version of the album, it's the punchier feel. His father's vocals have deliberately been brought up in the mix: 'Natural Mystic' has a more direct start, and the title track has been shortened. Did he attempt to further his father's intentions to make an album that sounded "international"? "I hope that's what we have done," Ziggy says, "but I think for me, I enjoyed listening to my version of it because it gave me a new perspective. It gave me a new way to appreciate the songs, hearing things that I didn't hear before. There are elements that were added to try and make it even more dramatic than it was already."
The 3CD version of the reissue features a vintage live recording of his father playing much of Exodus at the Rainbow Theatre, London, across 1 to 4 June 1977, while Ziggy is currently performing some of the Exodus songs live himself. So is a full Ziggy Marley Exodus live set on the cards? "We haven't thought about that, but it's a idea ting," he says. "I've been touring now, I've been in the States, been up to Canada, and I'm coming to England to do a couple of shows there. During our shows, we do my songs, and my father's songs as a set, but at the end of the set we do three songs from Exodus: 'Jamming', 'One Love' and 'Exodus', to commemorate the 40th anniversary."
Bob Marley & The Wailers - Exodus (Live At The Rainbow 4th June 1977)
Revisiting his father's work in this way brings up a mixture of emotions. "We miss our father, obviously," Ziggy says. "To hear his voice in that raw state [on the Exodus master tapes] is cool and emotional at the same time, but I think we have a positive outlook on things in general. We just feel like our father's life force is still existing – it exists within me and all of his kids, as a part of our DNA. [As Rastafarians] we have a different kind of perspective on that."
Children play a big part in the music Ziggy Marley makes himself, with younger members of the family getting up on stage, and him recording children's songs and getting involved in children's charities and TV shows. "Kids like the beat of reggae," Ziggy says. "I've seen that throughout the years. Whatever it does to them – I'm not sure what it is – but they like it [laughs]. I made a conscious decision to pursue music for children. The change that we talk about in our songs, using music to change the world – I now realise that to speak to children is a very important part of that idea, because children are more open-minded. If we can teach them at an early age, then that is a part of the whole story of using what we have to help to make the world a better place." Revolution through children? "Yes."
Having completed the Exodus 40 reimagining, Ziggy reveals that he would like to revisit Bob's 1979 album, Survival. "Now that I did this Exodus project, I think this is something that I would do again, 'cause for me it was very interesting, just to hear the songs literally being mixed in 2017, without doing a remix where it becomes house music, or something like that. Keeping the integrity of the original, revisiting it in this time, in this year, with this equipment, for me it was cool. I think that's a good thing. I would love to keep pursuing it in that way."
For Ziggy, it offers a way to engage a new audience with his father's timeless music. "I'm not competing with the original," he says. "Maybe there is some kid that might listen to my version, and that [becomes] the version that they grow up with and pass on. I like looking at things from different angles."
One Love [Lyric Video] - EXODUS 40 (2017)
Ziggy continues: "People will [hopefully] get a deeper understanding of the music itself. Even 'Natural Mystic': we all knew it's such a great song, but to hear it in this other light, and to understand that some instrumentation that is in my version isn't on the original, but it was recorded at that time, it gives you a different perspective of the musicianship, and the process of what they took out. In 'One Love', Bob says at the end, 'Why is it so hard for us to get together?' That, I think, wasn't used in the original, but I used it because it's such an important thing. Forty years after: why's it so hard for us to get together? You can see the significance of me using that now."
Ziggy Marley has a huge array of diverse projects on the go, in TV, charity work, and even ice-cream branding. Music, however, remains central to him. "Music is something that is in me, because there's a message that I have to send. That is what is important to me. The other stuff is to help the message, to help me reach further out into the global community. The centre of my universe is the message in the music."
The Exodus 40: The Movement Continues super deluxe reissue can be bought here.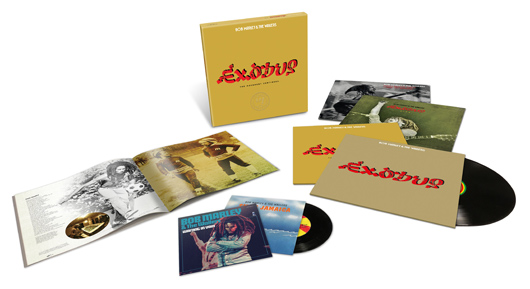 The full Exodus 40: The Movement Continues super deluxe box set tracklist is:
LP1: Bob Marley & The Wailers: Exodus (Original Version)
Side One:
'Natural Mystic'
'So Much Things to Say'
'Guiltiness'
'The Heathen'
'Exodus'
Side Two:
'Jamming'
'Waiting In Vain'
'Turn Your Lights Down Low'
'Three Little Birds'
'One Love'/'People Get Ready'
LP2: Ziggy Marley: Exodus 40: The Movement Continues
Side One:
'Natural Mystic'
'So Much Things to Say'
'Guiltiness'
'The Heathen'
'Exodus'
Side Two:
'Jamming'
'Waiting In Vain'
'Turn Your Lights Down Low'
'Three Little Birds'
'One Love'/'People Get Ready'
LP3: Exodus Live, recorded at Rainbow Theatre, London, 1 to 4 June 1977
Side One:
'Natural Mystic'
'So Much Things to Say'
'Guiltiness'
'The Heathen'
'Positive Vibration'
'Jamming'
'Exodus'
12": Punky Reggae Party
Side One:
'Punky Reggae Party'
'Punky Reggae Party Dub'
Side Two:
'Keep On Moving' [previously unreleased extended mix]
Bonus 7"s
'Waiting In Vain'/'Roots'
'Smile Jamaica (Part One)'/'Smile Jamaica (Part Two)'
Format:
UK English