Best Reggae Vinyl Albums: 10 Essentials To Own On Wax
Though 7" singles often drive a rabid reggae collectors market, the best reggae vinyl can take the shape of classic albums – as this guide to 10 essential reggae LPs shows.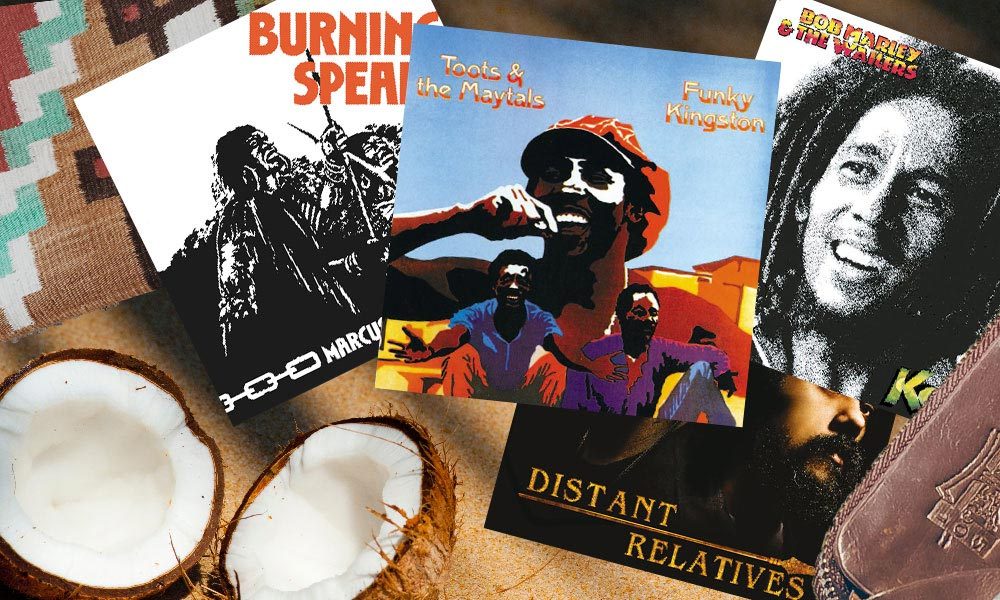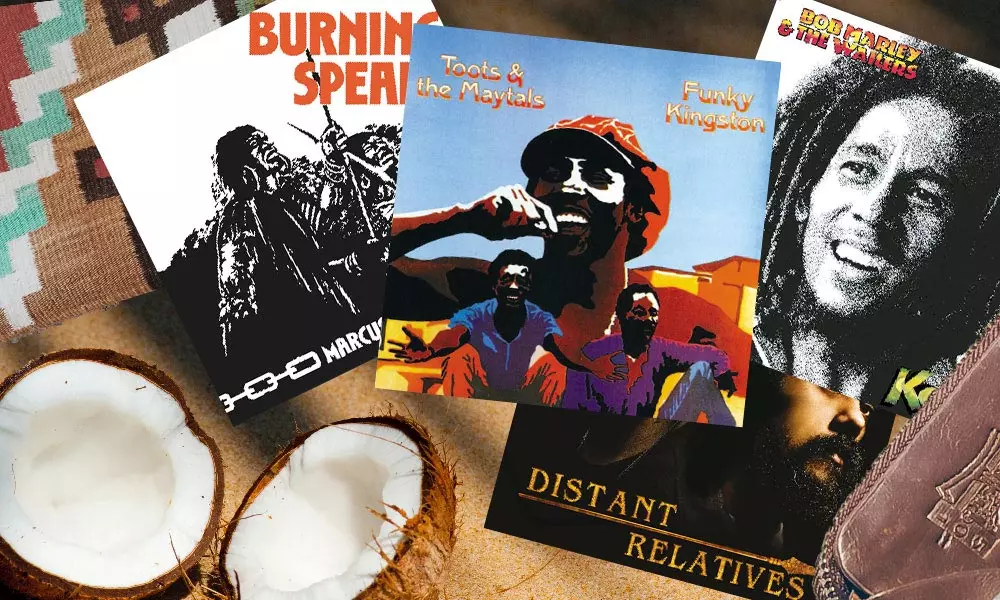 In some quarters, reggae is treated as a singles music – those rare, much-sought 45s drive DJ sets and a rabid collectors' market. But the long-playing album can also be the source of some of the best reggae vinyl, from party-starting compilations such as Tighten Up Volume 2 through to the easy-skanking vibes of Bob Marley's Kaya and the collaboration between Tuff Gong's son Damian and New York hip-hop icon Nas.
Here are 10 of the best reggae vinyl LPs for your sound system.
Burning Spear: Marcus Garvey (1975)
Released in 1975 by an artist few had heard of, and the first album overseen by its producer, Laurence Lindo, Marcus Garvey is a landmark for roots reggae and made a lasting star of Winston Rodney, the lead singer and songwriter. In fact, Burning Spear had been around since 1969, making remarkable Rasta reggae, but had such a low profile as to appear anonymous.
This album presented the Garveyite view of the world in a beautifully arranged, exquisitely played, thoughtfully mixed package that is immensely satisfying from its opening bar to final fade out. It made the Rasta lifestyle appealing in a way no other album had done before, and introduced a new generation to the philosophy of Marcus Garvey. You have two choices: the original version with one less track and a mix some fans see as more authentic, or the UK version, with an extra tune and a slightly faster tempo. But why choose? Both have a place among the best reggae vinyl collections.
Hear: "Old Marcus Garvey"
Toots And The Maytals: Funky Kingston (1973)
Though his earlier material got the skinheads moving and is regarded as more fashionable, Funky Kingston was one of the best reggae vinyl underground hits when it was released in 1973. This sunny, straight-up soulful brand of chunky reggae still sounds fabulous, with Toots singing like a god, and his vocal companions, The Maytals, offering the perfect support. Underneath, the Dynamic Sounds house crew brew a morass of dancefloor-friendly, life-affirming delight. It seems wrong to pick favorites, but "Pomp And Pride," the disarming title track (Kingston isn't funky, it's skanky, Toots is saying, while contradicted by the band's funkiness), and a return to a Toots favorite, "Daddy's Home," are all remarkable.
Hear: "Louie, Louie"
Bob Marley And The Wailers: Kaya (1978)
Kaya is not necessarily the first Bob Marley And The Wailers album you might think of, perhaps, but a total stunner when heard on black plastic. Bob celebrates the weed in a mellow-minded 1978 remake of a wired 1971 opus, and does so in style. The tender feel continues in the hit "Satisfy My Soul," and the more honed version of his frankly abstract classic "Sun Is Shining," along with "Easy Skanking." A further smash, "Is This Love," still sounds fresh despite the amount of exposure it's had down the decades, but just when you're looking for more substance, it arrives in the form of the brittle "Crisis," the fretful "Running Away" and the strangely in-and-out-of-focus "Misty Morning." Closing with the philosophical "Time Will Tell," one of Bob's most underrated compositions, this is a record with unexplored depths.
Hear: "Crisis"
Various: Tighten Up Volume 2 (1969)
A party on plastic – 1969 style. The second album in Trojan's long-running compilation series is packed with the era's reggae hits, and it sold heavily at mid-price. The Bleechers' "Come Into My Parlour," Rudy Mills' "John Jones," The Soulmates" "Them A Laugh And A Ki-Ki," etc… These tracks are still regarded as classics, and this is still one of the best reggae vinyl albums; you could DJ it at a skinhead revival dance and nobody would complain. Better make sure you write your name on it in case a row kicks off when the big lads turn up.
Hear: The Kingstonians' "Sufferer"
The Gladiators: Trenchtown Mix Up (1976)
The Gladiators' first album proper (after more than a decade recording singles and supporting and producing other artists) was worth the wait. Drawing only partially on their classic Studio One 45s for material, as in the title track, the album presents warm, unflustered roots reggae that is nonetheless utterly committed to their superb songs. The group's vocals are, as ever, arresting; the spare production by Prince Tony Robinson is designed to deliver the vibe, not show off soundboard skills. Two Bob Marley songs, "Soul Rebel" and "Rude Boy Ska," are handled without losing any of The Gladiators' winning personality, and the glorious "Eli Eli" will carry you away to a glowing mid-70s Jamaica with ease.
Hear: "Eli Eli"
The Upsetters: Super Ape (1976)
Super dub. In 1976 Lee Perry released this collection of ultramixed versions of some of his more commonplace material, plus some tunes hardly heard elsewhere, and it formed a seamless, heart-lifting listening experience. Some will be familiar to more recent (jilted) generations, such as the cut of Max Romeo's "Chase The Devil"; others will get 70s heads nodding, like the mighty "Dread Lion," which has The Heptones slipping in and out of its churning mix. Deeper than the Mariana Trench, full of studio fug and mountain mists, denseness and wide-open spaces, this is 70s dub at its most realized.
Hear: "Dread Lion"
Nas And Damian Marley: Distant Relatives (2010)
Or not so distant. Hip-hop culture had been massively influenced by reggae, and gave a lot back to Jamaican music in return, so this 2010 link-up between one of the legends of hip-hop and the MCing son of Bob Marley was logical. What's more, it works, straddling styles perfectly, being both and neither at the same time. Kicking off with the massive single "As We Enter" makes their twin roots clear: the sample is Ethiopian jazz. "Count Your Blessings" is gleaming R&B which switches tack when Nas comes in, and Dennis Brown's eternally powerful "Promised Land" informs "Land Of Promise." Ambitious, unified, gutsy, accessible and uplifting, Distant Relatives is a marvellous album.
Hear: "As We Enter"
Nas & Damian "Jr. Gong" Marley - As We Enter (Official Video)
Dr Alimantado: Best Dressed Chicken In Town (1978)
The punk rockers' favorite – with some justification – this mighty 1978 collection of Dr Alimantado's 70s singles is surprisingly cohesive and still stands as one of the best reggae vinyl albums of the era. Perhaps because his style was so original, he was not one of the DJ elite during much of the decade, battling on some way below the likes of U Roy, Dillinger and Trinity. He gathered pace, however, beginning with the mind-boggling title track, in which a chorus of Alimantados chanting different lines pile up over each other amid the sort of dub that clanking alien robots might party to. There's the hard-edged "Gimmie Me Gun," the rollicking "I Killed The Barber," the slinky "Ride On"… each has a different vibe but all are part of the same brilliant picture. Genius at work, but few noticed until the British punks spotted it. They were right.
Hear: "Best Dressed Chicken In Town"
Best Dressed Chicken in Town
The Prophets (Yabby You): Conquering Lion (1975)
You've had plenty of opportunity to pick this up on vinyl, it's been reissued many times. The question is, are you ready for it? Heavy, heavy roots vocal music mixed by King Tubby, Lee Perry and their ilk, the music of Yabby U and The Prophets is not like anything else. Deep, chanting Rasta business such as the title track, the clanging, explosive, yet subtly layered wonder that is "Jah Vengeance," the almost medieval sound of "Love Thy Neighbour"… this is the music of the ages, delivered like a Biblical storm. Released in 1975, it still sounds utterly modern – and truly ancient, holding its place among the best reggae vinyl albums.
Hear: "Jah Vengeance"
Various: King Tubbys Presents Soundclash Dubplate Style (1982)
Though King Tubby is known as the dub innovator, when dub fell out of fashion in Jamaica, he had a "second career" as a dancehall producer. As befitting a man who spent his entire adult life around sound systems at dances, he understood this brand of reggae instinctively, as that was where it developed. Hence he was an exceptionally skilled producer in that field and King Tubbys Presents Soundclash Dubplate Style was his last great contribution to reggae music before his tragic death, in February 1989.
Designed to sound at least a little like a dancehall session, the collection presents an array of established and new talents recording tracks designed to do down rival sound systems with both lyrical and musical content. Its greatest twist is the use of dancehall MC Fuzzy Jones introducing the tracks, whose remarkable voice and often outlandish introductions has been sampled many times. From first to last, this is raw and brittle, and tunes such as Michael Bitas' "Die You Die" and Little John"s version of Junior Byles' "Fade Away" are the art of digital dancehall personified.
Hear: King Everald: "Kill Ole Pan"