'Bad Weathers': The UK Reggae Classic That Went Under The Radar
Quite simply, one of the best records of the 1970s by a British reggae artist.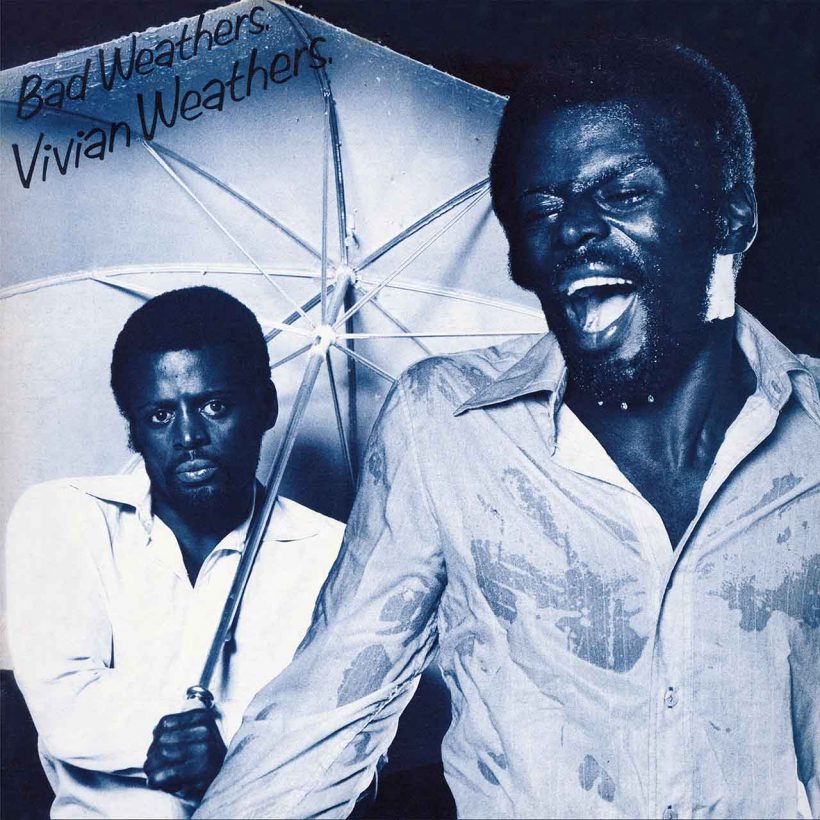 Described in 1979 by the UK's Black Music & Jazz Review magazine as "the meanest bass player this side of hell," Vivian Weathers was a multi-talented musician who also possessed one of reggae's most distinctive and emotional singing voices; a haunting high tenor that could seamlessly slide into an ethereal falsetto. His big break as a solo artist came in 1978 just as Steel Pulse and Linton Kwesi Johnson entered the pop mainstream, showing that homegrown British reggae could be a potent commercial force. Sadly, Weathers' solo album Bad Weathers was largely ignored on its release. Over time, however, it has become revered as a lost classic by reggae aficionados.
Originally from Clarendon, Jamaica, Weathers arrived in England as an eight-year-old, becoming a school classmate of future dub poet Linton Kwesi Johnson, who would prove a loyal and much-trusted comrade. "We've been friends for years," Weathers told interviewer Chris May in 1979. "We're total opposites; he comes to my house, I go to his, and we argue like hell."
Vivian Weathers's Bad Weathers is available on vinyl via the Black Story initiative. Order it now.
In 1978, when Johnson signed to Virgin Records' Front Line imprint to record his Dread Beat An' Blood album, he brought Weathers along. As Johnson knew, his old school buddy was much more than a reliable bass player with a knack for creating a seismic bottom end. "When I decided to make reggae recordings of my poetry, it was Vivian who showed me how to go about it," Johnson wrote of his friend in 2021, highlighting Weathers' skill as an arranger.
Dread Beat An' Blood (2000 Digital Remaster)
Weathers made his recording debut as a teenager in 1970, cutting the single "Basement Rock" for the Trojan label. Two years later, it's been claimed that he also wrote Jamaican singer Leroy Smart's popular Tuff Gong single "Pride & Ambition," but never received credit. In 1976, he released another solo single, "Is This The Way," for producer Mike Dorane's Movers label, though it didn't attract much attention. While his solo career stalled, Weathers began making a name for himself as a bass player on London's burgeoning reggae scene.
Johnson knew Weathers was capable of so much more, not least because of his friend's soulful voice with its anguished, urgent delivery. Johnson persuaded Virgin Records to sign Weathers to Front Line, the company's recently launched reggae imprint. A subsidiary label overseen by A&R man Jumbo Vanrenen, Front Line was riding high after the UK release of Jamaican duo Althea & Donna's No. 1 hit, "Uptown Top Ranking."
Front Line put Weathers in the studio with John Varnom, an in-house producer at Virgin Records, who would go on to produce LPs by the Sex Pistols and Sid Vicious. In addition to sharing production and mixing duties with the singer, Varnom also played guitar on what would become Bad Weathers. Curiously, despite his renown as a bassist, Weathers didn't play the instrument on the album. It wasn't that he wanted to focus solely on his singing. It was just bad timing. "I had an accident," Weathers explained in 1979. "It was a pub brawl. I broke my right hand." The backing musicians – which included brothers Kojo and Tony Osei on drums and piano respectively – created a tight and cohesive backdrop to frame Weathers' impassioned vocals. The arrangements were spacious, a quality accentuated by the lack of a brass section.
Weathers – vividly described by British writer Chris May as "a short, wired-up, bundle of energy racked with relentless introspection and using art as self-therapy" – wrote nine of the album's ten tunes. They were mainly in a Lover's Rock vein, a romantic form of reggae that blossomed in London during the late 70s. But Weathers' take on the style was radically different, injecting it with angst and emotional intensity. "Love is aggressive, love hurts when you feel it," said Weathers in 1979, explaining his unique approach. "It's no good just pretending it's all sweet and light. There's so much pain within, so much distress, that the music has to represent that."
The album's highlights included "The Way You Walk," defined by its rhythmic swagger and the gripping intensity of Weathers' vocals, and "Going To The Blues," the album's lively opener peppered with bluesy guitar lines. Though Weathers' forte was singing pleading love songs, he showed other musical sides by venturing into roots reggae territory with "Street Talk " – an earnest meditation on discrimination, inner-city tension, and racially-motivated violence – and the heavier groove of "Star Of Sufferation," an organ-drenched message song describing a spiritual revelation the singer experienced "one night as I was walking by the lonely wayside."
The album's undoubted standout was "Hip Hug," Weathers' revamp of Jamaican singer Keith "Slim" Smith's 1967 classic rocksteady single. Weathers' version replaced the horn fanfares of Smith's original with an effects-drenched guitar and organ riff, which created an irresistible melodic hook. Released as a single ahead of the album, "Hip Hug" got Weathers some radio play but wasn't able to bring Bad Weathers – which failed to reach the UK charts – the mainstream attention that the singer and his label craved.
Afterward, Weathers and Virgin fell out, with the singer leaving the label under a cloud. In a 1979 interview, he said he was "totally dissatisfied" with his former label. Undaunted, Weathers joined Linton Kwesi Johnson at the UK's foremost reggae label in 1979. "When I moved to Island Records, I also secured a deal for him to record an album with them," recalled Johnson in 2021. "Two singles were released by Island, but the album, which I had helped to produce, was never put out."
Weathers surfaced briefly in 1987 for a single on Trojan and then fell off the radar, never to be heard again. He died in 2021 from cancer aged 69. "Vivian had a pleasant, outgoing personality, although he suffered from chronic depression," revealed Linton Kwesi Johnson in a written tribute to his friend. "An accident, which left him with severe back injuries, curtailed his ambition to make it as a musician."
Weathers would've been a star in a fairer world, but luck wasn't on his side, as Linton Kwesi Johnson acknowledged. "Vivian never got the break he deserved in the music business," he wrote. "(He) was a talented singer-songwriter who never realized his full potential." Nonetheless, the much-overlooked Bad Weathers stands up as one of the best records of the 1970s by a British reggae artist.
Vivian Weathers's Bad Weathers is available on vinyl via the Black Story initiative. Order it now.