Linton Kwesi Johnson
The UK-based Jamaican dub reggae artist has collaborated extensively with reggae producer Dennis Bovell throughout his multi-decade career.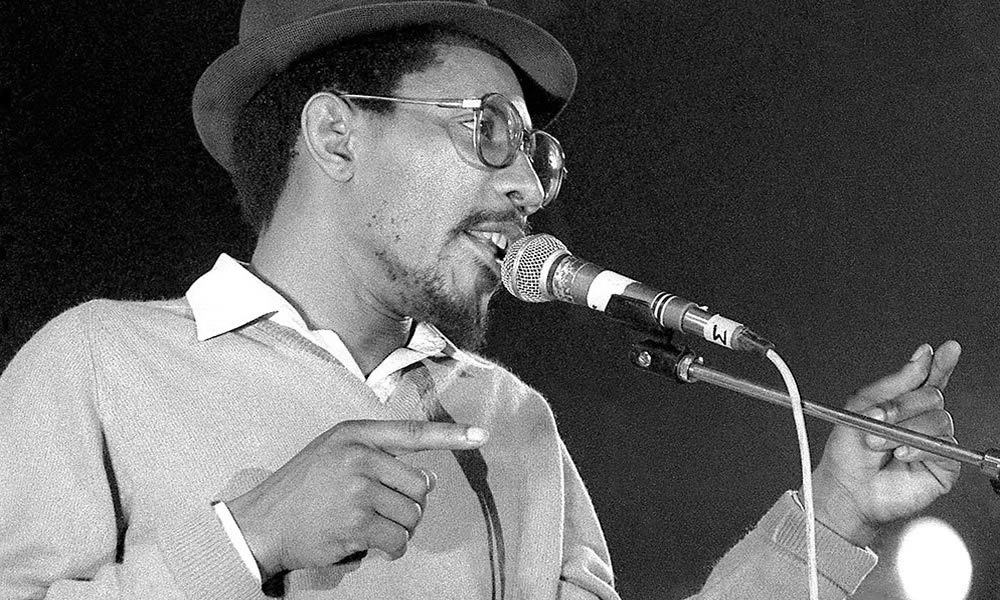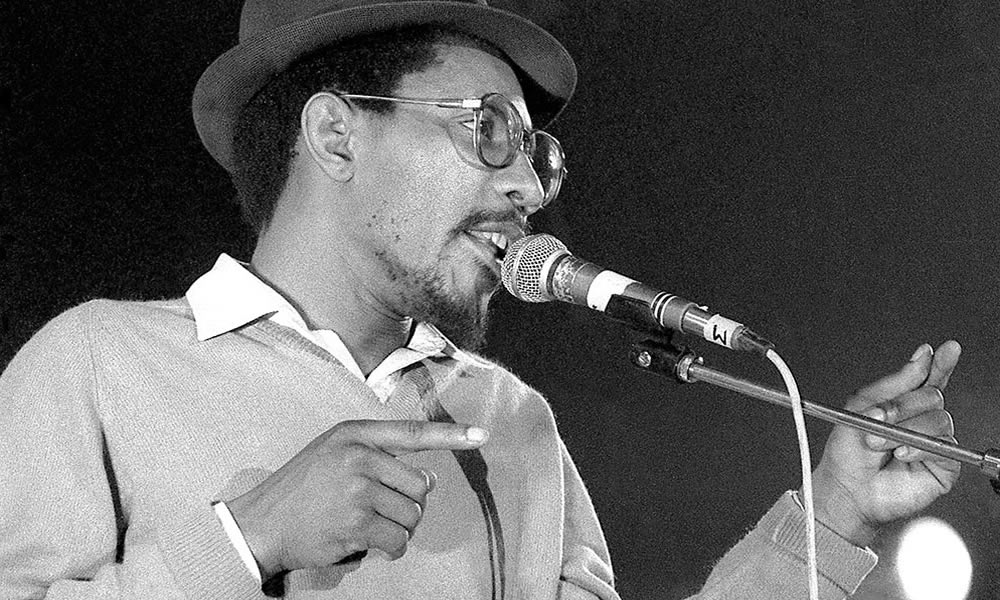 Born in Jamaica, Linton Kwesi Johnson came to London with his mother to live in Brixton, just in time to enter the local secondary school at Tulse Hill in Lambeth. He is of course a world-renowned poet, indeed the first and only black poet to have been published in Penguin Modern Classics. His work is taught in school and appears on GCSE English syllabus papers. A master of vernacular or patois, though he is also liable to use standard or accepted speech, Linton is famous for having fused his magnetic words and rhythms over the backing of dub master and British producer and artist Dennis Bovell. He has numerous academic fellowships in Britain and Italy and has won the Musgrave Medal from the Institute of Jamaica for distinguished eminence in the field of poetry. Linton's recorded verse, like his written or performance work, is socio-political and often deals with the direct experience of living as an Afro-Caribbean in London. His vibrant early work coincides with the era of the Thatcher government when he became as influential a figure on the scene as, say, The Clash, The Beat, UB40 or The Ruts. He also wrote about reggae and jazz for the New Musical Express and Melody Maker and his string of late seventies/early eighties albums are considered to be classics of the art form.
His toasting style is a precursor to rap while his dubplate sounds are simply timeless Johnson's best-known albums include his debut Dread Beat An' Blood (1978), Forces Of Victory (1979), Bass Culture (1980), LKJ In Dub (1980), and Making History (1983). Across them are spread classics of the dub poetry school of performance – and, indeed, of reggae itself – such as 'Dread Beat An' Blood', 'Sonny's Lettah', 'Inglan Is A Bitch', 'Independent Intavenshan' and 'All Wi Doin Is Defendin'. His poem 'Di Great Insohreckshan' is his response to the 1981 Brixton Riots. His work was the subject of a BBC Radio 4 program in 2007 and he is great broadcaster and communicator in his own right.
Linton Kwesi Johnson's introduction to activism and music probably stems from his joining both the Black Panther Movement while at secondary school and then meeting up with his colleagues in Rasta Love, a collective of poets, drummers and kindred spirits. Linton took a degree in sociology at Goldsmiths College in New Cross then took up a library and resources post at the Keskidee Centre in King's Cross, Britain's first such arts venue dedicated for the black community. Here he developed his dub poetry style with a staged version of his poem 'Voices of the Living and the Dead' being produced by Lindsay Barrett, with music by the reggae group Rasta Love.
Following the success of the 1978 collaboration Dread Beat an' Blood with Dennis Bovell, The Roots,  Vivian Weathers, Jah Bunny et al., LKJ established his dub poetry and found himself feted on the punk, rock and radio scene.
He was then signed up by Island Records and released Forces Of Victory in 1979, utilising much the same cast of players and mixers while also adding the flugelhorn of Dick Cuthell (Bob Marley, The Specials), trombonist Rico and guitarist John Kpiaye, the latter being something of a legend and a veteran of British reggae. This disc contains the Linton classics 'Sonny's Lettah (Anti-Sus Poem)', 'It Not Funny' and 'Fite Dem Back'. With Bovell and the Dub band starting to capture the flair and groove that could drive Linton forward the poet emerged now as a scintillating star of a brand new cultural viewpoint. This is one of the most important reggae records ever made.
Bass Culture (1980) finds Johnson experimenting further with song structures and subject matter but 'Inglan is a Bitch' and 'Reggae fi Peach' are as confrontational and claustrophobically hard-hitting as anything in his locker. It's another magnificent dub poetry outing.
LKJ In Dub followed in short order with Dennis 'Blackbeard' Bovell in his element as tracks from the previous two albums are given the heavy dub treatment, enabling Linton to move out onto the dance floor and now command a live arena. Around this time he starts to embark on full-length tours and sells 'em out, flooring audiences in his verbal wake.
Making History (1983) starts with a staredown of American and Russian foreign policy on 'Di Eagle an' di Bear' and embraces further social insights during 'Wat About di Workin' Claas?' and 'Di Great Insohreckshan'. With riots fresh in everyone's minds the standout piece is the climactic and length 'New Craas Massahkah'. The album is heavy on everything: words, music and percussion, and synthesiser elements are also introduced via Nick Straker, well known for various things including having been in a band called Stonehenge and the English reggae group Matumbi.
As usual, we can offer a wide selection of excellent compilations and anthologies. 1998's Independent Intavenshan is a fine primer and so much more besides. Sprawling over two generous discs this includes 35 tracks of peerless LKJ and Dennis Bovell poetry and dub with 12" single plates, the long version of 'Di Eagle an' di Bear' and many unreleased mixes. On this occasion, you will have every excuse to turn up the bass and open the windows and let it rip for summertime. Rude not to, in fact. This comp is an absolute joy to behold.
For extra snap we also have Reggae Greats: Linton Kwesi Johnson, the Island Reggae Greats Collection and Straight To Inglan's Head – An Introduction to Linton Kwesi Johnson – more dubs to enjoy, more 12'" dance floor magic.
As respected and admired as Linton Kwesi Johnson is for his poetic touch and his ability to bestride a dubplate and a horn lick, also consider the man's impeccable style and look. He is a London based Afro-Caribbean fixture. Nothing else like him is around. Discover him and illuminate your mind.