'Get Up, Stand Up': The Story Behind Bob Marley's Militant Anthem
A powerful call to action, Bob Marley's 'Get Up, Stand Up' continues to resonate with those struggling to overcome oppression.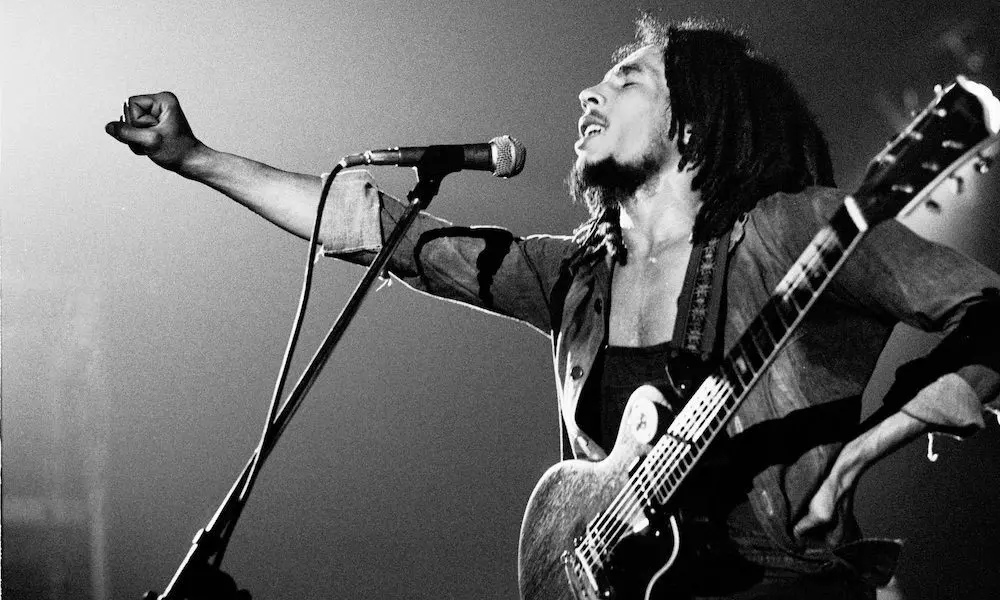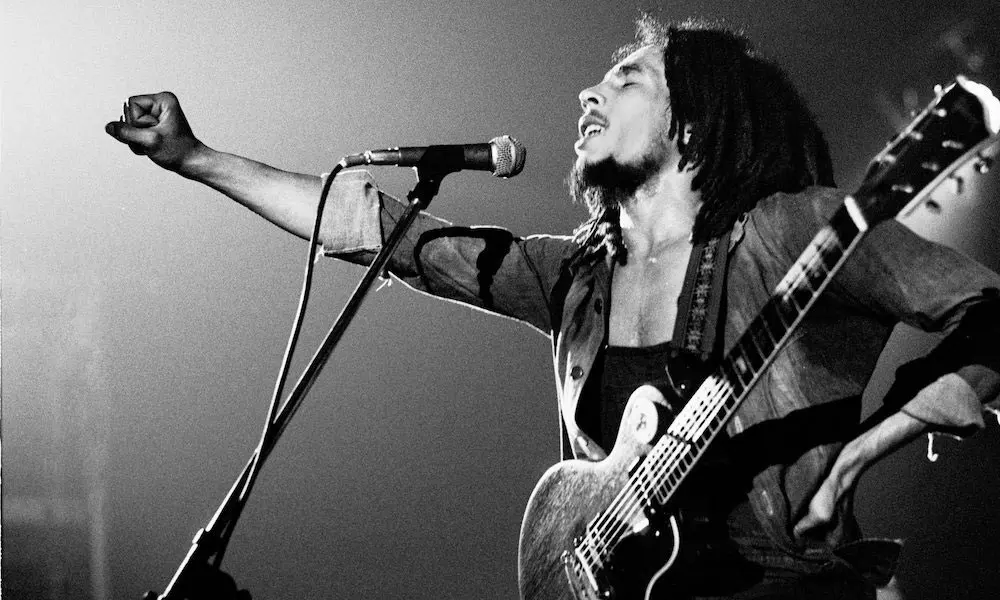 There's a reason why The Wailers' "Get Up, Stand Up" sounds more militant as it progresses. To find that reason, just look ten inches up from Bob Marley in the 60s and early 70s, and it will be standing right there: Peter Tosh, co-writer of the song, and an imposingly tall man who did not pussyfoot when it came to delivering a message.
Turning spirit into action
"Get Up, Stand Up" was apparently written in response to a visit to Haiti, when Bob saw the poverty of the island's people. It is not easy to find concrete evidence about the details of Bob's trip there, and he was no stranger to poverty, having grown up in the Trenchtown ghetto of Kingston, Jamaica, so chances are Bob might have been moved to write the song anyway.
Whatever inspired it, Bob's message is clear. For the first two verses, he tells the people not to wait until the next life to find fulfillment; it's their right to be free and happy on this planet. The lines denying that God will come down from the sky to sort out the world's problems may seem strange coming from a singer who was deeply religious, but it's perfectly in keeping with Bob's Rasta faith: Bob's God was not above the clouds, but living with the rest of us as Emperor Haile Selassie of Ethiopia.
The opening line berating a preacher, which argues that heaven was not "under the earth" is a reference to death: you don't have to die to find paradise, you can create it right here. Bob took on established Christian beliefs later, notably in "Talkin' Blues," from 1974's Natty Dread album, where he went even further, saying that he felt "like bombing a church now that I know that the preacher he is lying". The two songs have another link, with "Talkin' Blues" wondering who will be outside fighting for their rights, and who will be hiding at home.
The third verse of "Get Up, Stand Up" is somewhat different. Sung by Peter Tosh on the original recording, it presents his uncompromising militancy. Tosh spells out what the previous verses have suggested, moving from uplifting language to powerful polemic. And in a manner similar to his version of Nina Simone's "Sinnerman" (aka "Downpresser"), Tosh addresses the oppressor directly, asking what they can do to save themselves now the people have realized the truth and are ready to wield their power. Bob's verses are about uplift and explanation; Peter's closing verse is about turning that spirit into action.
A foundation for serious art
"Get Up, Stand Up'''s fierce attitude is not just an ancestor of "Talkin' Blues," it also has the strident sense of a black uprising, as displayed in 1977's "Exodus" (many of the latter song's lyrics would fit comfortably within "Get Up, Stand Up"). In this sense, it was a cornerstone of Bob's Island career.
The same sense of foundations being laid applies to its original October 1973 release on The Wailers' second album for the label, Burnin', which was very well-received and proved that the brilliance of their previous record, Catch A Fire, was no fluke. Up to then, most music critics and industry figures saw Jamaican music as a source of novelty hits at best, not a foundation for serious art, but there was no doubting the seriousness of The Wailers' message once you heard 'Get Up, Stand Up'. This music was here to stay. Island issued the song as a single; it was, however, virtually the last hurrah for the original Wailers vocal group: in 1974, after ten years together, both Tosh and Bunny Wailer got up, stood up, and struck out on their own.
An anthem to return to
"Get Up, Stand Up" had not finished its work. Peter Tosh returned to the song for his second solo album, 1976's Equal Rights, and the following year Bunny Wailer delivered a thrilling funky version on his sophomore solo record, Protest. British reggae-funk group The Chequers cut a phenomenal dancefloor do-over on their Check Us Out (1976), and that same year there was a duet remake by reggae superstars Big Youth and Dennis Brown, with striking vibraphone.
The song became an anthem to be returned to when required: Bruce Springsteen, Youssou N'Dour, Tracy Chapman, Peter Gabriel, and Sting delivered it at a 1988 benefit for Amnesty International; Butts Band, a group formed by ex-Doors John Densmore and Robby Krieger, covered it for their second album in 1975; US punk band Down By Law made an arresting version in 1993. Humble Pie's Steve Marriott covered it in 1989 and The Rolling Stones played it on their A Bigger Bang Tour – maybe they'd picked it up from Peter Tosh, who was signed to their label in 1978.
Bob Marley - Get Up, Stand Up (Live at Munich, 1980)
Bob Marley also returned to the song. "Get Up, Stand Up" was a pivotal track on his breakthrough Live! album in 1975. A fine version taped live in 1973 at the Record Plant, Sausalito, California, was unearthed for the superb Talkin' Blues, album released in 1991, and the song formed part of a militant medley on Live At The Roxy from 1976, issued in 2003. Remixes by Thievery Corporation and Ashley Beedle have also appeared on official releases, the latter mixing Bob's anthem with one from the next generation as 'Stand Up Jamrock'. Thanks to the 1984 Legend compilation, the call to action has reached an audience beyond The Wailers' imagining. As long as there's oppression to overcome and a struggle to be won, it will continue to resonate.
Listen to the best Bob Marley songs on Apple Music and Spotify.