'Born This Way': Lady Gaga's Instinct For Pop Genius
With 'Born This Way,' Lady Gaga took her established formula and pushed it in new directions, proving that she was in it for the long haul.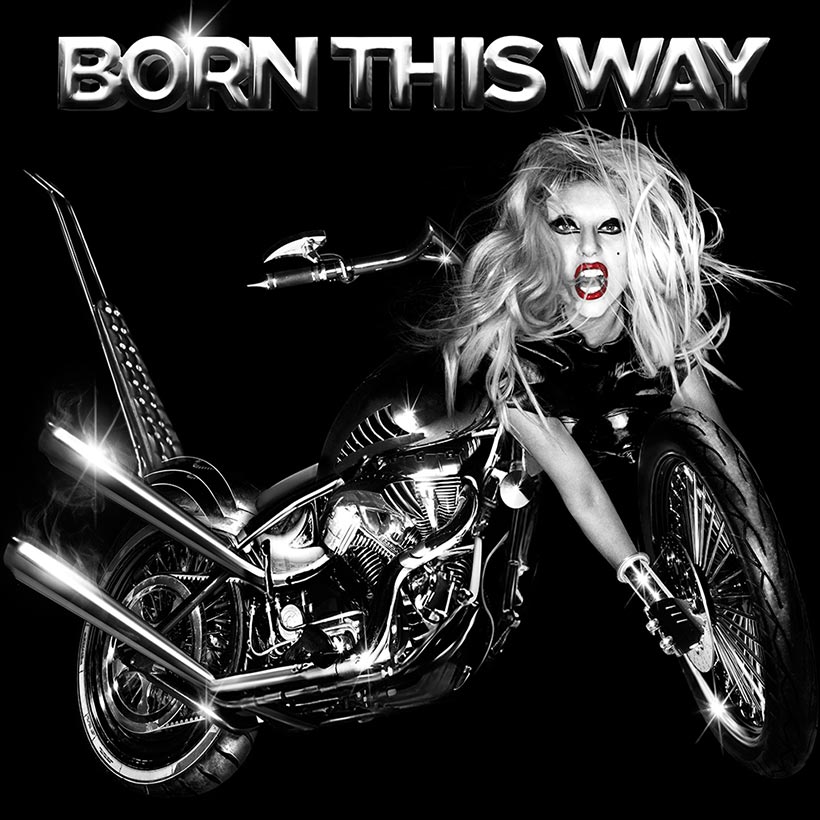 There was a tension at the heart of Lady Gaga's Born This Way album. First, there was the inevitable pressure of following the phenomenal success of The Fame – one of the biggest debut albums in history. Then there was the need to prove that, for all her theatricality, Gaga had something important to talk about. And, finally, the restless experimentation that we now understand to be central to her craft needed a fresh outlet. Repeating herself was simply not going to be an option.
Despite the pressures of promotion and touring, which had consumed much of Gaga's time, Born This Way was written 12 months ahead of its May 23, 2011 release. Recording sessions were snatched in gaps on the star's international schedule and this gave her the opportunity to invite collaborators she met on her travels, alongside the battalion of producers – including RedOne and DJ White Shadow – now customary on commercial juggernauts like this.
"The breadth of the album is enormous"
A steady drip-feed of teasers – a song title here; a snatched melody there – in late 2010 made sure that Gaga's huge fanbase knew 2011 was going to be a big year, and the Born This Way campaign kicked off formally at the start of January. "The breadth of the album is enormous," she told Billboard. "My fans are going to enjoy the journey."
The album's title track came out the following month, on February 11, as the set's first single, and immediately attracted unnecessary controversy. "Born This Way" shares some DNA with Madonna's "Express Yourself," but the energy of Gaga's song is distinct and powerful. None of this, however, harmed the song's performance: its message of positivity and self-empowerment helped "Born This Way" enter the US chart at No.1, becoming her third Hot 100 chart-topper, and it also went Top 10 in every major market. Her performance of the track at the Grammy Awards that same month is one of her most celebrated, while the Nick Knight-directed video, blending high-fashion concepts, offers one of her most striking visual statements.
Lady Gaga - Born This Way (Official Music Video)
With Fernando Garibay acting as the album's musical director, Gaga used Born This Way's 14 tracks to showcase new sounds and subtle shifts of direction. While the RedOne collaboration "Judas" – picked as the set's second single, released just ahead of the album – was a safe bet, drawing on 80s pop throwbacks, elsewhere things got very interesting.
Effective on the dancefloor
"Marry The Night" was originally going to be Born This Way's first single but ended up being its last (issued internationally in November 2011). It takes its inspiration from the unlikely pairing of Giorgio Moroder and rock icons like Bruce Springsteen, Meat Loaf, and Pat Benatar. In fact, 80s melodic rock is a distinct thematic strand across the album. Gaga clearly understood the tribal thrust of that style and mixed it cleverly into her synth-heavy palette. The blend remained effective on the dancefloor, but also sounded powerful on radio and alongside the grittier personas she used to promote the music live and on video.
The other two Born This Way singles – "You And I" and "The Edge Of Glory" – further amp up the rock edge. Queen's Brian May and Robert John "Mutt" Lange – famous for his work with Def Leppard, Shania Twain and, more recently, Maroon 5 – worked on the former, slowing things down a little and drawing out something of a country influence (which would be harnessed to a greater degree for 2016's Joanne album). "The Edge Of Glory" is a glorious pop-rock hybrid, featuring a sax solo from the late Clarence Clemons, who had played with Springsteen's E Street Band in its heyday.
Lady Gaga - The Edge Of Glory
"If you're a strong female, you don't need permission"
Critics were somewhat baffled by the general direction of Born This Way, finding it hard to pigeonhole, but they were largely supportive of Gaga's ambition to mix up a very strong existing formula. "Government Hooker" shares the energy of a song like "Born This Way," but is a denser, angrier dance cut, while "Scheibe"'s growling, stuttering synths underscore a more familiar RedOne pop chorus. "If you're a strong female, you don't need permission" Gaga announces in the song's bridge, and it was clear she didn't need any at this stage of her career.
Melody, which is so central to Gaga's enduring songwriting success, underpins everything here. "Highway Unicorn (Road To Love)" boasts enough riffs to suggest it could have made another strong single – and, in truth, there are few cuts on Born This Way that couldn't make that grade – but it is fair to say there are so many ideas on that album, it's no surprise that, in time, Gaga would seek to streamline some of the complex arrangements she made her name with. But the contrasts were, in truth, also becoming more distinct. "Heavy Metal Lover" remains anchored by her dance roots, while the very next track, "Electric Chapel," might have been performed by Billy Idol 20 years earlier. Finally, "You And I" could have been lifted from the Elton John and Bernie Taupin songbook. Three consecutive but very different songs, they evidence the flair and restless creativity that characterizes Gaga's musical development.
Now, liberated from the heightened expectation that greeted its arrival, Born This Way can be seen as the bridging album that rewrote Gaga's story: The Fame was no fluke colossus and Gaga proved no flash-in-the-pan tabloid sensation. With its rich celebration of the human spirit, "born this way" might be oversimplifying the message – there's a craft being developed very successfully on this album – but Gaga proved she was very comfortable with who she was – and, just as importantly, wanted all of us to be too.