How LGBTQ Musicians Broke Barriers To The Mainstream
LGBTQ musicians haven't always benefitted from today's attitudes towards sexuality, but many pioneers fought for LGBTQ rights in the mainstream.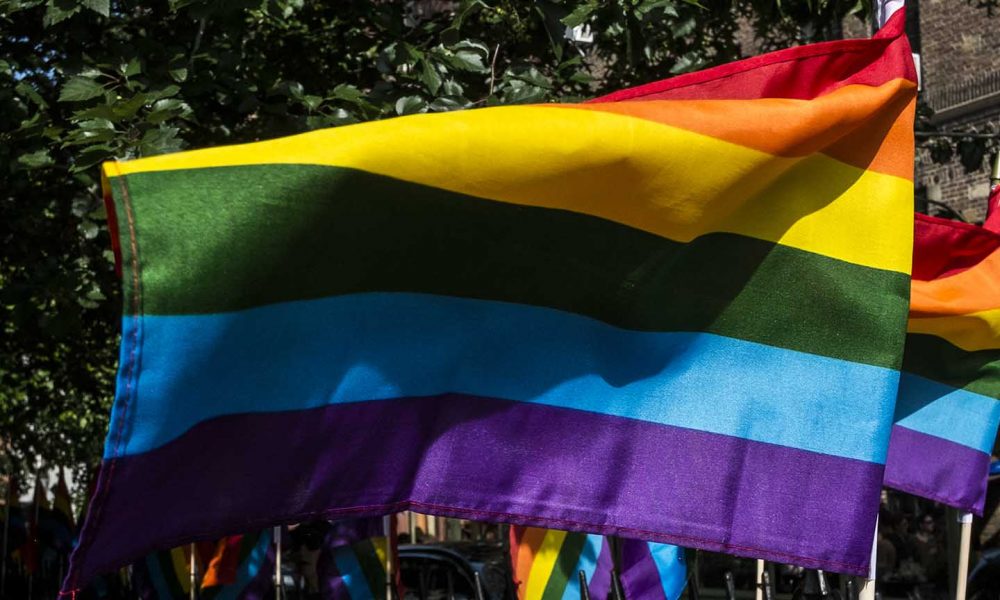 In recent decades, a number of truly pioneering truly pioneering LGBTQ musicians have broken down the barriers to mainstream acceptance. Tracing LGBTQ identity in popular music, however, takes you back at least as far as the dawn of recorded sound. Ignoring the baroque trailblazers the likes of Corelli and the tortured Tchaikovsky, the Victorian music halls were where the first generation of pop artists began to seize on new technology to develop an audience beyond the smoke-drenched stalls and into people's homes. Take Birmingham's Fred Barnes, who had a then notorious sideline interest in sailors; his 1907 music-sheet hit "The Black Sheep Of The Family" launched him to the top of the bill, despite a modest recording biography to date. Back then it was still all about the live circuit, and Fred continued to be a big draw until his inability to manage his success led to a catastrophic decline.
Across the Atlantic, the New Orleans jazz scene was being dazzled by African-American Tony Jackson, routinely described as the best pianist of his generation. His move north to Chicago saw him write "Pretty Baby" – another huge sheet-music hit that long outlasted its composer, inspiring a 1978 movie starring a young Brooke Shields and even featuring in a 21st-century episode of UK TV soap EastEnders. Juggling two minority disadvantages was tough in such an unforgiving period and it proved difficult for Tony to break out of the local scene. Theatre manager Shep Allen said, in 1963, that Tony sounded like Nat "King" Cole but he had greater power and range. In a gentler era, his celebrity would surely have soared far and wide.
The shock of the Great War, which ended in 1918, led to a rapid erosion of the social protocols that had sealed society in a rigid corset up until that point. The 20s was an era when people wanted to party and forget the recent carnage. Bars that we might identify today as "gay" sprang up in the big metropolises, and there was an explosion of female impersonators that created a New York drag scene not dissimilar to today's. Billed The Pansy Craze, the most famous turn on that circuit was Julian Eltinge, who became so well known that he was booked to play in London and appeared in films with silent-screen idol Rudolph Valentino. Karyl Norman added songwriting to his turn and toured his repertoire extensively, but prohibition, the depression, and gathering winds of another war saw the stateside movement lose momentum.
Mad about the boys
Back in the US, Douglas Byng became a hit act with a number of near-the-mark numbers such as "I'm One Of The Queens Of England." As The Pansy Craze slowed stateside, however, many of the US acts relocated to Europe, with Paris and Berlin enjoying a golden era before political changes sowed the seeds of horrors to come. Of course, no summary of pre-war gay stars would be complete without mention of Noël Coward, who would go on to be one of the planet's greatest stars. His "Mad About The Boy" was first performed in 1932's Words And Music, and was later given a definitive performance by Dinah Washington, with arrangement by Quincy Jones.
The social repression that reignited after the end of the Second World War meant gay performers had to tread carefully not to offend sensitive sensibilities. Jazz legend Billie Holiday was rumored to be bisexual, but no one cared when standards such as "That Ole Devil Called Love" sounded so good. Sister Rosetta Tharpe was a huge influence on Little Richard and Elvis with her guitar-fused gospel electrifying audiences across America and, later, Europe. But the biggest international gay star of the era immediately leading into rock n roll was Liberace. The pianist was born in 1919 and, by the late 40s, had adapted his nightclub act to incorporate comic flourishes and a broader sweep of music than his classical training had prepared him for. The new television service made Liberace a star and he became a huge live draw, touring extensively and reportedly becoming one of the highest-paid artists on the planet. An infamous run-in with the UK's Daily Mirror and the US's Confidential magazine saw him settle out-of-court with a handsome dividend when they questioned his sexuality, but the truth was to eventually emerge in darker years ahead.
Walk on the wild side
The tradition of soft, accessible pop ran through the 50s and early 60s with gay stars such as Johnny Mathis, Lesley Gore, and Tab Hunter hidden tightly within their respective closets, but the electrifying revolution of rock'n'roll was making waves. A new breed of acts was prepared to shock, if not yet scandalize. Poor old Johnnie Ray (as immortalized in Dexys Midnight Runners' "Come On Eileen") was a troubled teen idol who couldn't really hold it together, but caused widespread alarm with the adoring hysteria he created almost everywhere he went. Little Richard (who, along the way, picked up the nickname The Georgia Peach) handled the pressure much better and became a hypnotic showman, with no less than David Bowie going on to claim that he had been a huge influence. Little Richard didn't like labels, but his flamboyant style said enough.
As the 60s started to swing, many of the biggest stars of the era were steered by gay managers and producers, including Brian Epstein (The Beatles), Joe Meek (The Honeycombs), and Larry Parnes (Billy Fury). Out front, however, the damage an outing could cause a career kept closet doors firmly closed. Despite a handful of counterculture releases, such as The Tornados' Meek-produced "Do You Come Here Often," this was still a conservative time; the likes of Dusty Springfield and Long John Baldry were careful to keep their love songs in line with public expectation. More daring narratives emerged as the decade matured, with The Kinks' 'Lola' and Lou Reed's "Walk On The Wild" Side treading a careful line so as not to upset the censors, but smuggling very different themes onto the radio for the first time.
It was the 70s, and the years following the Stonewall Riots and the birth of the modern gay liberation movement, that saw more dramatic evidence that LGBTQ artists, and those that supported them, could be more confident at last. The glam rock explosion saw a new theatricality burst onto the scene and, while straight acts such as The Sweet, Alice Cooper, and New York Dolls experimented with make-up and pantomime performance, genuine progress was made when, in 1972, David Bowie announced to the world he was gay – even though he wasn't.
The enormity of such a big star-making a statement like that certainly eased the partial opening of the floodgates, and when his more mainstream rival of the era, Elton John, said something similar a few years later (and meant it), there wasn't the backlash one might have imagined. Songs such as "Someone Saved My Life Tonight" represent the best of John's work, and its autobiographical narrative detailing an aborted suicide attempt induced by a proposed lavender marriage is powerful to this day.
Someone Saved My Life Tonight
I'm coming out
By the middle of the decade, gay men's sexuality at least was becoming more confident and visible. Rod Stewart's story of a gay-bashing, "The Killing Of Georgie," was a huge international hit in 1976; The Rocky Horror Show, with its subversive themes wrapped up in a rush of camp humor, had been running on stage for years; and disco began to emerge as the defining sound of the dancefloor. But marketing an act with a strong gay message could still be difficult. In Britain, Peter Straker's first album was advertised almost exclusively in the gay press, and it bombed. His second, recorded with Queen's Freddie Mercury, followed the same fate. In the US, Jobraith was signed and billed as the world's first gay megastar but drowned in a PR blitz that left both the industry and customers largely underwhelmed. Despite years of subsequent critical re-evaluation, it took until the 21st Century before his music became more widely known.
While lesbian singer-songwriters such as Cris Williamson, Holly Near (later to live with a man and renounce labels), Joan Armatrading, and Janis Ian enjoyed some success, the mainstream kept them largely on the sidelines in favor of safer, straighter women the likes of Diana Ross, who recorded "I'm Coming Out" in 1980 and made a point of courting the gay market to maintain their careers.
But if anything threatened to recalibrate the gender balance in this era, it was actually disco, which made big stars of artists such as Gloria Gaynor and Donna Summer. Androgynous icon Sylvester had a worldwide hit with "You Make Me Feel (Mighty Real)" and the scene even established its own gay supergroup, with Village People saving wedding playlists for evermore when they released songs such as "YMCA" and "In The Navy" at the decade's close. With New York's Bobby O and San Francisco's Patrick Cowley flavoring their production work with polished Euro-synth sounds borrowed from disco acts the likes of Amanda Lear (who graced the iconic cover of Roxy Music's For Your Pleasure) and classic clubs such as Studio 54 at the peak of their success, it seemed the party might go on forever. But, of course, it didn't.
The US backlash against disco had in fact begun before the AIDS crisis began to bite. Within a few short years, the advances made by the LGBTQ community looked all but obliterated as gay men, in particular, struggled to cope with the catastrophic impact of the then untreatable HIV virus. The US music scene retreated into an era of conservatism dominated by AOR but, in the UK, the punk movement softened into something rather more colorful and considered.
Keep them guessing…
The new romantics dominated the European charts, with acts such as Duran Duran, Eurythmics, and The Human League transforming the sounds and – just as significantly – the look of the early 80s. They might have been straight, but their eclectic influences and desire to experiment helped push boundaries. Artists such as Marc Almond of Soft Cell, and Culture Club's Boy George were careful not to say they were gay, but weren't afraid to keep you guessing, either. Boy George, in particular, became a global megastar, and his band's poignant hits, among them "Do You Really Want To Hurt Me?" (many of which chronicled the secret relationship George was in with his band's drummer Jon Moss) became anthems of their time.
Culture Club - Do You Really Want To Hurt Me
The USA would catch up, of course, and as soon as MTV began its nationwide rollout, the pop promos produced by this new breed would see a second British Invasion to rival that of the Beatles-led revolution two decades earlier. Gay politics in pop would also maintain a healthy momentum with artists such as Tom Robinson, who had come out in the previous decade and scored a major UK success with "Glad To Be Gay," and Bronski Beat, who made their classic debut with 1984's "Smalltown Boy," continuing to write music born from a different perspective. When Jimmy Somerville left Bronski Beat, in 1985, his next project, The Communards, would arguably eclipse the success he had already enjoyed. His cover of "Don't Leave Me This Way" became the UK's biggest single of 1986 and the band would have two hit albums.
The 80s would also see the emergence of Queen as bona fide international treasures. Their charismatic frontman, Freddie Mercury, had steered the visual direction of the group since their breakthrough, in 1973, but his powerful performance at Live Aid cemented the group's legendary status. Sadly, he wasn't the only artist that would eventually battle a HIV diagnosis during the 80s. The crisis continued to spread and the early deaths of Department S's Vaughn Toulouse, Level 42's Alan Murphy, and The B-52s' Ricky Wilson are just a few examples of how the disease decimated the industry. When Freddie died of AIDS, the poignant "These Are The Days Of Our Lives" was paired with a reissue of the band's undisputed classic, "Bohemian Rhapsody." It topped the charts, leading to a huge charity concert to rival Live Aid, raising funds to speed up medical research. Elton John also emerged to create a huge charity effort that generated millions for AIDS causes.
Queen - These Are The Days Of Our Lives (Official Video)
The days of our lives
Yet, despite this catastrophe, gay culture was becoming slowly ever more mainstream. When Frankie Goes To Hollywood's anthem about gay sex, "Relax" famously got banned by BBC Radio One, the song catapulted it up the charts and went on to be one of the UK's biggest ever singles, launching the band into about 18 months of mega-stardom. Lead singer Holly Johnson would go on to enjoy solo hits with tracks like "Love Train."
Wham!'s George Michael wouldn't come out for years, but there was a knowing playfulness about his tease and titillation aimed at young girls right from the start. Synth duos Pet Shop Boys and Erasure would never wear their sexuality on their sleeves, either, but the subject matter of some of their songs, among them "It's A Sin" and "A Little Respect," left few of us guessing. When Erasure helped relaunch ABBA with the ABBA-esque EP in 1992, it couldn't have been any more obvious.
Frankie Goes To Hollywood - Relax (Official Video)
Disco evolved into Hi-NRG in the gay clubs, and its poppier, synth sound, immortalized by Sinitta's "So Macho" and Miquel Brown's "So Many Men, So Little Time," was lifted out of those popper-fueled palaces and into the national charts by acts such as Hazell Dean, Dead Or Alive and Bananarama, with help from the Midas touch of Stock Aitken Waterman, a Svengali production team who admitted they repackaged gay dance sounds for the mainstream. They even launched a then-closeted-but-obviously-all-gay boy band, Big Fun, who had a handful of hits.
As the Second Summer Of Love launched a sharper new dance culture in 1988, gay artists enjoying success ranged from k.d. lang to S'Express's Mark Moore. There was room for everyone, it seemed, and perhaps the gay label just didn't matter so much anymore. Morrissey had cultivated a fey, asexual persona dripping with hormones and repressed longing that thrilled the indie crowd. With his band The Smiths, he became the man it was OK for every straight boy to have a crush on, and hits such as "William, It Was Really Nothing" referenced a nostalgic 60s vibe that was uniquely British. K.d. lang refined her country style and would create a pop masterpiece with Igénue and its singles, among them "Constant Craving," while S'Express hit the top of the British charts with a sampling slice of the acid-house scene with "Theme From S'Express." Rob Halford of Judas Priest admitted that being gay in the macho rock world wasn't always easy back then, but said that coming out in 1998 was a wonderful moment.
Let's go outside
As we rolled into the 90s, more and more artists were prepared to talk openly about their sexuality. Pet Shop Boy Neil Tennant came out in 1994 to Attitude – a magazine launched to capitalize on the new phenomenon of the "pink pound" (a phrase used to describe gay people's spending power). R.E.M.'s Michael Stipe seemed happier to discuss his personal life, and even George Michael made a virtue (and hit song, "Outside") of the fact that he'd been arrested while loitering for sex in a public toilet.
Yet despite the apparent ease of some sectors of society to tolerate this openness, homophobic themes and language still flared up, notably in hip-hop and reggae. Elsewhere, Suede's Brett Anderson perhaps foolishly revisited the lines used by Bowie far more successfully a couple of decades earlier, and the HIV crisis wouldn't really start to ease until the new millennium. Rampant political conservatism was rigorously challenged by the aggressive pro-gay and empowerment agenda established by straight supporters such as Madonna, but the subtler work of the likes of Melissa Etheridge did just as much good. Madonna used her position as the undisputed Queen Of Pop to provoke and challenge the sexual status quo. Her 1992 work with album Erotica and the Sex book was as bold a move as any mainstream artist would ever attempt. She survived the backlash, but only just…
Born this way
It wasn't until the 21st Century that the civil-rights agenda, amidst a raft of legislative changes, began to establish – in Western democracies, at least – that being gay might finally be one of the least interesting things to be said about someone's identity. Gossip's Beth Ditto, Sam Smith, and Sia all became major stars without in any way letting their sexuality define them. Conchita Wurst did create a sensation when she won the Eurovision Song Contest in 2014 with "Rise Like A Phoenix," but that was really all about her facial hair (transgender Dana International had won for Israel back in 1999).
Scissor Sisters - I Don't Feel Like Dancin'
Gay house-band Scissor Sisters became a huge pop act (in Europe, at least), while it became protocol for most boy bands to include at least one gay member, as Westlife's Markus Feehily, Boyzone's Stephen Gately, and N SYNC's Lance Bass illustrate. All three did come out after the peak of their teenage adoration, but the new generation, such as Clean Bandit's Neil Milan and Olly Alexander of Years & Years, didn't wait that long. Britain's Will Young became the first winner of Pop Idol, in 2002, and made his announcement soon after his first hit single, "Evergreen." Adam Lambert went through the same experience stateside. It didn't harm their careers at all. Rufus Wainwright wasn't keeping quiet, either, and, a decade on, Troye Sivan is actually creating a career with his confident sexual identity and great music.
It certainly seems being gay wasn't the commercial suicide it once might have been. "I wish I could come out again," Latino superstar Ricky Martin said recently. "It was amazing." He'd kept his sexual identity secret while in Menudo and as a huge solo act in the early part of the new millennium, but times had changed. Tom Robinson told Darryl W Bullock, the author of David Bowie Made Me Gay, that he'd like to live in a world without labels. "It's marvelous that people can just make music and it's kind of incidental what their sexuality is." There are now gay artists in almost every musical genre you can think of.
Gay icons such as Judy Garland (whose Live At Carnegie Hall album Rufus Wainwright recreated in its entirety in 2007), Lady Gaga, Kylie, and Cher have used their work to support and entertain the LGBTQ community for decades. That brand of showbiz pop has lost none of its power to persuade and entertain, but the real sea change has come from society itself. Softening of attitudes has meant gay artists can now work with a confidence like never before, knowing no one much cares anymore. And that's perhaps the greatest progress of all.
Looking for more? Discover the best LGBTQ anthems of all time.