Culture Club
Boy George, Jon Moss, Roy Hay and Mikey Craig will always be viewed with affection as spearheads in the English New Wave that span off into the New Romantic movement of the 1980s.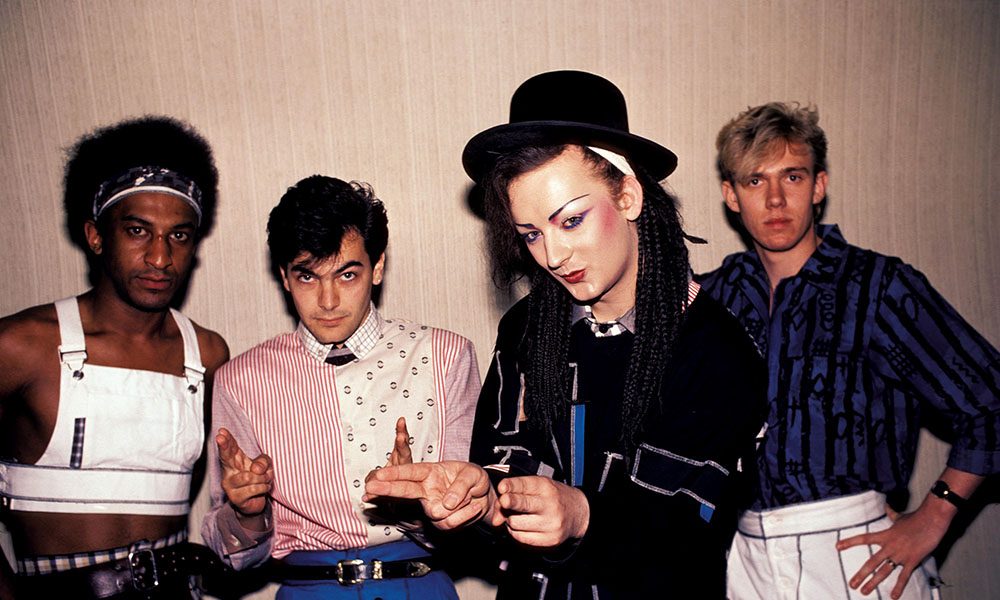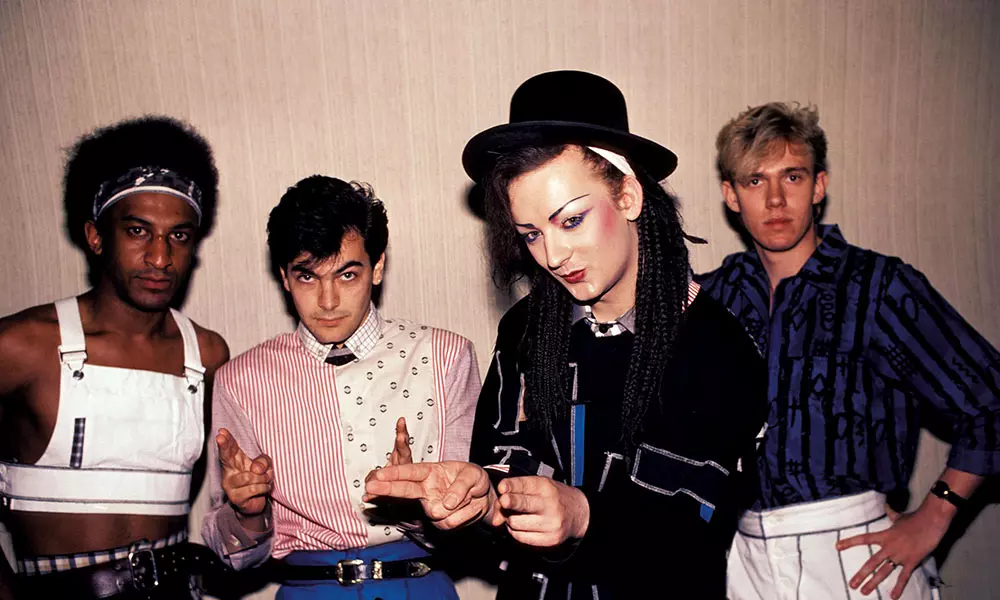 Boy George, Jon Moss, Roy Hay and Mikey Craig will always be viewed with affection as spearheads in the English New Wave that span off into the New Romantic movement of the 1980s. At its best, this period saw a renaissance in great British pop music, which sold worldwide thanks to the growing importance of the MTV cable and video explosion. No band was better than George O'Dowd's when it came to marketing an image and in their lead singer Culture Club had a flamboyant secret weapon with a fine soul voice and the ability to entertain the press.
The band won a Grammy Award for Best New Artist in 1984 when they also picked up a Brit Award for Best British Group. At their peak they were chart fixtures with a string of memorable international hits, including 'Church of the Poison Mind', the now-standard 'Do You Really Want To Hurt Me' and 'Karma Chameleon'. Their second album, Colour By Numbers, sold over 10 million copies and in the process set off a chain of events that helped turn Boy George into something of a national treasure, albeit an outspoken character with a biting wit. But beneath the trappings, it's worth recalling that here was an outfit with an ear for a Smokey Robinson melody and a Motown rhythm that could also integrate elements of calypso and reggae into their sound.
After a spell singing with Malcolm McLaren's prodigies Bow Wow Wow, George caught the performance bug and formed Culture Club whose name mirrored their disparate races, religions and sexuality. After signing with Virgin, thanks to some classy demos, they released Kissing to be Clever in 1982, which was notable for slow burner 'Do You Really Want To Hurt Me' whose lilting beat was based around Jamaican lovers rock. But it was no one-hit-wonder. The dance floor friendly 'I'll Tumble 4 Ya' and a belatedly added 'Time (Clock of the Heart)' made stateside reviewers perk up and admit that Britain had produced a truly cosmopolitan modern soul act.
While the debut went Platinum it was immediately eclipsed by sophomore disc Colour by Numbers, again produced by Steve Levine. Culture Club hit their straps here, aided by former Sailor member, trusted old hand Phil Pickett as a lyrical collaborator and melody arranger and George's ideal vocal foil, the larger than life Helen Terry. Generally acknowledged being one of the most essential albums made in the decade the classics simply tumble out from the moment the unmistakable throb of 'Karma Chameleon' hits the air. Some would say that's not even the best track: certainly 'It's A Miracle', 'Church of the Poison Mind' and 'Miss Me Blind' are as good as anything in the band's catalogue.
The blue-eyed soul method, laced with George's totally unique vocal and writing style, encouraged the Club to take the 'if it ain't broke don't fix it' approach and 1984's amusingly titled Waking Up with the House on Fire was another strong set that was harshly treated at the time but now reveals a couple of real gems in the form of Mannequin, which utilises some nifty Beach Boys flavoured harmonies, and the subtle R&B track 'Crime Time'. The band's live star was now soaring but they took their time with the follow-up, From Luxury to Heartache, the title a possible reference to the inevitable toll that stardom brought. Despite the pressures, FLTH is interesting for several reasons. Firstly, the legendary veteran Arif Mardin produced it and secondly George's lyrics, which had hitherto been pretty carefree, now took on a darker significance. If there were problems in the camp you wouldn't have guessed it from the opener 'Move Away' and the overall danceable nature of the other songs have weathered better than was first thought making it a welcome return to the fold for a recording that had been overlooked for a while.
Boy George's solo career then ensued with plenty more lover's rock masterpieces to come but Culture Club reunited in 1998, making a well-regarded compilation album plus extras – after their performance on the Storytellers series. The new single 'I Just Wanna Be Loved' proved that demand for their sound had endured and the new studio album, Don't Mind If I Do spawned another hit in 'Your Kisses Are Charity'. Right now there are further rumours of another reunion with assurances that plenty of new material is already in the can. Good news.
One of Culture Club's strengths, of course, is an ability to appeal to people of all ages. Theirs is a classless inclusive sound that will just as easily be whistled by a taxi driver as a High Court judge or a bunch of kids in the playground. And their mums. In other aspects, George embodies an almost anti-rock and roll style, perhaps not surprising given his immersion in Latin, Motown and obscure reggae 45s.
Obviously all five original studio albums are recommended but then there are also plenty of decent compilations. Of those, This Time, The First Four Years, All The Best and Greatest Moments offer a definitive introduction, as does 2002's lovingly assembled Culture Club box set. Those with a mind to get their freak on will also check out 1991's excellent 12″ Mixes Plus because that was another format that George always treated with great respect. In fact, that's the thing about him and the group – they knew that pop music was a craft and not a throwaway commodity.
There's colourful stuff in their catalogue, for sure. Golden nuggets and chameleon fusions and more than a touch of spirituality. Definitely a Club worth joining.
Format:
UK English