Ta-Dah! How Scissor Sisters Resurrected Queer Pop
Fusing 70s pop songcraft with NYC's underground club scene, Scissor Sisters helped usher in a new era of queer pop that lit up charts in the 00s.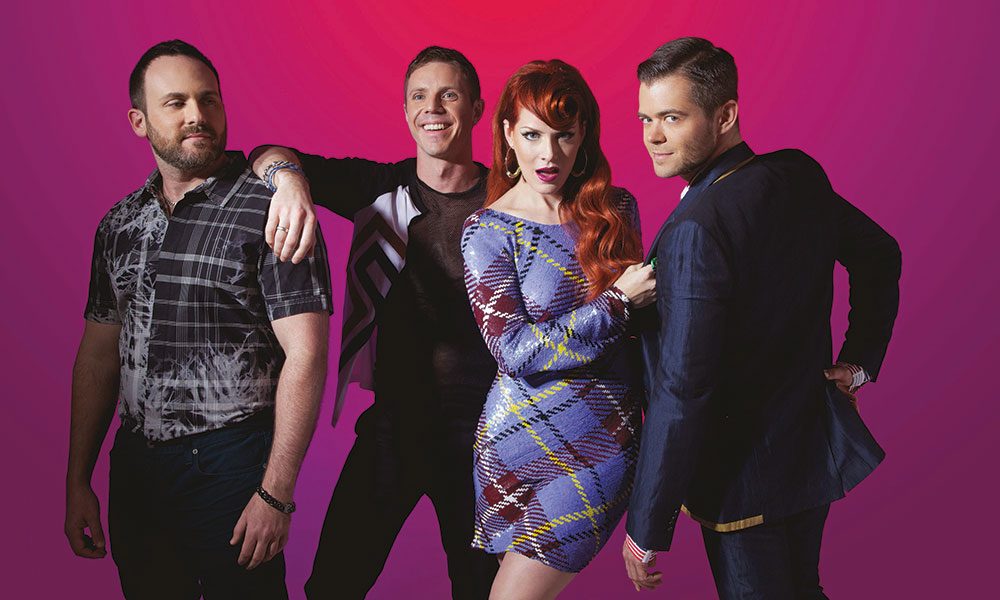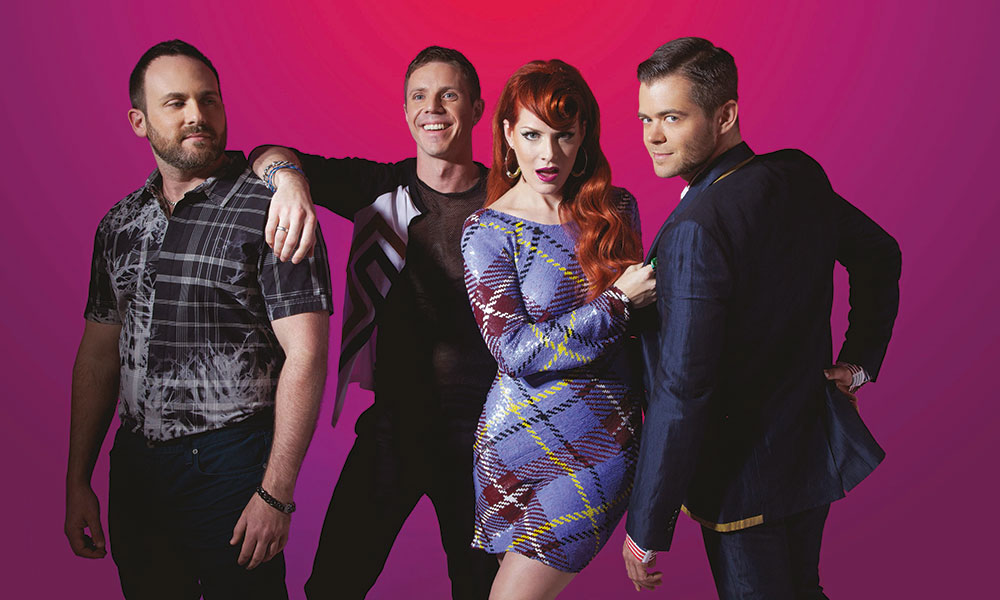 A product of New York City's vibrant queer nightlife scene, in the early 00s Scissor Sisters led their own glam-disco revival with outrageous stage shows and hedonistic hooks just as the city was experiencing a Strokes-led rock resurgence. Despite their adjacent scenes, Scissor Sisters wouldn't experience the same kind of breakout success as their peers until they crossed the pond to the UK, where camp is second-nature and their brand of eccentric pop was welcomed by a population raised on George Michael, 10cc, and Elton John.
Listen to the best of Scissor Sisters on Apple Music and Spotify.
To Middle America, Scissor Sisters were nothing more than a dependable floor-filler at weddings. But the shuffling piano bop of "Take Your Mama" hid subversive lyrics about getting your mother tanked and coming out, which went completely over everyone's heads. Walmart, however, sensed something was up: they banned the group's self-titled debut album because it included the song "Tits On The Radio."
Often lumped together with other earnest dance-pop evangelists like Electric Six and Chromeo, Scissor Sisters not only managed to pull off wild commercial success (Scissor Sisters sold over seven million copies worldwide and debuted at No.1 UK album chart) but did more to bring gay culture into the mainstream than they're given credit for.
Scissor Sisters - I Don't Feel Like Dancin'
Spirit of the underground
Scissor Sisters are a "New York band," but only in name. They're the opposite of the cool, detached garage-rock revival that would come to define the post-millennium. Just across the bridge, Jake Shears, Babydaddy, Ana Matronic, Del Marquis, and Paddy Boom arrived in Williamsburg, Brooklyn, during the first wave of gentrification, and embodied the gay, drag, and performance-art parties that populated the borough and lower Manhattan.
Along with their fellow LGBTQ compatriots Peaches and Ladytron, Scissor Sisters started out as just another electroclash outfit, with Shears – a former go-go dancer – gyrating on stage in lavish costumes. But then they gained attention for their disco-pop cover of Pink Floyd's "Comfortably Numb." Their aesthetic might have screamed 80s Danceteria, but musically the group was more kindred spirits to 70s disco, glam, and pop-rock. After all, Shears did name his 2018 autobiography Boys Keep Swinging, after Davie Bowie's '79 single.
After US labels failed to bite, the band signed with Polydor in the UK and released their debut album in 2004. Soon they were playing Glastonbury and touring with heavyweights like Duran Duran, Morrissey, and Pet Shop Boys, bringing the spirit of NYC's gay underground to their live shows. In just a few short years, the band had found their spiritual home, and their self-titled debut topped the UK charts.
Take Your Mama (Live at The Brit Awards, 2005)
Pop disruptors
Scissor Sisters' unabashed sense of flamboyance drew crowds to their live shows, but it was their classic melodies and devotion to pop craft that give them lasting power and appealed to older fans. If their feel-good hit "I Don't Feel Like Dancing," and "I Can't Decide," from their sophomore release, Ta-Dah, sounded familiar, that's because the band collaborated with their pop predecessors Elton John and Paul Williams.
There's a fine line between revival and revisionism, but Scissor Sisters defied gender and genre pigeonholes. They not only embodied the sound of pop disruptors Sparks and Mott The Hoople, but encapsulated the sense of playfulness and experimentation that defined that era.
Promoting inclusivity
With a name like Scissor Sisters, the band never pandered to anyone outside the audience that made them famous in the first place. Like queer pop icons before them (Marc Almond of Soft Cell; Bronski Beat, Frankie Goes To Hollywood, Boy George of Culture Club, and George Michael (just to name a few), Scissor Sisters helped to usher in a new era of queer pop that would pave the way for the Troye Sivans and Hayley Kiyokos of the 2010s. But this didn't save the band from being pigeonholed by the press.
"Back then, it was like everything was about me and Babydaddy and Del being gay," Jake Shears told NPR last year. "That was the first thing any press wanted to talk about. It was frustrating, but I knew if we just kept moving ahead, it was going to make it easier for people that came after us."
When it came to picking the cover for 2010's Night Work, the band used a photo of dancer Peter Reed's rear, taken by noted photographer and Patti Smith companion Robert Mapplethorpe. Would a different picture have sold more records? Most likely. But pleasing the heterosexual masses was never part of their agenda.
Finally being recognized
With their nu-disco sheen, Scissor Sisters released gay anthems that had your mother singing along. "Let's Have A Kiki," from their 2012 album, Magic Hour, was probably the last single to reference drag-ball culture since RuPaul's "Supermodel" and Madonna's "Vogue." (A "kiki," as defined in the seminal documentary Paris Is Burning, is a party or exchange with plenty of "tea," "reads," and general gossip.)
SCISSOR SISTERS - Let's Have A Kiki (Custom Videodrome Discothèque Video Edit)
But Scissor Sisters weren't just turning out hits for club kids ("Filthy/Gorgeous"). They could be somber at times, as on "Mary," Shears' ode to his late friend Mary Henlon.
Scissor Sisters not only brought gay culture to the mainstream, they normalized it – similar to The Village People's accomplishments with "YMCA," except with far less veiled references. Coming up two decades following the AIDS crisis, however, Shears and co didn't have to play by the same rules that their closeted forebears once did.
Before Lady Gaga and her "Little Monsters" came along, Scissor Sisters were the lone beacon of gay culture and the avant-pop in the mainstream. Four chart-topping albums later, the band announced their indefinite hiatus in 2012 while performing at the Camden Roundhouse, in London, the city that had wholeheartedly embraced them in the first place. Now, 15 years after their eponymous debut, their cultural inroads are finally being recognized.
Scissor Sisters self-titled debut on 180g half-speed mastered vinyl can be bought here.