10cc
The British art-rock band had chart-topping singles like 'I'm Not In Love' and featured the influential duo Godley and Creme.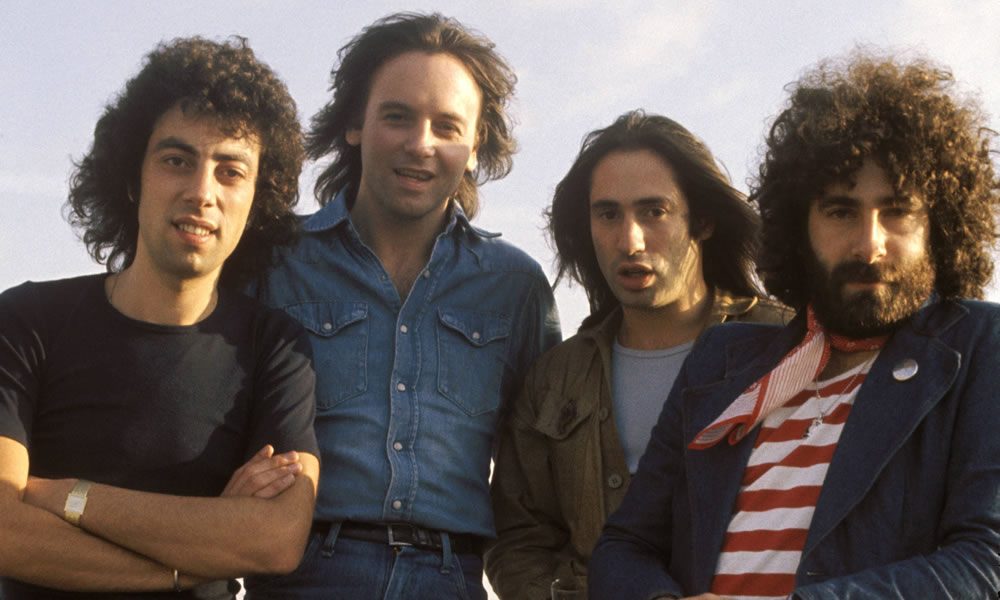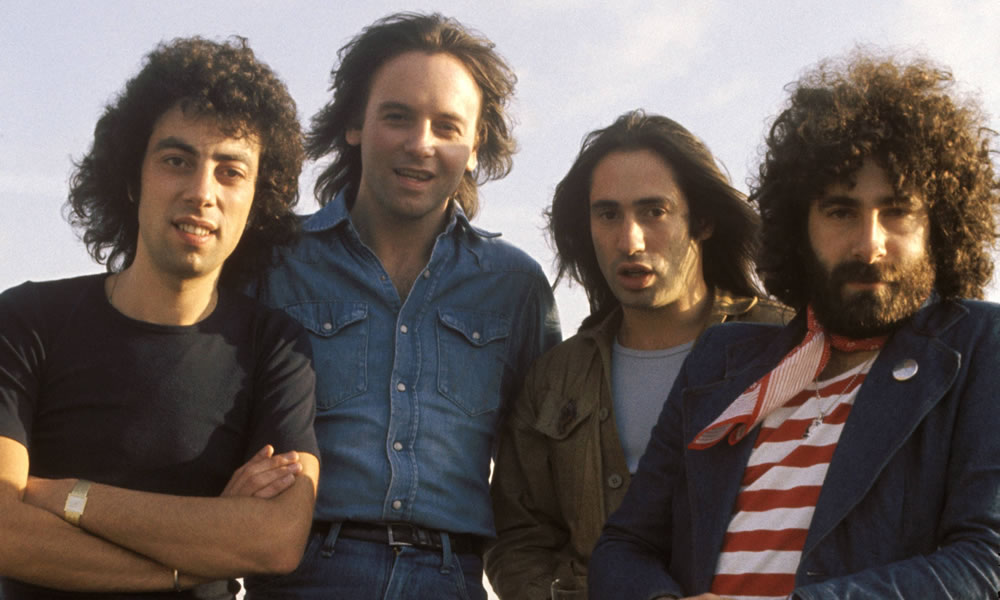 As hugely inventive and successful as they were, 10cc can get overlooked in critics' lists of acts that broke free from the moon-June rigidity of the pop format to bring a freewheeling sensibility to the charts. Indeed, asked to cite a pioneering British art-rock act of the 1970s many would plumb for the more seriously minded Roxy Music, with perhaps Steve Harley's Cockney Rebel coming a close second. But 10cc beat both bands hands down if we can define success via chart statistics — 10cc scored three No.1 singles: 'Rubber Bullets' (1973), 'I'm Not In Love' (1975) and 'Dreadlock Holiday' (1978); and eight Top 10 hits between 1973 and 1977: 'Donna', 'The Dean And I', 'The Wall Street Shuffle', 'Life Is A Minestrone', 'Art For Art's Sake', 'I'm Mandy, Fly Me', 'The Things We Do For Love' and 'Good Morning Judge'.
There was substance behind their style and, following a modest start with their debut, 10cc (No.36), they had an impressive run on the UK album charts too with their next five LPs going Top 10 — Sheet Music (No.9), The Original Soundtrack (No.3), How Dare You! (No.5), Deceptive Bends (No.3) and Bloody Tourists (No.3). Unusually, all four members were songwriters, singers, multi-instrumentals and producers, which accounts for the abundance of ideas and styles on 10cc's records. There was a rich textured brilliance to their sound, and many of their greatest moments were mini pop symphonies, dedicated if not to God, as Brian Wilson might have preferred, then at least to Art. Purely for its own sake, of course.
10cc comprised Eric Stewart, Graham Gouldman, Kevin Godley and Lol Creme — all hailing from the hotbed of musical talent that was the Greater Manchester area. The quartet just didn't land with their pop wizardry out of nowhere of course, and each member had paid his dues in the 1960s, often achieving considerable success.
Eric Stewart played the guitar in Wayne Fontana and The Mindbenders. He co-wrote a couple of B-sides and assumed lead vocals for the post-Fontana 'A Groovy Kind Of Love', which hit No.2 on both sides of the Atlantic and sold a million copies.
Graham Gouldman was the frontman for The Whirlwinds and The Mockingbirds. Establishing himself as a songwriter, he supplied a string of hits for other bands, including 'For Your Love', 'Heart Full Of Soul' and 'Evil Hearted You' for The Yardbirds; 'Look Through Any Window' and 'Bus Stop' for The Hollies, and successful songs for Herman's Hermits. In 1968 he joined Eric Stewart in The Mindbenders. A year later, Gouldman accepted an invitation from Jerry Kasenetz and Jeff Katz in New York to work as a staff writer at their bubblegum pop factory Super K Productions. It was here that the seed of 10cc's musical vision was sown.
Gouldman brought Stewart plus friends Kevin Godley and Lol Creme into the fold by suggesting that the Englishmen could create commercial nuggets cheaper than local New Yorkers. By this time Gouldman and Stewart had invested their royalties into their own Strawberry Studios, based in Stockport, Greater Manchester, and so could keep recording costs to a minimum. Kasenetz and Katz agreed to the venture, block-booking Strawberry for three months in late 1969.
Art school graduates Godley and Creme had known each other, and Gouldman, since the rock'n'roll Fifties, when they'd all rehearsed their various teenage bands at the local branch of the Jewish Lads Brigade — think The Smiths' Salford Lads Club with an ethnic twist.
In 1968 Godley and Creme recorded a single of psychedelic whimsy, 'Seeing Things Green', showcasing the Creme falsetto that became so familiar in 10cc, under the preposterous name Yellow Bellow Room Boom. A year later they cut 'I'm Beside Myself' for Giorgio Gomelski's Marmalade label at Strawberry Studios, under the equally absurd moniker Frabjoy and The Runcible Spoon.
Once on the Super K payroll, the Brits factory-farmed a healthy supply of pop froth, working in various different styles, forging the all-rounded pop template for 10cc. Godley: "It was really like a machine. Twenty tracks… We used to do the voices, everything… even the female backing vocals." Their efforts resulted in a run of 45s that Kasenetz and Katz issued under several different names including Crazy Elephant, whose 'Gimme Gimme Good Lovin' ' made No.12 both in the UK and US.
When Gouldman returned to New York to work out his Super K contract the remaining trio continued at Strawberry, and released a single, 'Neanderthal Man', under the name Hotlegs. This song, too, became a huge hit, eventually selling two million copies worldwide and reaching No.2 in the UK. A Hotlegs album Thinks: School Stinks followed later in 1971. There were some false starts, though. The single, 'Umbopo', released as Doctor Father, did nothing, and neither did their cover of Paul Simon's 'Cecilia' issued as The New Wave Band.
Graham Gouldman returned from New York for more session work at Strawberry, and the quartet backed Neil Sedaka on his comeback album Solitaire (1972) and its follow up The Tra-La Days Are Over (1973). The flat fee they received for their efforts convinced the band that they should be concentrating on their own material.
They took their song 'Donna', inspired by Frank Zappa's doo-wop pastiches and boasting a marvellous Creme falsetto, to pop entrepreneur Jonathan King, who signed the band to his label UK Records. King named them 10cc and 'Donna' shot to No.2 in Britain — followed by their first No.1, 'Rubber Bullets'.
Four fantastic albums followed, each brimming with pop invention and stylistic ingenuity, and 10cc became one of biggest acts of the Seventies, before the group divided in two, with Godley and Creme branching out as a duo, leaving Stewart and Gouldman to recruit new members. The band's breakthrough years came in an era of outrageous stage costumes but there was no glitter or glam for 10cc and their shau was all in their music — in the very showiness of their writing, arrangements, production, and performances.
10cc (1973) set out the band's stall as clever purveyors of wit, pastiche and melody, with the sounds of the 1950s updated to the Seventies via futuristic guitar effects and studio flair. Three hit singles, 'Donna' and 'Rubber Bullets' and 'The Dean And I', sit alongside the one the didn't sell, the death-disc skit 'Johnny Don't Do It', plus highlights such as 'The Hospital Song' and the more straightforward rocker 'Speed Kills'.
They upped the ante with the adventurous and idiosyncratic Sheet Music (1974) that many, including themselves, consider their best album. There's the No.10 hit 'The Wall Street Shuffle', the lesser hit 'Silly Love' and the non-hit 'The Worst Band In The World'. Paul McCartney and Brian Wilson influences abound and the variety of styles widens to take in reggae. 'Clockwork Creep' is a bizarre conversation between a bomb and a jumbo jet, and the poignant ballad 'Old Wild Men' introduces Godley and Creme's effects device for the guitar, the 'Gizmo'.
10cc moved to Mercury Records for The Original Soundtrack in 1975 on the strength of one song, 'I'm Not In Love', a dreamy multi-layered masterpiece that took the pop symphony idea to new heights. It was their second No.1 and their biggest hit in the States, peaking at No.2. Opening track 'Une Nuit À Paris' is even more ambitious: a suite in three parts, nearly nine minutes long and filled with multiple characters, some singing in a French accent. The 'Second Sitting For The Last Supper' returns to the rock band format to deliver a lyrical tirade against organized religion, while lead single 'Life Is A Minestrone' fades in to recall the musical pulse of 'Rubber Bullets'.
How Dare You! (1976) was the watershed 10cc album, the last one to feature the artier half of the partnership, Godley and Creme. In musical terms, they left on a high, and the record is packed solid with melodic hooks, heady harmonies, crazy lyrical conceits and shifting arrangements — all the usual 10cc trademarks. Would-be dictators get a platform on 'I Wanna Rule The World', while hit single 'Art For Art's Sake' has a poke at the very same commercially minded artists they used to be themselves back in the Super K days. Its follow-up 'I'm Mandy, Fly Me' revisits that old chestnut, the airline disaster scenario, while the finale 'Don't Hang Up' is a wry look at divorce. Unusually, the title track is an instrumental.
Deceptive Bends (1977) was a strong album despite Godley and Creme's absence, and yielded the hit singles 'The Things We Do For Love' and 'Good Morning Judge', plus the ballad 'People In Love', which didn't chart. The approach was simpler and more direct than before, with fewer mid-song mood swings, but the overall result was still witty and well crafted. Highlights include the looking-for-love 'Marriage Bureau Rendezvous' and its aftermath 'Honeymoon With B Troop'.
1978's Bloody Tourists was a final fanfare of sorts before events overtook 10cc — punk and new wave were now sweeping away the old guard on the one hand, and on the other Eric Stewart sustained injuries in a car accident that kept him away from music for a while. It was their last high-charting album, and yielded the reggae-flavoured No.1 single 'Dreadlock Holiday', also their last big single. While there were plenty of ingenious lyrical narratives, the stripped-down approach of Deceptive Bends had set a new trend, and 'Take These Chains', 'Last Night' and 'For You And I' featured straightforward arrangements, while 'Tokyo' is, if anything, under-produced.
There are plenty of delights to be found on the band's final five albums, Look Hear (1980), Ten Out Of 10 (1981), Windows In The Jungle (1983), …Meanwhile (1992), which enjoyed a brief reunion between the four original members, and Mirror Mirror (1995), but 10cc's golden years were the 1970s when they produced some of the finest, wonderfully progressive pop music to ever come out of the UK.
Words: Andy Davis
Format:
UK English