'Spellbound': The Story Behind Siouxsie & The Banshees' Enchanting Hit
Recently featured in the fourth season of 'Stranger Things,' the song is one of the group's biggest hits.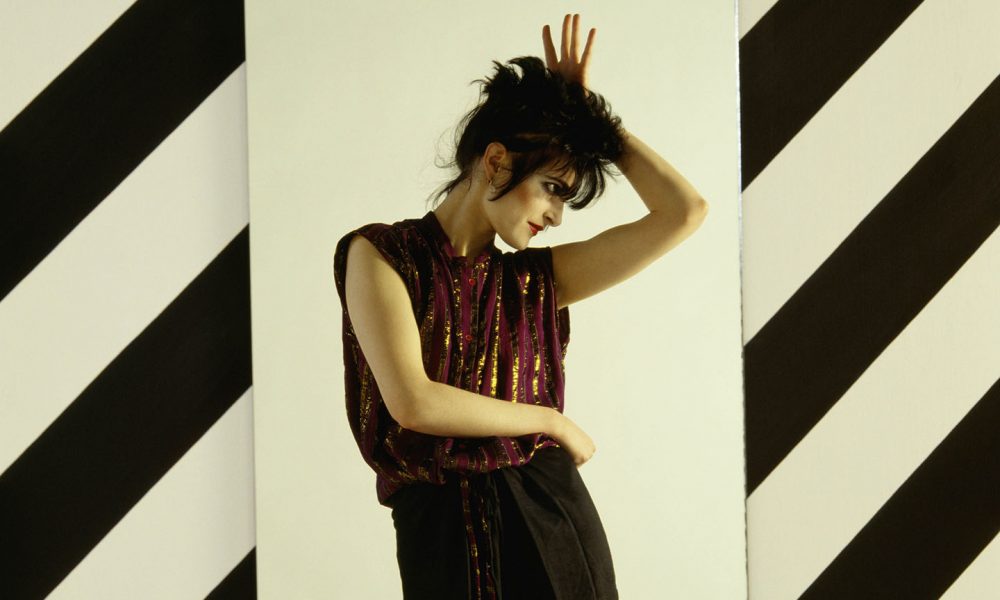 By their 1981 album, Juju, Siouxsie & The Banshees were at the peak of their powers. Their classic line-up of Siouxsie Sioux (vocals), Steven Severin (bass), John McGeoch (guitar), and Budgie (drums) had developed a musical language of their own, combining disparate elements of punk, psychedelia, glam, and Krautrock. And, of course, in Siouxsie, they had a charismatic and intense frontwoman writing increasingly daring and uncompromising lyrics. Juju's opening track, "Spellbound," was not only a heady and thrilling distillation of all that made them great, it also achieved that feat within the constraints of a three-minute (ish) pop song.
"Spellbound" reached No 22 in the UK charts and is one of the group's most beloved songs. John McGeoch's innovative and emotive guitar playing on the track, meanwhile, would also go on to influence generations of musicians – The Smiths, Radiohead, and U2 have all acknowledged their debt. With music fans rediscovering the track through a key placement in the fourth season of Netflix's Stranger Things, it's worth looking back at the tune and its genesis.
Listen to "Spellbound" by Siouxsie & The Banshees now.
A short history of Siouxsie & The Banshees
Siouxsie & The Banshees had come a long way in a few years. Sioux and Severin formed the group back in 1976 as a bit of a joke. On learning that a slot was available at the 100 Club Festival, the punk showcase organized by Sex Pistols manager Malcolm McClaren, Sioux suggested that she and Severin (both members of "The Bromley Contingent," the Pistols' entourage) play a set. Sioux told Sounds a year later, "The first time we went onstage at the 100 Club the idea was to annoy and bore people so much they'd chuck us off." That set saw Marco Pirroni (later of Adam & The Ants) and Sid Vicious accompany the pair on a noisy and unruly near 25-minute improvisation around "The Lord's Prayer." The four-piece split after the gig. But while they'd only intended to shock and annoy, it was apparent to those present that Sioux was a magnetic presence on stage, as Viv Albertine of The Slits later recalled, "Siouxsie just appeared fully made, fully in control, utterly confident. It totally blew me away."
After the performance, word spread, and before long Siouxsie & The Banshees became a going concern. A hit single, "Hong Kong Garden," eventually followed in Summer 1978, an icy bright pop marvel that didn't feature on their debut album The Scream. Nonetheless, the record and its follow-up, September 1979's Join Hands, established Siouxsie & The Banshees as a dark force to be reckoned with. Join Hands proved a false dawn, however, as two members quit the band on the day of release. Facing the prospect of a UK tour as a two-piece, Sioux and Severin drafted The Slits' drummer Budgie and Robert Smith of The Cure (the support band on the tour) stepped in on guitar. Budgie's relentless drumming was a perfect fit and, when John McGeoch of Magazine was convinced to join, a new era of the Banshees was underway.
By this point, the constraints of punk had been forgotten and any desire to shock had passed. McGeoch and Budgie joining the band had represented a new start, an opportunity Sioux was keen to make the most of, as she told MOJO in 2014, "Everything was possible. So we knocked down what people thought we were. We were liberated." Their 1980 album, Kaleidoscope, saw the new Banshees go for broke, unafraid to explore new musical possibilities and eager to subvert expectations. Sitars, synths, and drum machines were introduced, while 'Christine" and "Happy House" are among the Banshees' purest pop moments.
The sessions for 'Spellbound'
Touring Kaleidoscope had bedded in relative newcomers McGeoch and Budgie and inspired a creative purple patch. While Kaleidoscope felt like the band were playing musical dress-up, trying on genres to see what worked, the new material saw the band embracing a cohesive sound, a glistening take on 60s psychedelia with a dark undertow courtesy of Sioux's lyrics and Budgie's tribal drums. New songs were worked on at sound checks and played live, meaning that the Banshees were, unusually, primed for the studio. Sessions for Juju began in March 1981 at producer Nigel Gray's studio in Leatherhead, Surrey, England. Sioux recalled the feeling in the camp in her sleevenotes for the 2006 reissue of Juju, "It felt like a solid, unified group around that time. A lot could be understood [between us]. Without anyone necessarily saying it."
McGeoch and Budgie joining the band had represented a new start, an opportunity Sioux was keen to make the most of, as she told MOJO in 2014, "Everything was possible. So we knocked down what people thought we were. We were liberated." The adventurous arrangement of "Spellbound" emphasizes Siouxsie & The Banshees' newfound freedom. McGeoch's guitar dictates the pace, setting the scene with foreboding, phased arpeggios, and inventive chord voicings before driving it forward with shimmering 12-string acoustic guitar. Most guitarists would've piled on the distortion, but McGeoch achieves a feeling of pent-up urgency with his frantic strumming.
Siouxsie And The Banshees - Spellbound (Official Music Video)
Johnny Marr, future guitarist with The Smiths, was taking notes. Interviewed for The John McGeoch Story, a documentary broadcast on BBC Radio 2 in February 2008, Marr spoke about McGeoch's playing on "Spellbound": "It's so clever… in three ways he's attacking it. He's got the sound of a 12-string acoustic, which is a great thing you didn't really hear very much on records. And then he's got this really good picking thing going on which was very un-rock'n'roll. And this actual tune he's playing is really quite mysterious."
Sioux also recognized McGeoch's value, telling The Independent in 2004, "John McGeoch was my favorite guitarist of all time. He was into sound in an almost abstract way. I loved the way that I could say, 'I want this to sound like a horse falling off a cliff,' and he would know exactly what I meant. He was easily, without a shadow of a doubt, the most creative guitarist the Banshees ever had."
The meaning of 'Spellbound'
The lyrics were every bit as mysterious and intoxicating as the music. Sioux found a huge amount of inspiration in cinema, often citing the psychological thrillers of director Alfred Hitchcock as an influence. "Spellbound" leaves itself open to interpretation. It can be read as a paranormal horror, a depiction of child abuse, a comment on conformity, or on the hypocrisy of religious figures. Sioux was increasingly interested in addressing weighty and often uncomfortable subject matters in her lyrics – Juju featured songs about the persecution of women in the Middle East ("Arabian Nights"); the increasing threat of surveillance on day-to-day life ("Monitor") and mass murderer Peter Sutcliffe ("Night Shift").
Sioux spoke to MOJO in 2014 about her approach to lyrics while writing Juju, "There was obviously something pleasing about that kind of subject matter. What I found exciting was bringing subjects that were respectable in film, art, and literature into the pop field, where we could warp it a bit. I suppose we were trying to invent our own niche."
Interviewed in 2006 for the Juju reissue's sleevenotes, Sioux pinpointed the appeal of "Spellbound" and of the Banshees as a whole, "I've always thought that one of our greatest strengths was our ability to craft tension in music and subject matter. Juju had a strong identity, which the goth bands that came in our wake tried to mimic, but they simply ended up diluting it. They were using horror as the basis for stupid rock'n'roll pantomime. There was no sense of tension in their music."