Billie Eilish
One of the biggest pop stars on the planet, Billie Eilish emerged from relative obscurity with a unique sound.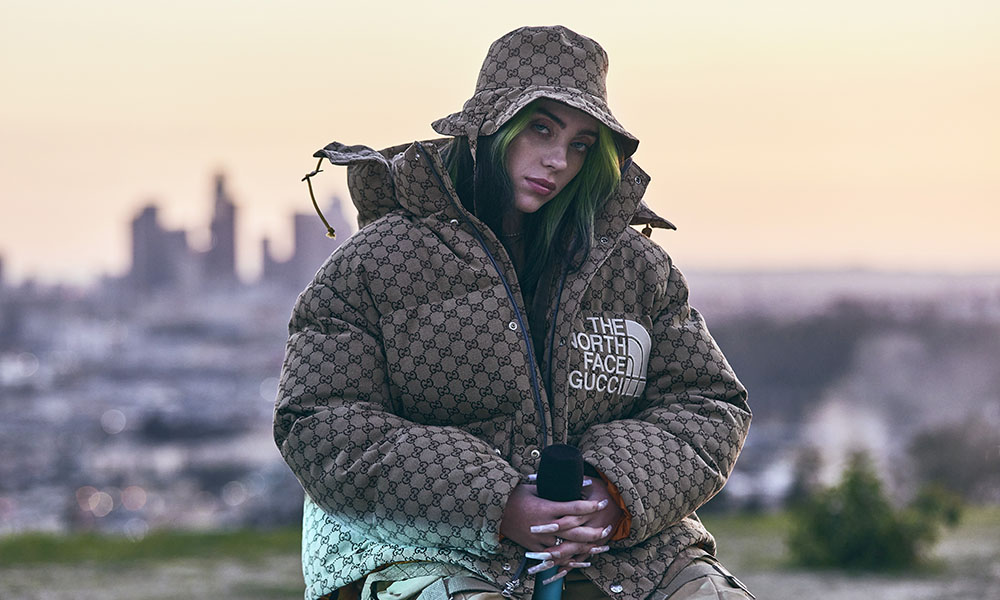 Once every so often, a singer/songwriter comes along who is not only wildly talented, but they alter the very meaning of pop stardom itself. That category undoubtedly holds the one and only Billie Eilish, whose whispery voice sounds like no one else's, whose attitude is at once approachable and just a little bit defiant, and whose ever-changing personal style continually influences its surroundings.
In many respects, Billie was always meant to be an entertainer. Born December 18, 2001, in Los Angeles, Billie Eilish Pirate Baird O'Connell grew up in a highly artistic home, with her parents, actress, and teacher Maggie Baird and actor Patrick O'Connell, homeschooling her and encouraging her and older brother Finneas to pursue their interests in singing, songwriting, art, dancing, and acting. By the age of six, Billie was playing ukulele; by eight, she'd joined the Los Angeles Children's Chorus, and when she hit 11, she started writing songs.
In 2015, when she was 13, Billie and Finneas started writing songs together, with Finneas recording and producing tracks in their Highland Park home. The first songs they recorded together were "She's Broken" and "Fingers Crossed," which the siblings uploaded to SoundCloud. Towards the end of 2015, Billie became an internet sensation when the song "Ocean Eyes" was released on SoundCloud. Soon after, in early 2016, Billie released "Ocean Eyes" as a music video, catching the attention of major radio stations like Apple's Beats 1, KCRW, BBC One, and more. Another song, "Six Feet Under," followed that summer, and soon, Billie was signed to Darkroom and Interscope Records.
By early 2017, Billie released an EP containing four "Ocean Eyes" remixes by Astronomyy, Blackbear, Goldhouse, and Cautious Clay. A Six Feet Under EP followed featuring remixes by Blu J, Gazzo, Jerry Folk, and Aire Atlantica. In August 2017, Billie released the Don't Smile At Me EP, which hit number 14 on the Billboard 200, with Billie embarking on her first major tour in support. All the while, Billie earned significant praise from national media outlets for her unique vocal range, experimental, "genreless" songwriting, confessional lyrics, and trademark oversized dressing style.
In early 2018, Billie kicked off her second headlining tour, titled "Where's My Mind," and released "You Should See Me In A Crown," plus high-profile collaborations with artists like Khalid ("Lovely"). That same year, she was listed on Forbes' annual 30 Under 30 and unveiled new singles like "Come Out and Play" and "Bury A Friend." Meanwhile, Don't Smile At Me hit 1 billion streams on Spotify, making Billie the youngest artist to do so. All the while, she and Finneas prepped her debut studio album, When We All Fall Asleep, Where Do We Go?, which dropped on March 29, 2019, and debuted atop the Billboard 200. When We All Fall Asleep, Where Do We Go? made Billie the first artist born in the 2000s to achieve a number one album in the US. When the album's fifth single, "Bad Guy," hit number one, it made Billie the youngest artist, at just 17, since Lorde (with "Royals") to have a number-one single.
That same year, in 2019, Billie played Coachella and announced her Where Do We Go? World Tour, which was ultimately postponed due to the COVID-19 pandemic.
November 2019 was a major month for Billie – she released her next single, "Everything I Wanted" and was nominated for six Grammy Awards, including Record of the Year and Song of the Year for "Bad Guy" as well as Album of the Year and Best New Artist, making her the youngest artist to be nominated in all four General Field categories. Not only that, but that same month, Billie was named Billboard's Woman Of The Year.
In January 2020, Billie became the youngest artist to write and perform a James Bond theme song, again teaming with Finneas to write and produce "No Time To Die." Billie likewise cleaned up at the 62nd Grammy Awards, becoming the youngest artist in Grammy history to win all four general field categories: Best New Artist, Record of the Year, Song of the Year, and Album of the Year. In July 2020, Billie released a new single, "My Future," and announced a few months later that she was prepping 16 new songs for a forthcoming second studio album.
Prior to releasing her 2021 album Happier Than Ever, Billie collaborated with Spanish singer/songwriter Rosalía on the one-off single "Lo Vas a Olvidar" and released the critically lauded Apple TV+ documentary Billie Eilish: The World's A Little Blurry, directed by R.J. Cutler. Billie also earned two more Grammys: Best Song Written for Visual Media ("No Time To Die") and Record of the Year ("Everything I Wanted").
On July 30, 2021, Billie released Happier Than Ever, which showcased her expanding sonic palette and evolving personal style. Shifting from the trap-inspired When We All Fall Asleep, Where Do We Go?, Happier Than Ever, while still downtempo, featured elements of jazz, electropop, country, folk, and even bossa nova. Thematically, Billie parsed the last two years of her life, touching on themes around fame and its drawbacks. Featuring singles "My Future," "Therefore I Am," "Your Power," "Lost Cause," "NDA," the title track, and "Male Fantasy," Happier Than Ever debuted atop the Billboard 200 and was nominated for Album of the Year and Best Pop Vocal Album at the 64th Grammy Awards. Its title track was nominated for Song of the Year and Record of the Year. To celebrate the album's release, Billie filmed a Disney+ concert film called Happier Than Ever: A Love Letter to Los Angeles, which received a nomination for Best Music Film at the 2022 Grammys.
For Billie, the critical and industry accolades, which include multiple Grammys, American Music Awards, VMAs, and Brit Awards, all earned before she even hit 20 years old, speak for themselves. As one of the most inventive artists of her generation, whose influences span from Tyler, The Creator to Britney Spears and Avril Lavigne, Billie will no doubt continue to push the boundaries of mainstream pop for years to come.
Listen to the best of Billie Eilish on Apple Music or Spotify.