'Back To Black': The Story Behind Amy Winehouse's Hit Song
No song seems to encapsulate Amy Winehouse's unique musical persona and sound quite like this one.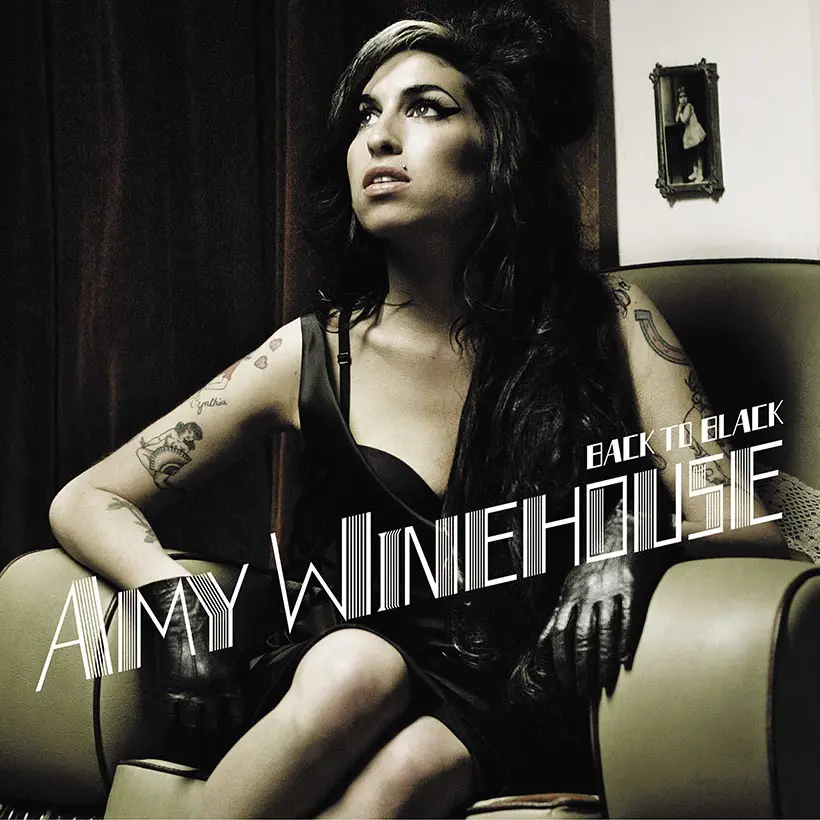 When Island Records announced that Amy Winehouse was going to release her second album of songs, Back To Black, a frisson of feverish anticipation gripped those who had been following the 23-year-old's career. Winehouse's rise had begun just three years earlier in 2003, when the singer/songwriter – a magnetic artist from London's Camden Town district – released Frank, a debut album whose stylish amalgam of jazz, soul, and funk flavors wowed the critics. The album didn't quite make Winehouse a household name, but it sold 300,000 copies in her homeland and spawned four charting singles; moreover, it also got her shortlisted for the prestigious Mercury Music Prize and earned a BRIT nomination.
The notoriety that Frank brought Winehouse meant that the public's expectations for Back To Black were sizable; but no one could anticipate how radically different the new album would be in terms of its sound and themes. The happy-go-lucky vibe of her debut was replaced by a much darker autobiographical hue on Back To Black, which explored the emotional turmoil the singer felt after splitting up with her boyfriend, Blake Fielder-Civil.
Buy Amy Winehouse's iconic song "Back to Black" on limited edition picture disc here.
Although the album's biggest hit was the infectious "Rehab," about Winehouse's real-life battle with addiction, arguably its cornerstone was its title song, a cathartic symphony of sadness written by the singer together with Mark Ronson, the London-born US producer who helmed six of Back To Black's eleven songs.
Using the word "black" as a metaphor for the abyss of depression, "Back To Black" is a bleak, grief-stricken portrait of heartbreak purportedly inspired by Winehouse's ex-boyfriend's infidelity. Mournful strings and an ominous tolling bell create a funereal atmosphere, which is dramatically juxtaposed with a danceable, retro-slanted musical backdrop inspired by 60s girl-group pop and Phil Spector's wall of sound production values.
The recording
"Back To Black" was the first song Winehouse wrote and recorded for her second album. It came about in March 2006 when she was persuaded to meet Mark Ronson in the producer's Greenwich Village recording studio. On her arrival there, she mistook Ronson for a recording engineer and, according to her father Mitch in his 2012 book, Amy, My Daughter, thought the producer would be "an older Jewish guy with a big beard." Nevertheless, the two talked, bonded through their love of music, and the next day, Ronson had written the beginning of a song for her, as he recalled to MOJO in 2010: "I came up with this little piano riff, which became the verse chords to 'Back To Black.' Behind it, I just put a kick drum and a tambourine and tons of reverb."
Winehouse was thrilled with Ronson's idea; she quickly wrote some lyrics based on what she was going through at the time and then they recorded a demo of the song. They then cut it with a rhythm section in Brooklyn at The House Of Soul, a studio run by Daptone, an indie label specializing in retro soul and funk. Additional recording later took place at Chung King Studios in New York and Metropolis in London, where Winehouse and Ronson finessed the song with production touches that deepened the song's sable colors.
Amy Winehouse - Back To Black
The reception
After the unveiling of Back To Black in October 2006, Amy Winehouse's name was on everyone's lips. The LP quickly went multi-platinum around the world and transformed its creator into a global phenomenon. Its title song was released as the set's third single in April 2007, initially rising to 25 in the UK; ironically, a month later, Winehouse married Blake Fielder-Civil, whose actions had inspired the song. After Winehouse's tragic death in 2011, "Back To Black" got a second lease of life, peaking at No. 8 in the UK singles chart and eventually going platinum.
Since then, "Black To Black" has spawned several cover versions; the most notable by Beyoncé and André 3000, who joined forces in 2013 to record a slowed-down rendition for The Great Gatsby soundtrack. Other versions have come from the UK singer Lightspeed Champion, who re-modeled the tune as a folk-inspired acoustic number in 2008, and French chanteuse Amanda Lear, who infused it with a jazzy, late-night vibe. Immediately after Winehouse's death in 2011, ex-Ronette Ronnie Spector – said to have been a formative influence on the Camden singer – paid tribute to Winehouse by releasing a disco treatment of "Back To Black" as a single.
The legacy
Nothing seems to encapsulate Amy Winehouse's unique musical persona and sound quite like the song "Back To Black." Considered one of her signature songs, its stature has grown immeasurably since the singer's passing, perhaps because of the poignancy and prescience of the lines: "I tread a troubled track, My odds are stacked." Indeed, it was the raw realism and authentically autobiographical nature of her songs that made Amy Winehouse's music so compelling. And "Back To Black," with its timeless story of betrayal and love gone bad, has a universality that resonates deeply with anyone who's ever suffered rejection and a broken heart.
Buy Amy Winehouse's iconic song "Back to Black" on limited edition picture disc here.