Neneh Cherry
The Stockholm pop singer-songwriter has flouted genre and convention throughout her fascinating career.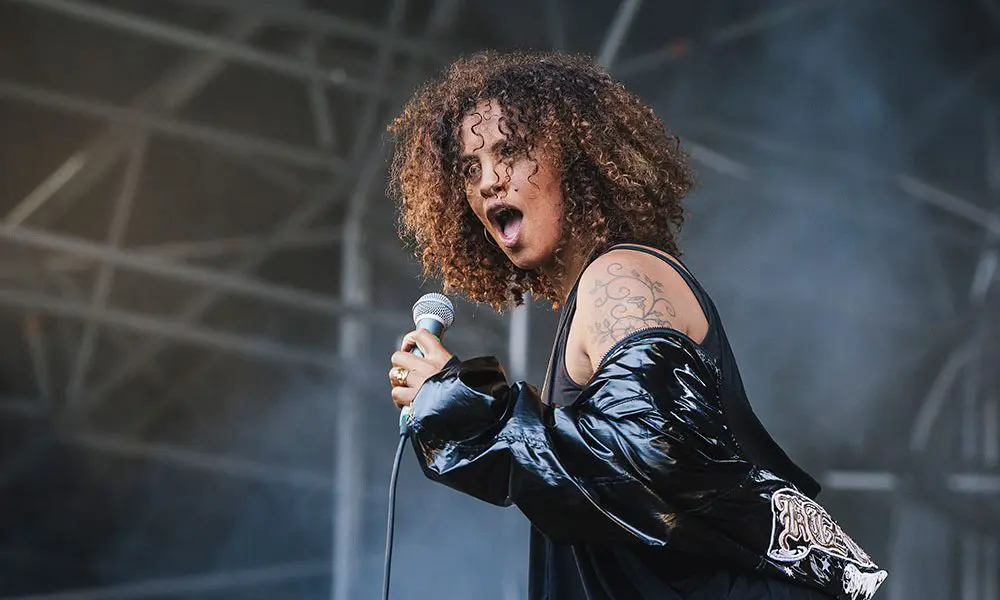 Neneh Mariann Cherry is an artist born to artists and destined to forge the good stuff, whether as a musician, singer-songwriter and rapper, club DJ, radio, personality or in-demand collaborator. True she has released a handful of albums but their influence is as far-ranging as her own Swedish born life is eclectic. Neneh achieved major success with her first album Raw Like Sushi, which spawned the international smash 'Buffalo Stance', a vital slab of hip hop that made number one in America (number three in the UK) and established Cherry as a vibrant, smart, glamorous face who would become something of a globetrotting ambassador for fine and just causes while maintaining a select output of her own.
Neneh was actually born in Stockholm. Her father, the Sierra Leonean drummer Amahddu Jah and Swedish mother Monika Karlsson separated when she was very young and stepfather Don Cherry, a great American jazz trumpeter, raised her. Life for the family was itinerant, to say the least, and they lived in various hippy style communes when Neneh was growing up, in Yorkshire, New York and London. Homelife was also a groove since Neneh's half-sister Titiyo and half-brother Eagle-Eye Cherry are also names in the music business. Jazz scions abound elsewhere. Like we said – she was always likely to manage a melody.
As a Londoner Neneh became actively involved in the Post Punk scene and she graced New Age Steppers, Rip Rig + Panic and Float Up CP with distinctive vocals and bags of constructive idealism. After releasing debut single proper – the anti-Falklands conflict 'Stop The War' – Cherry teamed up with The The's Matt Johnson (she duets memorably on 'Slow Train to Dawn' on the classic Infected disc) and married musician Cameron McVey who produced and helped co-write her first album Raw Like Sushi (1988). Friendships with some leading lights on the Bristol Urban scene informed the compelling beats of the disc. Massive Attack man Robert Del Naja helped construct 'Man Child' while Andrew 'DJ Mushroom' Vowles assisted on 'Kisses on the Wind' – completing a trilogy of hits with the aforementioned 'Buffalo Stance'. That track had in fact been issued before on a McVey project but when Bomb the Bass star Tim Simenon remixed it simply tore through clubland and into history. The term "Buffalo" was a reference in part to the Ray Petri collective of musicians/stylists/photographers etcetera who used image as a means to an end. It was also a nod at Malcolm McLaren's 1983 track 'Buffalo Stance'. A neat sample from that and from Rock Steady 'Crew's Are You Ready' added to the urgency of the song, which became an underground anthem and saw Neneh grow into a TV regular with a personality large enough to fill all available space. That the Raw Like Sushi album also won a Brit Award only aided her cause.
Immersion in the multi-media outlets of the era meant that Neneh didn't complete her second solo album until 1992, by which time she'd become part of the Bristol crew whose numbers influenced Tricky and Portishead and their distinct style and attitude rubbed off on Homebrew in no small way. A dance floor favourite this time, Homebrew delivered club favourites 'Buddy X' and 'Trout', which became a bigger hit in America once people realised it was a duet with R.E.M.'s Michael Stipe. Other memorable moments here are the opener 'Soul Sassy', featuring Guru from Gang Starr, and 'Money Love' with Jonny Dollar on guitar – he co-wrote Massive Attack's 'Unfinished Sympathy'. It all fell into the groove pocket.
Now a mother, Neneh's third album, Man, assumed a more world music tinge. The most famous song here is of course '7 Seconds', which had been released two years earlier in 1996 as a single collaboration with Senegalese singer Youssou N'Dour, who croons in Wolof and French while Cherry sings in English. The track topped the French charts for 16 weeks, a record at that time. Elsewhere the trip-hop element was never far off and the guest musicians were familiar. Suede's Bernard Butler adds exquisite guitar colouration to 'Woman', legendary arranger Wil Malone provides strings, as does Gavyn Wright, Tricky slides up for 'Together Now' and bro' Eagle-Eye plays the piano on a superb version of Marvin Gaye's 'Trouble Man'.
If that's a slim volume of solo work it's an important one. Neneh has also collaborated with her father on several occasions in various jazz projects, sang on Pulp's epic 'This Is Hardcor'e and enjoyed another number one, in the company of Eric Clapton, Chrissie Hynde and Cher, on a cover of the Judds' song 'Love Can Build A Bridge'. Add her work with sundry Swedish rap and jazz outfits to the heady mix and toss in her cookery series with Andrea Oliver (BBC 2, 2007), and don't forget she lit up Groove Armada's album Love Box, and you'll see that Neneh Cherry is a woman with grounded concerns and clear-headed talent. Reacquaintance with her three solo albums is a pleasure for all.
Words: Max Bell