Best Sam Smith Songs: Essential Pop Music
The best Sam Smith songs have practically become standards – a marker of just how much talent the singer has displayed in a short time.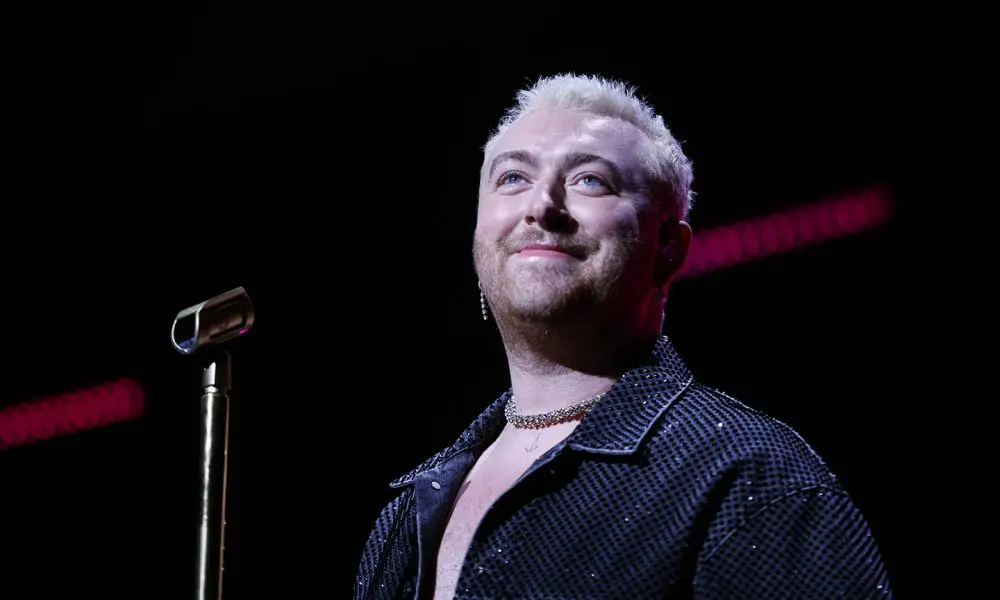 Since 2012, the Grammy-winning singer-songwriter Sam Smith has been building a discography of enviable scale. The Londoner announced they were gay in 2014 and used their platform to tackle the demons of a difficult childhood plagued with insecurities about their sexuality and body image. Blessed with an extraordinary voice, however, their love songs speak to millions and have become standards. From the choppy dance classic "Promises," sensitive torch ballad "Stay With Me' and blistering "I'm Not Here To Make Friends" there are plenty of high points to choose from in our run-down of the best Sam Smith songs.
Listen to the best of Sam Smith on Apple Music and Spotify.
27: To Die For
Issued as a promotional track for 2020's Love Goes, this gorgeous ballad arguably deserved better billing, but the pairing with Jimmy Napes, who had worked with Smith on some of his biggest hits such as "Stay With Me", and production team Stargate created a strong showing nonetheless. The song even inspired the name of a pop-up wig shop in London's Soho, opened by Smith as part of the long campaign to launch the record.
Sam Smith - To Die For (Official Music Video)
26: How Will I Know
This gorgeous cover of the Whitney Houston classic demonstrates the seemingly effortless power of Smith's voice. It's a controlled, tender performance that strips away the mid-80s fuss of the original to reveal the fragile, emotional melody beneath. It was added to the Drowning Shadows edition of Smith's debut album, In The Lonely Hour – a reissue that hit the shops at the end of 2015.
25: Together (with Disclosure, Nile Rodgers, and Jimmy Napes)
Issued as a promotional single in late 2013 to support the remix album for Disclosure's Settle project, this collaboration with the Chic veteran and Smith's longtime collaborator Jimmy Napes is a Studio 54 throwback on which Smith's vocals add ballast to the funk-pop hybrid.
24: You Will Be Found (and Summer Walker)
Dear Evan Hansen was a Broadway sensation when it opened in 2015 and other productions soon sprung up internationally. It was inevitable Hollywood would look at the musical about a fragile high-school senior who finds himself trapped by a series of lies. This showstopper is the Act One finale and Sam's cover with Summer Walker was issued as a single from the movie soundtrack, which came out in 2021.
23: One Last Song
Picked as the second single from Sam Smith's second album, The Thrill Of It All, "One Last Song" sounds like it's one of those songs we have lived with forever. Its lilting retro vibe could have been lifted from the classic songbook, but it's actually a new composition co-written by Tyler Johnson, who has worked with Ed Sheeran and Taylor Swift. Its Nashville top notes make this one of the best Sam Smith songs picked for a single release – if not one of their biggest hits.
22: Fire On Fire
Steve Mac has a pop pedigree as thoroughbred as any Crufts winner and has worked with Westlife, Céline Dion, and Calvin Harris. In 2018, they wrote this new song with Smith to support the Netflix remake of the Richard Adams classic Watership Down. Recorded with the BBC Concert Orchestra at London's legendary Abbey Road Studios, this dramatic ballad with Mac's trademark sweeping hooks deserves wider recognition.
Sam Smith - Fire On Fire (From "Watership Down")
21: Have Yourself A Merry Little Christmas
To date Smith's only attempt to tackle a yuletide standard, "Have Yourself A Merry Little Christmas" made its debut in the Judy Garland movie Meet Me In St Louis. It has been covered hundreds of times since, including a definitive version by Frank Sinatra. Smith's 2014 cover broke into the US Hot 100, ensuring that we'll hear it every December for years to come and, in 2022, he issued his first festive original "Night Before Christmas."
20: I'm Ready (with Demi Lovato)
The 2020 pairing with Demi Lovato seems obvious – both are bold trailblazers for gender politics, fiercely independent spirits, and are long admirers of each other's work. "I'm Ready" is an urgent, electro-disco stomper with a terrific pop melody that Smith described as "2020 ABBA". It appears on Love Goes and Lovato's seventh studio set Dancing With The Devil… And The Art Of Starting Over.
19: Burning
Helping to launch The Thrill Of It All, this promotional single made a decent dent in the charts. The live performance of the song from the Hackney Round Chapel draws out its gospel influences to chilling effect. Smith has one of those voices that create warmth and intimacy despite the assured athleticism of their technique.
18: Leave Your Lover
This is one of In The Lonely Hour's most confessional moments. "'Leave Your Lover" is about someone I fell in love with last year," Smith told journalists. "I tried to make this track sound pretty because the message of the song is pretty sad." The heartbreak behind the parent album gets lighter treatment in this midtempo ballad, while the memorable video, co-starring model Daisy Lowe and depicting an intense love triangle, helped elevate "Leave Your Lover" to one of the best Sam Smith songs, framing the platform for them to talk about their sexuality for the first time.
17: Omen (Disclosure, featuring Sam Smith)
Working again with Disclosure, "Omen" was picked as the duo's second single from their second album, Caracal. Its throbbing, EDM dance vibe was a step away from Smith's more typical work at this time but built on the success of the previous collaboration – 2012's "Latch". "Omen" made the UK Top 20 and hit No.1 on the Billboard dance charts.
16: Pray (featuring Logic)
Drafting in rapper Logic for the song's official issue as a single, "Pray" had been inspired by time spent overseas with the charity War Child. A team of writers contributed to the track, which was steered by Timbaland, most famous for his work with Missy Elliott and Justin Timberlake. Again, the gospel influences lift a sharp melody to greater impact, and "Pray" became a sizeable hit around the world on its 2018 release.
Sam Smith - Pray (Official Audio)
15: Diamonds
This is Smith at their most vulnerable – how much of this poignant midtempo electro cut is biographical is largely speculation, but it's surely too authentically heartfelt to be built from fiction. This track was the second single from Love Goes and was produced by Shellback and Oscar Gorres, who works extensively with pop powerhouse Max Martin.
14: La La La (Naughty Boy, featuring Sam Smith)
This was the first time many people really started to take notice of Sam Smith, as their guest vocals on this Naughty Boy smash from 2013 made an immediate impact. Its frothy dance-pop riff proved a huge radio sensation, and the track made it all the way to the top of the UK charts, but the video didn't feature the singer. "La La La" became one of the biggest singles of the year in the UK and was nominated for a Brit Award.
13: How Do You Sleep?
Another vocal tour de force from Love Goes, "How Do You Sleep?" digs deeper into Smith's seam of confessional narrative that makes their work so compelling. "How Do You Sleep?" was issued as a single and made the UK Top 10. It was promoted by one of their best videos – with blistering choreography Parris Goebel and an elegant direction by Grant Singer.
12: Latch (Disclosure, featuring Sam Smith)
"Latch" is a song best described as "a sleeper hit." In 2012, it sold more than half a million in the UK but never made it into the Top 10. In the US, it eventually entered the Top 10 and topped the dance charts – albeit years after its first release. As with a handful of their earliest hits, Smith didn't appear in the music video, but this club classic – the duo's breakthrough – remains fresh and contemporary today.
11: I'm Not The Only One
Picked as In The Lonely Hour's third single, this classy soul ballad stands out among the best Sam Smith songs for having all the makings of a standard in waiting. Its light, shuffling instrumentation acts as the perfect backdrop to Smith's majestic vocal performance. An impressive video starring Glee's Dianna Agron and Chris Messina from The Mindy Project, and based on a troubled marriage that inspired the song, helped power "I'm Not The Only One" into the UK Top 3 and the US Top 5. Smith hadn't been certain of the song's chances on release. In defending their choice of the track for single release, they admitted there were "safer bets to go in terms of radio," but that they wanted to make a statement. "I also want people to know that I'm not just doing it to have big radio hits." They were proved wrong: radio loved it.
Sam Smith - I'm Not The Only One (Official Music Video)
10: Money On My Mind
In terms of a wider breakthrough, "Money On My Mind" marked the point when Sam Smith truly established themselves. Its nagging chorus became instantly associated with the singer and they played center-stage in a Vegas-set video that illustrated the excesses of the world's pleasure capital. It was actually the second single from their debut album, but this February 2014 UK chart-topper identified Smith as a star in the making.
9: Lay Me Down
You can't keep a good song down. After peaking at No.46 on its first 2013 release, "Lay Me Down" was reissued after In The Lonely Hour broke through, upon which it entered the Top 20. That wasn't the end of the story, though. Given a third release, as a duet with John Legend for Comic Relief, "Lay Me Down" soared all the way to the top of the UK charts.
8: I'm Not Here To Make Friends
Songwriter Jessie Reyez contributes backing vocals to this Calvin Harris production, issued as another single from Gloria. The grown-up disco vibe rifts along neatly and is an album highlight in a very strong field, but the video attracted a barrage of hostility – demonstrating that the battle that they are fighting for universal tolerance has, sadly, much ground still to be won.
7: Too Good At Goodbyes
Launching a second album after the first has been such a success isn't for the faint-hearted; there's an unrivaled sense of expectation to prove the debut hadn't been a fluke. "Too Good At Goodbyes" helped secure the forthcoming success of The Thrill Of It All by blending the soulful elements of the first collection with a sharp, modern spin, effortlessly bridging the gap between the pop and adult-contemporary audiences. Again, the gospel chorus lends gravitas to a song that genuinely doesn't need any help. In 2017, "Too Good For Goodbyes" secured its place among the best Sam Smith songs when it became another chart-topper for Smith in their homeland.
6: Like I Can
As one of the final singles from In The Lonely Hour, "Like I Can" had the unenviable challenge of broadening the perception of its parent album away from the successful formula that had served so well to date. A Motown-inspired shuffler that sounded refreshed and purposeful, "Like I Can" was an upbeat gear-change away from the gospel-fused balladry that had characterized so much of what had come before. It wasn't a big hit in America but made the UK Top 10 at the end of 2014.
Sam Smith - Like I Can (Official Video)
5: Dancing With A Stranger (featuring Normani)
A chance studio encounter with former Fifth Harmony vocalist Normani led to a contemporary collaboration "Dancing With A Stranger," which became a sizeable international chart hit at the start of 2019. It marked one of the first songs Smith has worked on since their big dance success, "Promises," in 2018, and signaled the new club direction Sam Smith was increasingly focused on.
4: Promises (Calvin Harris and Sam Smith)
This house/dance-pop hybrid became the summer anthem for many in 2018, ending up as Smith's seventh single to top the charts in the UK. The collaboration with superstar DJ/producer Calvin Harris also became a huge club hit stateside. Its celebratory video, showcasing LGBTQ dance culture and featuring Kevin Stea, who worked with Madonna during the "Vogue" era, is perhaps Smith's most euphoric to date.
Calvin Harris, Sam Smith - Promises (Live Performance)
3: Writing's On The Wall
Incredibly, "Writing's On The Wall" became the very first Bond theme to top the UK charts when it was released in 2015. This Spectre composition also enjoyed subsequent wins at the Golden Globes and the 88th Academy Awards, forever cementing its place among the best Sam Smith songs. Longtime collaborator Jimmy Napes co-wrote the track, which came together very quickly, and Smith now says the opportunity to record a Bond theme is one of their career highlights.
2: Unholy (with Kim Petras)
It's foolish to suggest Smith's career required any sort of reboot in his second decade of dominance, but this blistering industrial-pop romp from Gloria certainly overshot even their sterling commercial standards. With a striking video from director Floria Sigismondi, it made No. 1 on the mainstream US and UK charts, topped dance listings everywhere and the duet with the transgender star even won a Grammy for Best Pop Duo/Group Performance.
1: Stay With Me
This gospel ballad became Smith's US breakthrough when it peaked at No.2 for a fortnight, and its fragile, piano-led melody has powerful hooks that soon make their mark. A uniquely exhilarating torch song written about the emotional vacuum created by a one-night stand, "Stay With Me" earns its place among the best Sam Smith lead singles thanks to Grammy wins for Record Of The Year and Song Of The Year alongside a Best New Artist win – a fitting conclusion, perhaps, to a messy romantic encounter.
Sam Smith - Stay With Me (Official Music Video)
Have we missed one of the best Sam Smith songs? Let us know in the comments below.