60s Motown: When An Independent Detroit Record Label Ruled The World
Defining 'The Sound Of Young America' in the 60s, Motown dominated the decade with some of the most life-affirming music of all time.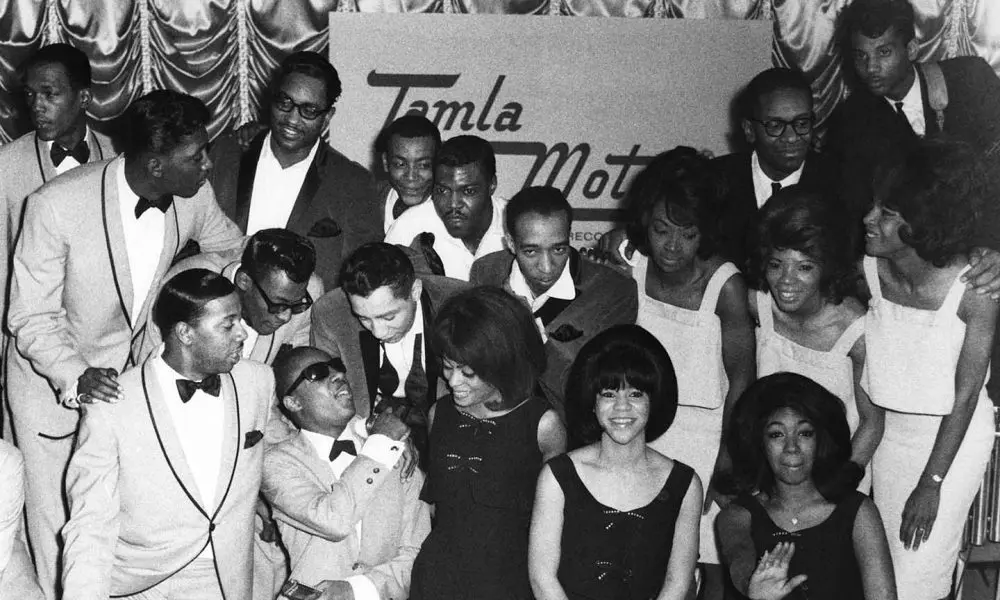 Motown was founded in 1959 as Tamla Records, and it acquired the name Motown in April 1960 – the ideal time to launch a record company built on black music. In the early 60s, the music industry was rapidly expanding. African-American singers would soon reach a bigger audience than ever before. The Civil Rights movement meant that black people's interests were being voiced and white people were beginning to listen – and music would be a medium for that message.
As the new decade dawned, an emerging black middle class had disposable income to spend on records – some of which was refined, smooth, "uptown" music that record labels began to target. White people began to appreciate R&B and soul, a new expansive music that had grown out of it, providing free-spending fans. Across the Atlantic in Europe, influential bands became fans of soul and R&B, including four lads from Liverpool who were admirers of The Marvelettes and The Miracles; and the bands that followed The Beatles, such as The Who and The Dave Clark Five, included soul songs in their repertoire. There were still battles to be fought, arguments to win, wars to stop, injustices to put right. But the 60s was a time of expansion. If a record label could establish itself, the world was its oyster.
Listen to the best of Motown on Apple Music and Spotify.
A success built on talent, drive, and competition
Numerous small record labels that specialized in soul and R&B were launched in the early 60s. Some sprouted from a single record store or nightclub. Others were well funded. Large companies focused on R&B and jazz – two of the foundation stones of soul music – already existed, such as Atlantic, Vee-Jay, and Chess, and were already established by the time Motown came along. By the end of the 60s, however, Vee-Jay was a distant memory, Atlantic was chiefly focused on hard rock and Chess had failed to turn its undeniably brilliant soul and blues artists into superstars. But Motown had become a major corporation, its success built on talent, drive, and internal competition.
Its founder, Berry Gordy, Jr, was a giant among African-American businessmen, a boss who could do most of the jobs within his organization – and frequently did, be it songwriting, record production, marketing, and promotion, or scouting talent. Gordy led from the front, and the people he employed followed his example – to the point where some wanted record companies of their own. While Gordy was protective about his corporate baby, he recognized the changing times of the 60s, and not only followed those changes but attempted to influence them and document them. So Motown was groovy, funky, fashionable; a statement, an intention, and an outcome. It was musical, cultural, and political. It was a good time, a social commentator, and an observer of hard times and injustice. Even if you didn't care about its function in society and its message, wow, you could dance to it. And even that affected the way you felt about the world.
Early days: building a roster
Motown put talent at the top of its agenda, then set about directing it. The label quickly signed artists who would make a huge impact. Gordy had written hits for Jackie Wilson in the 50s and knew something about what made great records, so his A&R instincts were strong. Motown had an apparently endless supply of talent on its doorstep in Detroit, and, once established, artists beat a path to the company's door, knowing they'd get a hearing.
The label's first group was The Miracles, featuring a kid called William "Smokey" Robinson who not only had an unusual, oddly vulnerable high tenor voice, but also wrote his own songs. Gordy helped shape Smokey's ideas about writing and it paid off when The Miracles started landing hits. "Shop Around," "What's So Good About Goodbye," "You've Really Got A Hold On Me": these songs had an impact on pop as a whole, with their memorable melodies, cool arrangements, and ability to tap into the sad moments in life, prompting empathy without making anybody miserable.
You've Really Got A Hold On Me
There was also The Marvelettes, a four-girl vocal act who scored a US No.1 with the irresistibly rolling "Please Mr. Postman" in 1961, and gave listeners a shot of soul right through the decade, even if they peaked at the start of their recording career. And there was Mary Wells, Motown's first glamorous star, who had 12 hits in four years, including the undying smash "My Guy," written by Robinson, who delivered a slew of successes for the singer.
Motown boasted many others in its early days: The Contours, a sharp and punchy vocal group; Marvin Gaye, a slim, handsome kid who sang soul beautifully but fancied becoming a jazz crooner; "Little" Stevie Wonder, a blind prodigy who seemed to be able to play any instrument but who struggled to follow-up his 1963 No.1, "Fingertips – Part 2," and Martha And The Vandellas, whose ability to deliver excitement made up for their raucous edge. Oh, and a trio of teenage girls called The Supremes, who the company stood by even though their first eight singles bombed. There was no shortage of talent. It was just a question of what Motown was going to do with it.
Fingertips Pts. 1 & 2 (Live At The Regal Theater, Chicago/1962)
The creatives: songwriters other companies dream of
While the early hits kept Motown ticking over, every bit as important was the company's attraction for songwriters and producers. Eddie Holland, a decent singer who landed a big hit with "Jamie" in 1961, suffered from stage fright, and instead concentrated on songwriting with his brother Brian and Lamont Dozier, who had been cutting singles as a member of doo-wop and R&B groups since 1957. Holland-Dozier-Holland fed hits to Four Tops, Supremes and many other Motown acts, performing production duties, too, until they quit the company in 1967.
There was also Harvey Fuqua, Bill "Mickey" Stevenson, an ambitious kid called Norman Whitfield, Frank Wilson, Sylvia Moy, Janie Bradford, Clarence Paul, Ivy Joe Hunter, Freddie Gorman (who worked as a postman and helped write "Please Mr. Postman" for The Marvelettes), Hank Cosby and numerous others. All were the sort of songwriters other companies dreamed of. With its own studio facilities, powerful and versatile house musicians, and a management structure that was aware that a great song was the basis for a great record, Motown proved the perfect place for a songwriter to work.
The machine gears up: finding a hit formula
Berry Gordy, Jr, had worked in Detroit's motor industry and had wondered if similar principles could be applied to making music. Having created a company with studios and talent, he set up a structure whereby morning meetings were held to check the quality of the previous day's work, assessing what showed promise and what didn't. Various singers were tried on songs, to see who made the best job of them. Competition between artists, songwriters, and producers was encouraged. A sense of loyalty to the whole Motown project was engendered, however, and the company even had its own song, written by Smokey Robinson.
In this atmosphere, the hits started to flow. Martha & The Vandellas delivered "Heatwave," "Dancing In The Street," "Quicksand" and more. Marvin Gaye scored with "You're A Wonderful One," "How Sweet It Is To Be Loved By You," "I'll Be Doggone," among others. Four Tops, featuring the gasp-inducing yet sensitive bellow of lead singer Levi Stubbs, began a string of hit singles that lasted into the 70s with the 1964 smash "Baby I Need Your Loving."
The same year, The "No Hit" Supremes shook off that cruel nickname, given to them by rivals in the company, with "Where Did Our Love Go." It was the first of a dozen US chart-toppers from Diana Ross and the group.
For those who liked more than a dash of R&B in their soul, Junior Walker And The All Stars were happy to provide, with the ebullient saxman singing and playing his way through "Shotgun," "(I'm A) Road Runner" and the sultry "Cleo's Mood." A five-piece act, The Temptations, began an impressive run of successes with a series of Smokey Robinson songs, including "My Girl" and "It's Growing," that ranked among some of the greatest vocal-group soul ever recorded. Smokey's own Miracles scored with "Ooo Baby Baby," "The Tracks Of My Tears" and "(Come 'Round Here) I'm The One You Need" across '65-66, as well as writing some of Marvin Gaye's greatest singles of the 60s and hits for glamorous songstress Brenda Holloway and The Marvelettes. Stevie Wonder finally hit with something approaching an adult style with the rousing "Uptight (Everything Is Alright)" in 1965, co-written with Sylvia Moy and Hank Cosby. Motown was in the big time.
The Motown sound
Not only did Gordy attempt to emulate the production-line techniques of Detroit's motor industry, there was a "Motown sound" that was relentless, rhythmic, sometimes almost mechanical. The crashing snare drum like a press stamping out steel for body parts. The grumbling, sometimes almost abstract basslines like a forge roaring in the distance. The precise guitar stabs like a die cutting alloy rods for gear levers. Listen to Martha And The Vandellas' "Nowhere To Run" or Smokey Robinson & The Miracles' "Going To A Go Go": this is the Motown machine in full effect. It was not a bid to sound industrial, but about being efficient in the studio and so distinctive that other companies couldn't copy it.
The Motown sound was also meant to be modern, urban, and slick: there's not much blues in Motown's rhythm'n'blues, but there's heaps of rhythm. It gave the company an identity, and though its artists retained their vocal distinctiveness and the songs told their own stories, you knew where this music was coming from. There were precursors to it, such as Phil Spector's Wall Of Sound and some girl-group records, such as The Royalettes' "It's Gonna Take A Miracle," but Motown refined and perfected it, adding soul and subtlety. There were strong impersonations of the sound, such as The Impressions' "You've Been Cheating" and The Chiffons' "Out Of This World," but it wasn't quite the same. Other Detroit labels, such as Ric-Tic and Revilot, released records that featured moonlighting Motown musicians, but none of them came close. Motown ruled the city and ruled 60s soul.
Mid-60s dominance: "The Sound Of Young America"
Your status at Motown became clear if the top songwriters focused on you. If you had Holland-Dozier-Holland behind you, the hits would flow, and Four Tops and The Supremes were major beneficiaries of their brilliance, both with a melody and a rhyme and as producers. The Temptations likewise benefited first from Smokey Robinson's noted compositional skills, and then the remarkable abilities of Norman Whitfield and Barrett Strong. Both also wrote for Marvin Gaye.
The Supremes were top of Motown's tree, with Diana Ross in particular marketed as a sparkling youthful figure. Behind them came Four Tops and the Tempts, and below them a slew of talents hoping for promotion, among them Stevie Wonder, Gladys Knight And The Pips, The Marvelettes, The Velvelettes, Brenda Holloway and Junior Walker And The All Stars.
Stop! In The Name Of Love
Motown was confident, had the business nous to get their acts heard, had control over its artists' careers like no other label, and was at its commercial peak. The label enjoyed 10 US No.1s between 1965-67, and this music was as much a part of the 60s landscape as any other: "Stop! In The Name Of Love," "I Can't Help Myself (Sugar Pie Honey Bunch)," "You Keep Me Hangin' On," "Reach Out I'll Be There," "I Hear A Symphony"… these small operas of soulful emotion kept hitting the heart of the US pop culture: little wonder that the label branded itself "The Sound Of Young America."
When the pop zeitgeist shifted from emotion to a more whimsical approach, Motown was ready with The Supremes' "The Happening" – every bit as wacky, bright, and hinting-at-psychedelia as anything The Monkees did. Motown was no longer a label to watch, it was setting the pace, and other soul labels, even the mighty Stax, could only aspire to what it had achieved.
I wear a symphony
Motown was always conscious of its image, sending artists for lessons in deportment, increasing their awareness of fashion, and redefining the way they spoke and behaved in public. Not all acts were open to this; Marvin Gaye was a notable rebel even at an early stage of his career. Mr. Gordy, the boss, was acutely aware that music was a fickle mistress and encouraged his acts to be ready to work in the mainstream field. They sang songs from musicals as well as soul; they dressed beautifully, were urged to smile, and generally made ready for cabaret and, hopefully, Vegas in case soul music proved to be a passing craze and the big bands came back (Motown was ready for this, too, signing Billy Eckstine and Tony Martin, fine singers whose audiences were surely not the same ones that enjoyed The Elgins).
While there's no shortage of photos of Motown acts in ballgowns or bow ties, the label's artists were often on the cutting edge of the young look and Motown's mid-to-late 60s album covers are like fashion plates: Tammi Terrell in a psychedelic orange and mauve silk minidress on Irresistible; The Supremes in streetwear and "natural" dos on Love Child, and as 60s swingers in slacks on A Go Go; Martha Reeves And The Vandellas as air hostesses for Ridin' High; The Temptations as hippie dudes hangin' on the stoop for Puzzle People; The Marvelettes in shiny silver and beehives on The Marvellous Marvelettes; Mary Wells in an outrageous trouser suit for Two Lovers. Alongside these evolving looks, Motown adopted the typography of the era, becoming more florid through the decade, making their sleeves utterly arresting. As works of art they represented their era, from the cautious, don't-scare-anybody look of the early 60s, to the black-and-proud styles of '69.
When the hippie revolution supplanted the beat and mod music that had evolved since The Beatles arrived, Motown might have been expected to struggle. The songs held by the company's publishing arm, Jobete, had fed the British-led R&B and rock boom, from the Fabs covering "Money" to The Action singing "I'll Keep Holding On." But the advent of new stimulants shifted pop's emphasis from the body (dancing) to the brain (tripping), surely bad news for a label fixated on getting the kids to dance. But Motown not only adopted and absorbed the new psychedelic musical styles, taking them to undreamt-of places – the ghetto, for example – it did so before 1967's Summer Of Love.
Motown's songwriters and producers were as hip as anyone. If a petal fell from a flower in San Francisco in 1966, the vibrations were felt in Detroit. They were cool. They knew about marijuana – most of the Motown musicians had a grounding in jazz, which was a scene rife with drugs. They knew about the struggle with The Man better than any white student; they fought him every day. They didn't have to say it outright, they lived it.
Motown songs reflected the agonies of the mind and soul before this became de rigueur in rock: Four Tops' devastating "Seven Rooms Of Gloom" and the trippy nightmare of "Shake Me, Wake Me (When It's Over)"; little wonder they made such a good job of The Left Banke's mellow psych classic "Walk Away Renee" and Tim Hardin's "If I Were A Carpenter," while Mike Pinder of symphonic psych pioneers The Moody Blues would write "Simple Game" for them in '71.
Bobby Taylor And The Vancouvers confronted interracial and intergenerational problems in 1968's "Does Your Mama Know About Me" and dressed in their cool street clothes on their album sleeve. The Supremes cut the pulsing, supercool psych smash "Reflections" in '67, and the staccato guitar parts on the headrush that was their 1966 thriller "You Keep Me Hangin' On" were like pulsars from deep space. Motown's romantic late 60s couple, Marvin Gaye and Tammi Terrell, delivered plenty of love-is-where-it's-at tunes, among them the stunning pop-psych single "The Onion Song."
Biggest of all in Motown's psych era was Norman Whitfield's work producing The Temptations. The youthful dynamo took them to places they'd never dreamt of, a process that arguably started with 1966's "I Know I'm Losing You," progressed with 1967's bleak "I Wish It Would Rain," and exploded with 1968's "Cloud Nine"; the three records told a story, albeit inadvertently: romantic disaster leads to disillusion and an inability to face the world except through fantasy or drugs.
Whitfield led his charges to the "Psychedelic Shack" and into social commentary, such as the rejection of suburban values "Don't Let The Joneses Get You Down" and the tale of an out of control kid in "Runaway Child Running Wild." He'd also fashion the rather less desolate hippie values of "Everybody Needs Love" and "Friendship Train" for Gladys Knight And The Pips, and helped map Marvin Gaye's route to more serious music with "I Heard It Through The Grapevine." These records were as much part of late-60s psych-pop architecture as anything the Woodstock generation created.
What's coming on…
Motown's 60s represented the label's commercial peak. It had built from almost nothing to a recording empire. By 1969 the music business was changing, with an emphasis on the long-playing album, making soul music's obsession with singles looking a tad dated.
But as the 60s began to expire, Motown was in good shape. Norman Whitfield's work with The Temptations had proved that soul could shift to a more challenging sound and still sell records. The company, which had long released soul on different labels, such as Soul, Tamla, and Gordy, opened a new label in '69, Rare Earth, which would release rockier sounds, including a rock-funk band of the same name.
The wider company had an array of acts who were maturing into serious artists, such as Marvin Gaye, Gladys Knight And The Pips, and Stevie Wonder, who was now a young adult with a remarkable facility for composition. Further down the pecking order, the likes of R Dean Taylor, The Originals, The Spinners, and Jimmy Ruffin were making fabulous records, some of which did not get the attention they deserved at the time. Diana Ross was being lined up for solo stardom, which meant Motown getting two-hit acts from The Supremes, as the group continued with Jean Terrell in Diana Ross' place. The acquisition of the smaller Detroit label Golden World/Ric Tic resulted in the arrival of The Fantastic Four and, more importantly, Edwin Starr, who'd hit heavily in the early 70s.
And one further group signed to Motown at the end of the 60s: a group of kids from Gary, Indiana, a known entity in the music business who had yet to make an impact: Jackson 5. Motown threw all its weight behind them, including putting Diana Ross' name on their first album, as if she had discovered them (Bobby Taylor and Gladys Knight had done the most work to get them signed). They became a sensation with "I Want You Back," their 1969 debut for the label.
The 60s belonged to Motown, and the company's future looked assured.
Looking for more? Discover the best Motown songs of all time.