Best Blue Note Samples: 20 Tracks That Built Hip-Hop
Widely used by discerning crate-diggers and hip-hop heads, the best Blue Note samples have become part of the cultural fabric.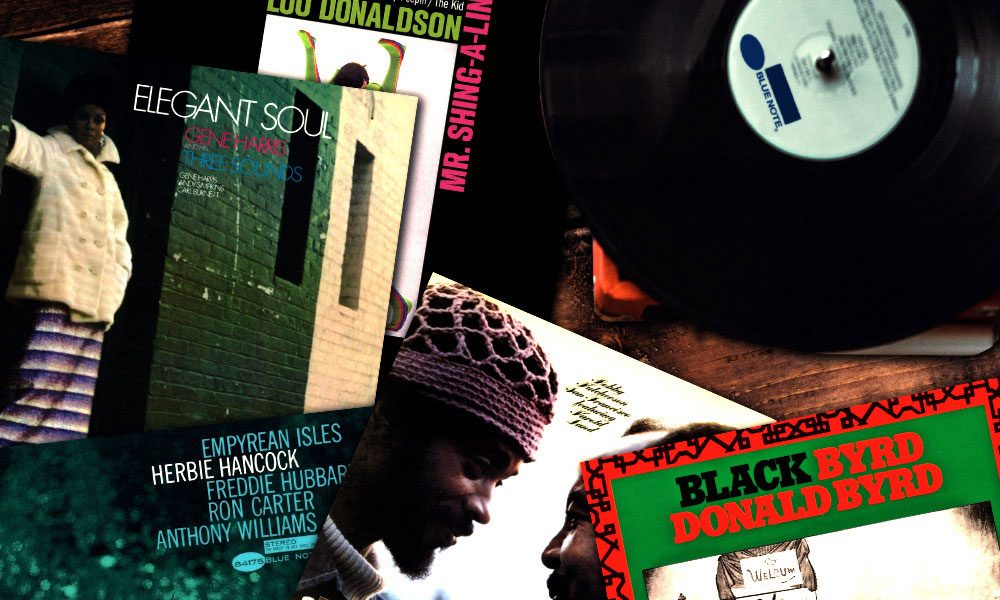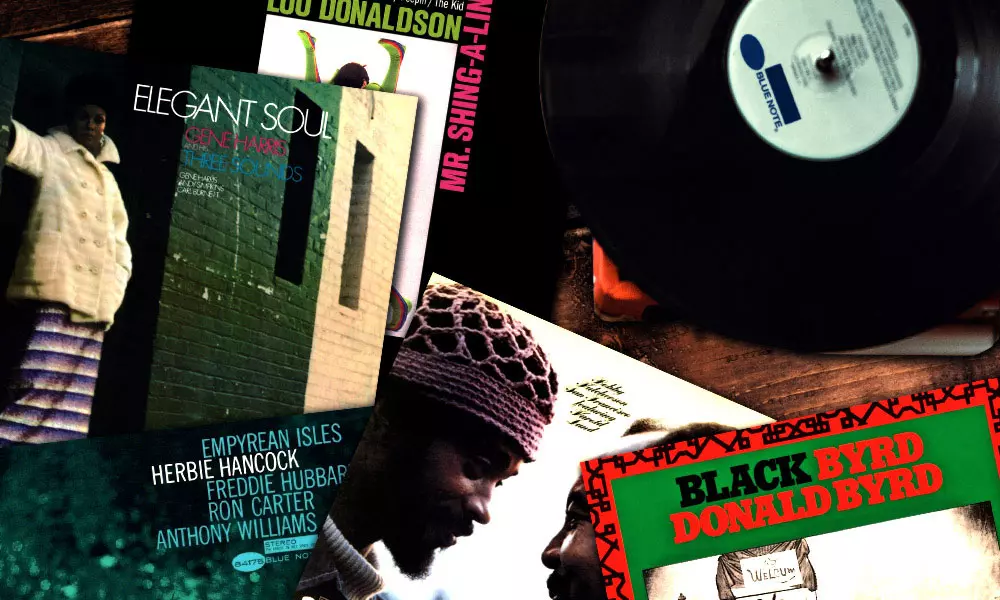 Emerging in the mid-70s and blooming spectacularly in the 80s, hip-hop has been built on sampling, with its producers seeking to inject some old-school grooves into their future-shaping tracks. The Godfather Of Soul, James Brown, was a bedrock of early hip-hop, but so too was the Blue Note catalogue. Some groups – most notably A Tribe Called Quest, one of hip-hop's biggest jazz-influenced acts – particularly liked some of the iconic jazz label's more overtly funk-influenced recordings of the late 60s and early 70s; their best Blue Note samples included deep grooves by guitarist Grant Green, keyboardist Ronnie Foster, flutist Bobbi Humphrey, singer Marlena Shaw, organist Lonnie Smith, and alto saxophone maestro Lou Donaldson.
Other acts to have found inspiration in the Blue Note discography include some of the biggest names in hip-hop's hallowed pantheon: Public Enemy, Dr Dre, De La Soul, 2Pac, Ice-T, Busta Rhymes, Ice Cube, and Beastie Boys.
In hip-hop's early days, sampling was a free-for-all, smash-and-grab situation. Blue Note, however, under the visionary stewardship of the late Bruce Lundvall – who was in charge of the label from 1984-2010 – led the way in legitimizing sampling by inviting London hip-hop group Us3 to access the label's catalogue. The result was their 1992 hit "Cantaloop (Flip Fantasia)," which was built on a sample of Herbie Hancock's classic track "Cantaloupe Island."
Today, artists such as J Cole, Kendrick Lamar, Flying Lotus, and Kanye West have continued to plunder the Blue Note vaults, ensuring that the best Blue Note samples remain key building blocks in hip-hop's evolution.
Listen to Blue Note's Most Sampled playlist now.
Herbie Hancock: Cantaloupe Island (1964)
London-based group Us3 were the first hip-hop act signed to Blue Note and scored a Top 10 US pop hit, "Cantaloop (Flip Fantasia)," in 1993, which famously reconfigured the most accessible cut from Hancock's fourth Blue Note album, Empyrean Isles. The group's debut album, Hand On The Torch, featured music that sampled a variety of classic Blue Note recordings.
In 2006, the Hancock original also formed the backbone for a European EDM track called "Blue Note Tribute" by Congaman. As for Herbie Hancock, the website whosampled.com lists him as the third most-sampled jazz musician of all time, which makes the pianist responsible for an astounding amount of the best Blue Note samples to appear on record.
Cantaloupe Island (Remastered 1999/Rudy Van Gelder Edition)
Grant Green: Down Here On The Ground (1970)
Never ones to let a good groove – and a vintage, funky jazz one at that – to go to waste, A Tribe Called Quest were so taken with guitarist Grant Green's live version of "Down Here On The Ground" (co-written by Argentine pianist Lalo Schifrin) that they sampled it on "Vibes And Stuff" from their 1991 LP, The Low End Theory. Green's version had appeared on his 1970 album Alive!, recorded at a venue called The Cliché Lounge in Newark, New Jersey.
Down Here On The Ground (Live At Cliche Lounge, Newark, NJ/1970/Digital Remaster/2007)
The guitarist's jazzed-up version of James Brown's "Ain't It Funky Now," along with "Cantaloupe Woman" and "Sookie Sookie," can also claim a place among the best Blue Note samples, while Green's music continues to find new ears. His 1971 cut "Maybe Tomorrow" was sampled by Kendrick Lamar in 2012 for the track "Sing About Me, I'm Dying Of Thirst."
Ronnie Foster: Mystic Brew (1972)
Given that, in the 70s, Blue Note turned from hard bop to jazz-funk, it's no surprise that the label's 70s discography has been sampled by myriad hip-hop acts. Keyboardist Ronnie Foster's "Mystic Brew," a mellow slow jam taken from his 1972 album Two Headed Freap, was famously repurposed by New York group A Tribe Called Quest for the track "Electric Relaxation" from their 1993 LP, Midnight Marauders. DJ/producer Madlib remixed the track, calling it "Mystic Bounce," on his 2003 Blue Note album Shades Of Blue. More recently, J Cole sampled it for the track "Forbidden Fruit," featuring Kendrick Lamar, on his 2013 album, Born Sinner.
Lou Donaldson: Ode To Billie Joe (1967)
Easily earning his place on the list of best Blue Note samples, this North Carolina-born alto saxophonist is apparently Blue Note's most sampled musician ever (at the last count, his work has been repurposed over 200 times). Donaldson was a leading exponent of soul jazz at Blue Note in the 60s, and his cover of the famous Bobbie Gentry hit from 1967 turned up on his album Mr. Shing-A-Ling later the same year. Kanye West sampled it for his track "Jesus Walks," which appeared on his 2004 debut album, The College Dropout. Eminem followed suit in 2013 (on "Bad Guy" from The Marshall Mathers LP 2) and, more recently, in 2015, Donaldson's greasy soul groove was part of the musical DNA of A$AP Rocky's cut "L$D," from the album At. Long. Last. A$AP. Other Donaldson tunes that jostle for attention among the best Blue Note samples include "Turtle Walk," "Who's Making Love," "Pot Belly," "The Caterpillar" and "Brother Soul." Those who have sampled his work include A Tribe Called Quest, Mary J Blige, Nas, Dr. Dre, De La Soul, and Pete Rock & CL Smooth.
Donald Byrd: Flight-Time (1972)
A noted hard bop trumpeter of the 50s and 60s, Byrd switched to fusion in the early 70s. His biggest album in that vein was 1972's Black Byrd, produced by Larry Mizell. From it came the laidback groove "Flight-Time," which was used by Public Enemy on the title track of their 1990 Def Jam LP, Fear Of A Black Planet. Four years later, Nas built another new track on "Flight-Time": "NY State Of Mind," from the Illmatic album.
Many other Byrd tunes have found their way into an Akai S900 sampler (the affordable bit of hardware that, in the 80s, changed music-making forever), including "Blackjack," "Stepping In Tomorrow," "Think Twice," "Wind Parade" and "Street Lady." Overall, his music has been sampled over 100 times.
Bobby Hutcherson: Ummh (1970)
An atmospheric mid-paced shuffle groove with a strong blues feel, "Ummh" was the killer cut from vibraphonist Hutcherson's 1970 Blue Note album, San Francisco, a collaboration with West Coast tenor saxophonist Harold Land. Ice Cube was the first rapper to sample the tune (on "Ghetto Bird," from his 1993 LP, Lethal Injection). "Ummh" also turned up as part of UK DJ/producer/remixer Photek's "The Rain" and Madonna's "Bedtime Story," both recorded in 1994. Hutcherson's "Goin' Down South" – which also appeared on the San Francisco LP – was used by Us3 as the basis of their track "Lazy Day."
The Three Sounds: Repeat After Me (1969)
This Michigan trio, with Gene Harris on piano, came to epitomize finger-clicking soul jazz in the 50s and 60s. A strutting blues-based cut dominated by Harris' prominent piano, "Repeat After Me" was first sampled by US/Canadian hip-hop trio Main Source for their 1991 cut "Vamos A Rapiar," which appeared on their debut LP, Breaking Atoms. The same Three Sounds track – which originally featured on their 1969 LP, Soul Symphony – ended up inspiring The Coup's "Kill My Landlord" a year later. In 2002, UK jazz-based hip-hop duo The Herbaliser utilized the same sample on "The Turnaround."
Reuben Wilson: We're In Love (1971)
This soul-jazz organ grinder from Mounds, Oklahoma, was one of many Hammond heroes on Blue Note's roster in the 50s, 60s, and 70s. Between 1968 and '71, Wilson cut five albums for the label, and "We're In Love" came from his Blue Note swansong, Set Us Free. A dreamy ballad laced with electric sitar, percussion and vocals, it caught the ears of Nas in 1994, who used it on his urban meditation "Memory Lane (Sittin' In Da Park)." Wilson's original was actually first sampled two years earlier by Scientifik ("I Ain't The Damn One") and, more recently, in 2011, was utilized by Ace Hood on "Forgiv'n." In 2018, the rapper Problem sampled it for his track "Stressin'." Wilson's Blue Note songs "Orange Peel" and "Stormy" also qualify for honorable mention among the best Blue Note samples.
Duke Pearson: Ground Hog (1969)
Pearson's jaunty blues tune, recorded in 1968 for his Blue Note LP Introducing Duke Pearson's Big Band, inspired the "DAISY Age" trio De La Soul's "Long Island Wildin'," featuring Japanese hip-hop artists Scha Dara Parr and Takagi Kan. The track appeared on their 1993 LP, Buhloone Mindstate, and their use of a hard-to-find Duke Pearson extract soon had crate-diggers looking through their Blue Note collections for similar sample fodder.
Jeremy Steig: Howlin' For Judy (1969)
Originally released on the short-lived Solid State label, which in 1970 became part of the Blue Note catalogue, "Howlin' For Judy" came from the Manhattan flutist's fifth LP, Legwork. Steig's wild jazz groove is dominated by intertwining overdubbed flutes and was famously used by Beastie Boys on "Sure Shot" in 1994, though a year earlier DJ Shadow And The Groove Robbers had sampled it on their single "In/Flux." Clockwork Voodoo Freaks (aka The Mexican) also filched it for a track called "Deaf Mick's Throwdown" in 1997.
Ronnie Laws: Tidal Wave (1975)
Beginning as a mellow jam on which tenor sax, electric piano, and astral synths interlock, "Tidal Wave" quickly grows in emotional intensity. The track came from Laws' classic breakthrough debut album, Pressure Sensitive. Those who admired it enough to sample it included Black Moon ("Who Got Da Props," 1993), Quasimoto ("Return Of The Loop Digga," 2000), and Young Lean ("Princess Daisy," 2013).
Eddie Henderson: The Kumquat Kids (1975)
Jazz-fusion trumpeter Henderson (who's also a qualified psychiatrist) made two albums for Blue Note in the mid-70s, the first of which was Sunburst, which contained the super-funky "The Kumquat Kids," distinguished by a squelchy synth bass. It was sampled by British electronica duo Hexstatic on their infectious dance tune "Kids Can Dance," in 2000. Henderson's "Inside You" (from his second Blue Note album, Heritage) also features among the best Blue Note samples, thanks to its use by Jay Z on 1996's "Coming Of Age" and Souls Of Mischief's 1993 cut "Tell Me Who Profits."
Gene Harris And The Three Sounds: Book Of Slim (1968)
A jaunty but graceful tune written and arranged by the estimable Arkansas saxophonist Monk Higgins, "Book Of Slim" came from the album Elegant Soul, attributed to Gene Harris And The Three Sounds (it was the first time that Harris' name received separate billing from the rest of the group). Rapper Guru (one half of Gang Starr) sampled it in 1993 on "Take A Look (At Yourself)," which featured vibes maestro Roy Ayers. Blackalicious ("Lyric Fathom") and The Herbaliser ("Intro") also borrowed it in 1994 and 1999, respectively. Madlib remixed the track on Shades Of Blue, calling it "Slim's Return."
Stanley Turrentine: Sunny (1966)
Noted for his robust tenor saxophone sound, Pittsburgh soul-jazz maven Turrentine has been much-sampled by the hip-hop generation. In 2016 a snippet from his soulful rendition of Bobby Hebb's immortal tune, "Sunny," found its way on to "Foreplay" by California-based MC Jalen Santoy, and, a year later, inspired "Sunny Nights" by young Dallas rapper LeRoyce. J Dilla, J Cole, and Ice Cube are among those who have also sampled Turrentine's music.
Jimmy McGriff: The Worm (1968)
A Blue Note acquisition from the Solid State catalogue, "The Worm" is an infectious slice of soul jazz that was the title track of the Philadelphia organist's 15th LP, featuring trumpeter Blue Mitchell. It's been sampled over 100 times, most notably by the UK dance act The Chemical Brothers (on "Chemical Beats" and "Delek"), Norwegian electro duo Röyksopp ("Remind Me") and Ghostface Killah (on the 2007 Marky & Bungle remix of "Back Like That").
Marlena Shaw: Woman Of The Ghetto (1973)
Only the third singer signed to Blue Note, and the first to record more than one album for the label, Marlena Shaw had recorded a studio version of the anthemic "Woman Of The Ghetto," which she co-wrote, for her 1969 Cadet album The Spice Of Life. But it's her live version for Blue Note (from the Live At Montreux LP) that's seen the most action, sample-wise. UK dance act Blue Boy took a vocal sample from it to create "Remember Me" in 1997; in 2000, French producer St Germain used it on the track "Rose Rouge," taken from his Blue Note album, Tourist. It was also used in 2012 by UK singer-songwriter Daley, who sampled Blue Boy's Shaw sample on his song "Remember Me," featuring Jessie J.
Woman Of The Ghetto (Live From The Montreux Jazz Festival,Switzerland/1973)
Big John Patton: Alfie's Theme (1968)
Patton's rip-roaring soul jazz organ trio take on Sony Rollins' memorable theme to the 1966 Alfie movie (starring Michael Caine as an endearing love rat) appeared on his eighth Blue Note album, Understanding, released in 1968. London hip-hop act Us3 used a segment of the track for their song "It's Like That," released on Blue Note in 1993. Though he's one of Blue Note's least sampled artists, Patton's tasty version of The Meters' "Cissy Strut" has also been used by Polish rapper OSTR.
Blue Mitchell: Good Humor Man (1968)
Florida horn-blower Blue Mitchell couldn't read music and played trumpet entirely by ear. Rising to fame with The Horace Silver Quintet in the early 60s, he began to make albums under his own name for Blue Note. "Good Humor Man," sampled by the UMCs in 1991 ("One To Grow On"), and Bloodhound Gang in 1995 ("Mama Say"), was taken from a big-band album Mitchell recorded called Heads Up! Another one of Mitchell's Blue Note tunes, "Flat Backing," recorded in 1969, is also worth mentioning as one of the best Blue Note samples, thanks to its use by several hip-hop artists, among them Del The Funky Homosapien.
Lonnie Smith: Spinning Wheel (1970)
A Tribe Called Quest certainly felt that "Spinning Wheel" was one of the best Blue Note samples the label had to offer: they liked this organ-led soul-jazz retread of Blood, Sweat & Tears' 1970 pop-rock hit so much that they used it twice – first in 1990, on their hit "Can I Kick It?," taken from their debut LP, People's Instinctive Travels And The Paths Of Rhythm, and then again in 1991 on "Buggin' Out," from The Low End Theory. Smith's Blue Note version of "Spinning Wheel'" also inspired Wu-Tang Clan's "Wu Tang: 7th Chamber," which appeared on that group's 1993 debut album, Enter The Wu-Tang (36 Chambers). Lonnie Smith's music has also been sampled by Nightmares On Wax, Da Youngsta's, and Kase.O.
Spinning Wheel (Remastered)
Bobbi Humphrey: Harlem River Drive (1973)
A classic slice of flute-led jazz-funk produced by the influential Larry Mizell, this cut has been sampled numerous times, most famously, perhaps, by DJ Jazzy Jeff And The Fresh Prince in a 1987 sample collage called "Touch Of Jazz." Others who have lifted it include Common (1992's "Just In The Nick Of Rhyme"), Young MC (the following year's "Back In The Day") and, in more recent times, KD ("Ride Around Town"). Other Humphrey Blue Note recordings that found their way into a sampler include "Blacks And Blues," "Jasper Country Man," "My Little Girl," "Smiling Faces Sometimes" and "San Francisco Lights," the latter used by Flying Lotus on his 2012 track "Until The Colours Come." Humphrey has also been sampled by Eric B & Rakim, Ludacris, Ice-T, and Digable Planets.
Follow the Blue Note's Jazz Meets Hip-Hop playlist for more essential Blue Note.