Best Common Songs: 20 Conscious-Raising Tracks From Hip-Hop's Poet Laureate
Poetic and provocative, Common rose from underground hip-hop to become the music's fiercest custodian. The best Common songs reveal how.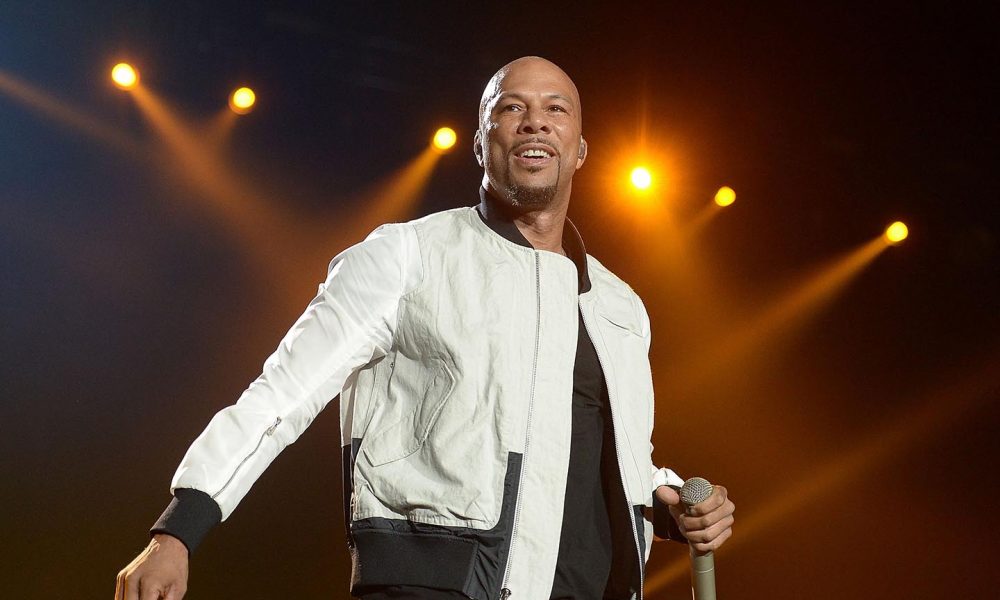 Common is one of the most renowned MCs in the history of hip-hop, helping to put Chicago on the map, as the East and West coasts were still duking it out. Since the young South Side rapper released his stellar debut, Can I Borrow A Dollar?, in 1992, the man born Lonnie Corant Jaman Shuka Rashid Lynn, has curated an immense discography of experimental, uplifting albums and a plethora of head-nodding, thought-provoking singles that makes the best Common songs essential for hip-hop heads everywhere.
Garnering critical acclaim, Common has received an Emmy, a Grammy, and an Oscar for his songwriting acumen – a rare feat, and a testament to his evolution as an artist. Though he has transitioned into becoming a successful actor, activist, and author, at his core, Common is still the remarkable lyricist from the Windy City.
Listen to the best Common songs on Apple Music and Spotify.
20: One-Nine-Nine-Nine (featuring Talib Kweli and Sadat X)
Off the Rawkus Records compilation Soundbombing II, "One-Nine-Nine-Nine" features an intro by Talib Kweli, a guest verse by Sadat X, and soulful production from Hi-Tek. During this time, Common was affiliated with the underground spirit of Rawkus. Of his many collaborations with Rawkus artists, "One-Nine-Nine-Nine" is essential vintage Common, with the MC showing his bite on the mic: "Check it, it's like I'm fightin' for freedom/Writing for freedom/These record company ni__as, I don't like when I see em/My ancestors, when I'm writin' I see em and talk wit' em/Hopin' in the promised land I can walk wit' em."
Common & Sadat X feat. Talib Kweli "1999"
19: Ghetto Dreams (featuring Nas)
It took almost 30 years for two of the most heralded MCs, Common, and Nas, to get on a track together. The first single off Common's ninth album, The Dreamer/The Believer, "Ghetto Dreams" channels a 90s, boom-bap sound with No ID helming the scorching-hot production. Riding a sample of The Fellows' "Let's Make It Last," both lyricists reflect on growing up in their respective hoods and how dreams can come true even against insurmountable odds. Without question, "Ghetto Dreams" is a legendary duet by two hip-hop titans.
Common - Ghetto Dreams ft. Nas
18: Take It EZ
As the first single from his debut album, Can I Borrow a Dollar?, "Take It EZ" was Common's (then known as Common Sense) introduction to the world. He almost single-handedly put Chicago on the map as an emerging space for underground hip-hop. Produced by No ID, "Take It EZ" was a foreshadowing of the greatness that lay behind the best Common songs.
17: Universal Mind Control (featuring Pharrell Williams)
Inspired by the classic "Planet Rock" by Afrika Bambaataa, "Universal Mind Control" saw the socially-minded MC explore his more hedonistic side. Produced by The Neptunes and featuring Pharrell Williams on the chorus, the track finds Common departing from the soul-sample influence of his previous albums to a more dance-driven sound that demonstrates his versatility. It became his second highest-charting single in the US and peaked at No.62 on the Billboard Hot 100.
Common - Universal Mind Control (UMC)
16: Come Close (featuring Mary J Blige)
Amid the boundary-pushing ethos of Common's 2002 album, Electric Circus, "Come Close" was the sole radio single. As unabashed rap-ballad and R&B crossover cut that enlists the Queen Of Hip-Hop Soul, Mary J Blige, on the chorus, "Come Close" revealed Common's sensitive side and even served as a marriage proposal to his then-girlfriend, Erykah Badu.
Common - Come Close (Official Music Video) ft. Mary J. Blige
15: They Say (featuring Kanye West and John Legend)
A stunning number from BE, "They Say" is a jamming collaboration between Common, fellow Windy City native Kanye West and John Legend. A triumphant rejoinder to all the haters, "They Say" is aspirational and inspirational. Of Common and Kanye's many collaborations, the track captures the unique chemistry of two veterans who changed the game.
14: Letter To The Free (featuring Bilal)
After penning the Oscar-winning track "Glory" for Ava DuVernay's triumphant film Selma, Common and the director teamed up once again on her powerful documentary 13th, where the MC delivered this passionate, politically charged song for the soundtrack. Tackling the mass incarceration of African Americans, Common continues the rich legacy of African-American protest music. Produced by Karriem Riggins and Robert Glasper, with Bilal's signature falsetto on the hook, "Letter To The Free" won Common an Emmy, making him the only hip-hop artist just shy of entering the EGOT Winners' Circle.
Common - Letter To The Free ft. Bilal
13: The Bizness (De La Soul, featuring Common)
If the Native Tongues collective have musical descendants, Common would be among them. So when legendary group De La Soul tapped him for a guest spot on "The Bizness," it was a full-circle moment. On "The Bizness," the MCs take aim at whack rappers and materialism in hip-hop and push the culture forward with their artistry. Appearing on "The Bizness" with the De La Soul solidified Common as a force to be reckoned with.
12: Act Too (The Love Of My Life) (The Roots, featuring Common)
From The Roots' seminal album Things Fall Apart, "Act Too (The Love Of My Life)," sees Common pick up from where he left off on his 1994 classic, "I Used To Love HER." Trading bars with another elite MC, Black Thought, Common levels a critique at the sorry state of hip-hop, once again oversaturated with materialism and lacking in creativity.
Act Too (The Love Of My Life)
11: Testify
A gripping tale of crime and betrayal, "Testify" displays Common's dexterous storytelling skills. Built around a genius vocal loop from Honey Cone's "Innocent Til Proven Guilty" (courtesy of Kanye), "Testify" is a story of heartbreak and betrayal set to a 70s soul groove. Accompanied by a high-concept video starring Taraji. P Henson, the single was nominated for Best Rap Solo Performance at the 48th Grammy Awards.
10: Respiration (Black Star, featuring Common)
The Holy Trinity of the late 90s underground rap scene, Mos Def, Talib Kweli, and Common joined forces on this classic from Mos Def And Talib Kweli Are Black Star. On the six-minute track, each MC takes a turn painting a vivid picture of the harsh realities of urban life, representing the pinnacle of high-level lyricism.
Blackstar - Respiration ft. Common
9 Go! (featuring John Mayer)
Featuring percussion by Num Amuntehu and scratches by A-Trak, "Go!" explores Common's sensual side, applying his narrative skills to intimate entanglements. With Kanye on the boards and John Meyer on backing vocals, the track side-steps clichés and works just as well if you're bumping it after hours or on a long drive.
8: Retrospect For Life (featuring Lauryn Hill)
In hip-hop's testosterone-driven world, vulnerability is not always a valued asset, but for Common it's just another avenue to explore. There's hardly a topic he won't touch, from street hustling to gun violence and, in this case, abortion. Ever insightful and profound, Common gets introspective as he struggles with the moral dilemma of an unwanted pregnancy. With Lauryn Hill on the hook, the honest and raw emotions of this 1997 single still resonate.
Common - Retrospect For Life (Official Video) ft. Lauryn Hill
7: Love Of My Life (An Ode To Hip Hop) (Erykah Badu, featuring Common)
By 2002, Common and Erykah Badu were a hip-hop power couple, but their relationship went further back, to when Badu jumped on his 1997 track "All Night Long." The two would link up again on this Top 10 hit. Released on the Brown Sugar soundtrack, "Love Of My Life" is another love letter to hip-hop, one of Common's favorite lyrical themes; it earned him his first Grammy, for Best R&B Song.
Erykah Badu - Love Of My Life (An Ode To Hip Hop) ft. Common
6: Resurrection
The title track to his breakout album, "Resurrection" marked the end of Common Sense and the beginning of Common. "I stagger in the gatherin' possessed by a patter-in/That be scatterin'/Over the global, my vocals be travelin', unravelin' my abdomen/It's slime that's babbling' grammatics that are masculine," he flows over a jazz instrumental. It not only set the tone for the album, but set a new phase of Common's career in motion.
Common - Resurrection (Official Video)
5: The People (featuring Dwele)
Coming on the heels of the widely acclaimed BE, Common came back harder than ever with his stunning track "The People," the first single from his sixth album, Finding Forever. Common and Kanye's chemistry is undeniable as the duo from Chicago cooked up another gem. Kanye took the opportunity to pay tribute to the late, great J Dilla, who had just passed a year earlier. For a rapper who prided himself on being a man of the people, the single served as a reminder of Common's true place in hip-hop.
4: The 6th Sense (featuring Bilal)
Opening the song with Gil Scott-Heron's famous phrase "The revolution will not be televised," Common asserts himself and his new musical direction on "The Sixth Sense." Masterfully produced by DJ Premier, and the only song on Like Water For Chocolate not produced by a member of The Soulquarians, Common addresses a range of topics, including Afrocentricity, shifts in hip-hop culture, and a plethora of social ills. As the album's first single, "The Sixth Sense" chronicled the continual ascension of Common as one of the best MCs in the game.
Common - The 6th Sense ft. Bilal
3: The Corner (featuring Kanye West and The Last Poets)
If anyone thought that Common was a little too eclectic on Electric Circus, Common brought it back to the streets with "The Corner." Kanye adroitly samples "You Make The Sun Shine" by The Temprees and "What It Is" by The Temptations for a hard-hitting track that feels like a Chicago winter on the South Side. The gritty sound and detailed narratives of "The Corner" marked a return to Common's Resurrection days, something that hardcore Common fans were longing for. With the addition of The Last Poets, Common pays tribute to the past while embarking on a new future for hip-hop.
2: The Light
With J Dilla on production, a chopped Bobby Caldwell sample of "Open Your Eyes" was perfect for Common to create his biggest hit as a lead artist. Passionately sharing his love for Erykah Badu, who also makes a cameo in the video, "The Light" encapsulates everything The Soulquarians were all about. Without compromising his artistic integrity, "The Light" was Common's first taste of mainstream success and he accomplished it by being his authentic self, rapping about love.
Common - The Light (Official Music Video)
1: I Used To Love HER
Arguably one of the best songs in hip-hop history, "I Used To Love HER" finds Common personifying hip-hop in order to craft a song to the music he once loved, lamenting how the genre became too commercialized due to a mass influx of mainstream rap in the 90s. Produced by No ID, using a sample of George Benson's "The Changing World," the sonic landscape was perfectly laid out for Common's innovative storytelling. More than two decades later, "I Used To Love HER" remains one the most significant moments in hip-hop: a classic in every sense of the word.
Common - I Used to Love H.E.R. (Official Video)
Think we've missed one of the best Common songs? Let us know in the comments section below.