The Game
Embracing the street life, which involved selling drugs and gang culture, after being expelled from college, it was a near-fatal night in 2001 that planted the seed in The Game's head to become a rapper.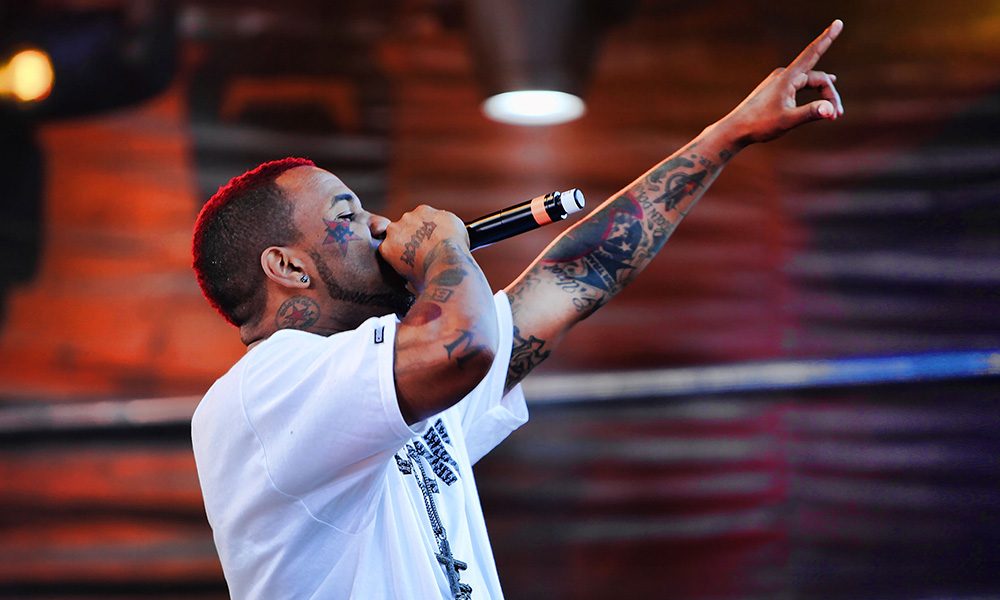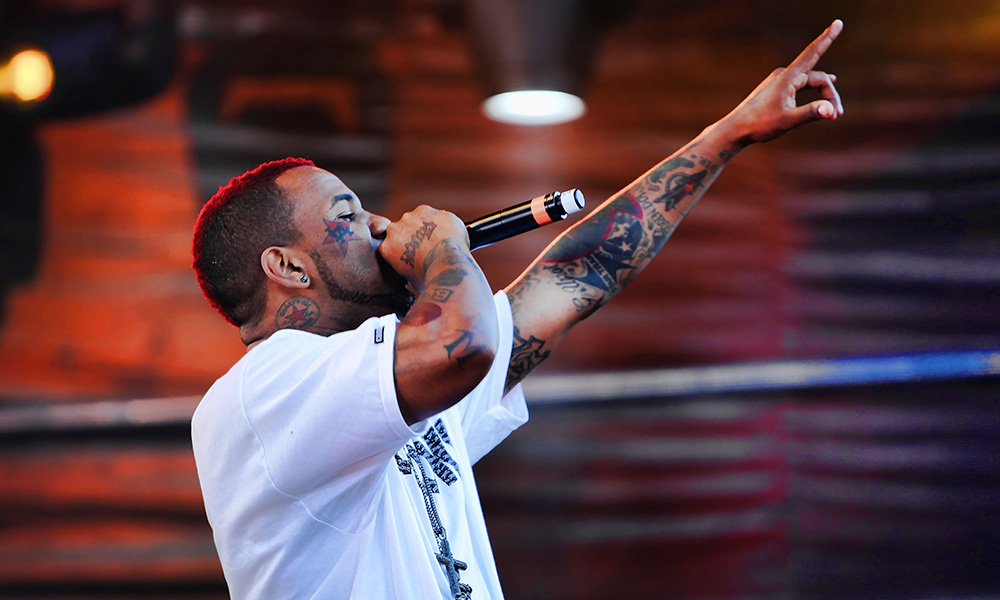 Embracing the street life, which involved selling drugs and gang culture, after being expelled from college, it was a near-fatal night in 2001 that planted the seed in The Game's head to become a rapper. The victim of a home invasion spanning from a drug deal gone wrong, The Game was shot five times and left in a three-day coma. Whilst recovering in hospital, he asked his brother, Big Fase, to go out and buy as many classic rap albums as he could find. Studying albums like Snoop Dogg's Doggystyle and Jay Z's Reasonable Doubt, over the course of five months The Game developed a strategy to turn himself into a rapper. Dropping his first tape, You Know What It Is Vol.1, in 2001, he inked a deal with JT The Bigga Figga's Get Low Recordz.
After hearing the tape, along with a few freestyles and radio appearances, Dr. Dre signed The Game to Aftermath Entertainment in 2003 – apparently Dre beat off some stiff competition from an interested Diddy to have The Game sign on the dotted line. Appearing a good fit being that The Game was obviously inspired by N.W.A – his debut album was originally set to be titled Nigga Wit' An Attitude Volume 1 but was changed at the request of Eazy E's widow – The Game didn't blow up as quickly as perhaps he'd like to have done. Not really garnering the buzz the label had expected from him, Dr. Dre, along with Interscope head Jimmy Iovine, decided to have The Game work with 50 Cent, who at the time was rapidly becoming the biggest rapper on the planet.
Watching and learning the movements of a rapper on the rise, The Game made his first commercial appearance in the video for 50 Cent's smash hit single 'In Da Club'. Going on to appear in videos by Lloyd Banks and Young Buck, as well as featuring on cuts such as 'When The Chips Are Down', taken from Banks' Hunger For More album, and 'Stomp', taken from Young Buck's Straight Outta Cashville, The Game spent the next two years creating a buzz and prepping the release of his debut album The Documentary.
Released in January of 2005, Dr. Dre and 50 Cent executive produced album hit the streets hard. Introducing fans to his namedropping intricacies, something he would later be criticised for, and his simplistic yet relatable lyrical content that educated listeners on everyday life in the hood, The Game became an overnight success story. Featuring the likes of Faith Evans, Marsha Ambrosius, Nate Dogg, Busta Rhymes, and Mary J. Blige, the album covered many different sounds, styles, and genres. One minute you were thrust into a mid-tempo and very haunting banger like the Eminem featured 'We Ain't', and the next you were witness to smooth offerings like 'Dreams' and the underdog tale of rags to riches 'Hate It Or Love It', which heard producers Cool & Dre team with Dr. Dre to create a commercially slick record featuring 50 Cent that the streets were happy to endorse. Unleashing the hits 'How We Do', 'Put You On The Game' and 'Westside Story', and selling over five million copies worldwide, The Game, riding the success of the G-Unit wave, proved he had the metal to be a star on his own.
Not since Snoop Dogg had the west coast had a rapper that they could call their own on such a mainstream platform. Screaming west side at every opportunity and constantly referencing gang culture – The Game was a member of the Bloods – he reintroduced the gritty bass-heavy type of rap that told stories of corner store stick ups and drive-by shootings. Channelling a new-age N.W.A, The Game further validated the street credibility of G-Unit thanks to his audio tales that depicted the struggle of where he came from. However, friends were to become enemies, and a nasty break up with 50 and the Unit would leave The Game riding solo. With his back against the wall, his survival instincts took over and he found strengths he didn't think he had.
Booted out of the G-Unit clique due to his reluctance to beef with any and every enemy of the G-Unit general's, freestyles and mixtapes were spawned in amazing amounts from both sides, and every time a truce seemed possible, things fell apart at the last minute. With The Game starting a "G-Unot" campaign, which included t-shirts being sold with his former mentor's label logo crossed out, lyrical exchanges were not pretty. Dr. Dre appeared to be stuck in the middle of it all, and while he never publicly denounced The Game, he seemed to take sides with 50 and passed on working with the rapper for his next effort.
50 wasn't the only rapper that The Game had a problem with. Making a career out of bullying rappers on wax – and later in the flesh when he not only knocked out rapper Rass Kass, he fought, filmed and humiliated former G-Unit affiliate 40 Glocc – The Game's most prolific altercations on record include an ongoing feud with Jay Z, which the Brooklyn rapper didn't ever really entertain, and Slaughterhouse's Joe Budden. The Game and Budden would go back and forth like a yo-yo. Starting after a line Joe Budden spat on a DJ Clue freestyle – "He should be in the G-Unit video with all the gangster actors." – like a dog with a bone, The Game couldn't let it go. After various shots and a few years, allowing it all to be swept under the carpet, eventually, the two settled their differences.
Despite Dre's absence and leaving Aftermath, The Game's sophomore release kept its original title of Doctor's Advocate when it was dropped in late 2006. Released on Geffen Records, it featured the hits 'It's Okay (One Blood)' – a reggae-tinged smash with a City Of God feel to it – and the key-happy Scott Storch produced 'Let's Ride'. Proving he could do it alone, the album sold three million copies worldwide. His follow-up release, 2008's L.A.X., was The Game's least successful album sales-wise. However, critically not falling off the album received favourable reviews, thanks in part to both the tracks 'My Life', with Lil Wayne, and 'Game's Pain', with Keyshia Cole.
After periods of retirement talk, The Game had a change of heart and began recording The R.E.D. Album. After several delays and the release of numerous promotional singles, the album hit stores in August 2011. Still namedropping, his fan base proved loyal and his career continued strongly.
With that said, probably his finest work since his debut dropped in 2005, Jesus Piece (2012) landed with a long guest list including Rick Ross, Lil Wayne, 2 Chainz, and Kendrick Lamar, and it stunned fans of hardcore rap thanks to its stellar verses, crisp production that ventured all over the sound scale, and the lack of commercially watered-down singles. A conceptual album that explored both the divine and the devilish, and how the rapper attended church as often as strip clubs, The Game's fifth album played like Michael Jordan in the fourth quarter of a championship game; he delivered… and then some.
Words: Will "ill Will" Lavin
Format:
UK English