Rick Ross
The Florida rapper is one of the biggest names in music, with a blockbuster career and critically acclaimed albums.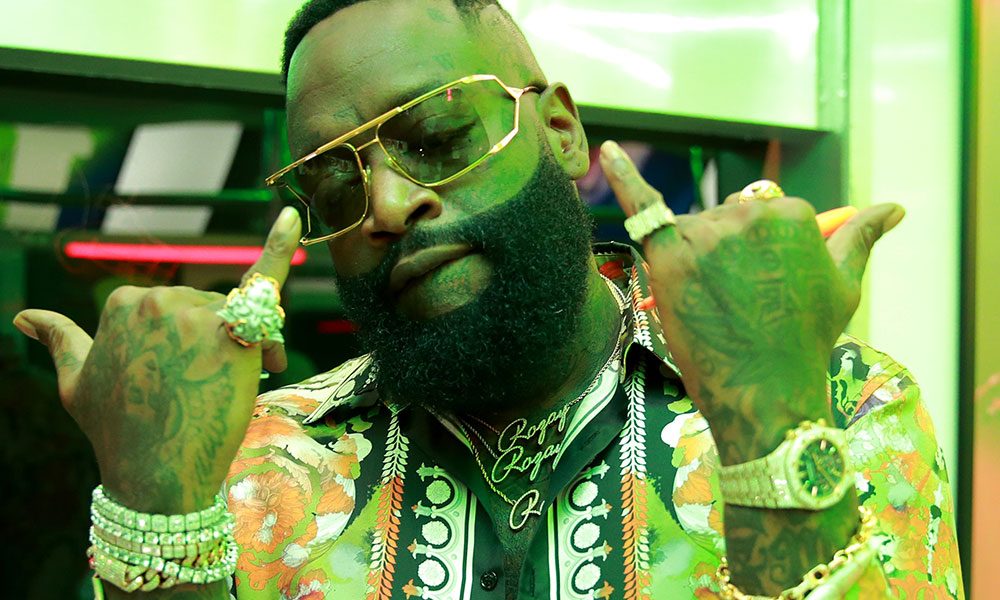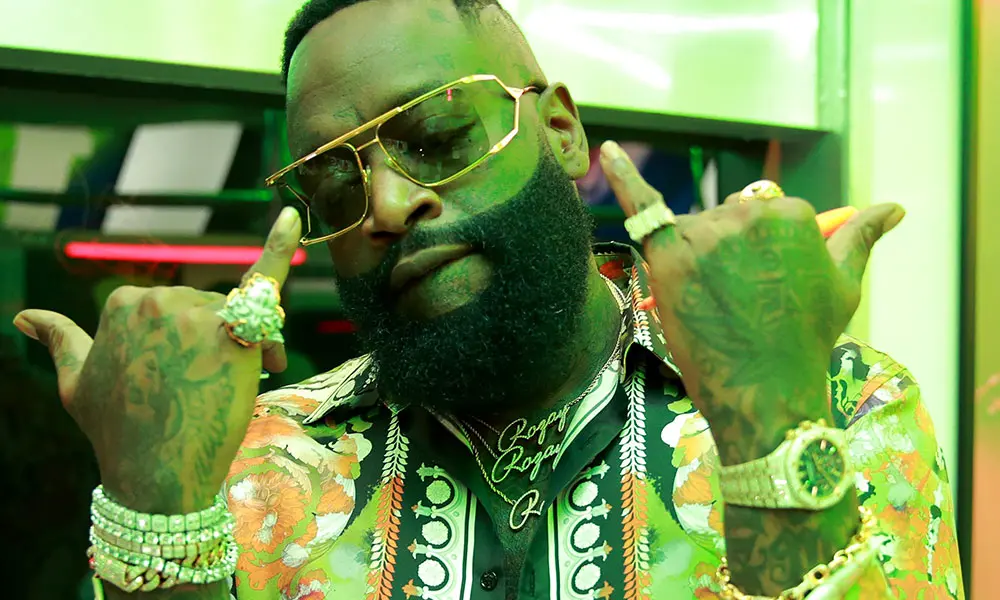 Standing six-foot tall, weighing in the region of 300 pounds, and tattooed from head to toe, Miami rapper Rick Ross (aka Ricky Rozay) is quite literally a rap giant. Influenced by the likes of the Notorious B.I.G. and Uncle Luke, 2006 saw Rozay go from minor league local artist to international superstar after the release of the drug dealing anthem 'Hustlin". Signed to Def Jam, Rick Ross in 2009 formed the label Maybach Music Group (MMG). Now considered one of the most popular cliques in Hip Hop, the trademark "Maybach Music" announcement made by a woman at the start of most of the crew's recordings is often associated with quality rap music. After selling hundreds of thousands of records and hitting the top spot on Billboard more than most, Rick Ross hustled his way into Hip Hop and it doesn't look like he'll be moving out anytime soon.
Rick Ross, real name William Roberts II, grew up in Carol City, Florida, an impoverished northern suburb of Miami. Forming the rap group Carol City Cartel (later known as the Triple C's), Ross began rapping towards the end of the 90s. Starting out with a brief stint at Suave House Records, former label of southern legends Eightball & MJG, he ended up on Miami-based Slip-n-Slide Records. Slowly but surely Ross began making his way up the rap ladder. Waiting in the wings for his time to rhyme, Rozay learnt a lot whilst housed at Slip-n-Slide. As a label, they were moderately successful thanks to Trick Daddy, known in the world of rap as the Mayor of Miami, and stripper-turned-rapper Trina. Not releasing any material of his own until a joint venture between Slip-n-Slide and Def Jam took place, Ross did pop up on three cuts from Trick Daddy's Thug Holiday album while also appearing on four of Trina's five albums.
At a time when Atlanta and Houston's artists were establishing their cities as Southern strongholds during the mid-00s – Mike Jones, Ludacris, Chamillionaire, and Paul Wall were all dominating commercial radio – Ross aimed at putting Miami back in rap's national spotlight. Releasing 'Hustlin" in June of 2006, it caught the ear of a few executives within the industry. A bidding war ensued, which included offers from Bad Boy CEO Sean "Diddy" Combs and The Inc. (formerly Murder Inc.) president Irv Gotti. Regardless of such high-profile interests, Rozay opted to sign with Def Jam after Jay Z, who at the time was president of the label, offered him a multi-million dollar deal. Helping Ross to push 'Hustlin" nationally, the record went on to sell over 5.6 million copies which saw the RIAA certify it 5x platinum.
Following the success of 'Hustlin", Rick Ross released his debut album, Port Of Miami, the same year. With the help of Miami-based songwriting/production team The Monsters & The Strangerz, it went on to sell over 500,000 copies. In many circles, the album is regarded as one of the best from the "coke rap" sub-genre. Also featuring the Scarface inspired 'Push It To The Limit', the album further promotes rap's obsession with the drug game. With his second album doing the same, Trilla appeared to have a bit more direction in the creative department. Critically received better than its predecessor, the album featured production from big names such as Mannie Fresh and DJ Khaled, as well as up-and-comers the J.U.S.T.I.C.E. League, and it also saw the likes of R. Kelly, Trey Songz, Jay Z, and Lil Wayne all add their vocals to it.
With fame, controversy can sometimes follow. Taking his stage name from Los Angeles drug kingpin "Freeway" Rick Ross, who once ran one of the largest crack cocaine distribution networks in America during the '80s and '90s, Rick Ross ran into a few complications. Not seeing the name association as a way of paying homage, the once successful kingpin sued the rapper for using his name. Filing a copyright infringement lawsuit, the reformed criminal set out to collect $10 million for the unlawful use of his name and character similarities. Eventually thrown out in 2010, Ross responded by saying, "It's like owning a restaurant, you're gonna have a few slips and falls. You get lawsuits, you deal with them and get them out your way."
Another controversy that many actually thought might be the end of the rapper's career, due to his opponent's track record of killing careers, involved beef-heavyweight 50 Cent. Apparently started because of a sideways look 50 gave Ross at an award show, various records went back and forth between the two rappers, but it was 50's mocking of the Smoking Gun revelation that Ross used to work as a correctional facilities officer that lit up blog pages like the 4th of July. Lyrically claiming to be a hardened criminal with multiple tales of both drug dealing and gunplay, Ross' credibility appeared tarnished because of 50's dog-with-a-bone attitude to demolishing rap careers. However, somehow making it to the light at the end of the tunnel, Ross handed 50 his first loss and became a bigger star for it.
Around the time Ross released his third album, Deeper Than Rap, he also formed his own label Maybach Music Group. Beginning with himself, the Triple C's and Masspike Miles, the label went on to sign Meek Mill, Wale, Stalley, DJ Scream, Rockie Fresh, Gunplay, Teedra Moses, and former B2K frontman Omarion. With an arsenal of talent, Ross had his sights set on success. Already signed to Diddy's management company Ciroc Entertainment, his affiliations were piling up.
Always seen with the likes of Lil Wayne and Baby (aka Birdman), whom he recorded a bunch of tracks within 2008 under the moniker The H – the resulting project, The Lost Tapes Vol.1, was made available for free earlier this year – also DJ Khaled, French Montana, and Drake, if marketing oneself in the world of rap had an award, Rick Ross would be the yearly unchallenged recipient.
Besides releasing the Maybach Music Self Made compilations, Ross went on to release two more solo projects, Teflon Don and God Forgives, I Don't. The latter of the two is often viewed as the Miami rapper's finest effort to date. With features from Mary J. Blige, Andre 3000, and many of his Maybach Music family, the tuned-in youth of today listened in with attentive ears while embracing their inner tough guy. While sometimes a tad bit unnerving being that Ross embraces drug culture and gun crime, not since Death Row Records in the mid-'90s or Rocafella in the early '00s had there been a rapper or clique that captured the hearts and minds of the youth the way Rick Ross and MMG did. Everything needs a soundtrack, and by painting audio hood movies, Rozay gives those in unfortunate situations something to inspire them, while also fulfilling the fantasies of those who like to like to take a walk on the wild side from time to time.
Not completely done with the controversies, Ross, in January 2013, was involved in a drive-by shooting in Fort Lauderdale, Florida where he and his girlfriend were the targets. Not injured, but driving into a ground floor apartment, Ross was out celebrating his birthday. Later in the year, he was then dropped by Reebok – they sponsored the rapper and endorsed his image – because of some lyrics he performed on Rocko's 'U.O.E.N.O.'. Looked at as someone who supported the act of date rape, he rapped, "Put molly all in her champagne/ She ain't even know it/ I took her home and I enjoyed that/ She ain't even know it."
Regardless of these controversies, Ross still stands as one of the most loved rappers in today's industry. Known as the biggest boss (or bawse as he likes to spell it), his come up has definitely been one that has involved many movements displaying leadership qualities. With more years to go, even if his solo career begins to decline, Maybach Music has enough talent to be a rap mainstay for many years to come.
Words: Will "ill Will" Lavin
Format:
UK English