Best Rick Ross Songs: 15 Hip-Hop Essentials
What does it mean to be a boss? This is the question that Rick Ross answers time and time again throughout his catalog of hits.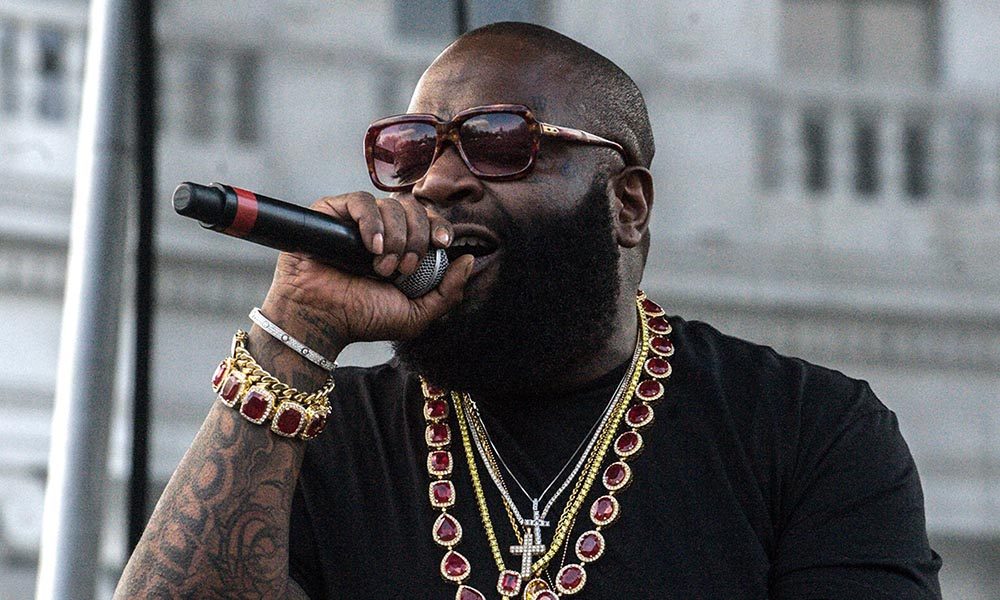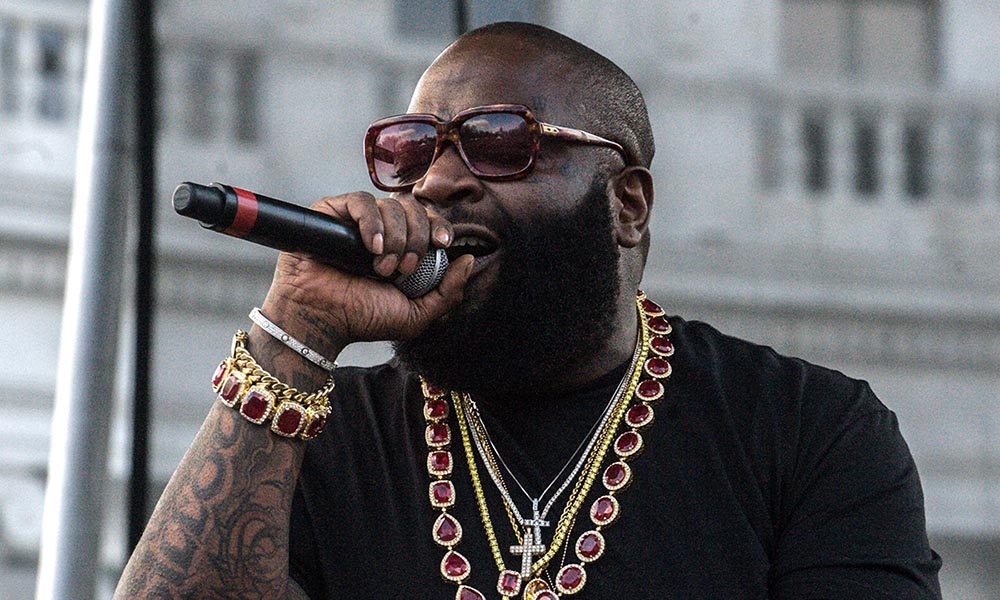 What does it mean to be a boss? This is the fundamental question Rick Ross has explored throughout his illustrious career. Though his best songs have always revolved around deft portraits of extreme Floridian opulence, it hinged early in his career on a radical self-belief, and an ability to muster the charisma required to bring his opulent lobster bisque and speedboat rap fantasies to life. It didn't take long for the rest of the world to buy in. The eventual result was one of the most audacious personas hip hop has ever seen.
Listen to the best Rick Ross songs on Apple Music and Spotify.
The Early Singles
Rick Ross - Hustlin' (Official Music Video)
Rick Ross's career exploded in 2006 when he released his debut single "Hustlin'." Though he proclaims Miami a "playboy's paradise" at the outset of the "Hustlin'" music video, the song is really about the work ethic and nerve required to conquer the drug trade. Ross's follow-up single "Push It" explicitly invokes Scarface through its sample of "Push It To the Limit," the song that plays during the montage that chronicles Tony Montana's swift rise to the pinnacle of the South Florida underworld. In that scene, Montana was practically minting money. Ross did the same in the opening chapter of his career; his 2006 album Port of Miami debuted at No.1, with 187,000 first-week sales.
The Supervillain Songs
By 2008, Rick Ross had solidified his status as a hip hop heavyweight. With increased popularity came increased scrutiny, and when some questioned the authenticity of Ross's larger-than-life yarns, Rozay simply doubled down. On "Mafia Music," the lead single from his 2009 album Deeper Than Rap, he eats crab meat with one hand and raises a defiant middle finger with the other. He had become not only richer, but meaner, cockier, and better at rapping.
Rick Ross - B.M.F. ft. Styles P (Official Video)
This development culminated with the 2010 magnum opus Teflon Don, in which he ascended to the level of supervillain – an untouchable on par with Escobar – by recording some of the most breathtakingly arrogant bars ever laid on wax. Backed by the titanic beats of trap pioneer Lex Luger, on "B.M.F. (Blowin' Money Fast)," he delivered the single most iconic line of his entire career: "I think I'm Big Meech – LARRY HOOVER." Where he had once bragged about simply knowing Pablo Escobar, he now placed himself squarely within the pantheon of America's most infamous druglords.
On "I'm Not a Star," another exquisitely diabolical Luger collab from Teflon Don, Ross raps about black cards and pinky rings with the bluster of a Category 5 Hurricane. In the video for "MMG Untouchable," from his sublime 2012 mixtape Rich Forever, it's unclear which is the more monumental flex – the scenes where he wears a giant fur coat, or the ones where he goes shirtless and flaunts his ample chains and belly meat. Ross was eating, in every sense of the word.
The Collaborations
Rick Ross's guest verses are always in-demand not only because of his consistency, but also, more importantly, because the luxurious aroma of his raps naturally seeps into his collaborators' verses. He builds worlds where boss-talk and displays of envious wealth are the lingua franca. In this sense, some of his best work has come through collaboration with big names – in particular, Kanye West and Jay-Z. Arguably the defining verse of his career came while he rode shotgun on "Devil in a New Dress," on West's My Beautiful Dark Twisted Fantasy.
Two of Rick Ross's best songs with Jay-Z, "Free Mason" and "Devil Is A Lie," employ heavy religious and biblical imagery to describe how these two men defied overwhelming odds to find great success. The ways they weave in these references throws their respective worldviews into sharp relief. Jay often views God and the devil as two sides of the same coin, both lingering in every D'usse bottle and business transaction. By contrast, Ross casts Lucifer out; the way he sees it, his charmed existence "sipping Bordeaux out in Bordeaux" was ordained by the almighty. "The devil is a lie," he proclaims, "I am the proof."
The Expensive-Sounding Luxury Raps
Rick Ross's deep, assured voice is the rare instrument that simply sounds like it belongs to a rich guy. It doesn't hurt that the purchase and enjoyment of luxury goods – boats; cars; champagne; cigars; slippers; jewelry; waterfront mansions; bivalves and crustaceans for breakfast, lunch, and dinner – has always been at the heart of his best songs. His verses are gilded monuments to his gilded lifestyle.
Some of them seem designed to be heard in specifically rich settings. Nearly all of them are meant to make you feel rich. They're aspirational – and extremely catchy. Bumping "Maybach Music 2," with its lush, orchestral Dexter Wansel sample, sends you to the smoking room of a Rockefeller mansion ("Realest s—t I ever wrote, chilling in my Maybach," T-Pain sings on the chorus. In Rossworld, luxury vehicles serve as muses.) The crisp drums and clean 70s soul sample of "Super High" is speeding down the highway in a convertible. The slower, more refined "Aston Martin Music" is gliding into the lot of the Hotel Fontainebleau Miami Beach, about to hand off your keys and a crisp $100 tip to the valet.
The Introspective Tracks
Ross has gradually grown less bombastic since 2012. The villain of Teflon Don and God Forgives, I Don't is now more likely to rest on his laurels and reflect. On 2014's "Thug Cry," he frames life for a Black man as a war of attrition; despite his success, he wakes up in a cold sweat, wondering what his future holds. "Santorini Greece," meanwhile, sees Ross rapping about the carceral state one moment, and talking about blowing over a quarter million dollars at Art Basel the next. On "Foreclosures," he worries about the possibility of tax liens. "Cash rules, success is a precious jewel," he raps sagely. Luxury is precarious. Heavy is the head that wears the crown.
Did we miss one of the best Rick Ross songs? Let us know in the comments section below.